by, Jenn Hayhurst
On Thursday, August 9, 2018 members of #G2Great's PLN had an important conversation, Reconsidering Our Professional Resources: Calling Publishers and Marketers to Task. We've all seen them, those glossy brochures promising student success so long as "their plan of action" is followed with fidelity.  Nonsense! This is what I know for sure, success begins by believing in teachers. Smart, resilient, talented teachers; these are the professionals who have the power to make a meaningful impact. This blog as well as our weekly #G2Great chat exist to extend a platform that amplifies teacher voice. What was the message we sent out to the publishing world?
Listen to what we really need…
Thinking Outside the Box
Undoubtedly, there is an unlimited array of resource options at our disposal. Consumer choice is great and yet it can also be overwhelming. Boxed programs offer solutions but the truth is we have to think outside the box! Taking a more expansive view includes gathering the perspective and wisdom of other educators. There are are more opportunities to exercise personal agency than ever before, social media has given us access to each other. Now we can grow our Professional Learning Networks (PLN). We can support professional organizations nationally and locally. We can be ambassadors for professional learning.  

Get the Whole Picture
Educating children is complex, so when a  publisher or marketer, offers rigid solutions we need to get out the yellow caution tape, the orange cones, and flashing red lights because this is a professional danger zone.  We need to do our own research on their research!  We need to gather an array of formative assessments to look at how our students are performing inside our classrooms so we can inform any outside purchases. The most important thing to remember is to trust that we are the experts when it comes to our students. Once we know them, we know what resources we need to look for to inform our practice.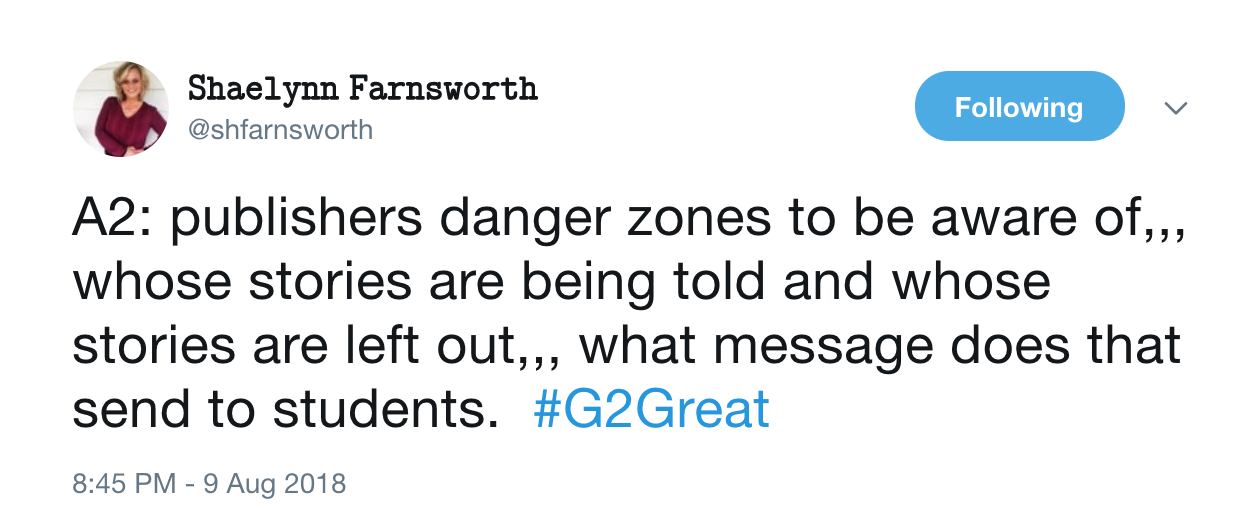 Start off on the Right Foot
A dynamic faculty is more than having good teachers and administrators. A dynamic faculty has a shared vision. Once you have a vision making decisions about professional resources becomes easier. Two tweets stood out to me because they both speak to identity and vision. Roman (@NowakRo) knows himself he is a reflective educator who  values design thinking and collaborative work. Gravity (@drgravitygLLC) is a an author / researcher but I suspect the title she likes the most is… teacher who builds teams for collaborative work and shared vision. Know who you are, articulate what you value, and collaborate this needs to happen prior to purchasing anything.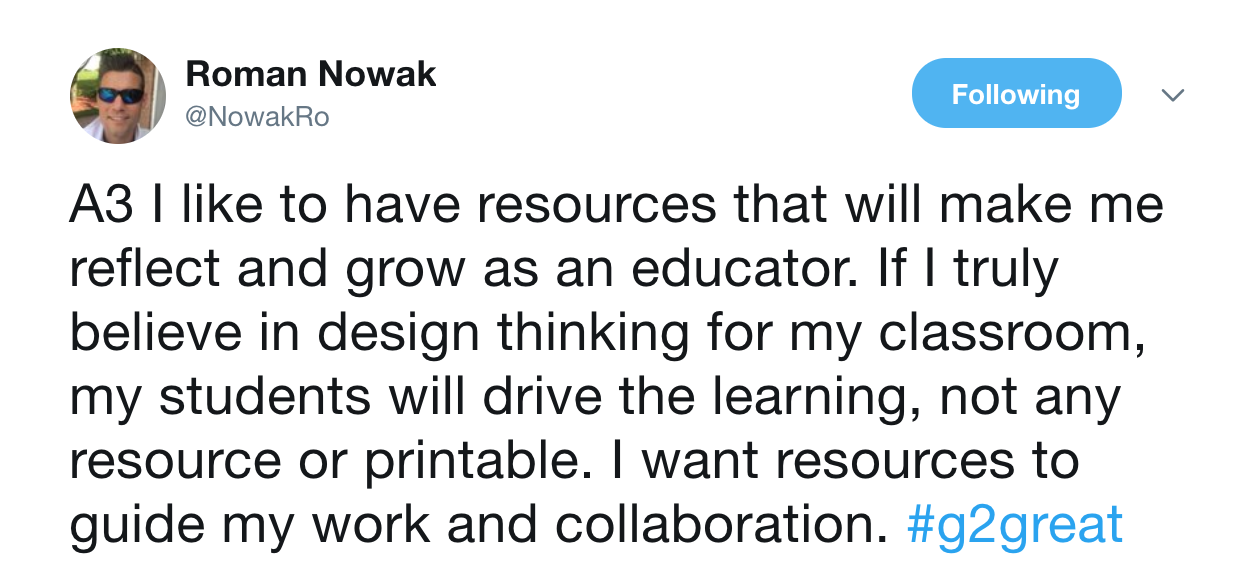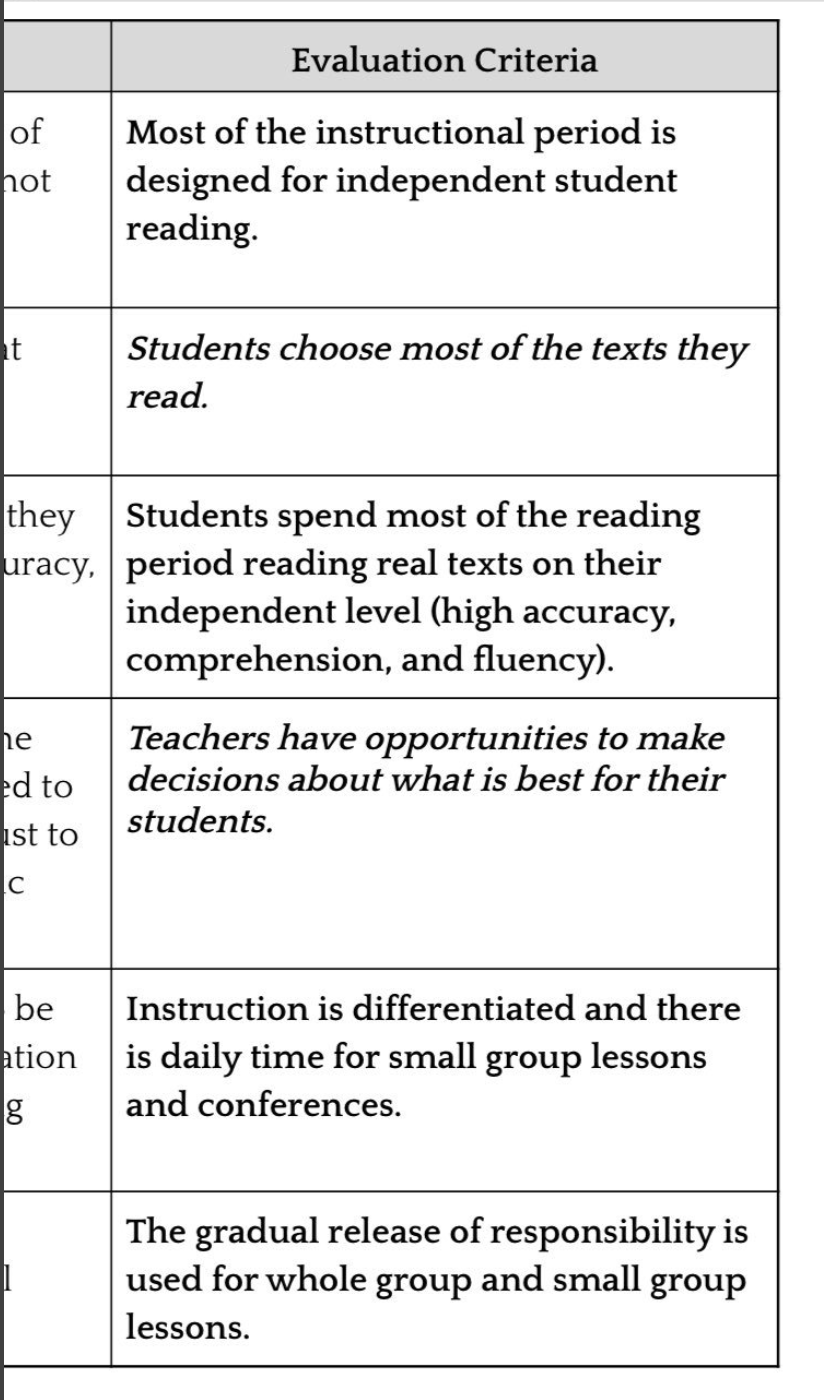 Raising the Bar
What does your curriculum ask of you?  Curriculum that is a living document, that is informed by real practice, requires more from us.  A go-to professional resource that maximizes the quality of teacher practices has to be relevant to decision making for day-to-day teaching. When research teams like those from Teachers College Reading Writing Project (@TCRWP) create resources you can be assured they are vetted in the field.  The work they recommend is born from their think tank and is work they are actually doing so it will be relevant. This kind of work is constantly changing and growing because it keeps pace with teacher learning and discovery.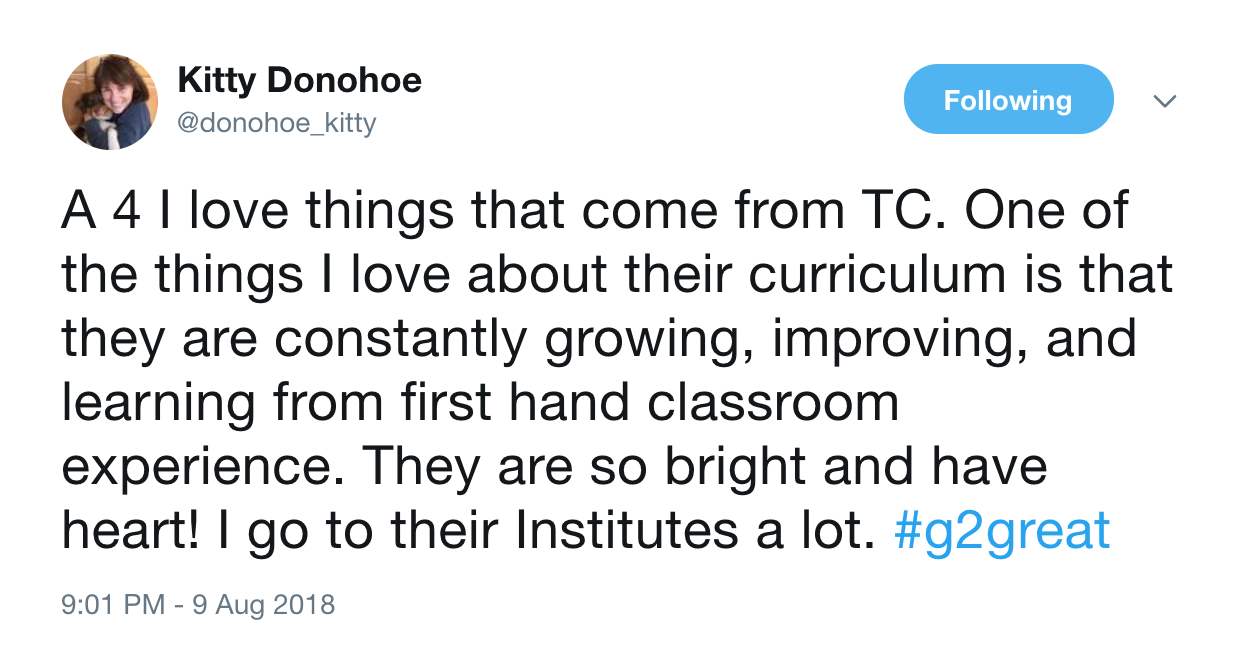 Everyone: On the Right Page
It is imperative to initiate collective conversations before money exchanges hands for professional resources because if we don't listen to the stakeholders there will be no ownership. If there is no ownership initiatives  will fail.  Collective conversations are always at the heart of growth, and I think this is the best way to begin the design process for supporting a child-centered perspective.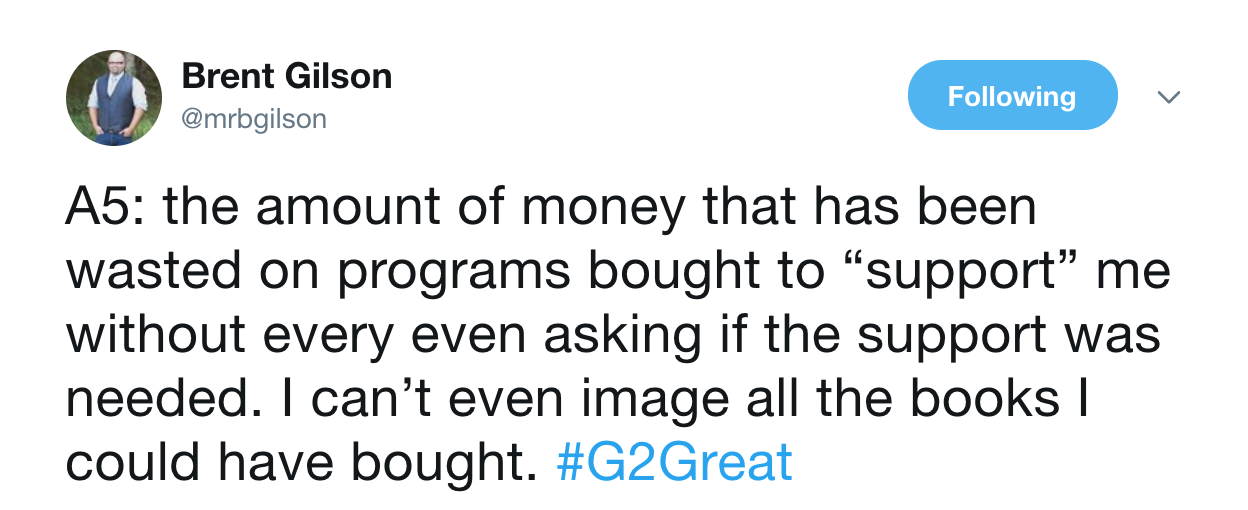 Don't Miss the Mark
Authenticity is the antidote to basal programs and scripts  Authenticity can be realized when teachers have ownership over what they will learn and when schools invest in teacher education and learning. We are not so very different from our students. we are all at different points in our understanding for literacy instruction. As a result we all have different needs and our ongoing education education needs to match wherever we are in that continuum. So long as our learning rests squarely on students and their developing literacy learning we can't go wrong.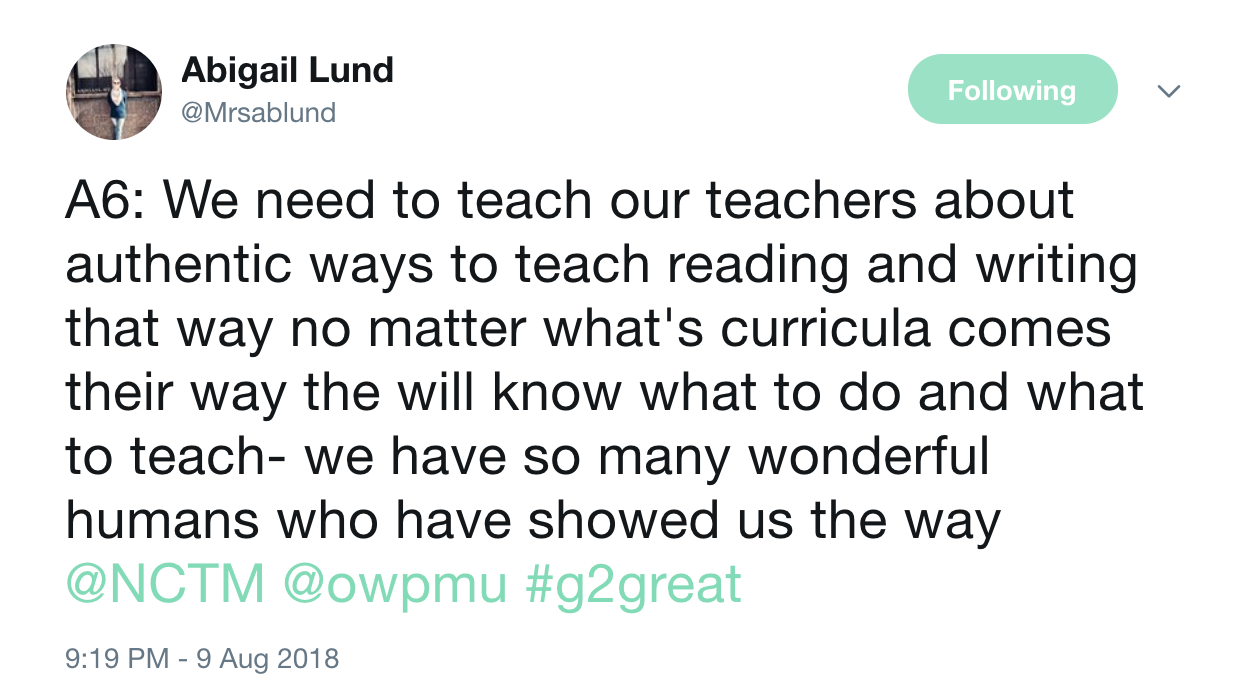 Cut to the Chase
We are living in the 21st Century of course technology has an important place in the classroom. However, it can be misused as electronic worksheets.  It should be our goal to enhance our practice through technology; while being careful that it  does not substitute or diminish  excellent teaching.  For one thing, teachers not tools make the decisions. For another, accessing print resources and digital texts to build rich classroom libraries  is an imperative. Students, teachers, and texts are the heart of the classroom.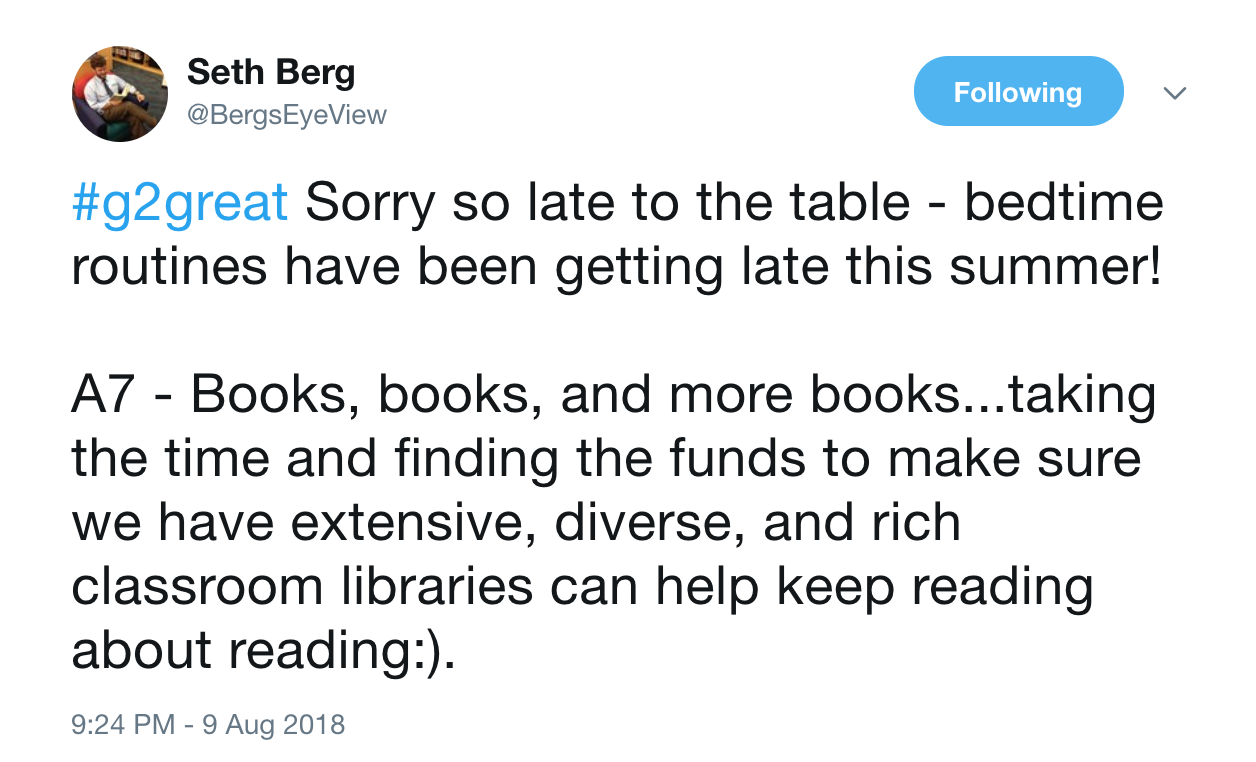 It's ironic that we are asked time and time again to  look for answers outside of the classroom when what is really needed is to take a closer look inside our classrooms. When we asked teachers what they need, they told us. In the end, I think Mary said it best, "To do more great work, you need to make not one but two choices. What will you say yes to? What will you say no to?"  Good to Great Teaching Focusing on the Literacy Work That Matters. This is how we really put publishers to task so we may keep our students where they belong, at the center.