Guest bloggers Brent Gilson and Roman Nowak with Mary Howard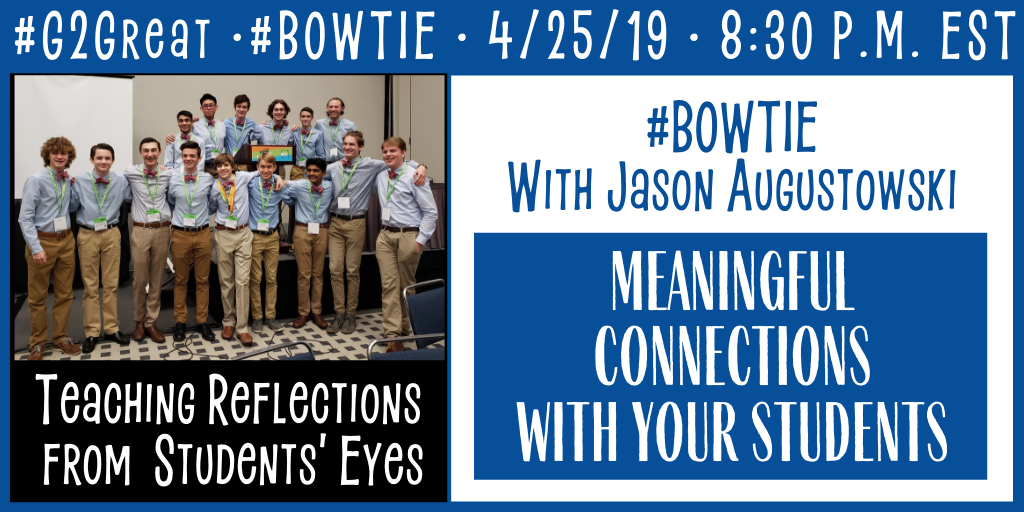 On 4/25/19, #G2Great welcomed the second half of the newly reorganized #BOWTIE students back to the chat table to discuss the important topic chosen by our eighteen guest hosts: Building Meaningful Relationships with Your Students. On 3/14/19 eighteen other #BOWTE students engaged us in dialogue for Creating Environments that Work for Kids. This new addition makes the ninth time that #BOWTIE students have graced our chat as honored guests: 12/13/18, 4/26/18, 3/8/18, 5/25/17, 3/6/17, 12/17/17, and6/9/16 (Sam Fremin).
Anyone who has ever participated in our #BOWTIE chats are astounded to experience the insight these middle school and high school students bring to the professional thinking table. They study the teaching/learning process, write blog posts and present at national conferences like NCTE under the support of their teacher, Jason Augustowski. The #BOWTIE acronym (Bringing Our "Why" (because) Teachers Include Everyone) is an accurate reflection of their chosen role of professional co-conspirators since their wisdom affords understandings that gently nudge us to look at our own teaching from their perspective.
The commitment #BOWTIE students demonstrate to our profession is apparent each time they join #G2Great. We literally turn our chat over to them as they choose their own topic of discussion, write the chat questions and lead our chat family in an always engaging dialogue. This week seventeen students and their teacher, Jason Augustowski, posed questions in teams of three including
Doug Unger (grade 11); Spencer Hill (grade 11); TQ Williamson (grade 11); Ryan Beaver (grade 11); Kellen Pluntke (grade 12); Rishi Singh (grade 11); Vedika Mahey (grade 10); Anjali Jarral (grade 10); Jason Austowski (English teacher, grade 6-12; JChris Myslenski (grade 10); Sachin Srikar (grade 10); Ellie A. Anderson (grade 8); Ella McLain (grade 8); Madison K. Whitbeck (grade 8); Nyla Lindsey (grade 8); Connor Grady (grade 11); Finn Schaefer (grade 10); Charis Anderson (grade 8).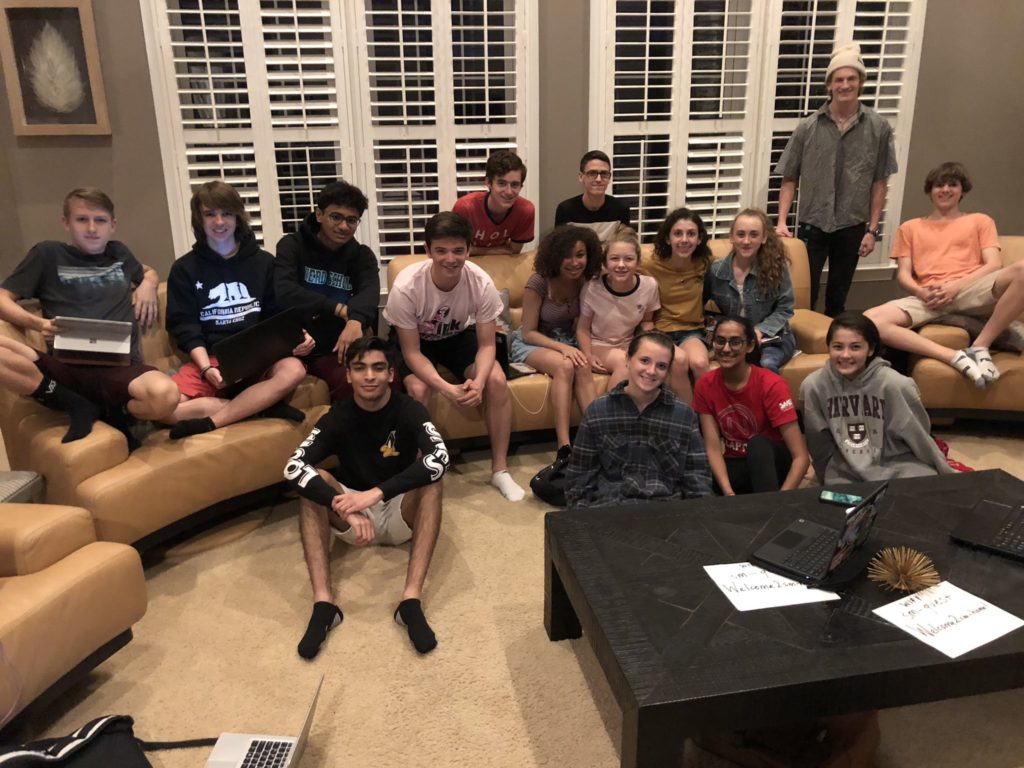 This time, we invited two #G2Great friends who believe as much in these remarkable young men and women and we do to guest blog. We are so grateful to Roman Nowak and Brent Gilson for sharing their thoughts around five questions:
Why are meaningful connections with students a professional imperative?
Roman
As educators, we must recognize the importance of having meaningful connections to support student learning and student success. We cannot hide behind "traditional ways" or lack of time. If we acknowledge the truth that students learn more and learn more deeply when they have that connection, we need to prioritize the connections we make with students. Building trust is a two way street, let us never ask of them what we would not be willing to do. If we want our students to be open, honest & authentic, we must show our willingness to be the same with our students. Let us strive to follow Spencer's advice in building that trust with students.

Brent Gilson
How do we know our students without meaningful connections? How do we serve our students without knowing them? I don't think we can do our job to the fullest without having that person to person connection. My kids know that I care about them, that I want to know their stories and because of that connection I can get more from them. The feeling of safety that comes from that group connection creates a classroom culture that promotes sharing, curiosity and a sense of community. Without the connection, just like a string of Christmas lights with a bulb burnt out, we don't have that functioning classroom.
What could educators do to create more meaningful connections with students?
Roman
Connections are often made by simply taking the time to talk to our students. Learn about their family, their passions, their interests. Show students that they are seen and heard. Students want to feel that they are important and contributing to their class. It is up to us, as educators to let them feel that way. Some first steps in creating those connections includes greeting students at the door, having their pictures and their families throughout the class, having lunch with them, including them or their stories in project types or assessments. Sometimes it doesn't take much, but that connection that you build with a student will create a lasting impact.
Brent
Treat them like people instead of products would be step one. Often the work (outcomes, assignments) become the focus and we forget that our kids are kids and that they should be our top priority. By no means do I think we should push the "work" aside but the stuff the really matters, how they are doing, family life, stresses, fears, learning what makes our kids tick and them knowing we actually care, is so much more important. Educators that focus on their kids and connections over the work seem to get the results on the work too. The same can not be said for those that do not see the value in connections.
What are some "meaningful connection" take-aways" you learned from our chat?
Roman
This chat has given me amazing reflection from soul. As an educator, whenever we have the chance to hear thoughts and ideas directly from students, there is immense power in those words. I absolutely love this take-away from Chris Myslenski (below). In life, we often talk about the importance of balance: balance in our personal and professional lives, balance with our hobbies/interests and our families, etc. When creating connections with students, as important as it is to learn about students, we also have to be willing to share about ourselves. Be proud of your own story and do not be afraid of sharing important parts of your life with your students. When you can use personal examples to consolidate learning, this becomes not only an important learning strategy but an important human strategy. Students learn more than knowledge about subjects, they learn how to be people from us.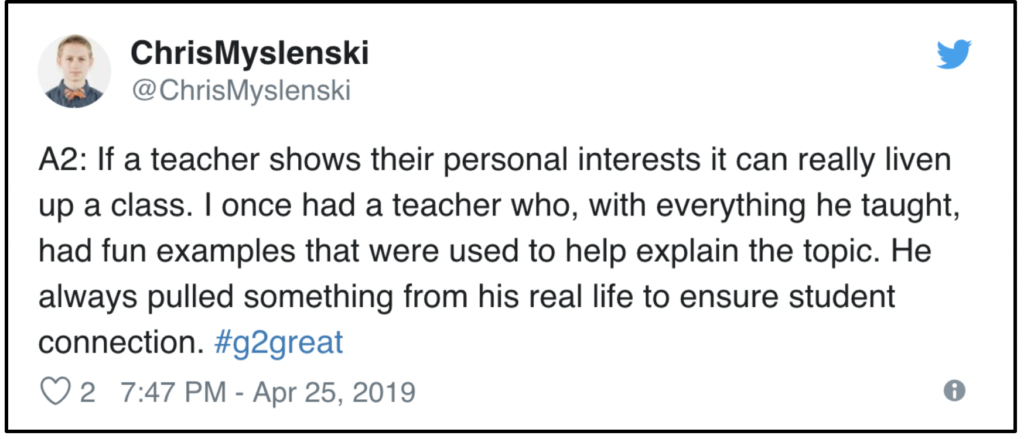 Brent
I look at the idea of class discussions and how we as teachers need to be more aware of how to build our students up but also respect their individual personalities. It is odd that we condemn things like Round Robin Reading (because it is archaic and puts striving readers on the spot) but often will try to drag students who prefer to sit on the edge into a conversation out of their comfort zone. Discomfort is ok, growing pains are a real thing but in the classroom, we need students to know that we respect the time it takes for them to grow and that what that growth looks like will be different for everyone.
What is one way that #BOWTIE students have inspired you as a professional?
Roman
Ryan Beaver (below) has given me great inspiration and a huge dose of reflection. When we understand that day to day, year to year, our experiences will not be the same with our students. When we understand that we need to constantly adapt to the hearts before us, we will know that we will creating better learning experiences for our students. Including students in conversations and feedback for strategies, lessons and assessments will help us improve as educators. We know that students do not have the knowledge about metacognition that we do, however, they are the reason we are in the classroom. When we change our vocabulary from being in front of our students, to being in class with our students, we show them that they are an important part of the class. I will definitely be listening to Ryan and finding ways of including discussion about learning and strategies with my students throughout the year. My students deserve the best and I deserve to have that formative feedback to grow as a learner and educator.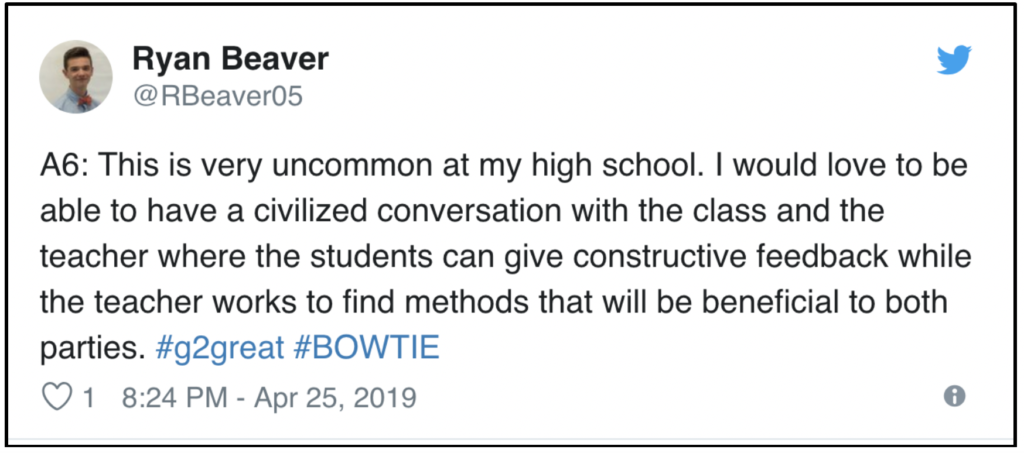 Brent
The biggest piece for me has been the smashing of stereotypes. So many voices tell us students don't really care about school. They just care about Fortnite and partying. The #BOWTIE crew probably do these things but they also advocate for educational excellence, they share how important it is for teachers and students to work together as a team. Our jobs as teachers are not to command but to connect. The #BOWTIE kids and their teacher have shown us the possibilities when this is the focus.
What advice would you offer #BOWTIE for using their voices to enhance the educational process in the future?
Roman
Never stop using your voice. Our voice is part of our identity and it is important to stand up with our values and convictions. I not only applaud #BOWTIE for taking the risk and sharing their thoughts with so many people around the world, I encourage them to never stop sharing their voices. Keep pushing and challenging the status quo; keep sharing the parts of you that are important. Your stories need to be heard, your stories will help transform education.
Brent
I would be more comfortable with them giving me the advice. All I would say is keep up the work, keep those voices strong but also make sure that you make room for all the "other" fun stuff out there. I don't think they need advice in sharing their voice, they are already making education better for so many kids.
Mary's Closing Thoughts
Your #G2great co-moderators (Fran, Val, Jenn, Amy and Mary) are dedicated to this professional learning space where an invitational culture of joyful twitter style dialogue has been celebrated since our first chat January 8, 2015. #BOWTIE students bring our spirit of shared learning and engaging dialogue to life. They understand that the quality of their learning opportunities are dependent upon the quality of our daily professional choices. Their questions inspire us to take a closer look at those choices with students in mind as they encourage us to envision our teaching in a new light.
The educators who return to our #G2Great chat week after week are dedicated to this professionally responsive process. We are all inspired by #BOWTIE students' generous sharing of ideas that allow us to envision the impact of our teaching from their side of the learning experience. They encourage us to contemplate the intentional shifts that would maximize our efforts so that we may contemplate the richest possible learning opportunities.
And so, for the ninth time, we are grateful to our #BOWTIE students and teacher, Jason Augustowski for inspiring our thinking as we consistently strive to become the best version of ourselves in honor of students everywhere.
Tweets from our #BOWTIE guest hosts this week