by Jenn Hayhurst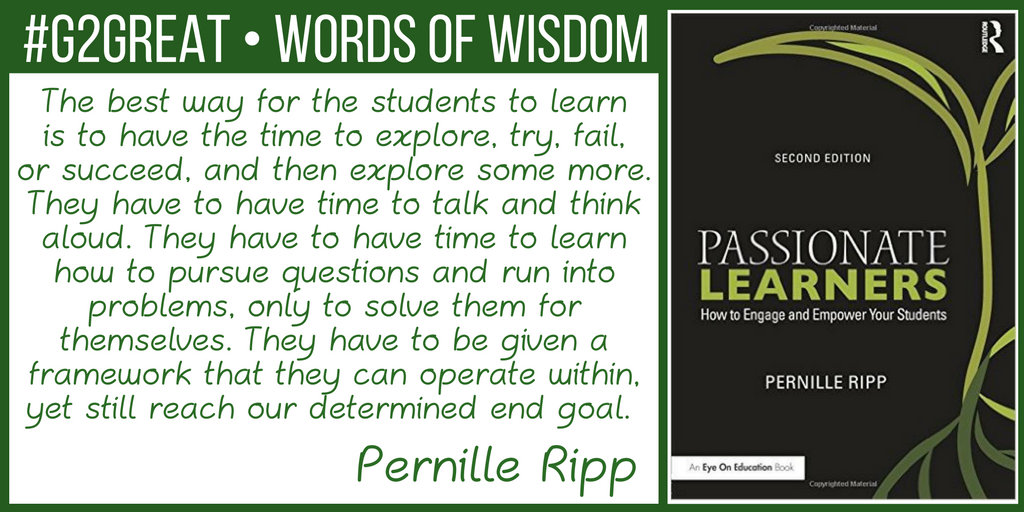 On Thursday February 23, 2107 we welcomed Pernille Ripp into the #G2Great community. Pernille launched a dynamic conversation centered around what it means to embrace learning through a close examination of our own teaching. As I write this post I am thinking about Pernille's brave question: "Would you like being in your classroom?"  
Pause a moment to think what these reflections from @lyonsroar and @ButlerNgugi and @JillDerosa mean to you:
There are many ways to link their thoughtful responses. But for me the linchpin is their open curiosity for student learning and a willingness to change upon reflection. In a very real sense their responses are at the heart of how #G2Great came into being.  Yes, for those of us who were called to teach, our work is extremely rewarding. However, that is not the driving force for what we do every day. Our work was never really about our personal fulfillment. A teacher's work is always done in service of our students:

One small question leads to another and another and all at once we find ourselves immersed in curiosity leading down unexpected paths. Questions are the catalyst for growth. A teacher who creates a classroom that invites discovery is a teacher who is a muse for wonder. You may wonder  how might this become a reality in my classroom? Pernille reminds us that the most important work begins with a small shift when she asks us,"What is your small change for monumental differences?" Read @emilyfranESL, @katie_spadori, and @hodge_dv to see how they responded, what do they share?
Expert teaching is a marriage of art and science and is bound by careful observation. The content we need to know above all else are the students we are so fortunate to serve

Thank you Pernille. Your words sparked an amazing conversation that cut to the heart of what teaching is really all about. You reminded us all of our ability to influence our students through careful reflection and observation. We make a difference every day we enter the classroom as we open up our minds and hearts to what students need most:
Pernille Ripp Links
Pernille's website:
Pernille Ripp on passion-based learning and empowering students (youtube)
https://www.youtube.com/watch?v=VKCYj9KQS0o
The Students' Voice: Empowering Transformation
https://www.youtube.com/watch?v=8Un8fFciqmo
Global Read Aloud: One Book to Connect the World
https://www.youtube.com/watch?v=ZoJo5wbK54I
The Educator Collaborative Gathering Global Read Alouds, K-12
Pernille Ripp, Amira Abdel-Aal, & Alumni from New Horizon Irvine
https://gathering.theeducatorcollaborative.com/session-three/workshop-11/
Passionate Learners by Pernille Ripp (Amazon)
https://www.amazon.com/s/ref=nb_sb_ss_i_6_10?url=search-alias%3Daps&field-keywords=passionate+learners&sprefix=passionate%2Caps%2C143&crid=2QPU63E5QHA0G
Empowered Schools Empowered Students by Pernille Ripp (Amazon)
https://www.amazon.com/Empowered-Schools-Students-Connected-Educators/dp/1483371832/ref=sr_1_2?ie=UTF8&qid=1478029745&sr=8-2&keywords=passionate+learners
My ITEC Ignite – The Least We Can Do
http://ytcropper.com/embed/7R581a9b2a0bd7d/loop/noautoplay/
(Pernille's newest book): Reimagining Literacy Through Global Collaboration
https://www.amazon.com/Reimagining-Literacy-Through-Global-Collaboration/dp/1943874166/ref=sr_1_1?ie=UTF8&qid=1478568811&sr=8-1&keywords=literacy+through+global+collaboration