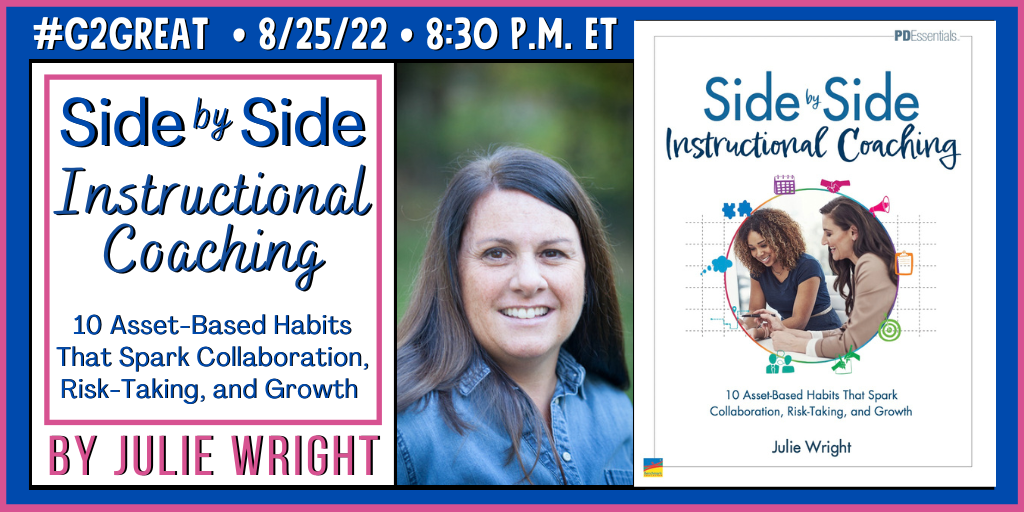 By Fran McVeigh
It was truly a pleasure to welcome Julie Wright back to #g2great. It was four short years ago that Julie and Barry were on #g2great for What Are You Grouping For? in 2018 (link) and Julie again in 2021 for What's Our Response? (link)
I often begin my blog post with the ending. This one is no different. This was one of Julie's last tweets from our #G2Great chat for Side by Side Instructional Coaching.

I loved the "WE approach" in Julie's tweet. But to fully understand this tweet I had to look up Abby Wambach. I'm not a soccer fan so she was not on my radar. However, I quickly noted that she was "… the highest all-time goal scorer for the national team and is second in international goals for both female and male soccer players with 184 goals …" "Highest" and "second for both female and male soccer players" caught my attention because Abby is better than good. She's a Great soccer player. Winners and leaders need to build capacity that sparks collaboration, risk-taking, and growth.
So fitting to have a "sports" connection in a coaching conversation.
Winners build capacity for a WE approach. That matches the OLD adage that 'there is no "I" in team' as found in the online Urban Dictionary (link).
Hmm. Soccer, leading goal scorer, collaboration, risk-taking, and growth and a #G2Great chat. All 10 of the asset-based habits in Julie's book are critical for success in life. All 10 of the asset-based habits are a part of both the personal and professional lives of many authors we have featured on #G2Great chats. All 10 of the asset-based habits are a part of my life and those of many of my friends and my own thought partners.
It would be very easy to say,
"Go read the book,"
because it's an amazing, thoughtful book that will provide guidance when you didn't even know that you needed any further elaboration for some of the habits. But I can guarantee that Julie's explanations and examples will allow you to dig deeper in EVERY single habit that you may believe you already excel in!
How can I make that guarantee? It's a combination of my experience, my skills and years of personally working with and learning from Julie. Without doing the math and trying to count years, I can tell you that I've learned in a variety of settings with Julie including large groups of over 100, smaller leadership groups and 1:1 meetings whether they were face to face or via Zoom. And then I've also learned even more from her books and her participation in Twitter chats. Personally biased? Yes. Personal knowledge? Yes. I learn from Julie every time we have a conversation! She's a thought partner/ thought neighbor whether near or far!
This blog post is going to be unlike any others that I've written for Literacy Lenses. I've included "process" many times, but not to the extent you will find here.
We're going to continue with Julie's purposes for writing this book as well as her hopes and dreams for all the readers in the next section with the three yellow headers and our basic author questions.
What motivated you to write this book? What impact did you hope that it would have in the professional world?
When schools need to trim budgets, coaches are often the first to be cut. Or, they remedy the budget by reducing coaching time and giving coaches dual roles of classroom teacher and coach. While I think these are missteps for the district, I understand why it happens. When I'm working in a school as the coach of coaches or instructional leaders, I urge them to build systems and structures that can withstand budget swings. One of those is giving the natural school leaders—the people they rely on such coaches, department chairs, PLC facilitators, team leaders— the tools to support ongoing professional learning. Creating thinking partnerships across a learning community is key. That's because every student deserves to have a teacher who has a thinking partner—this work is too complicated and important to go at it alone!
What are your BIG takeaways from your book that you hope teachers will embrace in their teaching practices?
There are a few key take-aways from my book that I hope educators will embrace:
1. Having an asset-based stance—grabbing the good that lives across the learning community—brings JOY and SUSTAINABILITY to this work. No one shows up to be picked apart, worn down or fixed. Teachers show up to do good. If we start with assets and then ask teachers what they want to get smarter about, we can help lift that work by providing support. This stance works for all ages of learners, adults and students alike.

2. Building relationships in our work in schools matters. It really, really, really matters! Don't shortchange it. It is what builds the good (assets) and shapes culture.

3. A habit is a practice we do regularly. When we land on coaching habits that others can count on, we build consistency and trust. Find your go-to habits (mine are building relationships, co-planning and co-teaching) and then build your coaching routines around them.
What is a message from the heart you would like for every teacher to keep in mind?
Coaching is a lot like neighboring (reference goes to The Art of Neighboring by Pathak and Runyon.  It's all about building relationships, an essential coaching habit that creates opportunities to do things together that we could not otherwise accomplish alone.  When we choose to make ourselves available to others in our learning community, it's more likely that we'll have time to focus on them.  It's also more likely that we'll co-create a list of priorities…together!  

Everyone has something they can give (teach or show others) and something they can get (learning from others).  If we build a learning community that has a constant flow of giving and getting, we all get smarter about the needs and wants of our most important stakeholders—our students.  Coaching creates the opportunities to get smarter together, building short and long term capacity along the way.
Typically by now, I and my fellow #G2Great blog post authors have moved on to thoughts from the actual chat in the form of tweets or summaries of big ideas. But this next section is going to share with you some "behind the scenes" #g2great processes from the development of this chat with Julie as an example of our ongoing professional learning.
We (#g2great team) ask our authors to write four questions for the chat. These were Julie's questions in a simple format with our own first and last question. Remember that you can explore specific responses to the questions in the Wakelet (link) for an overview of this book and topic.
QUESTIONS

8:35 Q1 Our focus in this chat is on instructional coaching. Reflect on your life experiences. What are your go-to habits for sparking collaboration, risk-taking and growth? What attributes make coaching successful? When has coaching been beneficial for your work? How might you partner with a coach this year?

8:44 Q2 Julie believes every student deserves to have a teacher who has a thinking partner because the work we do in schools is too complicated and dynamic to be done alone. Reflect on your experiences. Who have been your thinking partners and what made your partnership so valuable?

8:53 Q3 In Side-by-Side Instructional Coaching, Julie talks about "sniffing out the good", using assets as a source of energy, and naming areas that might need a "lift", or support. We can use both as entry points to get smarter about our work with students. How does or can an asset-based stance shape the work you are doing in schools?

9:03 Q4 This book is written for instructional coaches and anyone interested in or charged with facilitating professional learning—department chairs, team leaders, teachers, curriculum directors, administrators, and others! Julie writes about 10 habits she uses to support professional learning. What habits do you use in your work and why do you use them?

9:11 Q5 Julie shares simple coaching tips that have a powerful impact – things such as "ask I wonder questions", "listen more than you speak", and "provide a note catcher for teachers to hold their thinking". These tidbits honor teachers' time while also increasing autonomy and agency. What would you add to this list?

9:20 Q6. As you reflect on our chat and the 10 asset-based habits Julie has identified, where will you begin to use this information? Which habit(s) might you strengthen? Which habit(s) require more thoughtful consideration?
One way that you could begin to study Side by Side Instructional Coaching is to study Julie's quotes and questions with a friend/neighbor. That might be a place where your professional learning could begin.
But Julie didn't just stop with quotes, questions and responses to our author questions; instead she challenged us with some possibilities that we could explore.
I share these ideas with you to give you ideas (straight from Julie) on ways that you might USE this book to extend your own professional conversations around coaching.
PD Option 1
This book is broken into 3 sections: Preparing to Coach, Coaching, and Extending Coaching.

To prepare to coach, Julie suggests developing relationships, communicating plans to stakeholders and defining beliefs. How do you use one or more of these habits to create conditions for successful coaching?

During coaching, Julie focuses on designing goals, co-planning, co-teaching, and creating tracks to showcase evidence of growth. How do you use one or more of these habits to examine curricula, plan with teachers / teams and shape pedagogy?


Julie extends coaching with reflection, building capacity, and prioritizing across the year. How do you use these habits to grow the skills of the teachers/teams to stay focused on their important work?

email from Julie Wright
If you work with a group of coaches or folks who have some coaching responsibilities, how might the questions in Option One inform your work before, during and after coaching opportunities. How might the answers to the questions further define your work? How might your curiosity and joy combine to create deeper collaboration, risk-taking, and growth?
Julie shared her thoughts about the applicability of the contents for all content areas and we are delighted that Benchmark made sure this book title was inclusive of all content areas!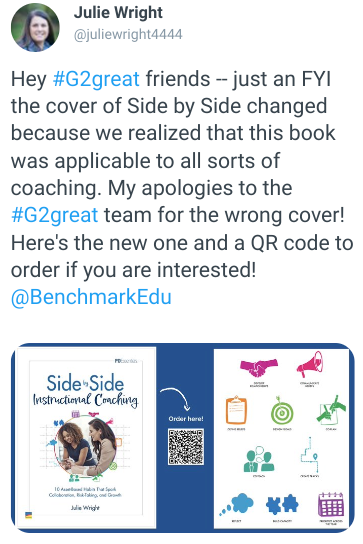 Or you might intentionally consider PD Option 2: "We could hyper focus on a few habits specifically."
Focus on Beliefs (just one example)
One asset-based coaching habit is to use teachers' beliefs as an entry point into the work. Select a topic—purpose of education, learning, assessment, balanced literacy, classroom libraries, or play-based experiences and share one of your beliefs. Then, we can see how our collective thinking around beliefs inspires and grows new ideas. I believe _____________.

OR

One asset-based coaching habit is to use teachers' beliefs as an entry point into the work. Julie works alongside teachers to select a topic as the focus. You can select a topic such as education, learning, assessment, balanced literacy, classroom libraries, play-based experiences, and so on. Let's pick a topic and see how our collective thinking around beliefs inspires and grows new ideas. Name a belief you have about play-based experiences? I believe _____________.

[we could swap this out for classroom libraries or another one if you prefer]
Deepening Your Understanding
With this book, you have many choices of future actions. Do you increase your own capacity by working with a "thought partner" or a "neighbor" as you read and reflect? Or you could study the questions that we began with in the #G2Great chat and consider the responses from Julie Wright and all the participants. You could also choose to try out option 1 or option 2 above. This book is so inviting that you can begin with any of the "before, during, or after categories" or the individual 10 habits.
Decisions. Decisions. Decisions.
The ball is in your court.
How will you increase your own effectiveness?
Where will you begin?
Find that thought partner and start collaborating. Your only mistake would be to NOT take up the challenge to begin reading and thinking with my esteemed colleague, Julie Wright, the very minute that you open this book. You, your students, and your colleagues will benefit from your learning collaboration. The time is NOW to get started with your very own "WE approach" to collaboration, risk-taking, and growth!
Links
https://www.juliewrightconsulting.com/
https://www.juliewrightconsulting.com/quicklinks
Order book here: https://www.benchmarkeducation.com/y49678-side-by-side-instructional-coaching-10-asset-based-habits-that-spark-collaboration-risk-ta.html