By Fran McVeigh
I've been working on something new to me from the quilting world. It's paper piecing that is almost the opposite of "regular" quilting because the pieces are actually sewn to foundation paper in order to stabilize the irregularly shaped fabric pieces. It's only my second attempt at paper piecing and I readily admit that the task is daunting. I have 158 pieces in my pattern. That's fewer than last year's big quilt. But with paper piecing each individual quilt piece has a varying number of parts itself labeled alphabetically, a-i, for a possible range of 158 pieces to 1,422. (yikes!) The letters tell me the order of sewing and it only works in alphabetical order but sometimes "a" is at the top, other times at the bottom, or even in the middle. Every piece is unique. Now that I have five of seven sections complete, I'm past the halfway mark. It often seems like I'm sewing upside down because the pattern is on the top where I sew and the right side is on the bottom of the pattern where the seams are magically hidden when I sew it correctly. How do I know? One, the fabric covers the pattern so no paper is "uncovered"; two, the seam is hidden; and three, the fabric is truly "right side up." How did I learn that? When I had to replace nine pieces that were the wrong color. Three hours of ripping out and replacing taught me several important lessons, but more on that later.
Why did I include this information about paper piecing in this week's blog? It's new learning. I'm far from perfect even with five of seven sections completed because I haven't practiced enough that it's "easy" and "automatic". Quitting or tucking this project away might be a solution except it's a birthday present for someone very special next month.
Thursday night, April 6, 2023, found two dynamic, inspiring education leaders at the #G2Great chat table, and what an amazing conversation around this Schoolutions podcast by Olivia Wahl and Cornelius Minor. Olivia is in her second season hosting Schoolutions podcasting so you will want to check out all of the available podcasts here. The wide range of her podcasts allows listeners to dip in and out of either the podcasts or the transcripts allowing quick access to key points. Our second leader, Cornelius Minor, is no stranger to #g2great as he appeared here when his book, We Got This: Equity, Access and the Quest to Be Who Our Students Need Us to Be, debuted on the educational stage five years ago. Cornelius was also with #g2great and Courtney Kinney here. As thought leaders and change agents, both Olivia and Cornelius are leaving footprints for us to follow.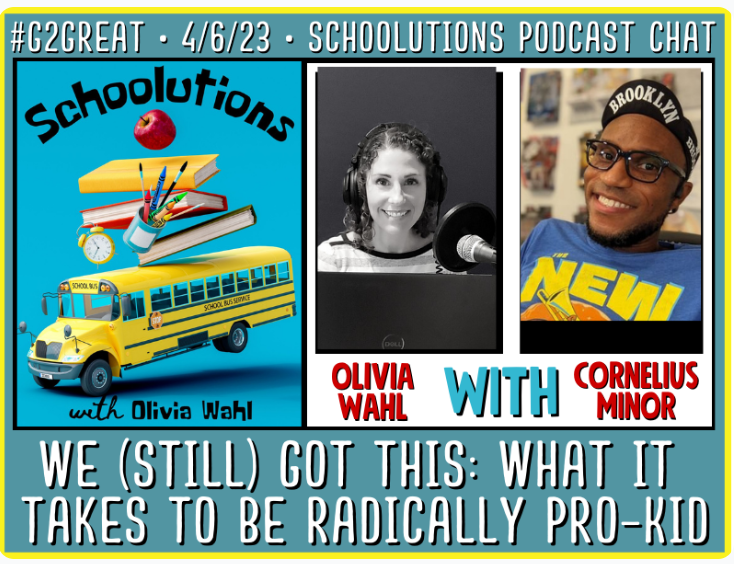 Here's my thinking based on our chat and the podcast. If you were there, see if it matches your thinking. If you missed the chat, remember you can check out the Wakelet archive of the Tweets and the podcast for yourself. The highlighted sections offer some questions for your reflection and future actions.
Let's get started! We Got This!
What is our work?
1. Determine Your Commitment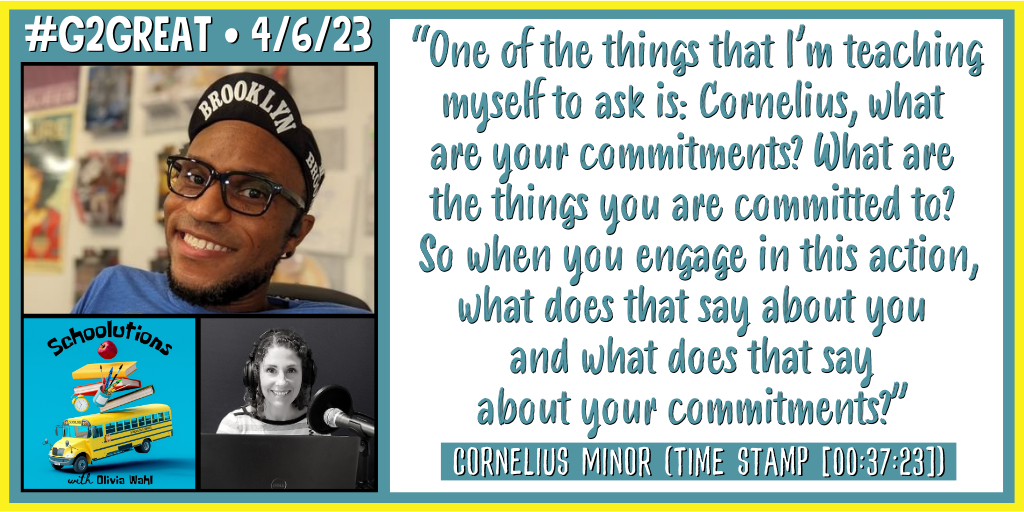 What is your commitment? Is it to the students? The school? The community? What do you value? How do we know? Often the way you spend your time shares your commitments. What takes up the biggest chunk of time? Is that where the time needs to be spent?
Be Radically Pro-Kid
Cornelius Minor's keynote at CCIRA in February 2023, had the phrase "Radically Pro-Kid" in the title. I hadn't yet listened to this podcast by Olivia with Cornelius but I was intrigued from the first moment that I read the title in the conference program. Of course, Cornelius's keynote was brilliant and inspiring.
What does that mean: To be radically pro-kid?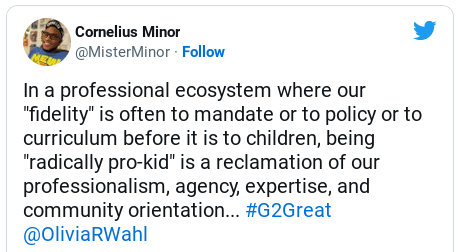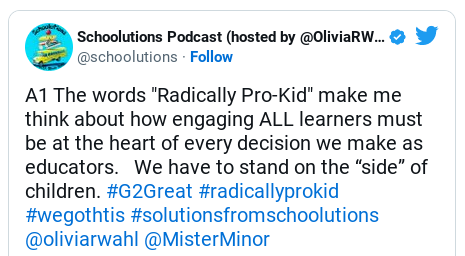 What do you value? How do you share that with others around you?
2. Create Opportunity for ALL Students
ALL means all. Always. Olivia stated that in the tweet above about "engaging all learners." How and when are we checking to make sure that all students have opportunities for success? That automatically also includes ACCESS. How do we ensure access? What barriers exist? How do we work to identify and dismantle those barriers?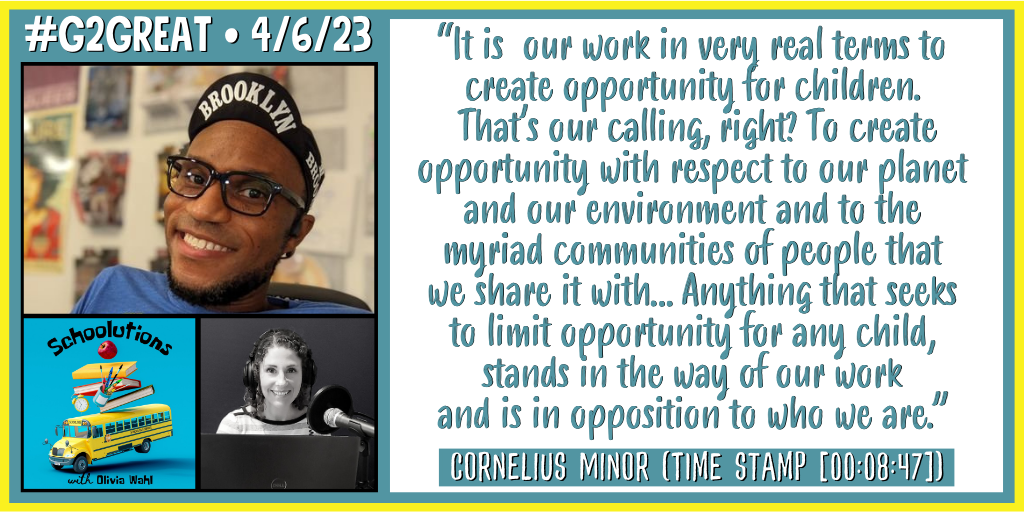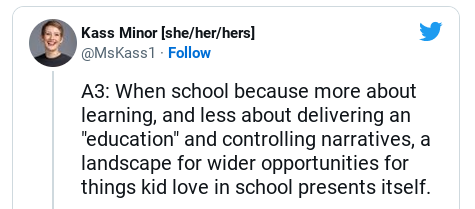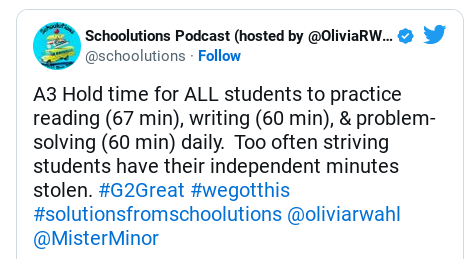 How do you ensure that ALL students have access and opportunities? For those that are striving, how do you ensure that they actually have increased access and opportunities to close gaps without usurping other needed content/time?
3. Listen
Some key points arise in the podcast around the 12-minute mark. Cornelius talks about listening as "a way of being." He also talks about "heavy presence and light touch." And …"folks won't articulate in traditional ways what they need often. But if I'm around, if my presence is heavy and my touch is light, I can be among students." This idea of presence and listening is critical in relationships as well as in school because we can't be "radically pro kids" if we aren't present and listening.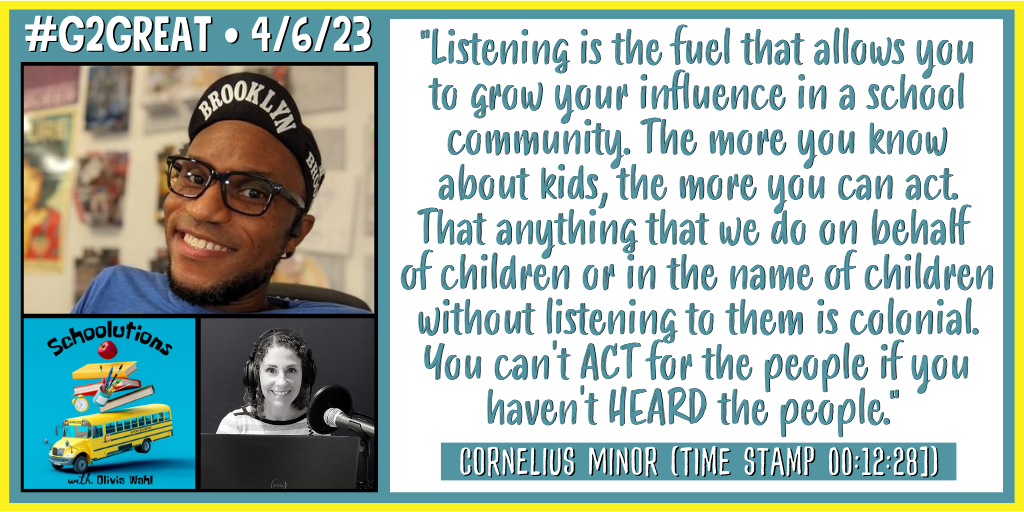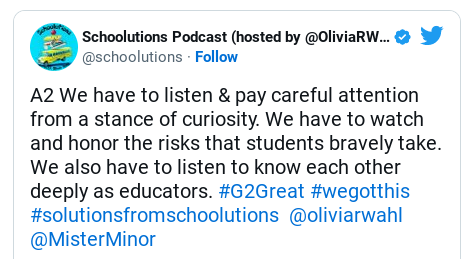 This is super important because adults often feel comfortable in their knowledge and like to give kids a choice of this or that. But even that "forced choice" feels heavy on the TELLING side. Students need opportunities to make decisions and learn from those choices that they make not that are predetermined by the adults in their sphere of influence.
How do we really listen, with our ears, eyes and hearts to make sure that the whole student is considered? How do we strip away the masks (hat tip to Cris Tovani)? How do we stay curious? How do we collect data that continues to drive instruction?
4. Work Collaboratively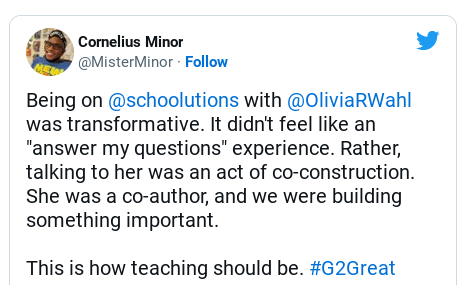 Sometimes we have mentor -teacher relationships or collegial thought partners that help move our thinking and our actions into real life. But for many folks, we live, think, and work in isolation in our own buildings because we are independent beings with commitments and minds of our own. When we are "radically pro kid" we may have a narrower field of friends in our own schools/districts/states. That isolation can be reduced by finding like-minded individuals across the country or continents.
How and when do we co-construct learning opportunities? Who assists us? What other resources do we need?
Full Circle
I've always loved crafts and giving handmade gifts but had little time in recent years for big projects. I began quilting during the pandemic and freely admit that it took about a year to really sew straight lines with a 1/4-inch seam. What have I learned from paper piecing this last month? I had to interrogate my commitment to the project (a May birthday gift), create opportunities for myself to learn (face to face and via videos), listen (fabric does speak and pictures of the work reveal glaring errors), and work collaboratively (consult with experts and other learners at varying stages. It has been a learning journey!
Where will you begin your learning journey? Who will you enlist as a learning partner? When will you begin? Cornelius gives you the blueprint for action research in We Got This and Olivia gives you choices of topics/ideas in her Schoolutions podcasts. The list above is not "prioritized" but does include some big ideas for your planning and implementation.
Additional Resources:
Olivia R Wahl
Host: Schoolutions Podcast
  www.oliviawahl.com
Twitter: @OliviaRWahl  @schoolutions 
Instagram: @schoolutionspodcast
Cornelius Minor
Twitter: @MisterMinor
Instagram: corneliusminor