by Mary Howard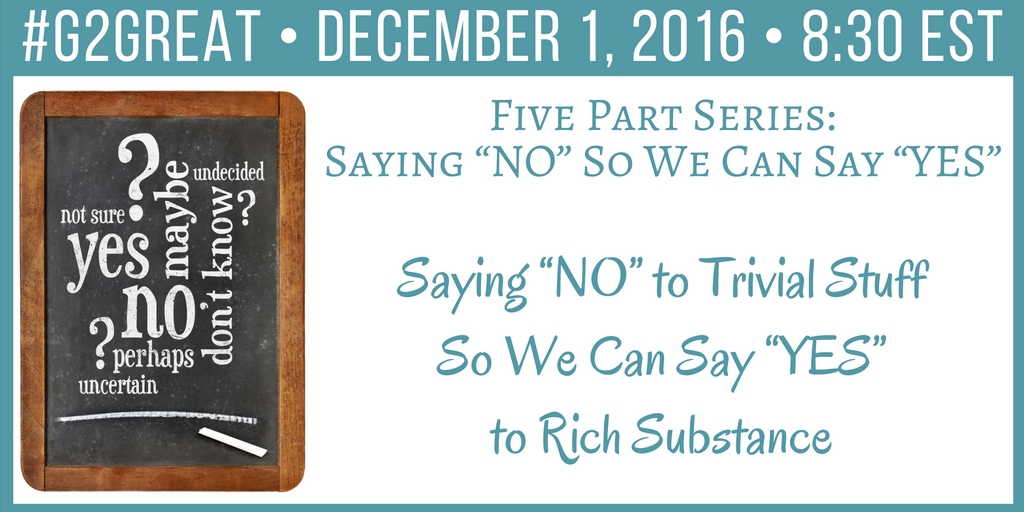 On December 1, 2016, #G2Great continued our five part series, Saying "No" So We Can Say "Yes" with our sights set squarely on alleviating the trivial stuff that usurps time for the rich substance students deserve. Our willingness to say "no" to the work that doesn't matter so we can say "yes" to the work that does is the heart and soul of Good to Great Teaching, the book that inspired our #G2Great Twitter chat.
And so in that spirit I look back to reflect on the impact of those two small but professionally monumental words that can have a lasting impact on the quality of our day-to-day practices. This week our amazing #G2Great educators drew a professional line in the sand with enthusiastic collective commitment to pull those words out of their back pockets in just right moments when the choices we make keep children at the center of all we do:
Making a commitment to celebrate time as a limited precious resource
Have you ever really listened intently to the sound of a ticking clock in an empty classroom? Well I have done that every day of my career so as an expert clock listener I can tell you that the sound reverberates loudly across the walls once we acknowledge that time is our most precious commodity. The stark realization that time is a gift that is utterly irreplaceable is a profound thought that should be at the forefront of our every move. Imagine if we were to leave a note in every nook and cranny of our classrooms that said simply, "Each minute is irreplaceable and if you choose to waste even one of them – you owe your students an apology." (exactly what I wrote to myself). Teachers who say "yes" to rich substance view the wise expenditure of time as a serious responsibility, choosing to focus on what is most likely to have a positive and lingering impact on the lives of students.


Making a commitment to the beliefs and values that are your internal guide
Teachers who say "yes" to rich substance are committed to making choices in the name of children, but this process of assuming professional responsibility does not happen by chance. We begin by identifying our deepest innermost beliefs about teaching and learning that will then form the values that guide those choices. Once we embrace our beliefs and values fully, they become part of who we are – ever present and inseparably intertwined with our words and actions. Regardless of the demands that will always vie for our attention, those beliefs and values are infused into every learning experience and somehow enrich even those we may not have chosen for ourselves. Our beliefs and values elevate our work because we know that it is not what we do that matters, but how we do those things in the most effective ways and always grounded in why we are doing them.



Making a commitment to exploratory discoveries leading to new possibilities
Teachers who say "yes" to rich substance know that great teaching is a process of uncertainty that often leads us in directions we could not possibly have imagined before the learning begins. Purpose guides us on a messy pathway to what is possible but it is the step-by-step journey along the way that has the potential to dramatically impact each of us. If we are willing to set the stage for discovery and trust children to lead the way as we wait in the wings to support their efforts – well it is quite something to behold because those are the lessons we will never forget. When we craft the learning opportunities that are designed to instill a sense of wonder, our role changes as children become our teachers. Within that zone of unknown where discovery resides, meaningful, purposeful, authentic learning fills the air with the low hum of joyful learning. And we are forever changed as a result!
Making a commitment to prioritize our daily professional non-negotiables
Teachers who say "yes" to rich substance hold tight to the practices that deserve a place of honor in every school day. While there will always be some things we cannot control, we can control what we choose to honor and refuse to relinquish regardless of competing demands. We do this by putting our non-negotaibles in the daily calendar, carved in professional stone so that nothing can replace them. We make them the center of our day because we know that we must fill each learning day with reading, writing and talking that will actively engage our students in enthusiastic learning. We don't make excuses and we don't covet anything that will force us to abandon those non-negotiables. Why? Because we are not willing to give up what we know matters most!
Making a commitment to respectful dialogue that has the potential to lift us higher
Teachers who say "yes" to rich substance know that in order to have the joyful experiences our students deserve we must be willing to initiate honest and even difficult conversations. We do this because we know that this respectful discourse has tremendous potential to increase the likelihood that every educator in the building will move closer to saying "yes" to the work that matters. Although many of us suggested closing our doors to do this inspired work, our #G2Great dialogue helped us reconsider the impact of opening our doors to become a model for school wide change. If we believe every child deserves the best we have to offer then we must work together to spread this commitment across the building in any and every way that we can so that every child will have the richest opportunities.
Making a commitment to the opportunities today affords to impact tomorrow
Teachers who say "yes" to rich substance know that we must always keep an eye to the future but that today is where we are needed now. We celebrate each moment as we consider how to provide the opportunities that students need at this point and time, yet knowing that our choices will impact children long after the day is done. We work to ensure that we offer the learning experiences our students need at that moment and time but always with our sights on how that may change on a day to day basis. We accomplish this by knowing each child and using that knowledge to create a learning day to meet their immediate needs while building upon those needs as new opportunities arise. We know each new day is another opportunity to provide the interconnected experiences that will have staying power.
Making a commitment to the children who inspire the work that matters
Teachers who say "yes" to rich substance make these hard choices because they know their students depend on them to do so. They have an unwavering dedication to each child and this dedication fills them with a resolute desire to make daily professional promises that know no boundaries. They refuse to be tethered to programs or scripts, willing instead to focus on the learning needs of their students as they hold tight to what matters. They do this because they are present in each learning moment and willing to use those moments as an instructional guide. They view children as a lesson plan waiting to be written, shifting their plans based on the child in front of them while always believing that every child can and will be successful.
This week, we challenged our #G2Great educators to put their commitment to students in writing:
In closing, I want to express gratitude for incredible #G2Great educators who bring their passion for teaching day after day. Our commitment will forever lift us above the multitude of absurd mandates, directives and questionable programs ever-present on the educational horizon.  Never lose faith that "No" is your stepping stone to "yes" and the antidote of roadblocks that cloud our view if we are willing to choose the one little word that will lead us upwards.
We choose children over mandates. We choose children over directives. We choose children over programs. And we do this by saying "no" to the trivial stuff that alleviates precious time so that we can say "yes" to the rich substance that will leave a lasting imprint on the learning lives of children. In an age of uncertainty, we need more than ever to hold tight to the literacy work that matters!
We are grateful for your unwavering commitment to children #G2great friends!