by, Jenn Hayhurst
On November 8, 2018, the #G2Great community had a powerful conversation about sketchnoting with Tanny McGregor. In her latest book, Ink & Ideas Sketchnotes for Engagement, Comprehension, and Thinking she makes a convincing case to add sketchnoting to instructional practice. Sketchnotes are a visual form of notetaking, They offer another option for learners to make thinking visible in ways that make sense to them.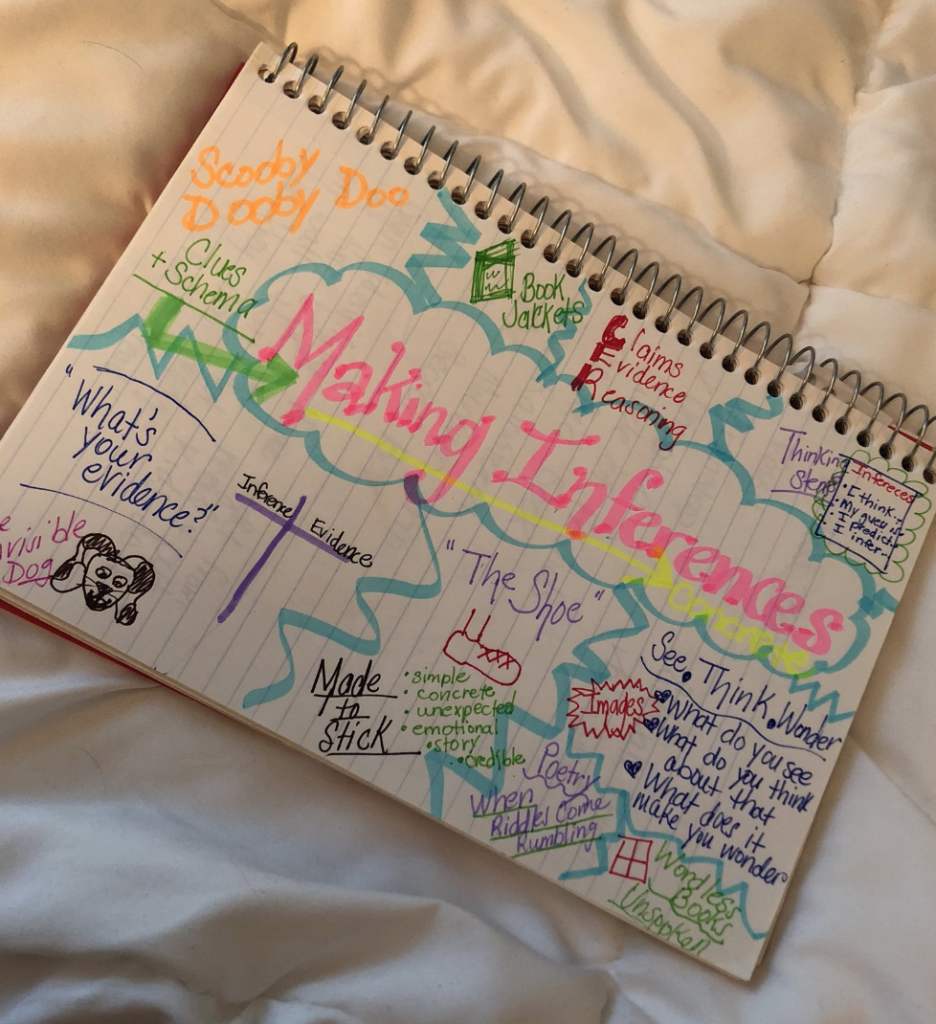 There is so much to love when it comes to the conversations we have on #G2Great, but one aspect of the chat that I love the most is the openness to new ideas. For many of us, sketchnoting is a new idea. We have been trained to write notes in a specific way or to use predesigned graphic organizers. Why? My theory is that it keeps learning controlled and neat. However, is it the best way to learn? Who knows best? The learner does! We can assess their success by students' ability to comprehend what is being taught not how to record the learning.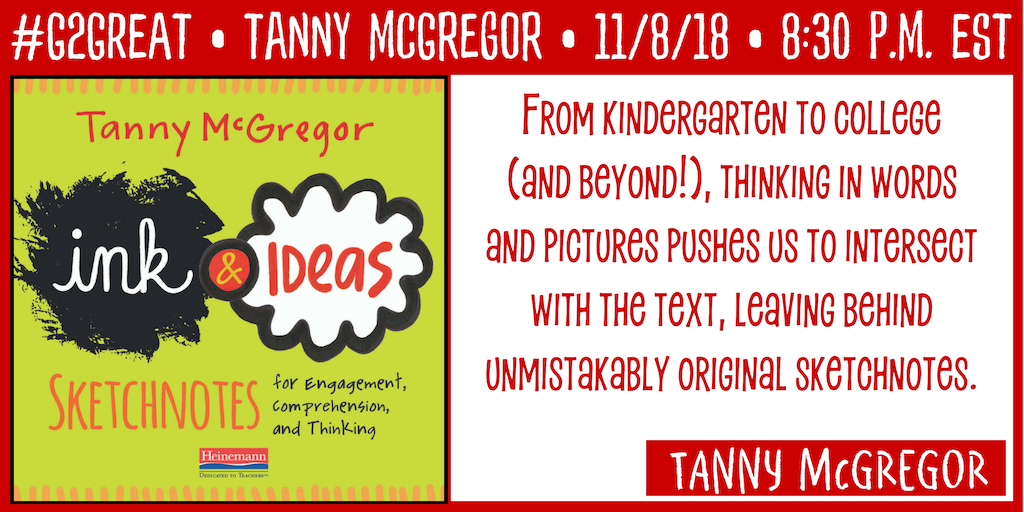 There are so many ways to learn.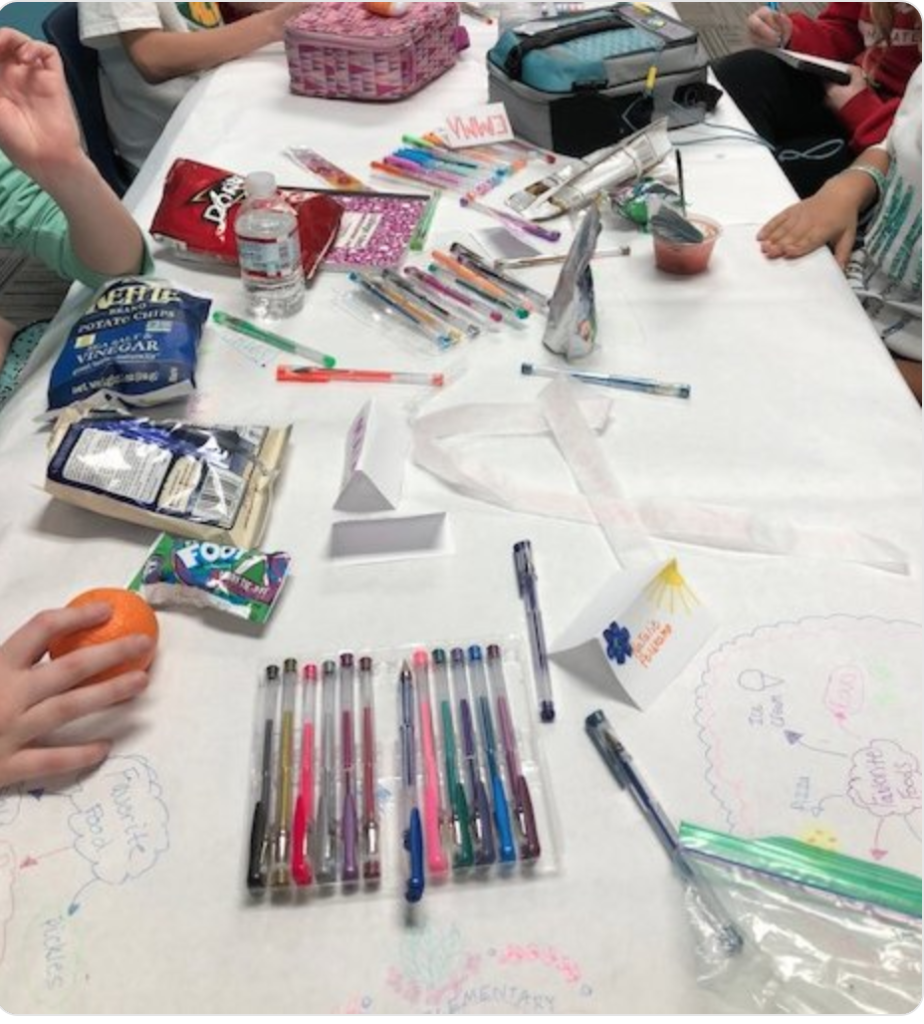 Connecting the practice of sketchnoting with our prior knowledge about traditional note-taking, marginalia, and non-linguistic representation, what we believe, and have taught students about this practice during the chat. Here the collective wisdom about sketchnoting from the #G2Great PLN:
Fuel collaboration!
Create opportunities for differentiation!
Support deeper comprehension!
Generate engagement!
Support language learners!
Sharing rationals and practices is one way the #G2Great community helps one another to grow. Another way to commit to a new professional goals – like starting sketchnoting. We were asked to consider these words…
"Is there a place in this lesson where students can opt to use nonlinguistic representation along with or in lieu of conventional writing, should they so choose?"

Tanny McGregor
Here are some ways that teachers pledged to take on this exciting new work:
Challenge students to give sketchnoting go!
Ask students to experiment with new ways of note taking!
Encourage students to start with a doodle!
Offer varied paper choice!
Try out modeling the practice first!
There are so many ways to begin, the most important thing to remember is to actually… begin! Our students deserve as many options as we can give them to learn their best. Learning begins with an open mind. So what do you say? Think on these words of wisdom from Tanny…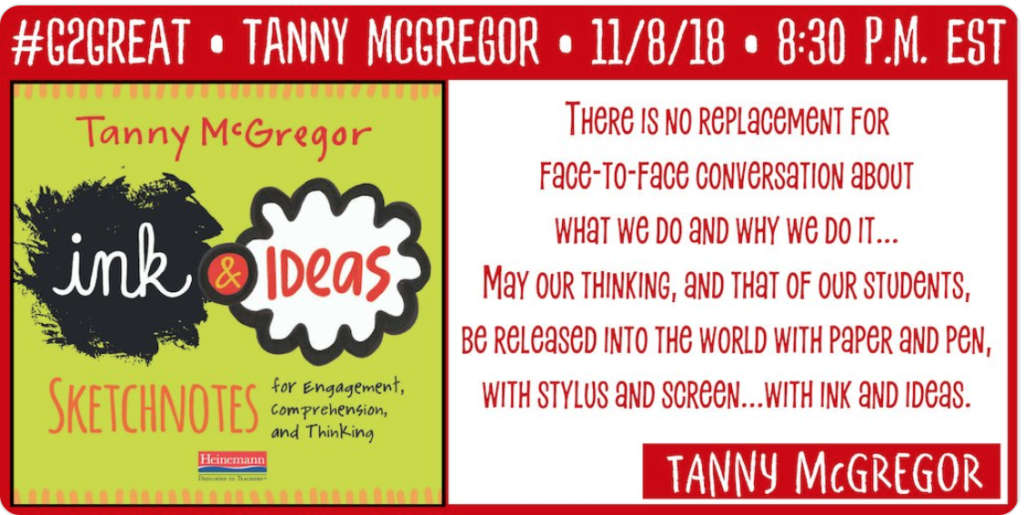 Thank you, Tanny. We appreciate your taking the time to share your wisdom with our community. Thank you to Heinemann Publishers for sharing the love with a FREE copy of your fabulous book, Ink & Ideas Sketchnotes for Engagement, Comprehension, and Thinking! But mostly, thank you, for pushing us to think beyond conventional practices to more student-centered ones like sketchnoting. Not only is your work founded on best practice but it is driven by choice and that can make all the difference.
If you are interested in learning more… please explore Tanny's links:
Her session with Smokey/Nancy Steineke: NCTE Houston, TX on November 15. Title: "Looking to Learn".
Website at tannymcgregor.com (with dozens of sketchnotebook)
A post she wrote about notebooks on Amy VanDerwater's blog:
http://www.sharingournotebooks.amylv.com/2015/12/tanny-mcgregor-notebooks-make-life-more.html
Link to Ink & Ideas, which will be released on 11/1/18:
https://www.heinemann.com/products/e09253.aspx
Recent podcast OCTELA/chapter of NCTE. I'm episodes 9 & 10. Both episodes are about sketchnoting!
https://player.fm/series/speaking-and-listening/episode-9-tanny-mcgregor
An archived sketchnoting session from The Educator's Collaborative with Shawna Coppola:
https://gathering.theeducatorcollaborative.com/workshop-1/