by Mary Howard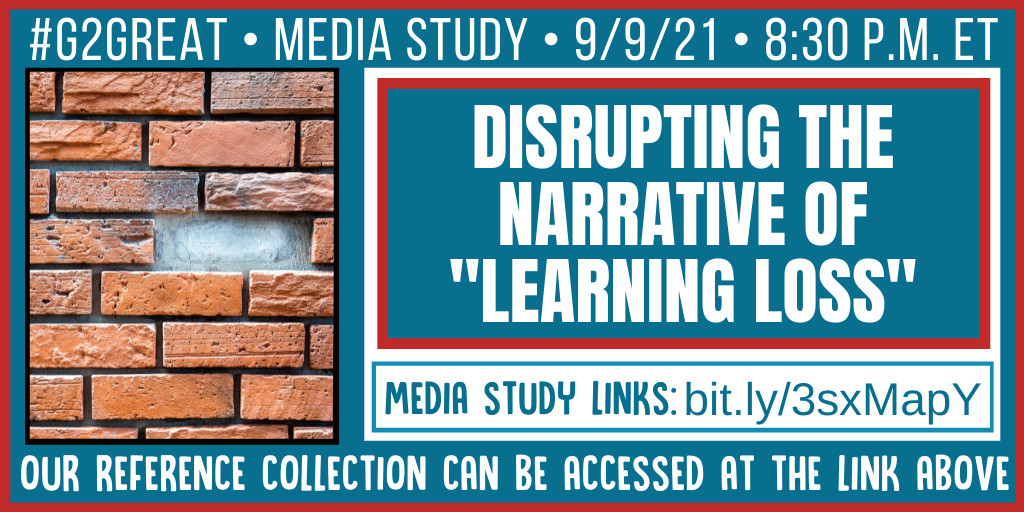 On 9/9/21, your #G2Great co-moderators set our sights on a pervasive educational issue that warrants collective pushback: Disrupting the Narrative of "Learning Loss". While "learning loss" is certainly not a new phrase, it's been cavalierly tossed around at an increasing ever-present rate since the COVID 19 pandemic began. I suspect that every educator has been impacted in some way by this disconcerting banter. It was no accident that this week was immediately preceded by a 9/2/21 paired chat eloquently discussed in a post by Fran McVeigh: Time to Rethink Standardized Testing. More on that later. 
Since the "learning loss" narrative is riddled with problems, it seems fitting to begin by taking a close look at the central theme of those words. My visual reference below was created to do precisely what that phrase does. I wanted to put the mindset of "LOSS" on display, surrounded by synonyms revealed in a simple search. Pause for a moment and contemplate the implications and potential impact this thinking could have on the students in your care during the new 2021-22 school year. 
Go ahead, I'll wait while you soak that in…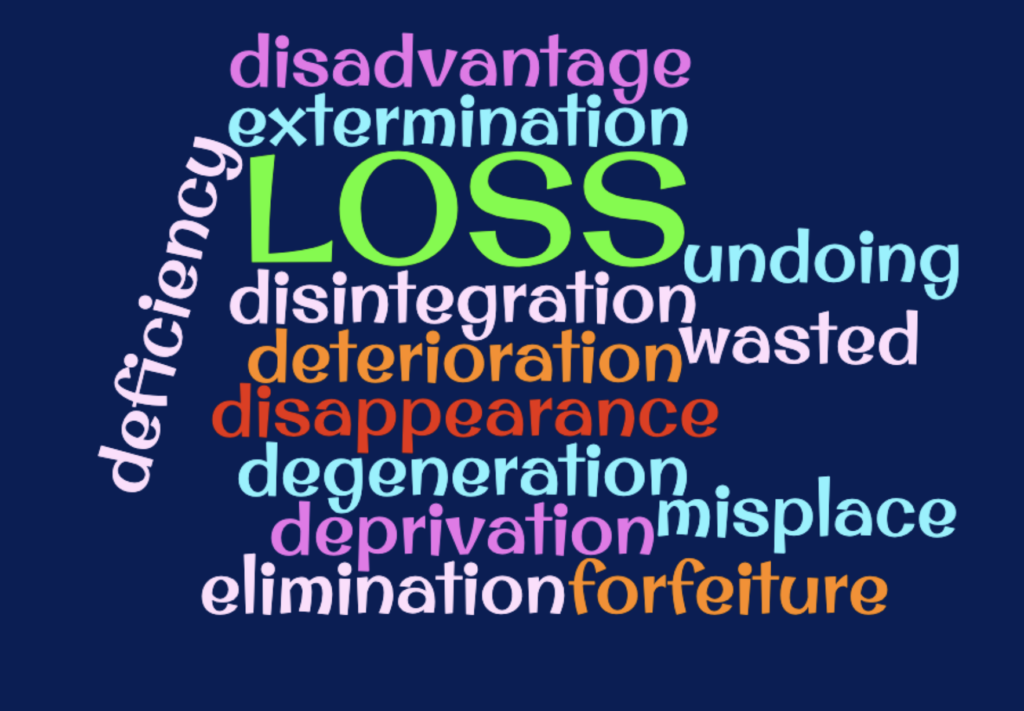 Words matter. They have always mattered and can cloud our perceptions in ways that could alter our view without even realizing the inadvertent damage this can have on children. What I find most disturbing are the assumptions that will provoke actions that are likely to accompany a "learning loss" mentality directed at children before we even know who they are as learners and humans. Our actions speak volumes and can alter the beliefs that guide intent and thus what we bring to the instructional process. Even if we do so unintentionally, the potential for harm to students is precisely the same. 
Let's put this in perspective. I'd like you to imagine the children who will walk through your door every day across this school year. Which of those children will be labeled as unsuspecting victims of "learning loss"? How many of them will we put at an academic and emotional disadvantage from the onset? What is the likelihood that we will dub some children in need of 'interventions' and then relegate them to the fix it room to recover what we deem has been lost? What is the long-term cost when we view our children through a lens of loss? If these questions don't make you uncomfortable, then we have an even bigger problem since each question illuminates lingering inequalities that continue to be perpetuated in our schools even as I type these words. And that is simply inexcusable!
Now let's contemplate how "learning loss" is determined as children enter our schools. To do this, I'll turn to our chat topic last week: Time to Rethink Standardized Testing. I'll make this point using three quotes we shared this week as well as a connection to our chat the previous week. These two interrelated topics shared in consecutive weeks are the perfect pairing as one impacts the other: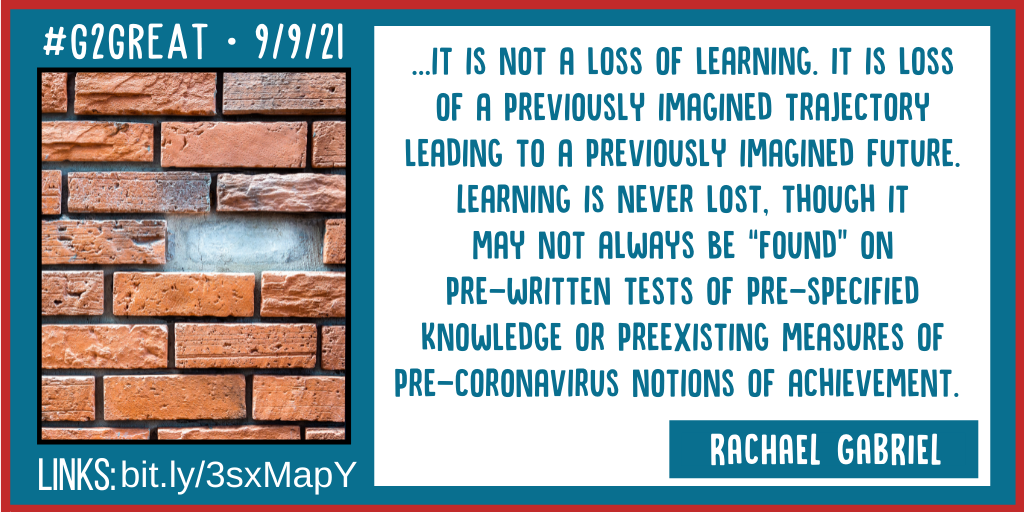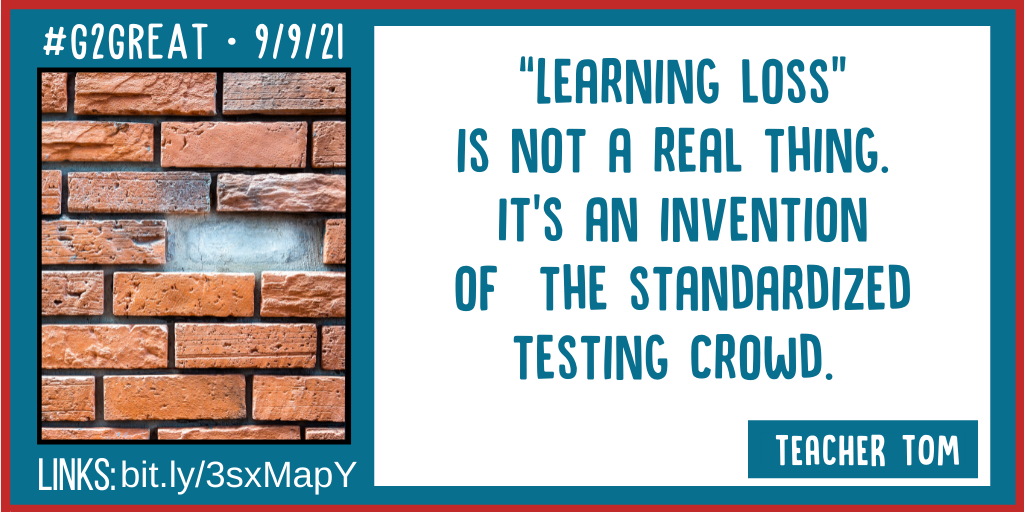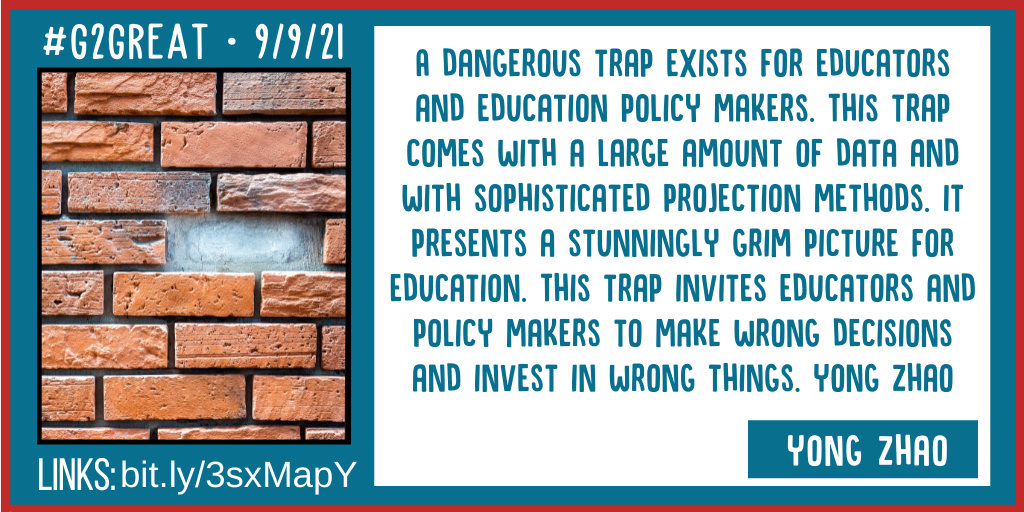 This summer my email in-box was inundated with disturbing justification of "learning loss" in point-of-sale pleas. Each espoused a "learning loss" narrative in a connective trail leading to standardized tests and varied suspect numerical data as proof of the impending crisis. The vast majority were advertising a program using the lure of test scores in a carefully worded marketing ploy. This is meant to convince educators that their program will rescue them from doom and gloom and magically make "learning loss" a thing of the past in record time. Sadly, many will fall for this sales pitch hook line and sinker and happily write a check sure to "save" them from the embarrassment of declining test scores. How can we not recognize that our chronic obsession with test scores is a tragically low bar to define our so-called success? Where is our concern for the children beneath the test score fallacy and malicious marketing mix? Why aren't we challenging the status quo that has long plagued us and harmed our children in the process? I think those questions are all worth deeper thought.
Now let's contrast this disturbing prospect with a quote by Regie Routman from her incredible book, Literacy Essentials: Engagement, Excellence and Equity for All Learners (Stenhouse, 2018). As you read this quote, think of the dramatic perspective shift her wise words bring to mind that are a complete contradiction to "learning loss".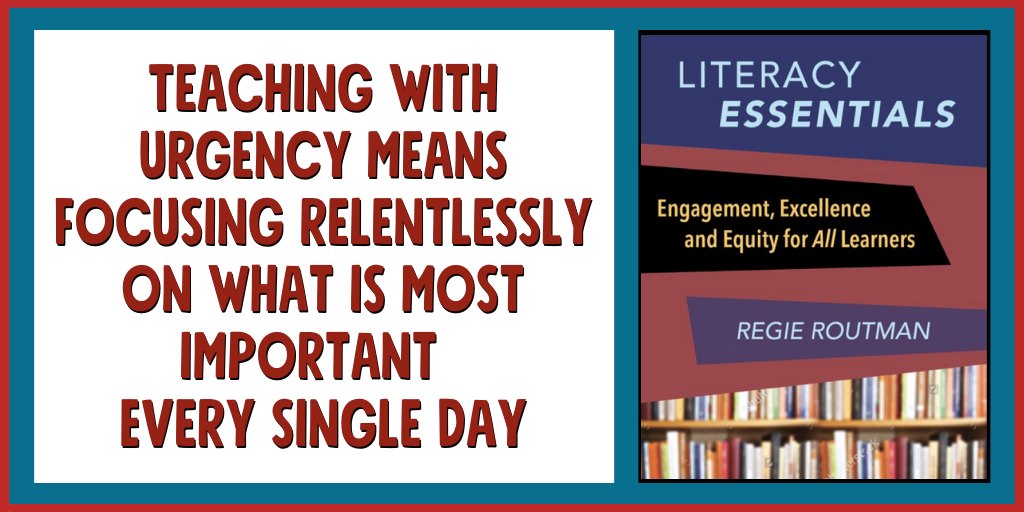 The singular emphasis of Regie's words is on the learning needs of children based on our professional responsibility to them, not a data-fueled marketing agenda or quick fix one-size-fits-all solutions at every turn. Regie is asking us to put learners first by making responsible instructional decisions grounded in our knowledge of literacy and our knowledge of students while using meaningful assessment informant we collect across every learning day. Teaching with urgency is not about selling a program. Focusing relentlessly is not about promoting standardized test scores. What Regie is asking us to do is the very heart and soul of responsive teaching rather than a flawed product pitch where the end justifies the means.
I actually paused as soon as I finished typing the expression above: "the end justifies then means." It's always important to me to I weigh my words carefully so I wondered if it really fit the point that I was trying to make. My desire to be very clear motivated me to check with Merriam-Webster where I found this definition:
"used to say that a desired result is so good or important that any method, even a morally bad one, may be used to achieve it."
Yep, that fits my intended meaning to perfection!
Now that we've taken a good look at "learning loss" from two contrasting angles, I'd like to turn to #G2Great wisdom in the form of passionate chat tweets this week:
MORE #G2Great TWEET WISDOM




Before I share some advice and closing thoughts, I'll share one more visual with a different frame of mind. Take a moment and think about the distinction between our initial chart focused on "LOSS" and my new chart highlighting "GAIN" with a new set of synonyms surround it. Consider what impact this shift from LOSS to GAIN could have on how we view children and our professional responsibility to each of them.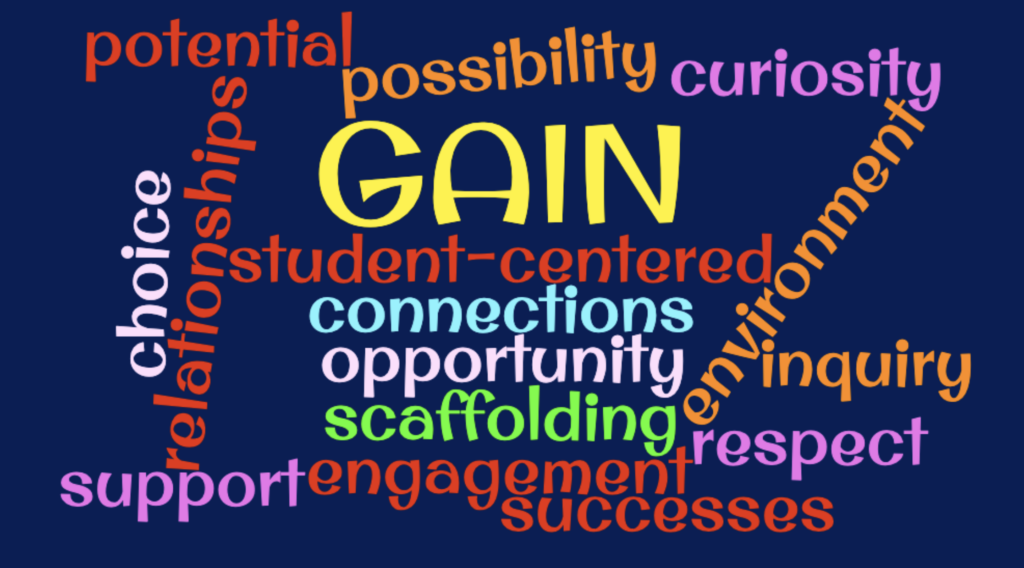 How do these GAIN words make you feel? How does this contrast from how our LOSS words made you feel? What would the impact on our children be if GAIN drives your view, your intent, and your actions? What would the impact on our children be if LOSS drives your view, your intent, and your actions? The language we use can enhance or diminish all that we do because our assumptions impact our beliefs and ultimately lead to daily decision-making – for better or for worse.
…and we, my friends, are in a profession where we reach for BETTER (not worse).
Put another way, I'd like to borrow from Brent Gilson's recent post: Perhaps Radical Change Comes from Radical Hope. His message about radical hope as a way for us to counteract the "learning loss" narrative comes through loud and clear:
"What am I doing to help my students showcase their GENIUS, facilitate JOY, carry ourselves with EXCELLENCE and ignore the noise of those who are looking to profit off a pandemic?"
And so, in closing, I'll leave you with three important guidelines that will support you as you refute the "learning loss" narrative in the coming year so that we may honor the children who enter our schools. These are not meant as broad suggestions but to offer a powerful and purposeful starting point that could have a tremendous impact on how we approach all that follows:
Leave Your Assumptions at the Door
Each day when children walk into your classroom, make it your priority to look for the glimmers of brilliance they carry into our learning spaces with them. We have been blinded to those glimmers for too long that fuel assumptions on preconceived notions of flawed data, skin color, nationality, zip code, school-induced labels, or even past perceptions of other teachers. If we truly put children first, then we celebrate what they bring to the learning experience rather than how we believe that they should fit into a rigid grade level mold. 
Use Student Strengths as a Celebratory Guide
With this in mind, we accentuate those glimmers our children bring to the learning experience on a daily basis with a fervor that drives all we do. The "learning loss" narrative is the epitome of a deficit model that we must steadfastly refute. Rather, we embrace a strength-based model where what children can do when they enter our schools each day becomes the collective stepping stone leading to the new thinking that we support and further strength in a myriad of ways. In other words, we meet children where they are and shift our view to focus on possibilities over limitations.
Acknowledge Children as Our Best Teachers
I have gratefully attended the 'University of Kids' for the last five decades where I've learned more from children than any other professional learning endeavor. I have long honored action research as way to put children in the learning driver's seat so that I may learn from them. I recognize that those children who baffle me most have the most to teach me and so I invite that teaching in. As a curious kidwatcher, we capture noticings and use them to make responsive decisions in honor of our children. When we pay close attention and give children an active role in our instruction-assessment merger, they will always gives us signs that point us in the right direction.  
We owe it to children to counter the "learning loss" narrative so that we may instead focus on making our classrooms a place where we believe in and value every child.
It is an educational imperative that we all embrace the belief that our children deserve nothing less!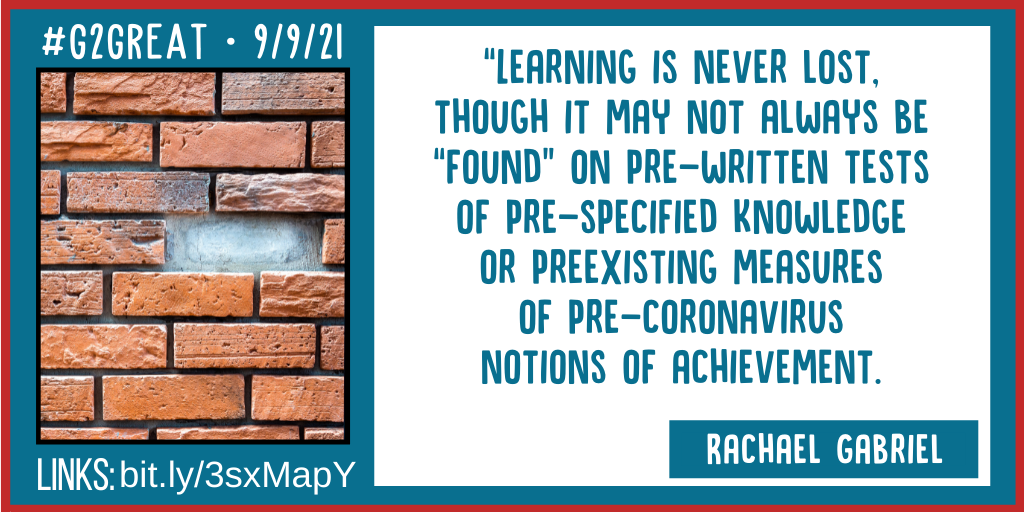 MORE #G2Great TWEET WISDOM




Recommended References for Disrupting "Learning Loss"
What 'learning loss' really means (it's not a loss of Learning) by Rachael Gabriel: http://wapo.st/3ter54y
Can we stop telling the 'corona kids' how little they are learning? by Rachael Gabriel: https://wapo.st/3svnZIu
The concept of "Learning Loss" is Complete BS by Teacher Tom https://bit.ly/31DZk9P
Learning Loss-Myth or Reality (Check) by Kathleen Brown: http://bit.ly/3bYQNEh
My Learning Loss Formula by Russ Walsh https://bit.ly/3thnZ0c
Build back better: Avoid the learning loss trap by Yong Zhao https://bit.ly/3drePbW
Learning Loss is Just Educational Halitosis by Peter Greene https://bit.ly/3uYKmrA
The "Learning Loss" Pandemic and it's Cures by John Merrow (via Diane Ravitch) This tongue in cheek post is meant to drive a sad reality home https://bit.ly/3fxW1sV
Henny Penny Discovers Learning Loss by Russ Walsh https://bit.ly/3acp01T
Previous #G2Great Article Chat
Is Learning "Lost" When Kids Are Out of School? by Alfie Kohn (We spotlighted this article on #G2Great): Article: https://bit.ly/32bgVqw #G2great post: https://bit.ly/3x56oKZ
Webinars
Anti-Testing Activism During a Global Pandemic (Webinar): Panel: Oren Pizmony-Levy, Denisha Jones, Ricardo Rosa, Robert Schaeffer Ceresta Smith, Amy Stuart Wellls http://bit.ly/3vCVk77
The Educator Collaborative Gathering Closing Keynote – Learning Loss or Found: Tools to Move Beyond Deficit Thinking Post-Pandemic with Chris Lehman, Keri Orange-Jones and Elizabeth Lacy-Schoenberger (NOTE: Session starts 33:00) https://bit.ly/3aaJAzX My facebook notes https://bit.ly/2QIYOpd
Towanda Harris podcast with Elizabeth Lacy Shoenberger: Is the Learning Lost or Found and My FB podcast notes: bit.ly/3eEf6aM
Vimeo Video: What Shall We Do?
Blog Posts
Sarah Norsworthy: The Myth of Learning Loss: A Construct of White Dominant Culture
Brent Gilson: Learning Has Not Been Lost
Brent Gilson: Perhaps Radical Change Comes from Radical Hope.