by Mary Howard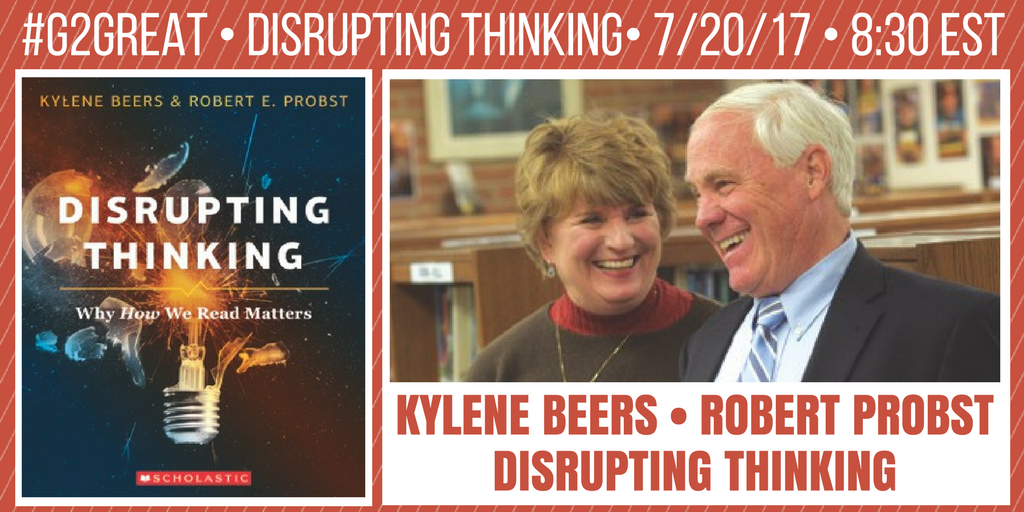 July 20, 2017 was a very special day on #G2Great because this was the day a long-time wish became a reality as Kylene Beers and Robert Probst settled into the #G2Great guest host seat. On this memorable evening, we launched a virtual style celebration of their phenomenal book, Disrupting Thinking: Why How We Read Matters (Scholastic). In an instant, exuberant hunger for the shared understandings that would disrupt our thinking stretched an expansive wing across Twittersphere (evidenced by an engaging conversation that exceeded the 1000 tweet storify limit).
I vividly recall the first time I held this exquisite book in my hands and excitedly opened the cover to soak in their wisdom. They captivated my heart with words that read like a promise: The Readers We Want. But as I read those first pages, waves of sadness washed over me as a sense of professional urgency escalated with each tear. I revisit pages 14 to 17 often because they illustrate the tragic consequences that our choices can have on the reading lives of children. And that lingering image moves me to celebrate Disrupting Thinking in their honor.
Each week, we look back at our #G2Great chat and reflect on key ideas illustrated by the tweets that inspired each one. But this week I decided to use just one tweet that set the stage for these reflections. (I'll share additional tweets from Kylene and Bob at the end of this post with others from our amazing #G2Great family)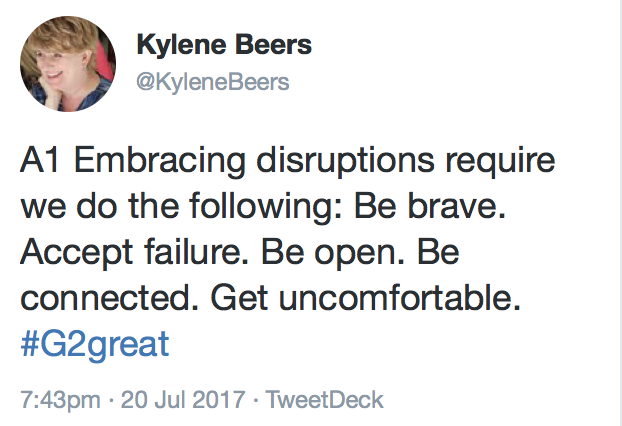 The moment I read Kylene's words, I knew it reflected the big picture I wanted to capture in my post. And so with her words at the forefront combined with inspiration from the entire chat experience, I'd like share six disruptions that we must embrace to bring disrupting thinking to life in countless classrooms with our lead disruptors guiding us from the sidelines.
Disruption 1: Embrace CHOICE
Looking back on the chat, one word was a thread connecting every tweet: CHOICE. This word was easily the most repeated and always in the context of students. If we have any hope of disrupting our thinking and thus that of our students, it will require us to celebrate the texts that are most likely to awaken deeper thinking and bring it to the surface because our readers care about their reading. We cannot make this shift to disrupting thinking if we're not willing to thoughtfully select and share the best possible texts we can find and then provide time and space for students to choose their own. By embracing choice, we are opening the door to reading that will beckon students so that books will become the impetus for disrupting thinking.
Disruption 2: Embrace TALK
Using these texts to engage students in meaningful and productive dialogue was another idea repeated across the chat. The central feature of these discussions was exploring how to let talk to rise naturally from engaging text interactions. We discussed experiences ranging from opportunities to share with a partner, in a small group, or as a whole class but in each talk variations, the focus was on keeping students at the center of this discourse. We agreed that teachers must lay a strong foundation for talk by explicitly modeling their own thinking and then support this process until we can gradually relinquish responsibility to students. We acknowledge that students deserve a leading role on the talk stage and so we create a supportive environment so that we can to step back and listen to in-the-moment conversations and then use those conversations as a springboard to next steps.
Disruption 3: Embrace IMPACT
The collective professional dedication evident in tweets loomed large across our chat as we set our sights on crafting learning experiences that would maximize student impact. A common discussion theme was that student talk would revolve around these text experiences –­­­ not for the sake of a grade or score but because we knew that those opportunities could change their lives in some way. We agreed that such life-changing moments should extend beyond our four walls since our higher purpose was to create a reading experience that students would carry with them long after it was over. In other words, we knew that these experiences could only truly impact students when our instructional pursuits were designed in ways that students would carry their learning into their homes and into the world.
Disruption 4: Embrace INVITATIONS
The word respect was another recurrent word across the chat and it was used in the context of inviting students to disrupt their own thinking. We acknowledged that the ideas the author brings to the thinking table are certainly relevant to the learning experience, but we also agreed that we must respect student thinking by extending them an invitation to the thinking table to merge the authors ideas with their own. Through invitations we stand to learn much about students as we consider new ideas that we could not have possibly have imagined without this deeper engagement. And in this two-way thinking process we begin to ask fewer questions as we invite students to generate their own. We do this because we believe that their thinking matters as much as the author's and because we know that we cannot disrupt thinking if each instructional move along the way is recorded in a step-by-step, question-by-question lesson guide.
Disruption 5: Embrace UNCERTAINTY
Looking back across our chat, educators readily acknowledged that the path to disrupting thinking is littered with unexpected twists, turns, pauses, and challenges that inevitably arise when we do not know the final destination. We celebrate the amazing opportunities that come from the messy process that is inherent in the risk-taking disrupting thinking asks of both teachers and readers. There was a common understanding that if we are willing to follow the student thinking trail that is oft-riddled with uncertainty, that this uncertainty could provide the room students needed to move their thinking to new discoveries with new uncertainties and discoveries with each step along the way.
Disruption 6: Embrace POSSIBILITIES
I doubt that there is a single educator who has read Disrupting Thinking who doesn't recognize the professional possibilities of new thinking. In a July 6, 2017 live Facebook event, Kylene and Bob reminded us that our goal is not just to identify "Best" practices but to explore NEXT practices. This central message of their remarkable book asks us to take a leap of professional faith from the first pages to the last. We do so willingly, meandering our way to the possibilities just out of view as we disrupt our own thinking and the thinking of our colleagues. It is my hope that these ideas will raise powerful conversation that will bring NEXT practices into focus and inspire others from a schoolwide perspective. And we are all eager to explore those possibilities in the new school year ahead.
In the introduction aptly titled Where The Story Begins, Kylene and Bob describe the seeds that grew into Disrupting Thinking with the words, "It Was a Child…" These three words should inspire celebratory professional wonderings that lead each of us to embrace our own disruptions in the name of kids.
As we launch this disrupting thinking journey, we celebrate the seeds of thinking Kylene and Bob have planted. And through this exploratory journey their words of wisdom remind us of the WHY that is destined to lead us ever-closer to the disrupting thinking we desire…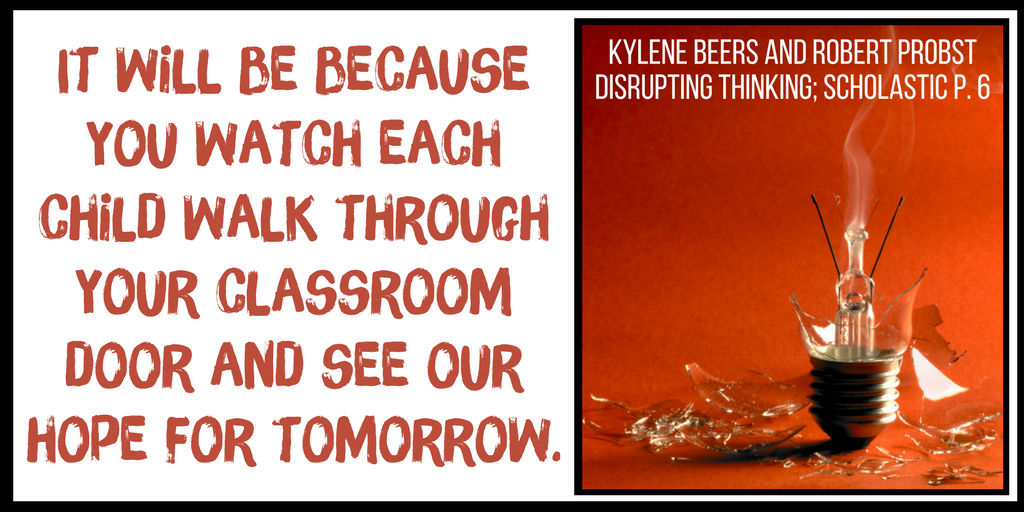 Thank you for filling us with new hope for tomorrow Kylene and Bob!
Disrupting Thinking tweets from Kylene and Bob
Disrupting Thinking tweets from our #G2Great Family
LINKS