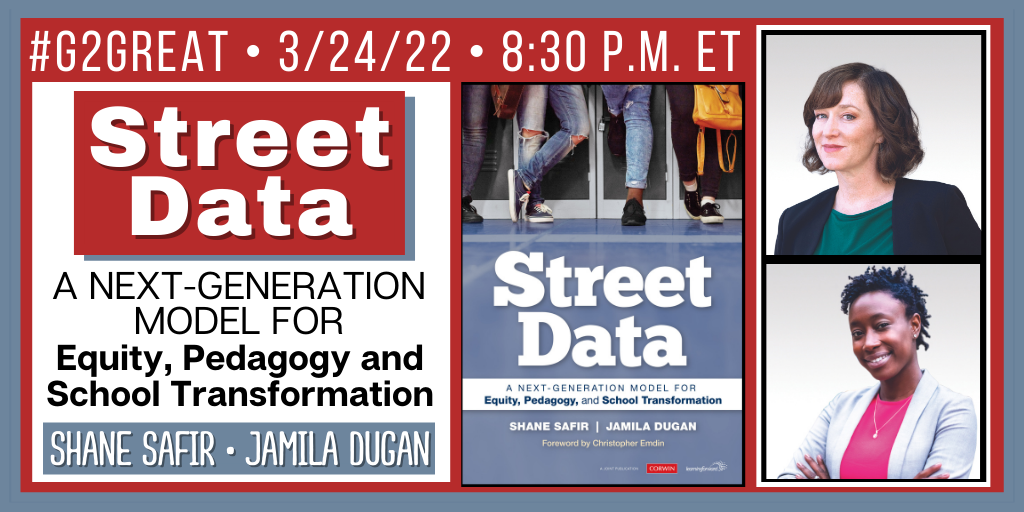 by Mary Howard
On 3/24/22, #G2Great chat welcomed first time guests, Shane Safir and Jamila Dugan. Professional books are published rapidly, even in a global pandemic, but the moment we discovered their remarkable book, we knew that Shane and Jamila had crafted a very special gift between two covers in the pages of Street Data: A Next Generation Model for Equity, Pedagogy, and School Transformation (Corwin, 2021). We quickly learned why Street Data was receiving so many accolades and we wanted to use our twitter chat platform as one more path to get their stunning book into the hands of educators and decision-makers.
Before I turn my attention to the incredible thinking that Shane and Jamila shared on our #G2Great chat, I'd like to begin by drawing from Street Data:
ILLUMINATING THE AUTHORS' STREET DATA "WHY"
When I'm afforded the blessing of writing about a book spotlighted on our #G2Great chat, I always begin with a deep dive into reading, watching, and listening to whatever I can find that will offer me insight about the book ideas. I happened on a Corwin webinar that was done when the book was published in 2021 so I was delighted to find that it can still be viewed by registering after the fact. In this wonderful session, Shane and Jamila each shared their Street Data "WHY" and this was just what I needed to open this post:
Jamila:
"What would the world look like if my children, if black children, if all children were free? It's the question I'm asking. It's the dream I'm chasing."
Shane:
"This book is about radical dreaming and it's about cracking open spaces of possibility first and foremost in our minds and our sense of imagination."
Their heartfelt words further elevated the impact I felt when I first read Street Data. I can't imagine a better extension to their wise words than the response we received from Shane and Jamila to our first of three questions.
What motivated you to write this book? What impact did you hope that it would have in the professional world?
The concept of street data was a seed planted in The Listening Leader (Jossey-Bass, 2017), Shane's first book and our first collaboration, that people were really attracted to. We started playing with it and then Shane said, "We are learning a lot… we need to write about this." I (Jamila) was out in the field with leaders, learning a ton about the challenges they were experiencing in leading for equity. We both have our own children who are working their way through this system, often with great struggle, and that is where it all emerged.
Impact: Wanted to make the connection between theory and day to day pedagogy. Wanted to bridge the gap between what is traditionally framed as "equity work" and the transformation of teaching and learning.
Impact: Create a pathway toward an education system focused on agency of text test scores.
STREET DATA DEFINED IN THE AUTHORS' WORDS
In the Prologue, Data in a Time of Pandemic, Shane brings clarity to the meaning of Street Data:
Street data is the qualitative and experiential data that emerges at eye level and on lower frequencies when we train our brains to discern it. Street data is asset based, building on the tenets of culturally responsive education by helping educators look for what's right in our students, schools, and communities instead of seeking out what's wrong….
WHY STREET DATA IS DESPERATELY NEEDED NOW
There are some books that bring chills when reading and Street Data definitely did that for me. From the first word to the last, I was struck by how much this book is needed and should be read by every educator and school leader:
In one of our chat questions, we shared this wonderful book quote from Shane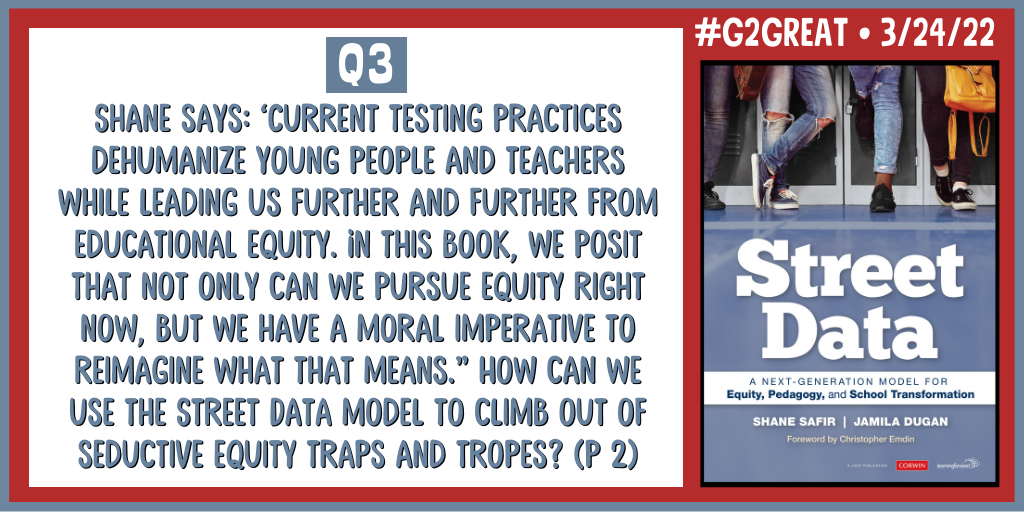 I'm quite certain that there isn't one person reading those words who does not recognize that Shane's first sentence is tragically alive and well in education: "Current testing practices dehumanize young people and teachers while leading us further and further from educational equity."
Now let's pause for a moment and look at the response Shane and Jamila shared with us on our second question. I don't know many authors who can speak volumes in so few words but they certainly demonstrate that here:
What are your BIG takeaways from your book that you hope teachers will embrace in their teaching practices?
Data can be humanizing. Data can be liberatory. Data can be healing.
Equity work is first and foremost pedagogical work
I'd like to follow those three essential beliefs using the slide that we shared just before our chat with Shane and Jamila began: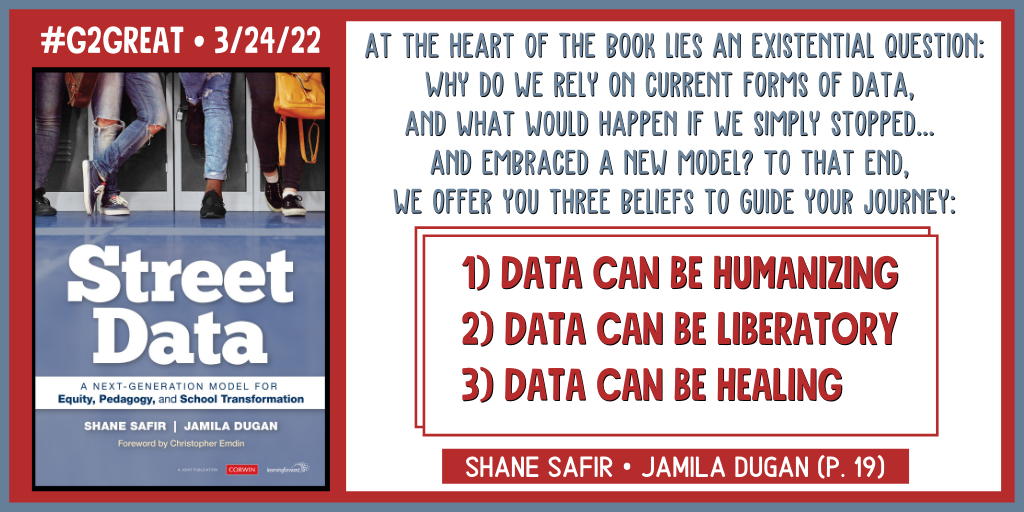 It occurs to me that responding to the profound question that Shane and Jamila posed at the top of that slide should be at the center of our discussions in every school across the entire year. In page after page of Street Data, Shane and Jamila eloquently respond to their question, offering a call to action with a flexible template to support schools in bringing their words to life where it matters most – in the company of children. 
I can't stop thinking about their first belief: "Data can be humanizing" since the way education has approached data across the years is the epitome of a dehumanizing view that has elevated the long existing educational inequities that blind us to who our children are both as learners and amazing humans full of potential. I often wonder how many future leaders we have lost because of these systems perpetuated year after year. We expend precious minutes collecting data and then use those numerical values to label children – sorting them into the haves and have nots without any perception of the child beneath the data. Then we further exacerbate the issue by enthusiastically reducing children to mere blips on a spreadsheet radar screen. Through a testing process entrenched in the very culture of our educational systems, we are asked to willfully ignore the brilliance that exists within each child just waiting for us to notice, celebrate and respond to if we can look beyond the numbers to see the child in front of us.
In Street Data, Shane and Jamila eloquently help us to understand the heart of equity with detailed suggestions to embrace the "street data" that surrounds us and humanizes the assessment process in ways that will lift our instructional choices. But to embrace "street data" we must also be willing to embrace student agency so that we can draw from experiences that keep students at the center of the learning process as teachers take a step back to admire and celebrate brilliance in action. By putting children in the learning driver's seat and offering choice with space and time to use it, we are afforded on-the-spot access to rich assessment grounded in and inseparably linked to learning in action.
The authors make this point beautifully in Street Data:
"We have retained a vision of what is possible when we build classrooms and schools and systems around students' brilliance, cultural wealth, and intellectual potential rather than self-serving savior narratives that have us "fixing" and "filling" academic gaps."
TWITTER WISDOM FROM SHANE AND JAMILA
I'd like to turn our attention back to our #G2Great twitter chat because the words of Shane and Jamila complement and extend Street Data beautifully: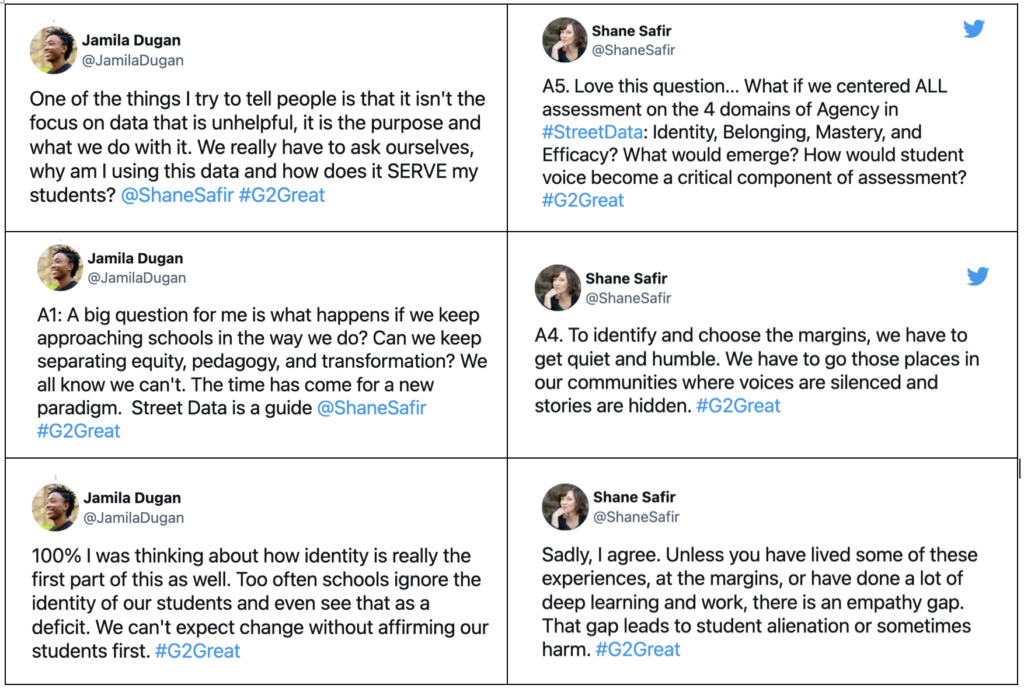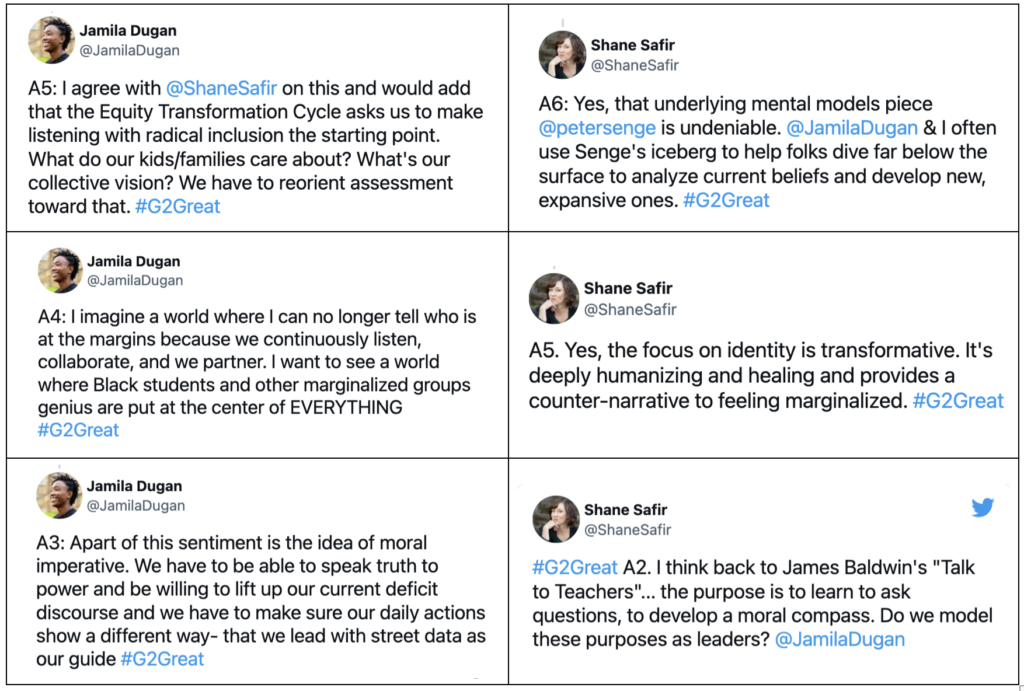 Before I share closing words, I'd like to turn to a very important response from Shane and Jamila based on our third question:
What is a message from the heart you would like for every teacher to keep in mind?
Be brave and start somewhere. Use the Equity Transformation Cycle in the book to listen deeply with a mindset of radical inclusion; uncover root causes of inquiry with a mindset of curiosity; reimagine current reality with a mindset of creativity; and move forward with a mindset of courage.
Grow your awareness of your ways of knowing and being by choosing the margins.
My Closing Thoughts
I am so grateful for the opportunity to write this post to celebrate the important ideas that I believe will become a transformational stepping stone for educators and schools who are wise enough to read and apply the vast wisdom in Street Data. When I was searching for insight for this post, I happened on a YouTube Video that was posted when Street Data was first published. In Author Reflections, Shane and Jamila each pose a question that asks us to make Street Data a reality:
"What would it look like for the student experience to be designed for them and even by them. My hope and intention is for every person who's thinking about what it looks like for their child to have school designed with them in mind." Jamila
"The book is just the seed but my hope is that together we can cultivate this thriving garden of student voice." Shane
It seems appropriate to close with words of wisdom Shane and Jamila shared on our chat. We are so grateful to you both for inspiring us all!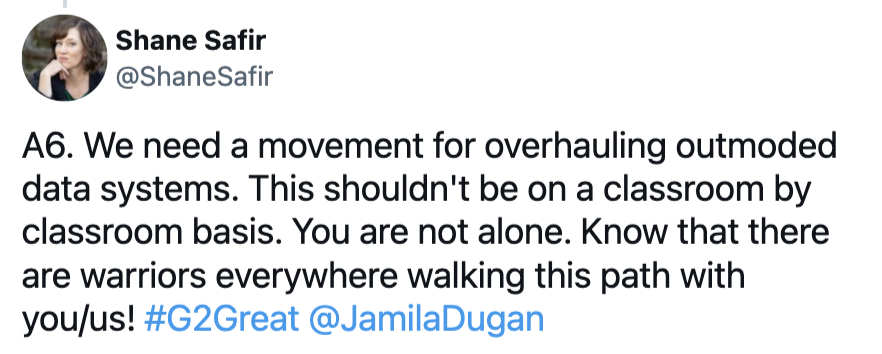 LINKS
Shane Safir on Twitter @Shane Safir
Jamila Dugan on Twitter @JamilaDugan
Street Data: A Next-Generation Model for Equity, Pedagogy, and School Transformation (Corwin, 2022) (purchase Street Data)
Author Reflections with Shane Safir and Jamila Dugan (YouTube Video)
Corwin Video Session with Shane Safir and Jamila Dugan (Still available for viewing)
Street Data: A Conversation with Jamila Dugan and Shane Safir (podcast)
Street Data: A Pathway Toward Equitable, Anti-Racist Schools (podcast)
Beware of Equity Traps and Tropes by Jamila Dugan
Authors Shane Safir and Jamila Dugan: 5 Things You Need to Know To Be A Highly Effective Educator or Teacher: An Interview With Penny Bauder