by Mary Howard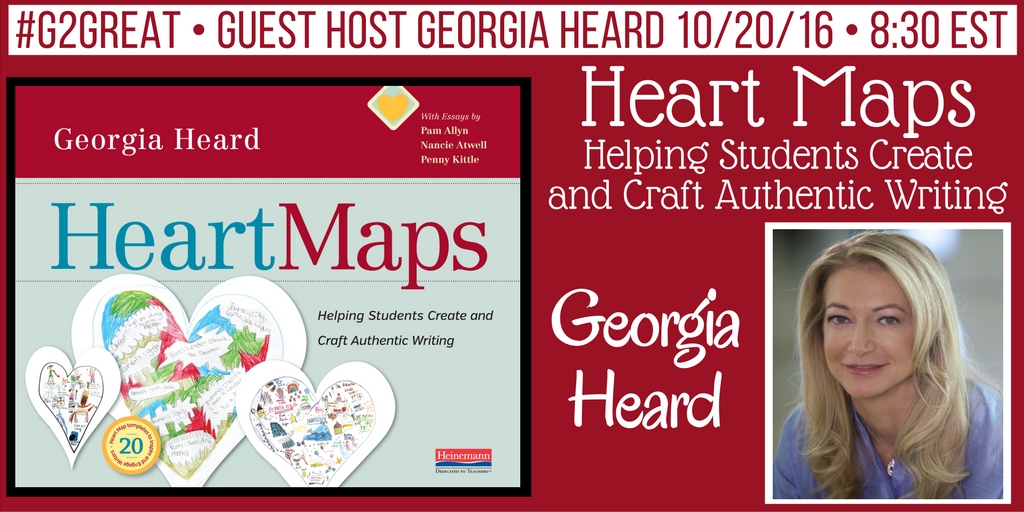 On October 20, 2016, #G2Great was delighted to welcome guest host Georgia Heard. Georgia is the author of the incredible new book from Heinemann, Heart Maps: Helping Students Create and Craft Authentic Writing. Within moments of announcing Georgia would be our guest host, an enthusiastic hum spread across Twitter and grew to a fever pitch throughout the chat.
Every once in a while a book comes along that emanates JOY. "Joy" is custom made for Heart Maps where Georgia takes us on a joyful 'heart journey' with student-centered maps in hand to celebrate the inner writer within each child. Page after glorious page is filled with the perfect blend of carefully crafted advice from the heart and illustrated heart maps that bring her sage advice to life. Twenty Heart Map templates in Georgia's book have already captivated writers by giving their ideas a 'heart home.'
During the chat, Georgia posed two questions that should give us all pause for thought.  These questions should also remind us why we need Heart Maps in schools everywhere: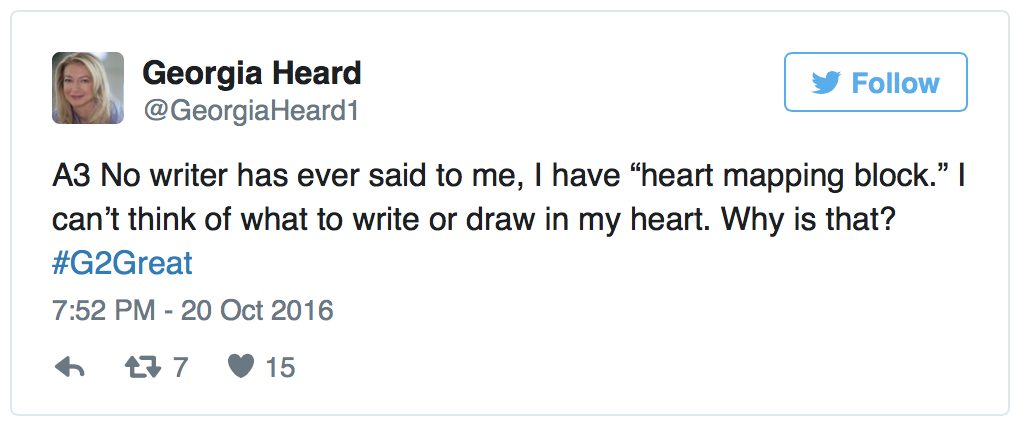 Georgia's questions reflect the spirit of Heart Maps as a flexible process designed to awaken writers' hearts from the inside out. And so in celebration of our joyful journey with Georgia as our #G2Great guide, I reflect back on our chat through her eyes with six HEART SIGNPOSTS – from her heart to ours!

Writing from the Heart begins with MODELS
Heart Maps allow us to set the stage for student writing as we show children how to unleash their hopes, dreams and wishes from heart to paper. With an array of Heart Maps at our fingertips, we encourage them to use the one that makes most sense as we offer a powerful reflection tool they can use again and again.

Writing from the Heart is fueled by PASSION
Heart Maps celebrate the amazing stories children brings to the learning table. We honor our writers by helping them breathe new life into those stories using words and images lovingly placed on a Heart map of their choice. Passion helps them rediscover stories and relive them on the wings of writing.

Writing from the Heart extends an INVITATION
Heart maps invite children to capture whatever story they want to tell with room to envision what is possible. We do this by creating a visible forum to record thinking, unfettered by mechanics that thwart their efforts so thinking will become a springboard along a wonderful new path to writing.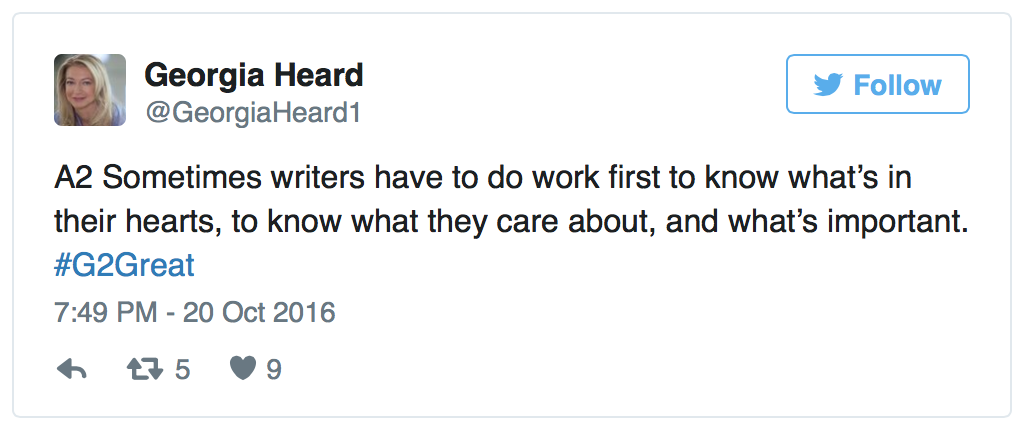 Writing from the Heart inspires CURIOSITY
Heart Maps allow children to linger a bit longer in their own thinking and use this as a scaffold to writing. We are inspired by our curiosity about student ideas waiting to be awakened which in turn inspires theirs. It is this shared sense of curiosity that leads us on an exciting combined expedition.

Writing from the Heart celebrates EXPLORATION
Heart Maps give students time to explore matters of the heart, joyfully sifting through the 'experiences that beg to be written'. We believe deeply that life experiences lead to profound writing if we are willing to take the time to let those life experiences blossom into view in personally relevant and meaningful ways.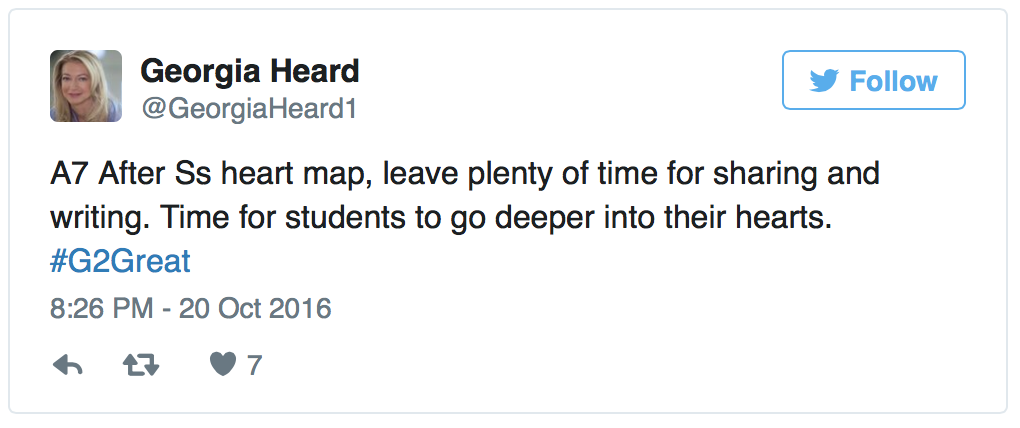 Writing from the Heart beckons COLLABORATION
Heart Maps give children a visible tool they can hold in their hands. This concrete reference can then be shared with others as they work together to explore the words and images on their hearts collectively. Collaborative dialogue is a powerful way to transform ideas from heart map to heart writing.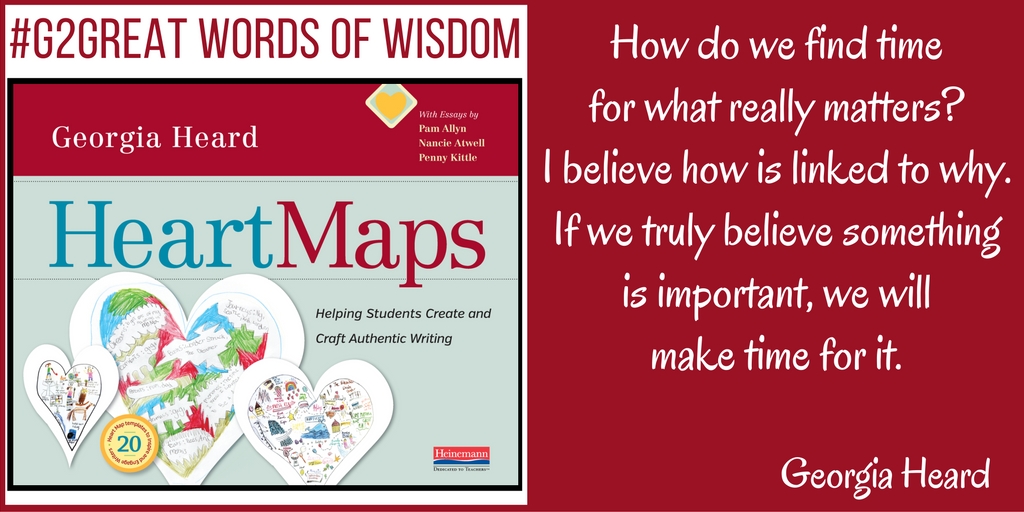 Georgia's words remind us that we must make time for what matters – and writing from the heart matters deeply. Since we started with Georgia's question, let's end with a question and a hope that sums up her message…

We respond to Georgia's question by creating an atmosphere where kids will "ache with caring" and use Heart Maps to inspire children everywhere. We are so grateful for Georgia's gift of a "metaphoric heart map as a means to discover stories" and we accept her challenge to awaken writers "most secret, true selves" while in the process awakening our most secret, true personal and professional hearts!

Georgia's hope is answered as teachers across the world use Heart Maps to give writers a home for their thoughts and dreams as we release the writer that has always resided inside. May Georgia's images in Heart Maps and #G2Great examples below inspire you as you continue your own joyful heart journey in the company of children.
In Heart Maps Georgia writes, "My hope is that as you explore heart mapping with your writers, you will fall in love with the stories and poems, truths and courage that will unfold–both theirs and your own" (p. 131).
And so we will Georgia. And so we will!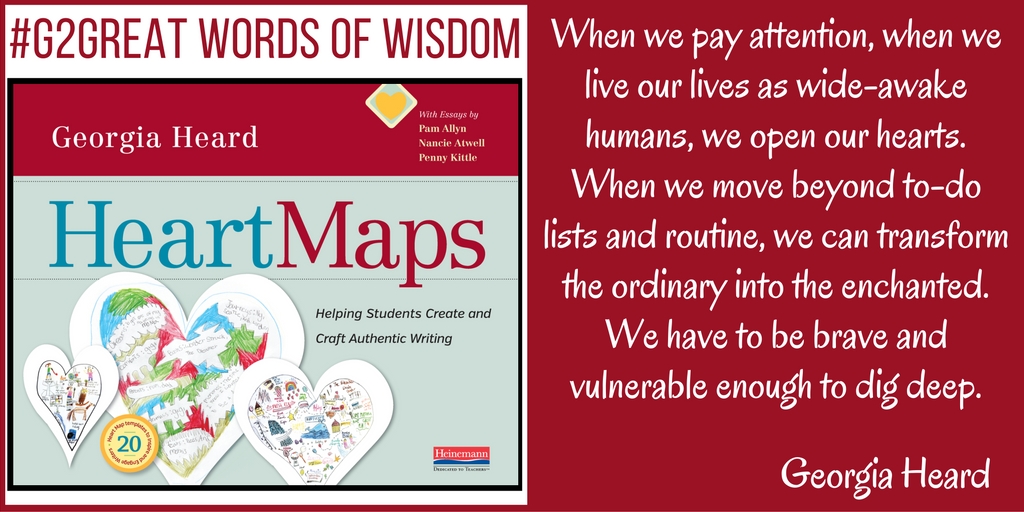 Bathe your heart in these wonderful images of Heart Maps Georgia posted during our #G2Great chat
Use these links below to get to know Georgia
Amy Ludwig Vanderwater Heart Maps Post
Two Writing Teachers Heart Maps Review