by, Jenn Hayhurst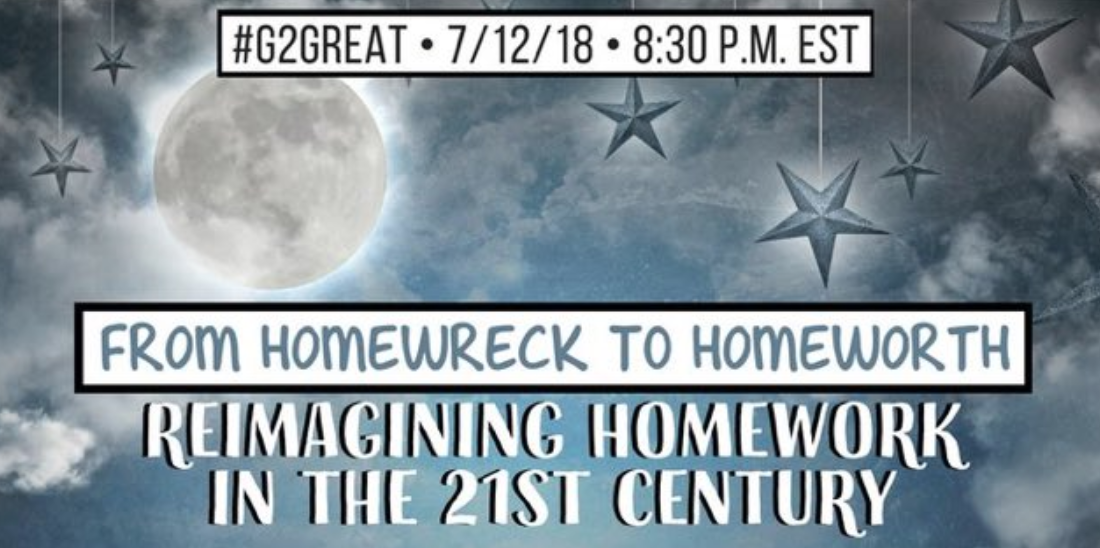 Bloggers write to push the thinking of their readers. After reading, Harvey "Smokey" Daniels' (@smokeylit )  Homewreck, as featured on  The Robb Review, the entire #G2Great team was inspired to explore ways to reimagine homework. On July 12, 2018, we invited educators to engage in a broader conversation about the role of homework and how we might make it more worthwhile in the 21st Century.
Homework in the 20th Century…
My third-grade teacher definitely believed in homework. Even though the school day was over, the far-reaching hand of my teacher knew no bounds. There I would sit, a little girl with curly hair, impossibly thick glasses, and a highly developed vocabulary, Monday – Thursday (mercifully Friday was my reprieve) with spelling lists, worksheets, and heavy textbooks – it was obligatory and there would be no negotiating. My mother, the saint that she was, would give me a snack, and let me leave Jeopardy on in the background to keep me "company" as I did my work.
Jeopardy is still on the air, and for that matter, homework hasn't changed much either. So, I wonder if Alex Trebek is some other child's wingman to a homework dilemma of today. Change can only happen if we are willing to discuss trying something new.
In a Word: Homework!
There were many words used to describe people's positions on the subject of homework…
In Smokey Daniels post he writes,  "The greatest source of tears and heartbreak in our family, over all of our child-raising years, was homework." and #G2Great educators all seem to agree! Our words used to describe homework were: useless, irresponsible, and ineffective. The way we've done homework in the past is not worthy of students' time and energy. If we aspire to make homework worthy or, "homeworth"  we might alleviate frustration if turned homework into passion projects, built around inquiry and relationship building.
The Category Is..

.
"So, let's start by changing the categories of what counts as homework. Then, let's design a time that's stress-free, that invites kids' curiosity and choice, and that doesn't start battles between parents and kids, ruin whole evenings, and sell more Kleenex." – Smokey Daniels I
The best categories are ones that are self-selected and assigned by the students themselves. Reimagining homework means handing over the reins to students to pursue their interests and to stoke their curiosity. We can participate in this process and encourage their ownership and creativity if we involve everyone. That includes students, families, and colleagues. There would be a lot of moving parts but in the end, wouldn't it be worth it to have happy, engaged children who wanted to continue learning outside of school? I believe it can be done.
I'll Take Reimagining Homework for $1000
So, let's join Smokey Daniels and  #ditchthehw! Together, we can reimagine a better way! We can start by sharing our great ideas. I am so grateful for @Kpteach5 because she did just that, and her tweet was a celebration!: She shared what she does to make homework more meaningful. She provides students with choice, structure, and opportunity:
As I think back to my third grade self, I wish I had a teacher like Ms. Picone, or any of the essteemed educators that participate in our #G2Great PLN. I would have been cooking with my mother, or reading to my younger brother. I might have been working with Dad in the garage building something. Perhaps I would have been singing with my sister, or sketching my dog.  It seems very fitting that for me, I will forever associate the words "homework" and "jeopardy" as one in the same:
Let's do this better for our students.