by Mary Howard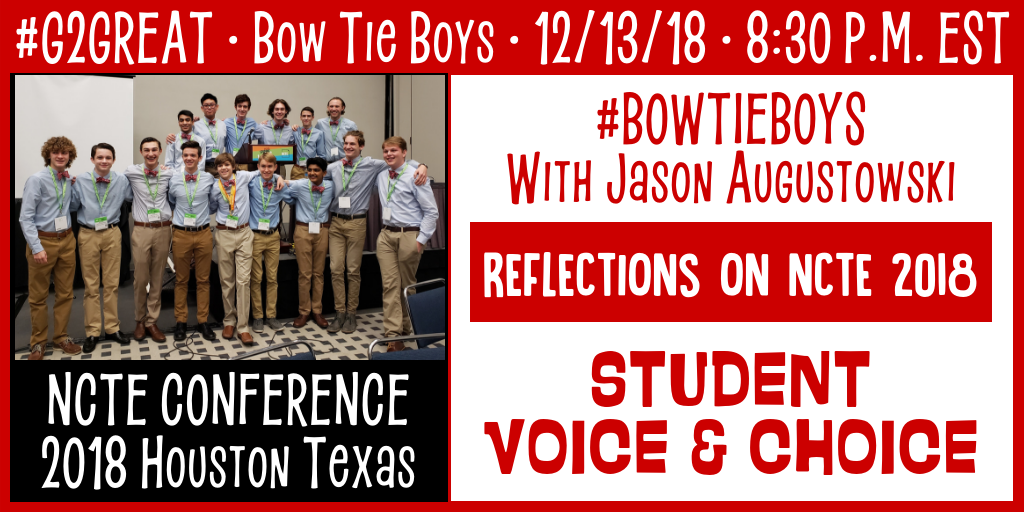 Our #G2Great chat family was abuzz with excitement on 12/13/18 when our good friends #BowTieBoys led by teacher Jason Augustowski returned as our guest hosts (excitement that was elevated by a first time visit from our new friends, #HairBowGirls). #BowTieBoys have taken the chat seat of honor on five previous occasions including 4/26/18, 3/8/18, 5/25/17, 3/6/17 and our very first #BowTieBoys event on 6/9/16 with guest Sam Fremin.
Their most recent visit followed their presentations and attendance at NCTE 2018 in Houston last month based on their reflections of the NCTE theme of Student Voice and Choice. These remarkable young men talk, rap and write about education, sharing with educators their belief that teachers are the key to making our schools a more positive and productive place as they offer specific suggestions that would bridge the existing teacher-student gap.
Pause for just a moment and imagine what these young men ranging from grade eight to senior in high school have accomplished. I wonder how many of us could even envision sharing our ideas about teaching at a national conference, YouTube Channel, or blog post. Having experienced their powerful voices in each of these arenas, I am well aware that their collective commitment to education drives them. They are so uniquely accomplished at raising their voice and listening to them is a reminder that students are our future. 
Since this was their fifth #G2Great visit and the topic was student voice and choice, I thought it made sense to depart from the usual #BowTieBoys blog post and let their voices lead the way.  I posed questions and they graciously breathed new life into each one. We are so proud to share their words of wisdom on our chat and in this post:
What inspired you to form #bowtieboys?  What impact did you hope that this group could have on the education world and in what ways has that vision become a reality? (question posed to teacher, Jason Augustowski)
I was originally inspired to create this group when NCTE came to Washington D.C. in 2014 (our backyard). I had already presented in Chicago, Las Vegas, and Boston and was inspired by how many teachers came to these conventions to collaborate – all in the name of doing right by kids. And that's when I thought – but there isn't a kid in the joint. How do we know for sure that we are accurately meeting their needs if they aren't a part of our planning, our assessing, our grading, our environment building, etc.? I had built a really strong rapport with my students and their families not only through teaching, but through directing school and community musicals and coaching travel paintball. Bringing students along to the conference was the next step in my own professional journey and one in which I truly and whole-heartedly believe. We have to ally with students as 50-50 partners. We need to create with them to offer the most authentic choice and experience in their learning. When establishing environments, we must not only work with our colleagues, but with our kids. We need to make rapport central to the classroom (the famous quote: no kid cares what you know until they know that you care). Let's replace worksheets with inquiry and assigned readings to libraries of inclusive and diverse texts. Let's stop focusing on the "rules," "playing school," and "the way it is/has always been" and become rebels, disruptors – true educators (that are first and foremost informed ourselves). But not informed by state mandated curriculum. Not informed by politicians who have never set foot in a classroom. Informed by the constituents with whom we work each day: the students (and dare I say it, their parents). And I learned all of this from my students (when I sat down long enough to listen). We presented in D.C. with Sara Kajder about shifting the classroom paradigm (both in terms of flexible seating and autonomous instruction). And I was proud. And I thought this magic could never happen again, for NCTE 2015 was scheduled to take place in Minneapolis… and there was no way parents were going to accompany their kids across the country, right? Wrong!
Being a male teacher, I assumed that male students gravitated to me which is why our group was comprised of boys. So, when our then small group presented in Minneapolis (this time with Lester Laminack) we decided to dress in matching outfits and boast bowties. Lester immediately dubbed us "the #bowtieboys" and the name stuck. Traveling around that conference and the following year in Atlanta, the students were able to learn, make connections and networks with our teacher heroes, enjoy the vendors, and experience a professional situation not common for their age. But after Atlanta in 2016, we were in store for another major shift. Our group grew from three to ten and would then grow again in 2018 to fourteen.
At the start of 2017, our then group of ten, took to the interwebs with a commendable force and passion. They established Twitters, blogs, a YouTube channel, began conducting professional research (they have collectively read my entire professional library), and working on a textbook in which they could encapsulate their flowing ideas. They were dedicated to make a change in education by showing teachers what students can do when given the environment and support. They wanted to partner with teachers and promote that partnering all across our nation. And to some extent (at least we like to believe) they have. They have had the opportunity to present multiple times in St. Louis and Houston, guest host five #G2Great chats, and one #NCTE chat. They have led professional development for career switchers and teachers in our home county and they are ready to do more.
Coming in 2019 we are extremely excited to announce our new identity: BOW-TIE (Bringing Our Why because Teachers Include Everyone).  This group of now FORTY students of all genders will manage an all new website featuring the following exciting additions: an About Me page (where teachers can get to know the stories behind each of these incredible students), the Blog (the old posts will be there, but newly reformed and re-imagined. Think Newsletter, Podcasts, and beyond), the YouTube (where students will be writing, shooting, editing, and uploading original content every month), links to social media (not only will students maintain their original Twitter accounts, but we now will post on our GROUP Twitter and Instagram – look for the @handles in the new year), and a Contact Us page to aggregate booking requests. BOW-TIE wants to hit the road and come to a school district near you to learn alongside your teachers, administrators, and students. We couldn't be more excited for what the future holds and couldn't be more thankful to all of our friends, colleagues, and supporters who have believed in us from the beginning and helped these students make meaningful contributions to our (and their) world. Below are some of their thoughts: 
The following questions were answered collectively by students Dawson (Doug) Unger(junior);Kellen Pluntke(senior); Ryan Beaver(junior); Rishi Singh(junior); TQ Williamson(junior); Christian Sporre(junior); Spencer Hill(junior); Joe O'Such(junior); Jack Michael(freshman); Jason Nguyen(freshman); Aaron Eichenlaub(grade 8); Nihar Kandarpa(freshman); Sam Fremin(senior); and Connor Grady(junior):
Being a member of #bowtieboys comes with responsibilities beyond your own school demands. What motivated each of you to become a member of this group?
School stopped being fun for most of us in late elementary or early middle school in part due to a loss in curiosity and creativity. Learning and school in general felt like more and more of burden and our natural curiosity was constantly degraded. Part of why many of us joined was because we saw that school degraded our curiosity, not building it, and that needed to be changed. Not only did curiosity degrade over time, but many of us felt that even as we became closer in age to teachers, they would become more and more standoffish. By advocating for change in these regards, many of us also wanted to push outside our limited bubble and interact with the world in a truly impactful manner.
How have you benefited as a member of the #bowtieboys?
Due to the special and groundbreaking path of the #bowtieboys, we have built nearly unparalleled leadership skills. It is also never a bad thing to be part of anything new and innovative, which is the mission of our group. By reaching into new audiences, we have been able to become affluent with networking skills and advocate for ourselves and others. We have reached into a broad scope outside our confined bubble and interacted with teachers and educators across the nation. We have had an incredible audience to communicate with and for the first time for many of us, we our writing for an intrinsic, not extrinsic cause. By truly doing something we are passionate about, which no doubt requires a lot of time and effort, requires significant self-motivation.
More specifically, we've:
Developed leadership and networking skills and have seen a dramatic rise in our public speaking ability.
Started to intellectually evaluate more than just the material and have constructive criticism. Speaking off the hip and being able to talk on the spot.
Learned to share our thoughts in constructive ways.
Been able to reach outside my own bubble and look at many other parts of the world and open my eyes.
Been given a chance to thoughtfully voice opinions and open the door for other students.
Gotten more well-spoken and confident.
Become better, more articulate writers.
Started to write for an actual audience and not a grade, but an intrinsic drive.
Received a platform to speak from and advocate for myself and others.
Learned self-motivation.
Each of you have presented at NCTE, many of you on several occasions. How has this experience changed you? What contributions do you feel that you have made as a result?
NCTE is a lot of networking, plain and simple. By connecting and interacting with educators across America, we have had to build our networking skills, often in a trial by fire. To effectively network, we have to be not only willing but proactive in talking to others. Often, we develop into our own cliques, which isn't a bad thing, but NCTE helps us move outside these cliques. Not only does NCTE break down any cliques within the #bowtieboys, but also gives us experience to talk to others outside our groups.
In much of the same trial by fire, we have had to become capable to talk (and rap) in front of hordes of teachers. Many adults have rambled on the importance of public speaking, yet few students participate in public speaking outside of class presentations. NCTE gives us a raw unfiltered experience of public speaking.
Finally NCTE is one of our greatest assets in the regard that it serves as our most valuable platform. We put the idea of student voice and choice on full display, often by intertwining typical classroom experience with other intricacies of our lives, seemingly unrelated to teaching, to construct coherent and constructive feedback for teachers from their clientele: the students. Through the fantastic experience that is NCTE, one remarked that they had smiled in those four days more than they had smiled for years.
Why is it important for educators to keep their minds open to what students have to share with us about our own practices? Give an example of how you think your efforts can change the professional world.
Education is to some degree a business, with teachers as the employees and students as the clientele. In any successful business, the employees must cater their products to their clientele. We are the clients of education, and by no means should we completely control the realm of education, but we must be an integral part of the education field. Students are constantly changing, which makes it all the more vital that education changes. Yet this cannot happen without student input, which is why our group is built on giving constructive student critiques that emphasize student voice and choice. Much like how writers don't notice some of their mistakes, teachers may not notice some of their mistakes. The students can act as a peer editor for the teacher. It makes any of our days when a teacher either asks us what we think could take their teaching from good to great. Even by opening up educators' mind to student feedback, we feel we have made a pronounced impact on the professional world.
What is one thing that we can do as educators to listen more openly to our students for the purpose of understanding possible changes that will benefit student learning?
One of the schools in our area has a unique schedule where four days a week, students meet with one of their teachers for about 30 minutes and discuss how things are going in that class. Although it is more than a stretch to implement this, the concept can be used as a quick warm up or exit ticket. Just ask your students to give their constructive thoughts on how you can make learning enjoyable. Although there may be ridiculous comments, many students will take the opportunity seriously. Although this isn't the best way, it is a subtle one and a way to show that you care about your student's voice. Overall just embodying a transparent pedagogy and keeping an open mind can drive student voice and change.
We have had members of the #bowtieboys contribute to the #g2great chat five times since Sam Fremin originally participated in the chat in 2016. What have you gained from these twitter chats?
Learning new ideas and being able to voice our own ideas has been a cornerstone of the group since we began. With the chat, we have been able to receive quick input from teachers and students from all around the country. A network is created through NCTE that the #g2great chats recreate. Because of this, participants of the chats have become great friends for some of us that we are able to connect with through twitter or at NCTE each year and continue to learn from. It is truly a pleasure to meet new and amazing people.
CLOSING THOUGHTS…
I pause to look back at the profound reflections of fourteen amazing young men and a teacher who trusted them to use their voices to have a positive impact on this profession. As I ponder their sage advice, I am reminded how inspiring it is to see them in action. I have had the great pleasure to watch them work their magic on a crowd and even to participate in their sessions. It has been an honor to get to know each of them personally and I am filled with deep pride for all that they stand for. But now I long for the changes they seek.
You see, we talk a good game about keeping students at the center of our professional efforts but I wonder how often we actually bring the term student-centered to life where matters most. How often do we silence our voices long enough to ask our students how we can be better and truly listen to what that means from their eyes? And if we aren't doing that, how can we make "student-centered" more than a buzz word and turn it into a reality that could lift us higher as professionals and thus transform our learning spaces into memorable experiences that are for and about students?
As I close this post, There is one picture that was captured at #NCTE18 that captivated me personally and speaks volumes. This photo was taken just before #BowTieBoys presented at a roundtable session chaired by Donalyn Miller called Nerdy Book Club: Building Strong, Inclusive Reading Communities (C.58). I think it says it all: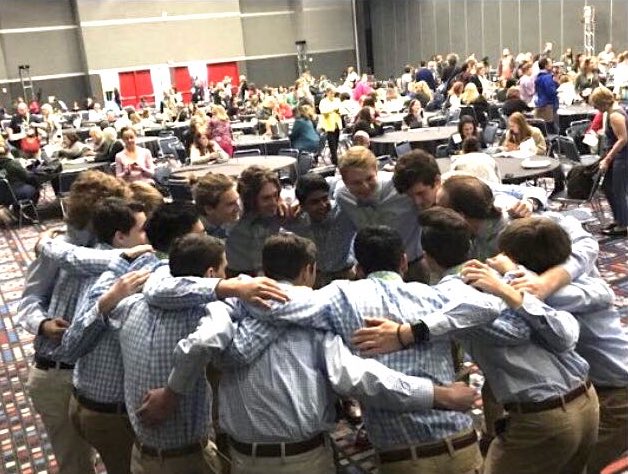 Take a good look at this remarkable image. THIS beautifully reflects the collective spirit that defines this wonderful group of young men and one dedicated teacher. They each believe deeply in what they are doing and have banded together to help us to see our teaching through their ever so wise eyes. I think that we owe it to them and to this profession to pay attention to what they have to teach us.
As I was finishing this post, I took a moment to peruse the chat once again. For the first time, I noticed a tweet from TQ Williamson shared just after the chat ended. I smiled to think that the #BowTieBoys experience will someday beckon an inspired and curious new educator into this profession filled with the hopes and dreams of what COULD be rather than what IS. Let's not wait to make TQ's vision a reality!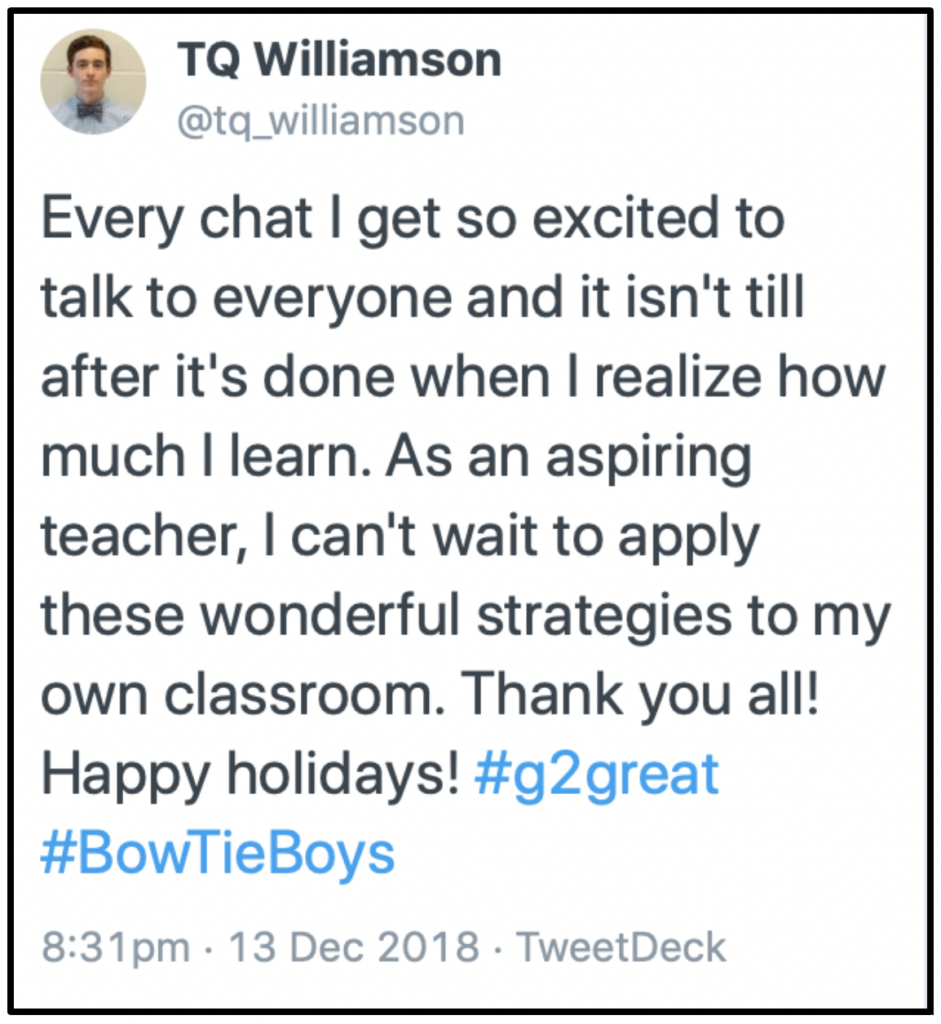 Links to read more about #BowTieBoys
Mary Howard #NCTE18 Post: Learning with #BowTieBoys & Jason Augustowski
Twitter Contact Information
Dawson (Doug) Unger(junior)
@dawsonunger (Junior)
Kellen Pluntke(senior)
@KellenPluntke
Ryan Beaver(junior)
@RBeaver05
Rishi Singh(junior)
@RishiSingh08
TQ Williamson(junior)
@tq_williamson
Christian Sporre(junior)
@CSporre
Spencer Hill(junior)
@spencerhill99
Joe O'Such(junior)
@Joe_OSuch
Jack Michael(freshman)
@jackmichael776
Jason Nguyen(freshman)
@JasonNg70025993
Aaron Eichenlaub(grade 8)
@AEichenlaub729
Nihar Kandarpa(freshman)
@NKandarpa
Sam Fremin(senior)
@TheSammer88
Connor Grady(junior)
@ConnorGrady11
Jason Augustowski (teacher, 10thgrade/AP Language)
@MisterAMisterA