By, Jenn Hayhurst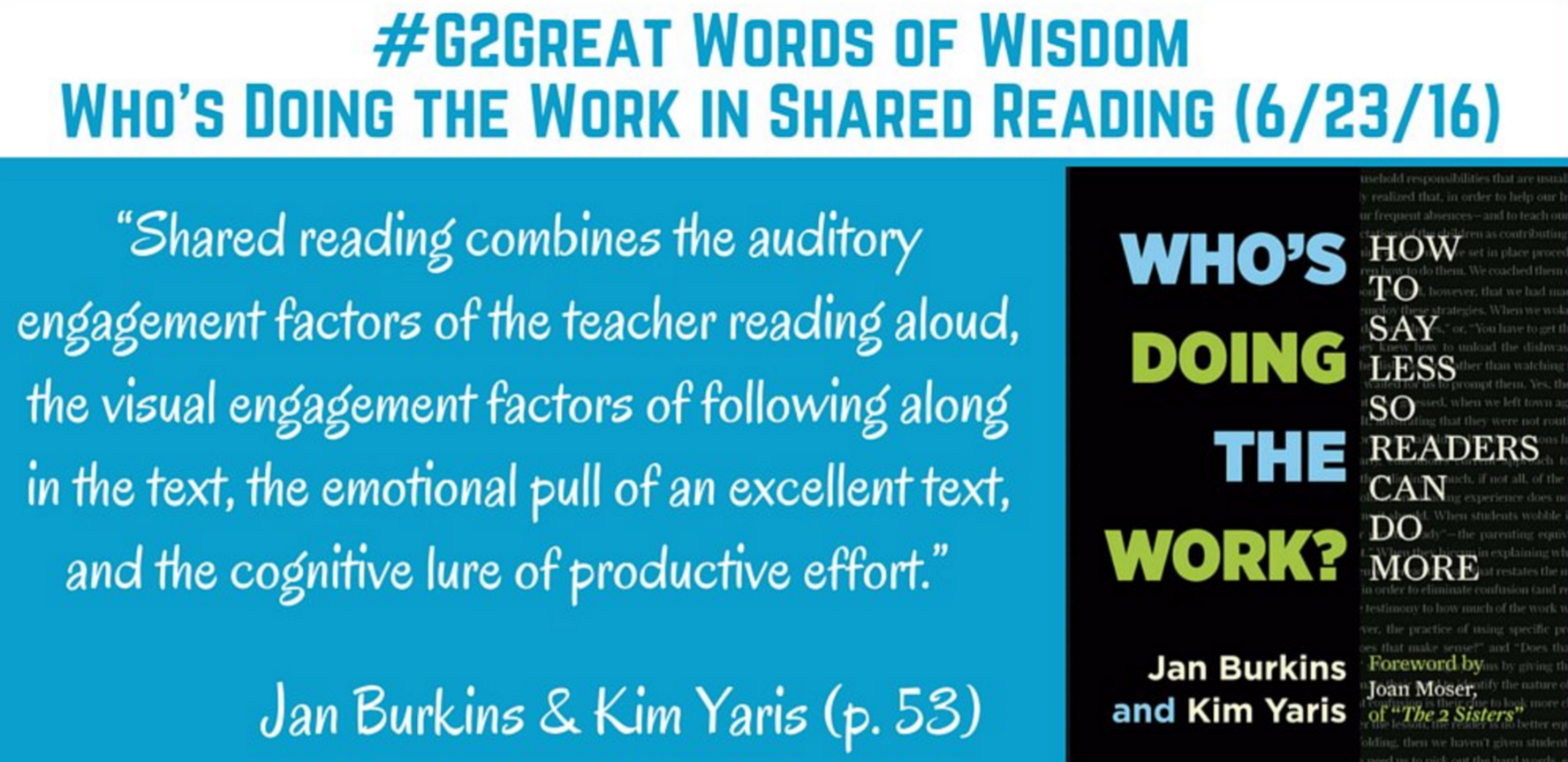 On Thursday June 23, 2016 Jan Burkins and Kim Yaris joined #G2Great to chat about shared reading. In their book, Who's Doing The Work How to Say Less so Readers Can Do More, Jan and Kim offer a fresh take on this tried and true practice.  We are always growing, and in the search to understand more, we continue to evolve in our understanding for what works in the classroom. Refining our practice for shared reading enables us to do more to tap into its power.  Jan and Kim refer to this new slant of shared reading as"Next Generation Shared Reading" (p 57) that offers exponential growth for readers of all ages and abilities.  
Each week my #G2Great community pushes me to sharpen my instructional lens. As I look back on the chat some key points and ideas really stood out as we move closer toward Next Generation Shared Reading.
A natural context for shared professional learning…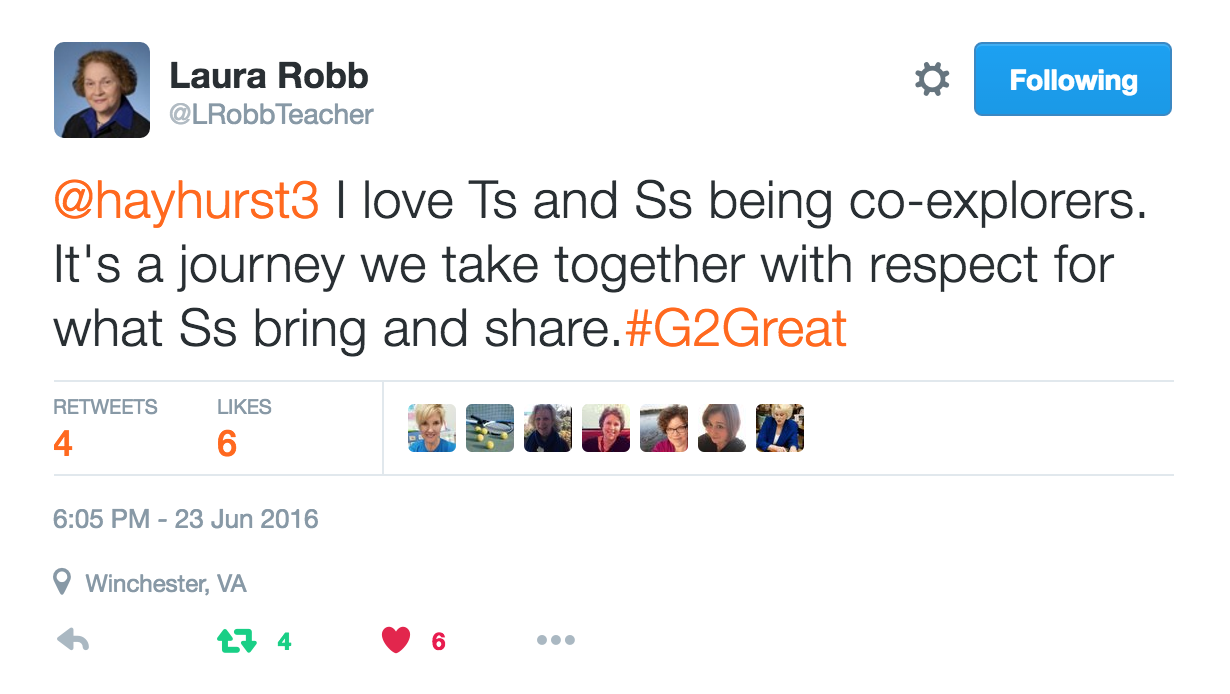 Learning begins with authenticity and an open mind. Before we can fully appreciate a new take on this practice let's zoom in on a little history. Shared reading was introduced by Don Holdaway in 1979 with primary children in New Zealand and Australia.  Holdaway's Natural Learning Model is predicated on the belief that all learning is social, that children learn best through: demonstration, participation, role play and performance. Next Generation Shared Reading challenges us to think strategically while encouraging greater participation through collaborative work. We began our chat by taking an honest look at where shared reading breaks down:
hared reading is meant to be inclusive, to promote problem solving through the use of authentic literature that reflects the interests of your readers so they will want to do the work. This ought to be a joyful invitation for learning how to read. This is what it looks like when students are doing the work.
Shared reading builds a community….
Shared reading nurtures self-esteem and a feeling of belonging. It engenders consistency by linking instruction: literature, history, math, science, and writing all have potential for amazing shared reading experiences. It is a powerhouse for collecting formative data. When  students are allowed to do their work we can focus on ours. Our important work is to observing, recording, and recommending while students practice, and implement learning for themselves. Strategic planning bridges connections and provides collaborative learning through social experiences. Students "try on" more sophisticated texts as they experience success. In many ways, it's the first step towards independence:
Using texts as tools throughout bands of complexity…
Next Generation Shared Reading takes this practice out of the primary grades and recognizes its power and potential to elevate the thinking and reading levels of students across all grades. When teachers understand how books work they understand how to create openings for students to access them. They can delve into complex genres while promoting the idea that all reading should be impactful and that understanding will be deeply personal. We uncover what reading means to students when we allow them to learn within a community that values many voices.  This is what it looks like when students are doing the work:
Parting words on shared reading…
Thank you Jan and Kim for writing a book that has inspired all of us to think deeply about shared reading. You remind us to take shared reading practices out of the box through a more flexible implementation. We have a repertoire of instructional techniques at our disposal and Next Generation Shared Reading offers a more limber cohesive way to utilize Holdaway's dynamic work for our students: