by Amy Brennan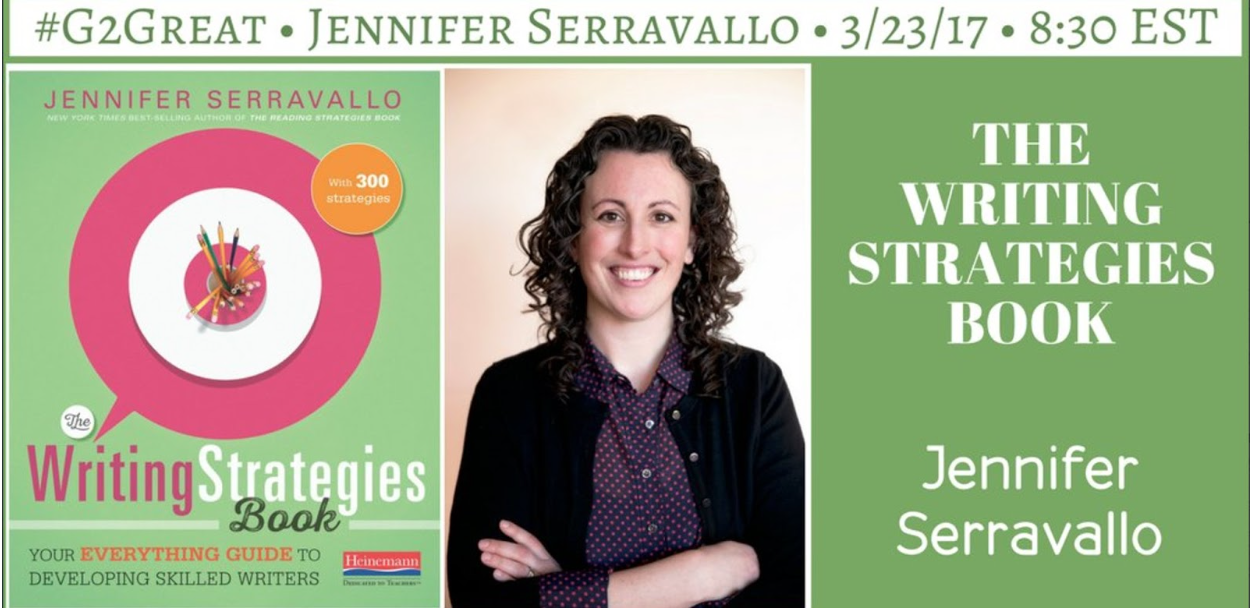 On March 23, 2017 we welcomed Jennifer Serravallo as a guest host on the #G2Great chat to talk about her most recent book, The Writing Strategies Book. The thing about this book and the sister to this book, The Reading Strategies Book (Serravallo, 2015) is that they are full of real and practical strategies that proficient readers and proficient writers use. These strategies make visible the work of proficient readers and writers so that students can begin their journey in developing independence in literacy. In creating a useful resource for teachers Jennifer takes these strategies and organizes them by goals to support student writing.  It is through these goals and strategies that we can lead our students to become independent writers.
The Goals
Through a hierarchy of goals Jennifer provides a pathway for teachers to guide students to develop, work towards and reach specific goals.  This hierarchy of goals helps teachers to decide where to begin in setting goals and teaching strategies with writers. This provides answers to what most teachers struggle with when teaching writing. It provides answers to the questions and struggles about time and focus. During the chat teachers reflected on their struggles with knowing what to focus on when it feels as though there is so much to teach and never enough time.  Jennifer's hierarchy of goal puts teachers and students on a pathway that will allow more time for practice on specifically targeted strategy within identified goals. Investing time up front with students, observing as they write, meeting with them in conferences and studying their on-demand writing will allow you to know your students well enough to choose an appropriate goal.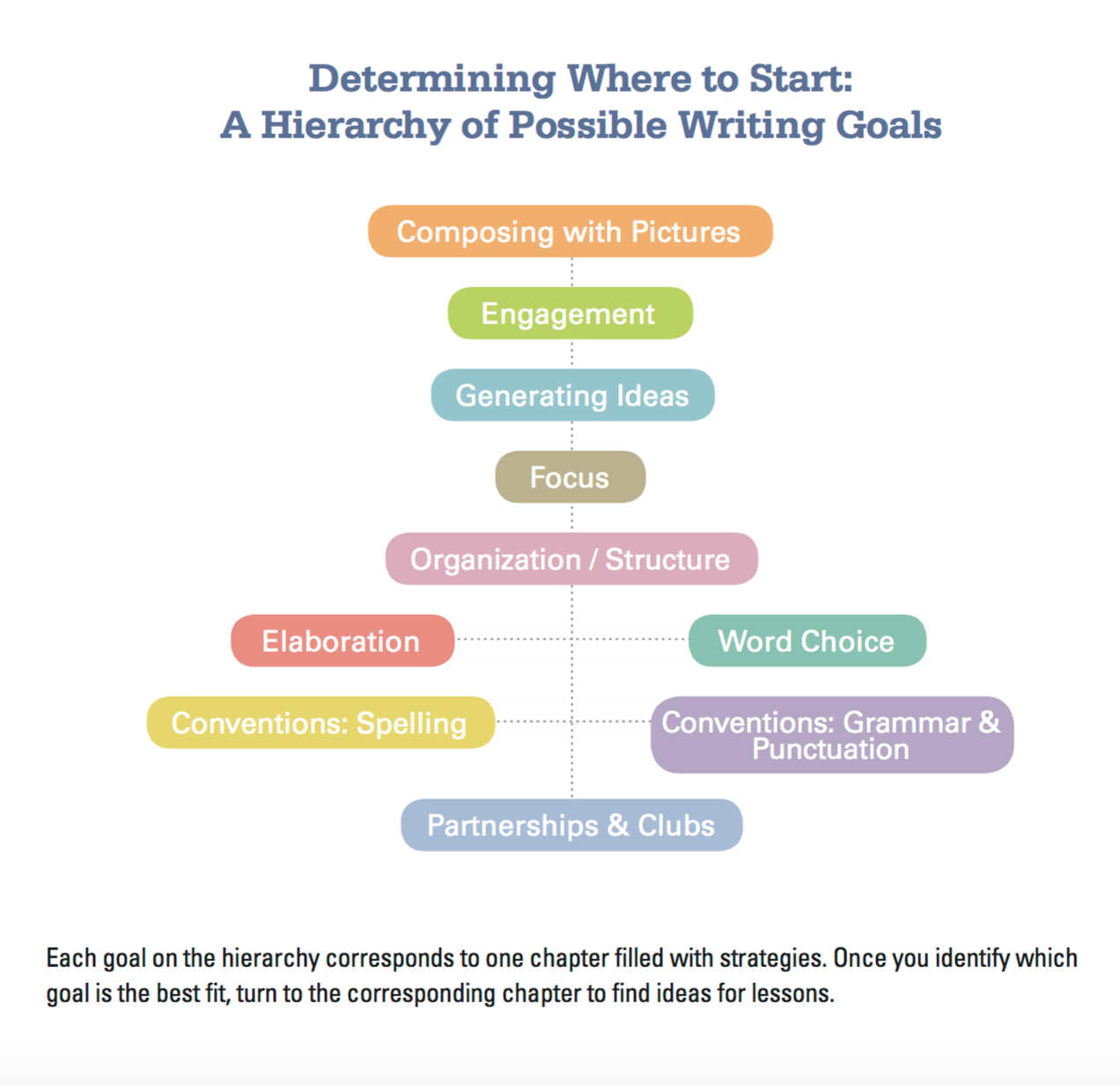 (Retrieved from The Writing Strategies Book Study Guide, available at  http://studyguides.heinemann.com/the-writing-strategies-book )
The Strategies
If teachers want to make the writing process visible and tangible to students then we need to share with them the strategies that writers use. Of course, writers do these things often with automaticity, however with guidance and practice in these strategies students can begin to employ strategies independently. Jennifer Serravallo has captured and organized strategies for writing in narrative, informational, opinion/persuasive and poetry. These strategies often can be utilized in more than one type of writing, during more than one stage of the writing process and across more than one grade level or developmental levels of writing. The organization of strategies by goal allows for you to carry goals across many differents types of writing or units of study and will ensure practice and ultimately transfer in writing skills.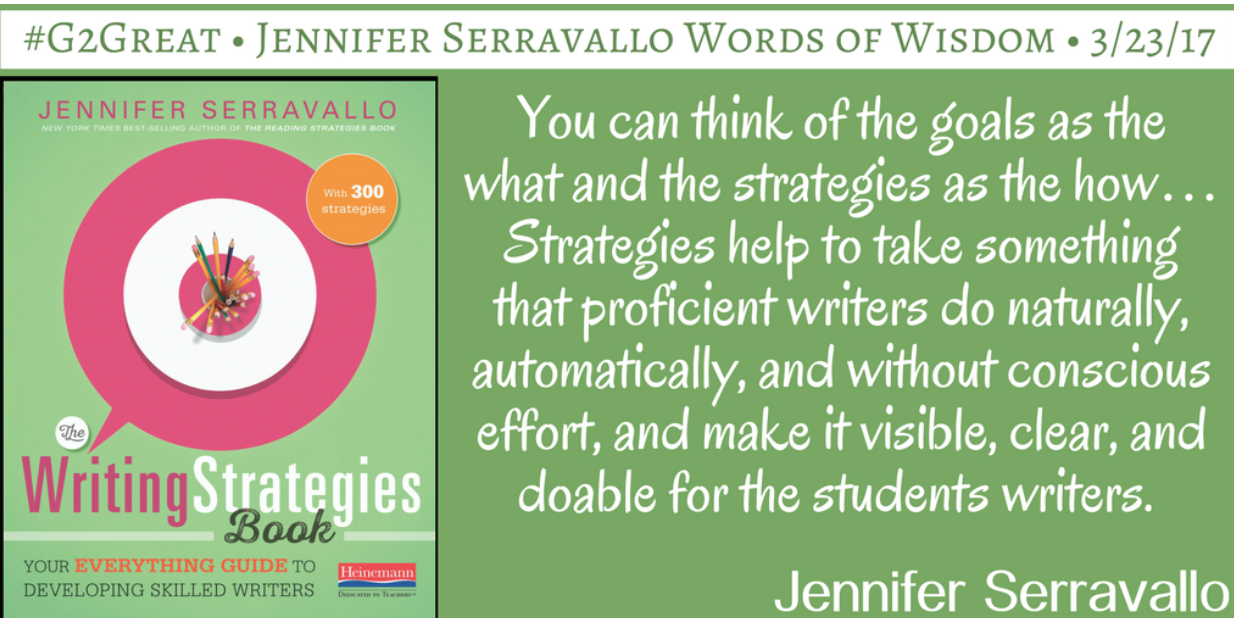 Teaching the Writer
When students can transfer what they have learned to another piece of writing they are able to make decisions about what their own goals are and what strategies they need to employ in any new piece of writing they engage in.  Teaching the writer rather than the one piece of writing is the way to develop independent writers. This begins with goal setting and it involves teacher feedback, self-assessment, and reflection.  
Our overall goal in teaching writing is to teach students to be independent writers. Jennifer Serravallo has created the ultimate tool in The Writing Strategies Book to support teachers and their writers as students move toward becoming proficient writers who are learning multiple strategies through the writing process as they engage in multiple units of study with opportunities to publish in many different structures. Of course, no writing process is complete without a publication and celebration. Jennifer includes an appendix in her book that is specific to the publishing and celebrating that helps writers to write with the end in mind. Always remember that writing is hard work, and it is good work, no not just good, it is GREAT work that deserves to be published and celebrated.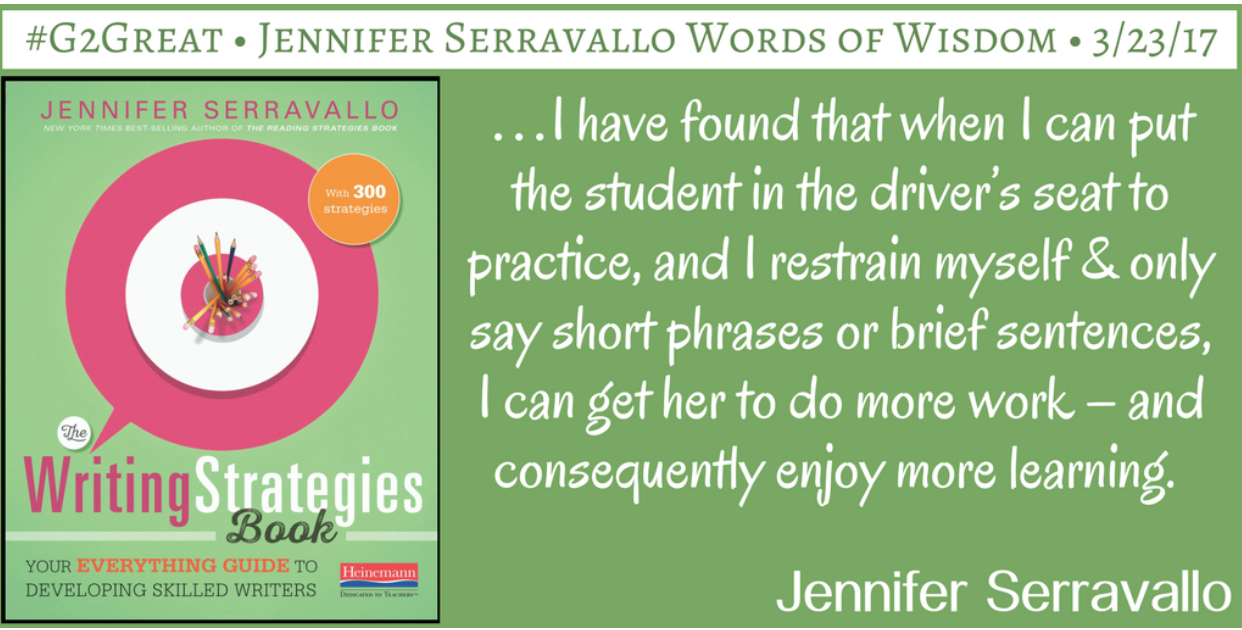 Links 
The Writing Strategies Book
(Heinemann )
http://www.heinemann.com/products/E07822.aspx
The Writing Strategies Book Study Guide
http://studyguides.heinemann.com/the-writing-strategies-book
The Reading Strategies Book (Heinemann)
http://www.heinemann.com/products/E07433.aspx
Jennifer's website
http://www.jenniferserravallo.com
Independent Reading Assessment (Scholastic)
http://teacher.scholastic.com/products/independentreadingassessment/
The Writing Strategies Book Review by Betsy Hubbard (Two Writing Teachers)
https://twowritingteachers.org/2017/01/28/writing-strategies/
Ask Jen Serravallo
http://teacherlearningsessions.com