by Mary Howard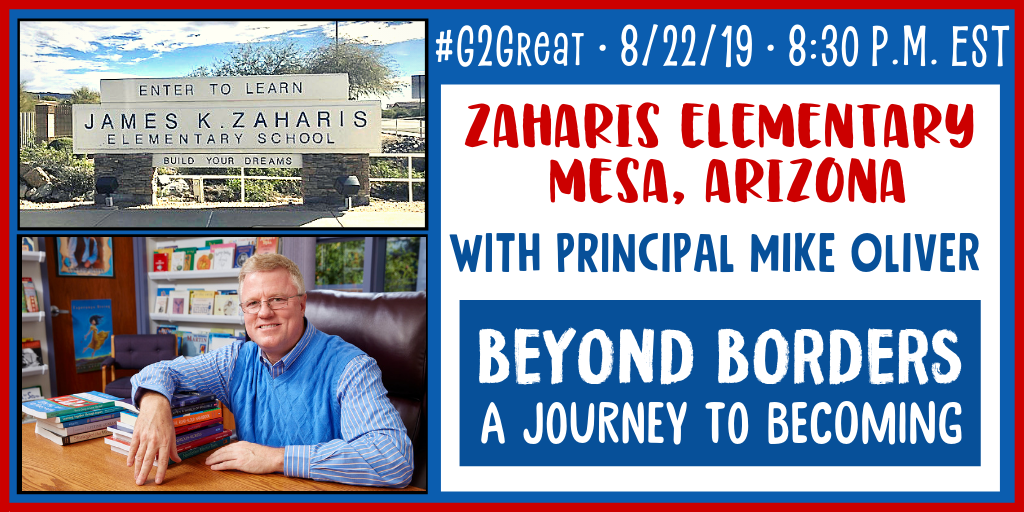 This week, #G2great merged two days into a collision course of celebratory joy:
MARCH 1, 2019: I took my first step into Zaharis Elementary and entered a magical world conceived by Mike Oliver and his staff as my professional dreams exploded into technicolor view.
AUGUST 22, 2019: Mike Oliver and Zaharis Elementary in Mesa, AZ graced our #G2great chat as we took a collective Twitter peek into Beyond Borders where the Journey to Becoming is in full bloom.
Two dates. Perfect union. Life-altering.
When an experience literally changes your life, detailing that experience in a blog post can be a foray into writerly trepidation. The idea of putting the Zaharis story in writing from an outsider's perspective felt monumental. But as I wrestled to find a sense of direction, beyond borders on a journey to becoming beckoned me back to safe ground. I lovingly recalled my first visit and suddenly understood what it was that took my breath away that day. I walked through the Zaharis doors with a two-fisted grip on beliefs I hold dear and those beliefs had a palpable heartbeat in every nook and cranny of Zaharis. That feeling of being HOME gave me a unique perspective.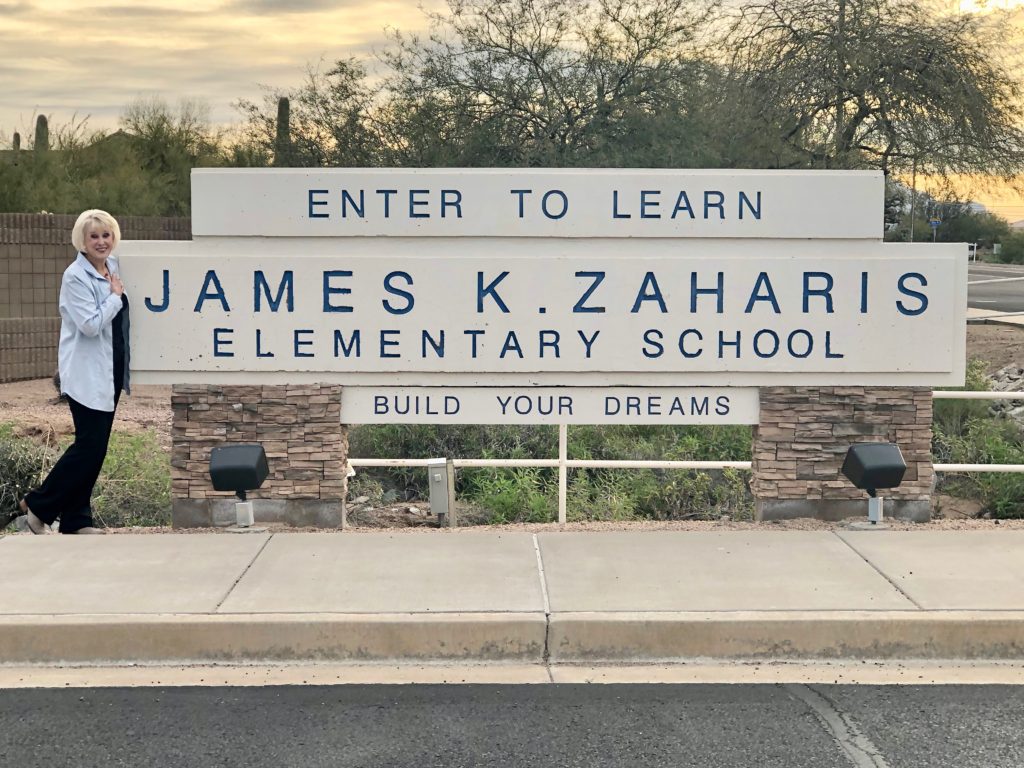 The Zaharis spirit moved me to tears of joy for what is alive and well in Mesa, Arizona. Yet, it also made me cry for the children who may never experience what I saw that day. I spend a great deal of time in schools across the country, and I can tell you that Zaharis is not the norm. In recent years, our profession has been in a perpetual tug of war of epic proportions as we fight for the very values that are the heart and soul of Zaharis. They are winning on those battlegrounds but others are succumbing to the very antithesis of the beliefs we hold dear. I stared at my computer pondering how to write the words that would do Mike Oliver and his teachers justice… and then I thought about our dear friend, Heidi Mills: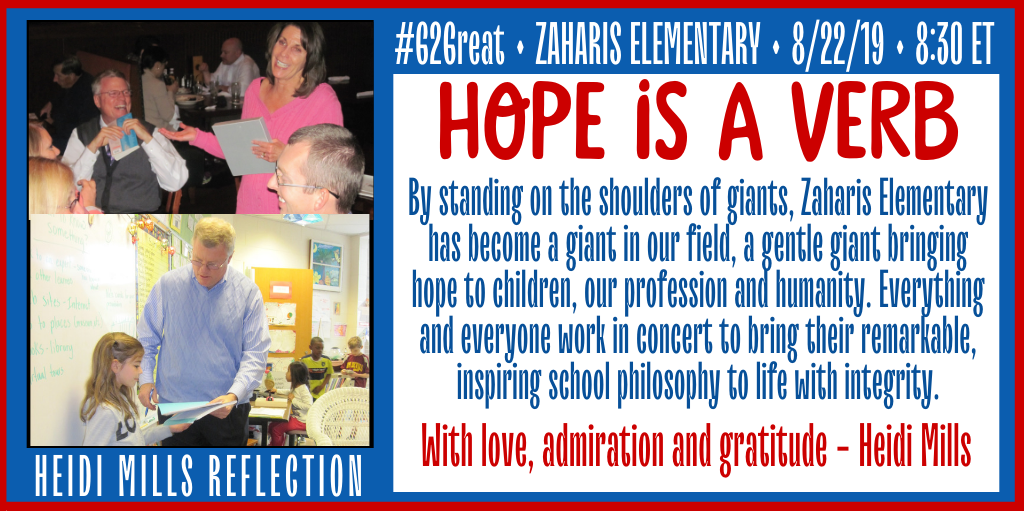 And just like that, Heidi's HOPE gave me an unwavering sense of direction. According to Merriam-Webster, a verb shows action, occurrence or state of being. The Zaharis spirit resides in these words since they are in a continual state of being along an action-oriented path to becoming. They show us Heidi's HOPE in action and remind us what is possible if we are unfettered by ties that bind. When we allow hope to turn beliefs into actions, we would move mountains to bring our hope-fueled vision to life in the company of children. Heidi's Hope lives in Zaharis and I've seen it in glorious action.
And so, in this post I'm going to share how I see Zaharis bringing Heidi's HOPE into view – for their teachers, children, community and now for each of us. If we can put a name to actions where Heidi's HOPE already lives, we could then see hope through the eyes of Mike Oliver and his teachers so that they can serve as a beacon of HOPE that could inspire every school to take their own transformational journey to becoming. For the sake of this post, I identified six ways that HOPE can LIVE, but I needed Mike Oliver's words to show us what is possible in a space where HOPE already LIVES. Through is insight, his voice can lead the way for others to start the Zaharis journey:
HOPE lives when we verbalize the values that could propel us forward.
Mike Oliver Words of Wisdom to Live By
Our mission at Zaharis is this: "Learning, caring, rejoicing, and working together to create a more just, compassionate, insightful world."
We never ever compromise it.
Zaharis IS the school of my dreams. We built on the foundation of learning through inquiry, where learning is co-constructed, agency is fostered, and learning is elevated to another dimension—life, complete with all its wondrous complexities!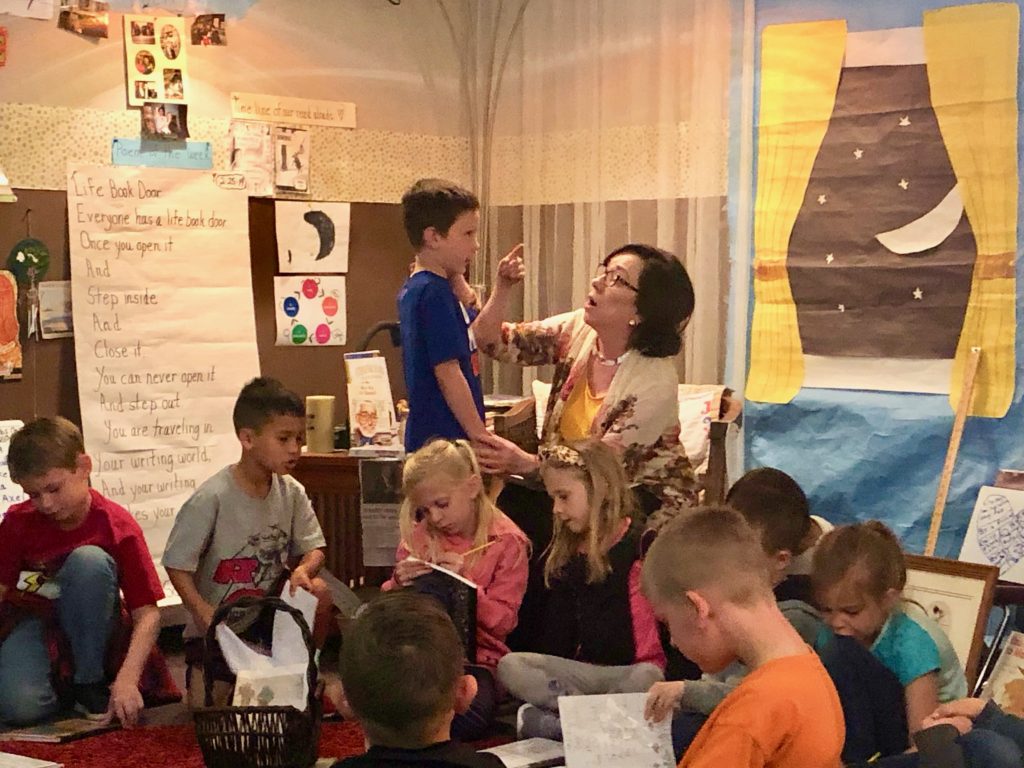 HOPE lives when we see barriers as our lighthouse to change.
Mike Oliver Words of Wisdom to Live By
We recognize standardized test scores for what they are—one metric, one star, in a constellation of many! Never has it been more imperative that we nurture the skills and dispositions needed in today's ever-changing world, those skills often referred to as "soft skills." Creativity, critical thinking, problem-solving, collaboration, communicating in many ways, kindness, compassion… you know this list. These skills are anything but soft!
In a recent district meeting, I suggested that we flip the script. Soft skills are the ones that can be bubbled-in on a scantron. The ones that matter most in the 21stcentury world of today are the ones that can hardly be bubbled-in. It's quite simple. We can't chop up the world into a sequence of standardized test questions and bubble-in truth with a #2 pencil.
We must avoid falling into the trap so many others are imprisoned by—trying to do the same stale, boring, antiquated things better. We need to do better things! Those "better things" are not always best measured by a standardized test question. In fact, they rarely are.
Our approach to life in this era of high stakes testing and accountability is this: approach the test like a genre study…
"Boys and girls, sometimes people want to know what you know about the world around you by looking at your score on a standardized test. We're going to do an inquiry into this test so when you take it, you have a few tools to be armed for success."
Get in and get out. Be intentional and deliberate. Do not let this "genre study" spill out and contaminate the learning experience throughout the school year.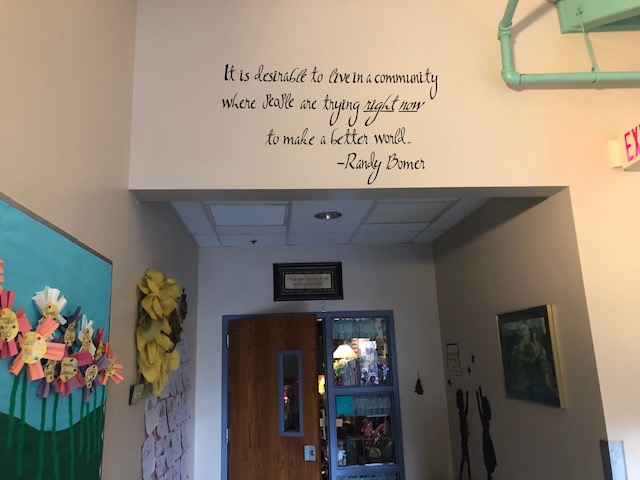 HOPE lives when we embrace the resources that will bring our values to life.
Mike Oliver Words of Wisdom to Live By
Hire teachers who love books and take care of their own literacy!
Provide children with access to real and carefully selected books EVERYWHERE on campus. Carve out time for deep, critical and authentic conversations where students and teachers can share their insights, interpretations and noticings in response to reading. Foster and cultivate voice, choice, agency and identity as students engage with texts and develop as readers and writers.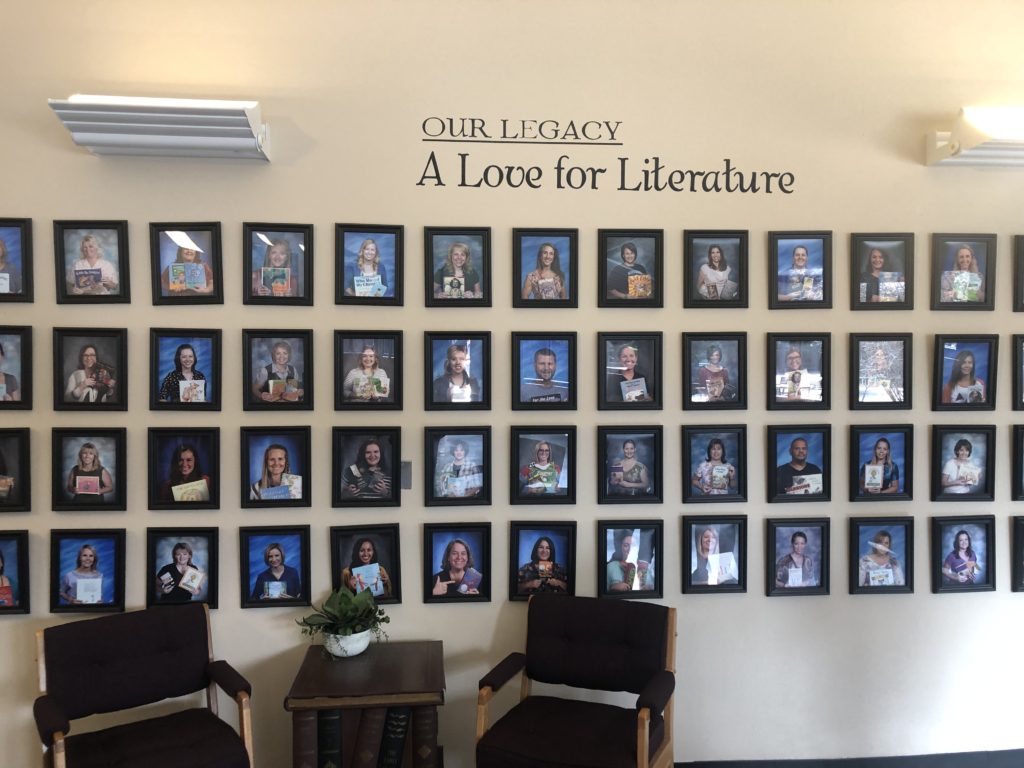 HOPE lives when we can celebrate the powerful potential of collective agency.
Mike Oliver Words of Wisdom to Live By
Because of this united support, our school board and superintendency are undoubtedly part of this viewing audience! Not only are they supportive of our model of inquiry where agency and excitement abound, but they are leading the charge for its expansion.
Years ago, we decided to no longer be content with a school unlike most others. Too many times I have looked into the eyes of a mother after leading a group tour where I could see a sense of wonderment. It's not uncommon to see tears well up when others enter into the heartbeat of Zaharis. High up on my list of least favorite things to do is to inform a parent who believes to have found an answered prayer that they are soon to be at the end of a very long waiting list. This simply shouldn't be.
The leadership in Mesa Public Schools is changing this. We are all working together in Mesa to offer our 63,000 students and 81 schools a learning experience free from stale scripts and programs, where authentic learning experience is commonplace. Readers, writers, mathematicians, scientists, and social scientists are beginning to engage in real world work and thrust it out into the world where it belongs.
School board members and administrators also want what's best for children. We have to help each other learn to see with new eyes as we envision new possibilities and pathways to success.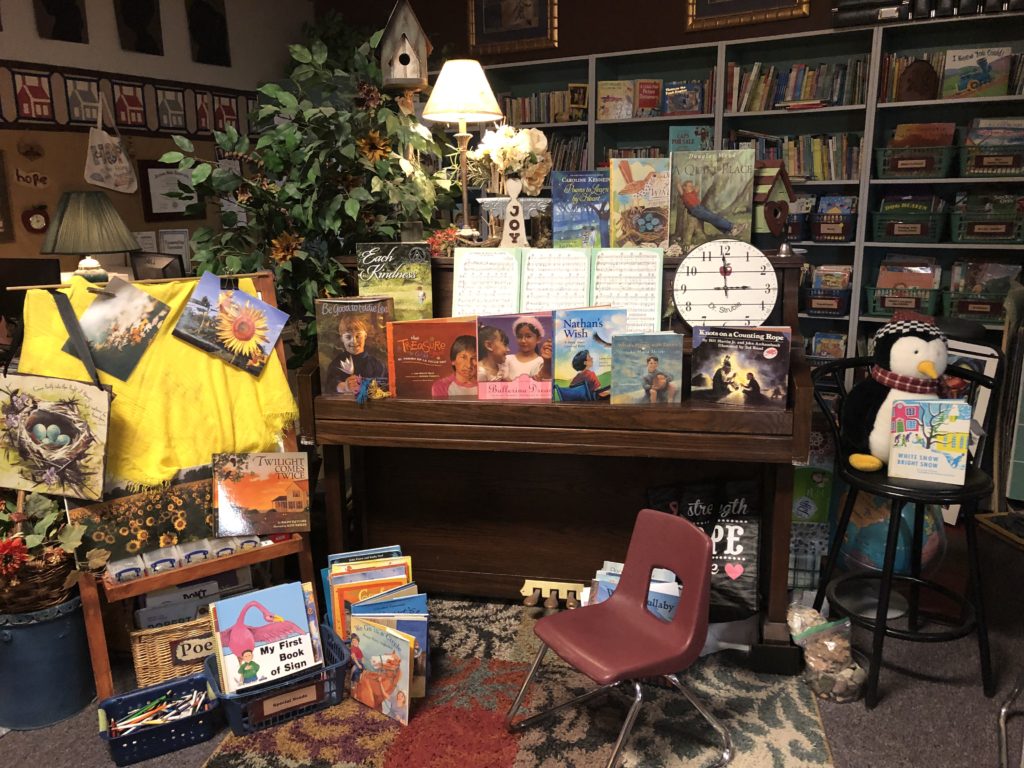 HOPE lives when we build our foundation on professional knowledge.
Mike Oliver Words of Wisdom to Live By
A friend of mine once said, "Ya can't lead where ya ain't goin'." We have found it next to impossible to lead others on a journey we are not on. One cannot inspire others to travel down a path that he or she is not travelling.
Our mentor wall was created to declare to all who enter, "We are learners. And we take our own learning every bit as serious as our students' at Zaharis."
The interviews for teaching candidates at Zaharis are no more scripted than our teaching. But there is one question we ask without exception. It's a three-part question:
What are you reading for your own pleasure right now, what are you currently reading aloud to your students, and what have you most recently read professionally and how has that informed your practice?
You simply can't fake being a reader. We know in two seconds when someone tries. There is a ceiling for those who are given the charge to develop readers who are not readers—who are not learners themselves. And that ceiling is not very high. Unfortunately, we have discovered during interviews that not all teachers are taking care of their own literacy.
Not only do we have a mentor wall, but we also have a wall dedicated to the declaration of our own literacy. Each staff member, all teachers, cafeteria workers, custodians—everyone has a framed picture of themselves holding a book that has influenced them in some way.
We are a community of readers.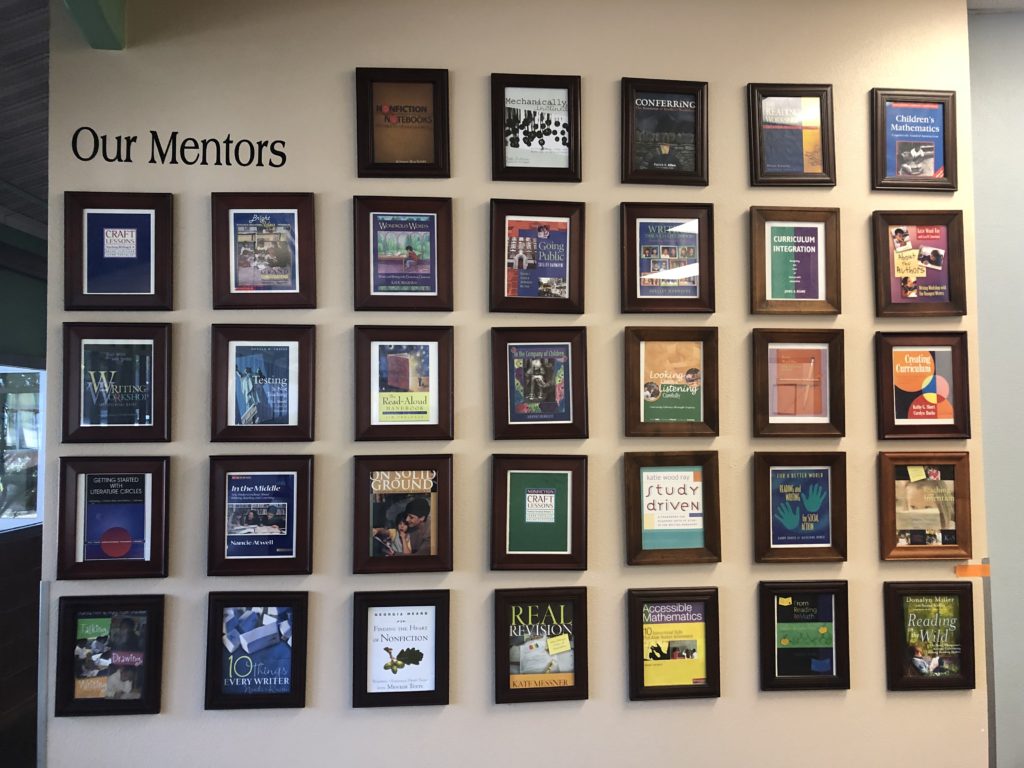 HOPE lives when our entire school family is at the center all we do.
Mike Oliver Words of Wisdom to Live By
First and foremost, we must truly value them! Roland Barth once coined a term that changed the way I look at Zaharis. "Schoolpeople." All one word, no hyphen. Schoolpeople are not simply the paid employees in the building. Parents are Schoolpeople. Grandparents are Schoolpeople. Local business owners, operations workers, groundskeepers, the manager at the local coffee shop and state policy makers are all Schoolpeople.
So many schools fall into the trap of looking at parents as a populace to be informed—"This is how we do things here, and this is what you need to know."
Communication is often a one-way transmission, not much unlike instruction is in far too many classrooms.
Schools where community and a curriculum of caring abound, schools where a sense of family exists, tap and harness the enabling power and culture shaping influence of Schoolpeople.
Not long ago, I was in a rush to get to a district meeting. I was stopped abruptly on the way to my truck by a little first grader named Ashley who greeted me with a hug and a smile. I patted her on the back and asked, "How is my little friend?" She replied, "We're not friends, Mr. Oliver, we are family!"
That hallmark moment is not one I will soon forget. It serves as a testament for what we have developed at Zaharis. Family is not a metaphor, but a way of being, a way of existing for us. In a world where it is not deemed safe for educators to hug a child, it is not uncommon to hear a teacher tell one just how much he or she is loved and valued.
Schoolpeople of all forms are culture creators.
MY CLOSING THOUGHTS
Heidi's HOPE is on the horizon my friends, and it is waiting for us to take what already lives in Zaharis and allow it to create a ripple of HOPE in every school. One Zaharis is simply not enough because no child should have to take the luck of the proverbial HOPE draw – yet that is happening across the country as I type these words. The HOPE that I witnessed as soon as I walked in the front door of Zaharis Elementary needs to spread like a wildfire into every school where all children can reap the benefits of HOPE because it will live and breathe everywhere.
There are no programs and packages anywhere in Zaharis Elementary so they show us that these things are not needed. Yes, they must also adhere to outside obligations, but they do not allow them to deter their singular focus on HOPE. They make HOPE their constant companion in a sacred space where passion-fueled professional endeavors grounded in a mindset of inquiry-based learning and teaching defines each day in every classroom. They believe in the impact of books and so they put that at the top of their priority list across the building. Above all, they believe that Heidi's Hope as a verb means that our every action is a choice that we make in the name of children and they make that choice every day because they know that their children deserve no less than the very best we can give them.
Zaharis Elementary is the poster child of HEIDI'S HOPE and we can draw from their inspiration to create a collective ripple effect of what COULD BE!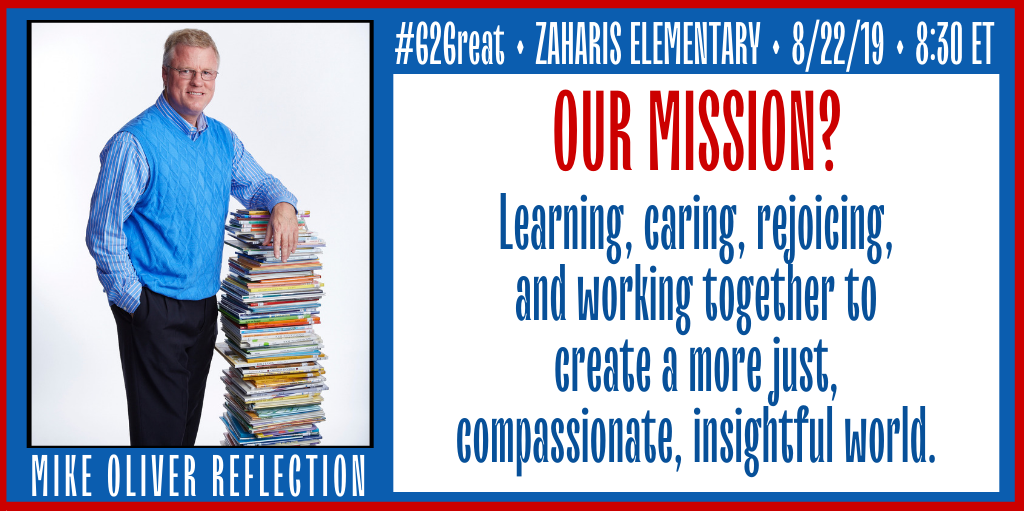 Zaharis Visual Gallery of HOPE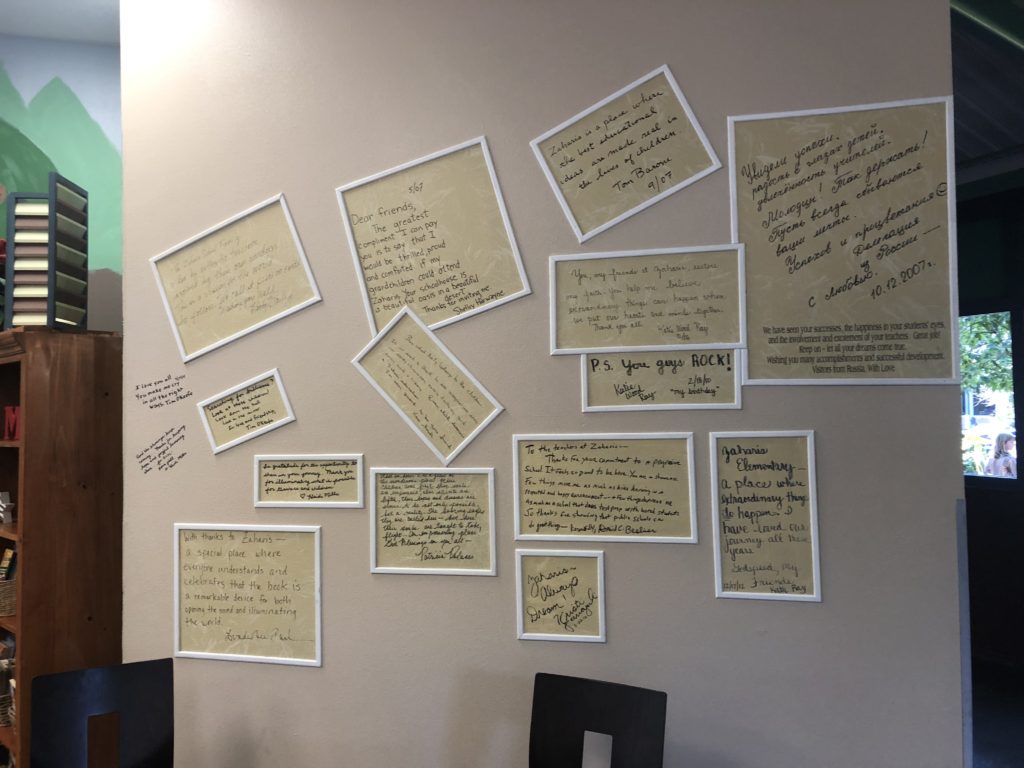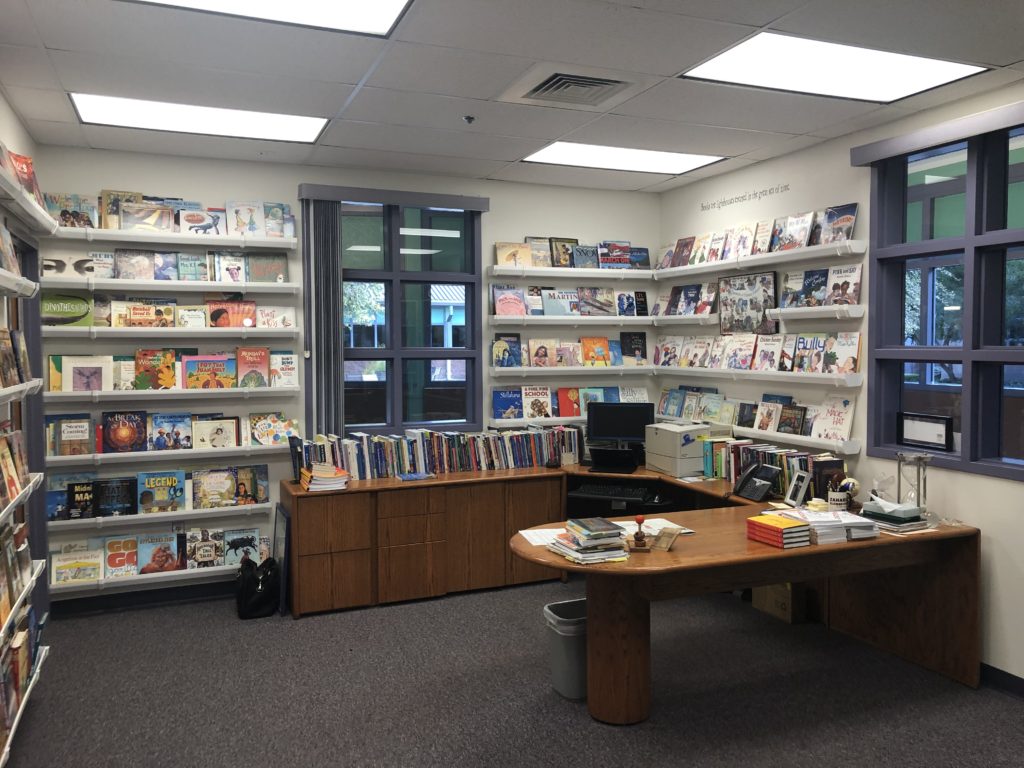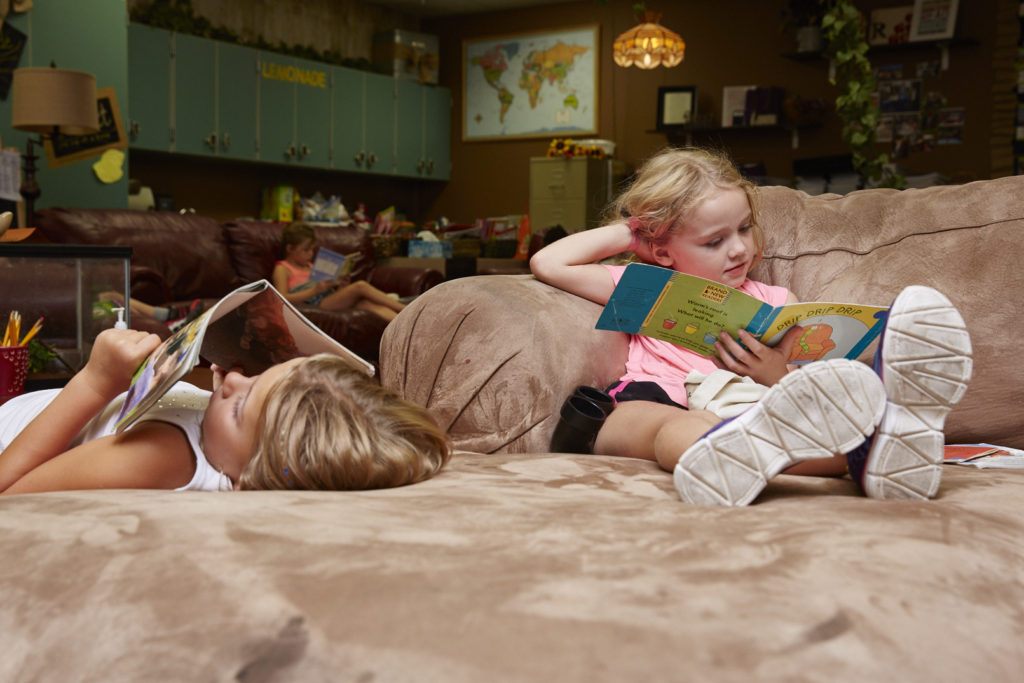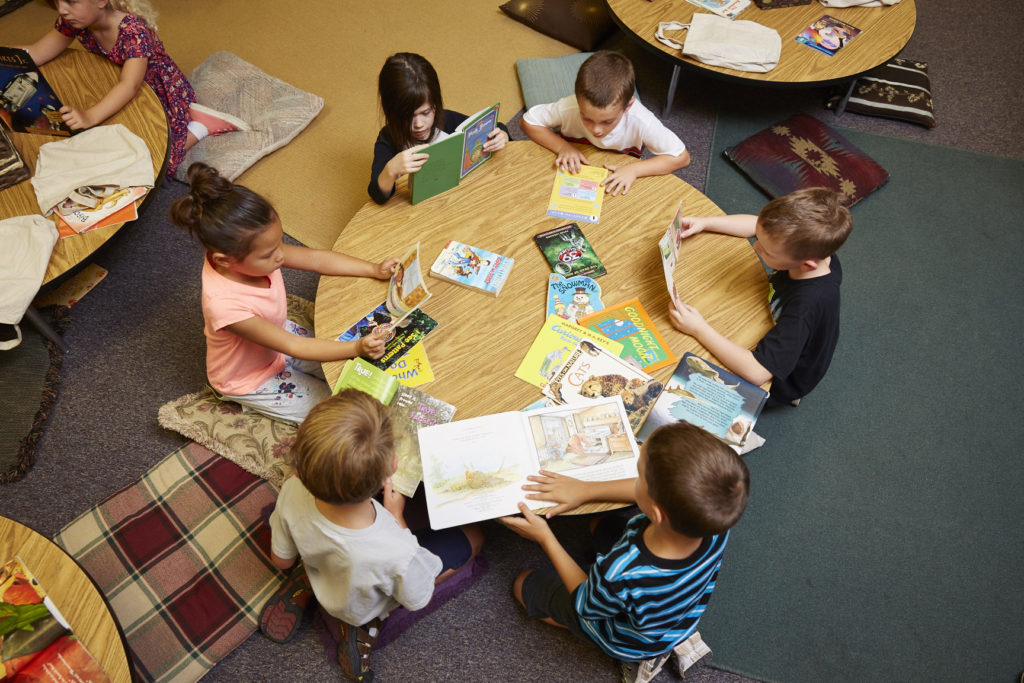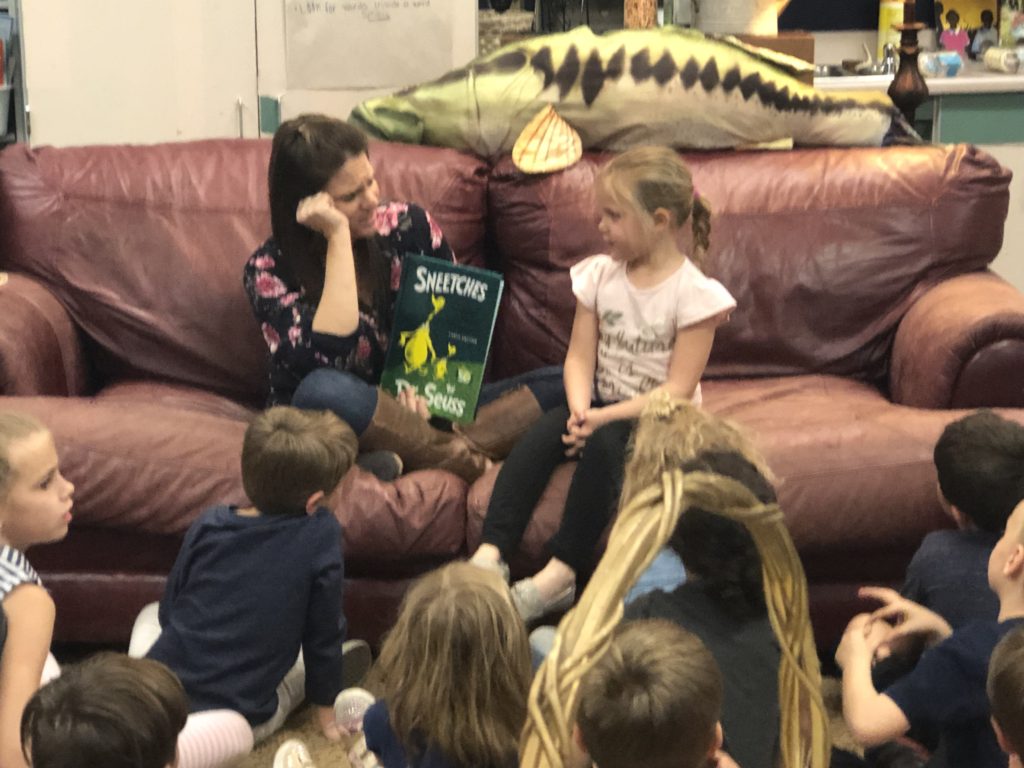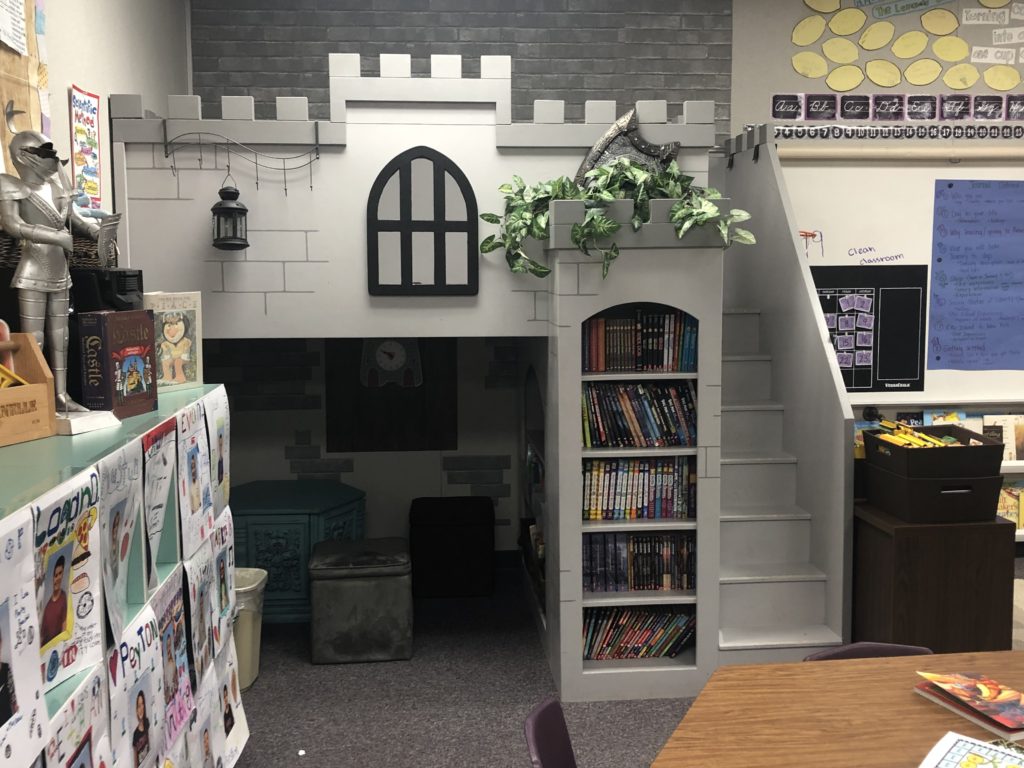 LINKS
Mike Oliver Comments above with#G2great questions in a Google Doc
Mary Howard Zaharis Facebook Posts with Images
March 1: My first visit to Zaharis
March 2: Zaharis Beyond Borders Conference
March 3: Be a Zaharis: Advertise Your Intent
March 9: Be a Zaharis: Let your WHY illuminate across a Building
March 10: Be a Zaharis: Write Your Own Story
News Article: Mesa School Getting National Attention With Different Approach to Teaching
Zaharis Elementary Website: Mission Statement