By Fran McVeigh
Anticipation. Planning. Prepping. A waiting period. And then the event begins. Fingers race across the keyboard. "NO, wait," echoes as I scroll down looking for a specific item. I check each time frame, still scrolling. More self-muttering until the lost is found. Replies, likes, retweets, and laughter fill the hour. A frenetic pace builds up to the closing quote and then just like a story map, the arc of a Twitter chat slows its ebb and flow. Unlike a sporting event with a starting kick off or tip and an ending whistle, time slows but does not end. The chat is over, but then Direct Messages, closing Tweets and emails extend the chat for the next nineteen minutes. Nineteen minutes or 1,140 seconds. Folks continue to chat and celebrate the learning. It's a never ending chat as the wakelet is published and folks continue to like and retweet the conversational tweets from the chat. Such is the arc of the weekly chat of #g2great. Enthusiastic, energized folks show up to share ideas and learn together for 60 minutes. An uplifting aura surrounds keyboards across the country and sometimes the world as participants add their thoughts and questions in a life-long quest for learning.
No requirements to attend. No grades. No participation points.
Folks voluntarily joining together with a common goal.
A Twitter chat. Virtual interaction among many folks who have previously met in real life, in a variety of configurations/communities, who choose to gather around a common topic for an hour. That's the weekly focus of #G2Great.
And what a focus on April 21, 2022! There are so many words I could use to describe Melanie Meehan, our guest host for #g2great. She is a regular member of the #TWT group, a district language arts and social studies curriculum person, a coach, a mentor, a mother of four daughters and an active parent who watches many soccer matches! But she's also a reader and a writer. As a writer, she's been busy. These three books are a testament to her writing skills! We celebrated Every Child Can Write: Entry Points, Bridges, and Pathways for Striving Writers on October 3, 2019 with this Literacy Lenses post and The Responsive Writing Teacher: A Hands-on Guide to Child-Centered, Equitable Instruction with co-author Kelsey Sorum in this Literacy Lenses post from March 25, 2021.

This quote from The Responsive Writing Teacher is one I refer to frequently:
When you approach writing instruction with a deep understanding of children in your classroom, everything else―assessment, planning, differentiated instruction, mentor and shared texts―begins to fall into place. And you can teach writing with inclusion, equity, and agency at the forefront.  

–Melanie Meehan and Kelsey Sorum
We met on April 21, 2022 to celebrate the third book: Answers to Your Biggest Questions About Teaching Elementary Writing, the second in a Corwin series of Five to Thrive professional books. This series has so much promise for teachers and students.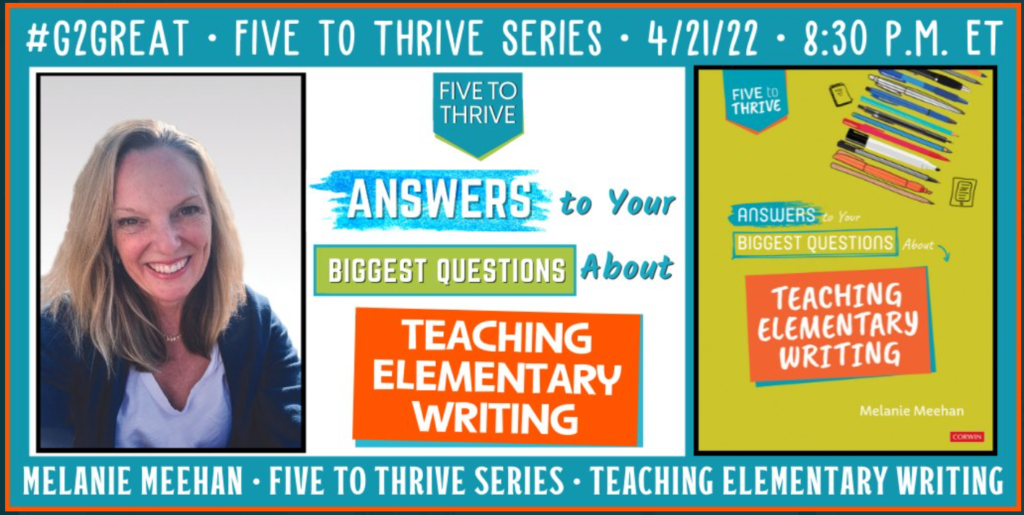 Why? New teachers and experienced teachers will benefit from the many features that include: "Equity and Access", "Agency and Identity", and "Keep in Mind". Here is the Table of Contents:
Chapter 1: How do I Build and Maintain a Writing Community?  
Chapter 2: What Should Students Know and Be Able to Do As Writers?  
Chapter 3: What Are Key Instructional Practices to Know and Use?  
Chapter 4 How do I Use Assessment For Students' Benefit?  
Chapter 5: How do you shift agency from teacher to students in the writing classroom?
Curious? Interested in a specific chapter?
I'm on my third reread courtesy of my Kindle download. I'm currently checking my notebook entries against Melanie's meticulously sourced ideas as I plan for some professional development in writing. I'm double checking and creating two column (or 2 color) notes for Melanie's words vs. my reactions and thoughts. I've been studying writing during week long institutes for the last ten years and I think I have finally scratched the surface of teaching writing.
I often begin with the end in mind and I do so again in this post as I use Melanie's words to describe her thoughts around this resource. We ask our authors these questions before each chat.
What motivated you to write this book? What impact did you hope that it would have in the professional world?
As the mother of four daughters who have gone to college and are now working, I have a front row view of the importance of writing and people's ability to use and leverage the power of written expression. Schools have many priorities and teachers take on many responsibilities; I want to make sure that powerful writing instruction remains or becomes important. I also want to provide pathways and possibilities for teachers who are looking to be the best possible writing teacher they can be. 

Melanie Meehan
What are your BIG takeaways from your book that you hope teachers will embrace in their teaching practices?
Writing this book challenged me to distill all that I know, wonder, and believe as a writing teacher into the most basic elements. Before drafting, I sat and worked to establish my own guiding beliefs about writing instruction. Those beliefs centered me and served as guideposts as I wrote. My hope is that teachers who read this book will also take the time to establish their guiding beliefs, which could be different from mine. Guiding beliefs create a powerful foundation for developing, revising, and fine-tuning all elements of teaching and learning. 

Melanie Meehan
What is a message from the heart you would like for every teacher to keep in mind?
Children learn to write in different ways, and there are many processes, pathways, and possibilities. For many teachers, it's easier to identify as a reader than it is to identify as a writer, but being a writer and studying my own processes, struggles, and celebrations has led to my greatest understandings and insights about how to teach children to write.  

Melanie Meehan
Pathways and possibilities are the two words that challenged me as I read and reread Melanie's thoughts in response to our author questions. Distilling beliefs and knowledge. Identifying as a reader or as a writer. Those themes took me back to the chat archives!
These three quotes from Melanie's book were the pre-chat teaser, the opening and the closing. Pause for a minute and think about how these apply to your role. Which one would you like to discuss?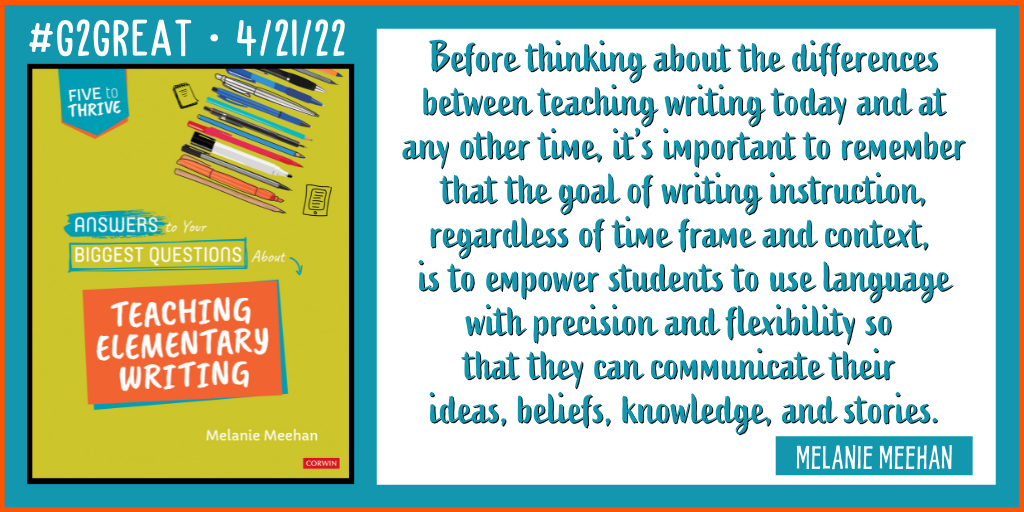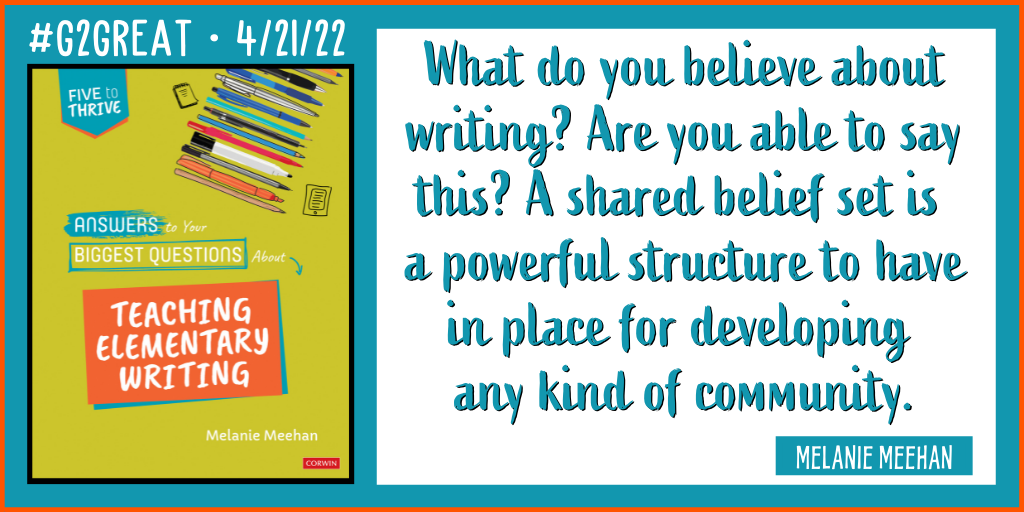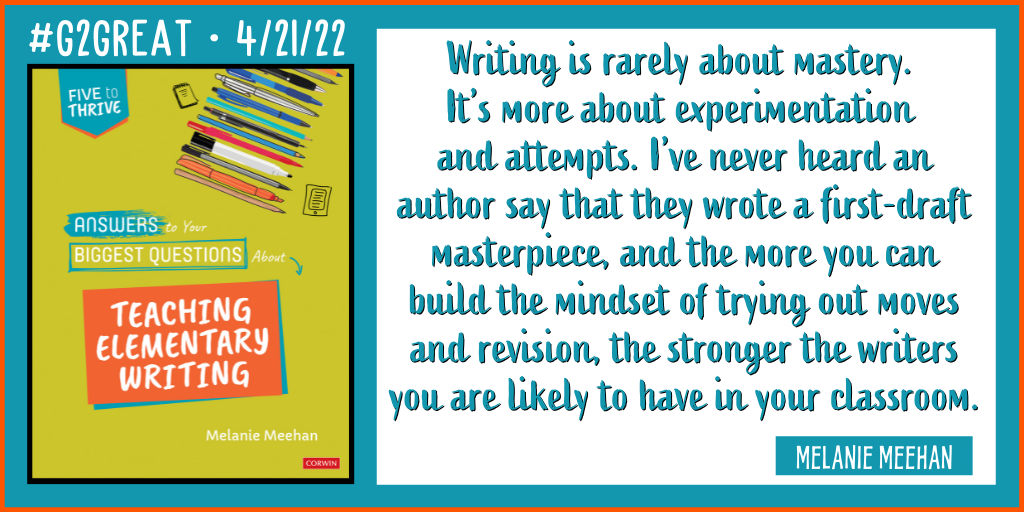 Goals, beliefs, and mindsets. What a treasure trove of ideas! And then just a sampling of Melanie's tweets below illustrates the chat story line of non-negotiables, choice, writing environment, writing examples, writing identities and timelines, "I'm done", handwriting and conventions, kidwatching, seminars, resources, student self-assessments and mentor texts.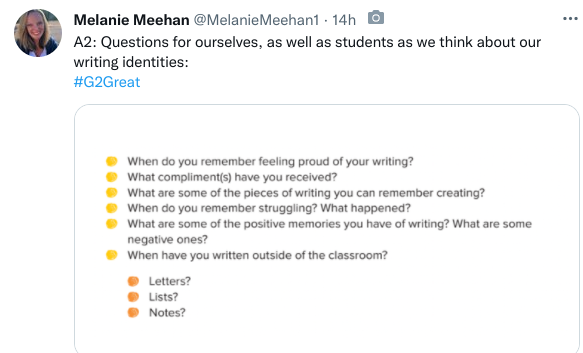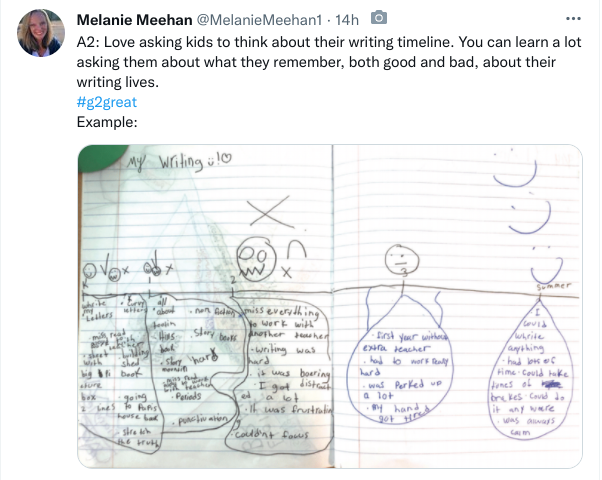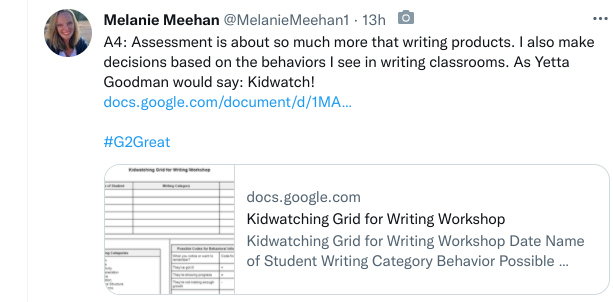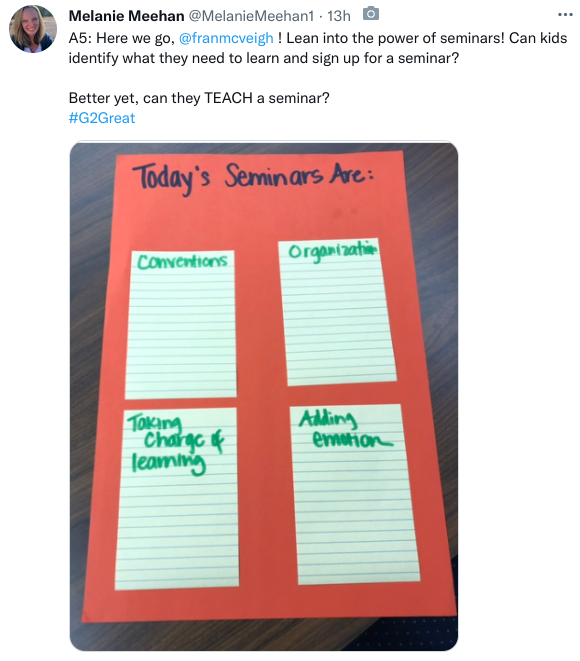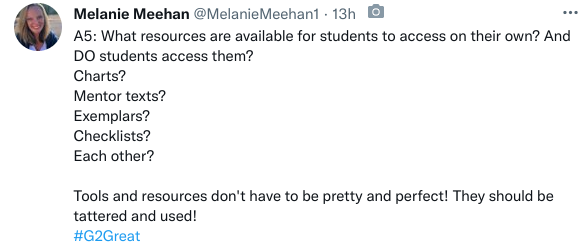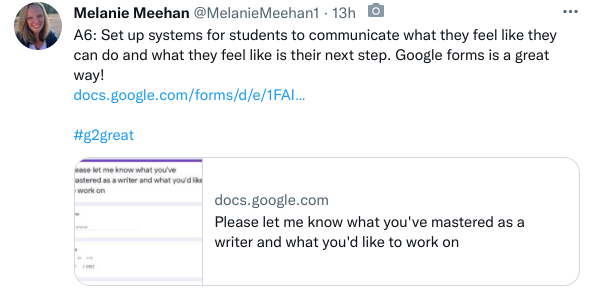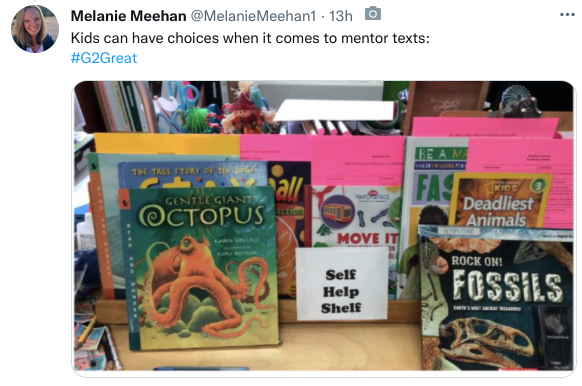 In Conclusion
Writing is complex. Writing is a combination of physical skills (actual writing or keyboarding) and mental skills that include thinking/generating ideas, sorting out the best and most important ideas for inclusion, how to best present ideas and examples and the entire writing process.
Writing that conveys the precise meaning of the author is complex. Writing style is also individual. Every writer begins, pauses, and stops at different places.
Writing instruction is complex when it is responsive to student needs and dispositions. Teachers, families, and communities need to explore what they value in writing instruction and expand their support roles just as they do in reading because writers also deserve quality support. A knowledgeable guide can help you find access points that will benefit your writers and encourage their growth. Answers to Your Biggest Questions About Teaching Elementary Writing can be that guide for new teachers, experienced teachers and administrators leading literacy work focused on writing.
Additional Resources:
Chapter 1 Preview Link
Corwin Downloadable Resources Link
Melanie Meehan – author page link