Guest Blogger Fran McVeigh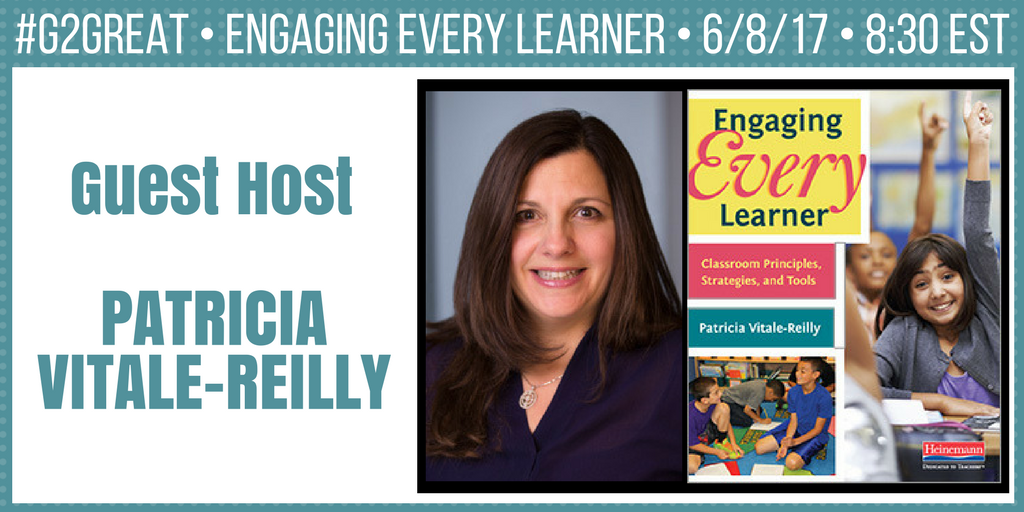 The Success Component:  Engagement
Is it the competition?  Emerging victorious?  Or just the knowledge that if you win the Super Bowl that you are the world champions?  Saturday I had the opportunity to try on two championship rings at a football event:  Marshall Yanda's and James Ferentz's rings.  Each ring is as unique as the team and the player. They are huge personalized outward symbols of a world championship team member.  On my ring finger, this covered both of my joints and was filled with glitz, sparkle, and a weight that emphasized its success!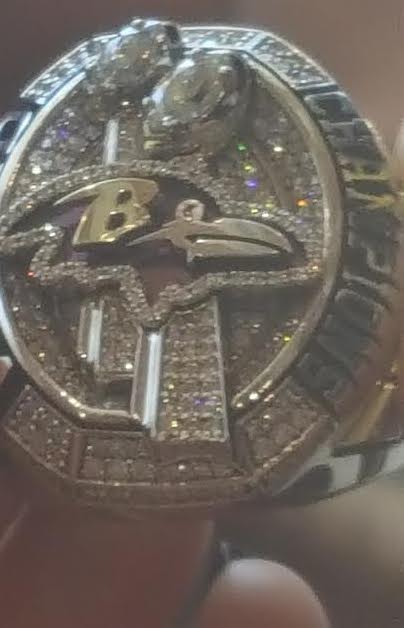 What's the symbol of LEARNING in your classroom?
If you were present for the June 8, 2017 #G2Great chat with Patty Vitale-Reilly you know that the @HeinemanPub team has an absolutely world championship team assembled and one of their veteran authors has won her own world acclaim with Engaging Every Learner:  Classroom Principles, Strategies and Tools. This text provides an indepth look into the steps needed to truly embrace a culture that engages every student.  
The link above will take you to Heinemann and ultimately a free copy of the introduction and Chapter 6.  If you are a teacher, coach or administrator you will want to read this book and study the ideas that Patty presents as well as follow @pattyvreilly on Twitter.
What makes this a championship book?
"Regardless of age, grade level, geographic location, type of school, discipline, or curriculum, " Patty writes, "A student needs to be engaged in his or her learning in order to excel and succeed."   She suggests a sequence for implementing the principles of teaching that lead to engaged classrooms, including (Heinemann, p.xiv ):
"Creating physical, emotional, and cognitive classroom environments for optimal learning

Building meaningful classroom structure through whole class, small group, and independent instruction

Applying the principles of choice to content, process, and product

Connecting students to the world around them through popular culture, technology, and the community."
Why is engaged student learning important?
Engagement is definitely not to be confused with compliance.  Patty tells us that: "Engaged learners are passionate, hardy, persistent, thoughtful, committed, and connected to their work.  Behavioral engagement includes participation, focus and following school procedures.  Cognitive engagement is being minds-on in academic tasks and includes willingness to challenge oneself and be reflective.  Emotional engagement is the 'relationship' part of learning and includes interest in learning, connecting with others and having a strong sense of self." (Heinemann, p.xiv)
During the course of the chat, Patty's tweets outlined six actions for teachers to build engagement in classrooms:
1. Consider the three dimensions of engagement

2. Cultivate engagement in the classroom; don't teach it!



3.  Establish routines to cultivate high engagement

4.   Use assessments to build engagement! (with example)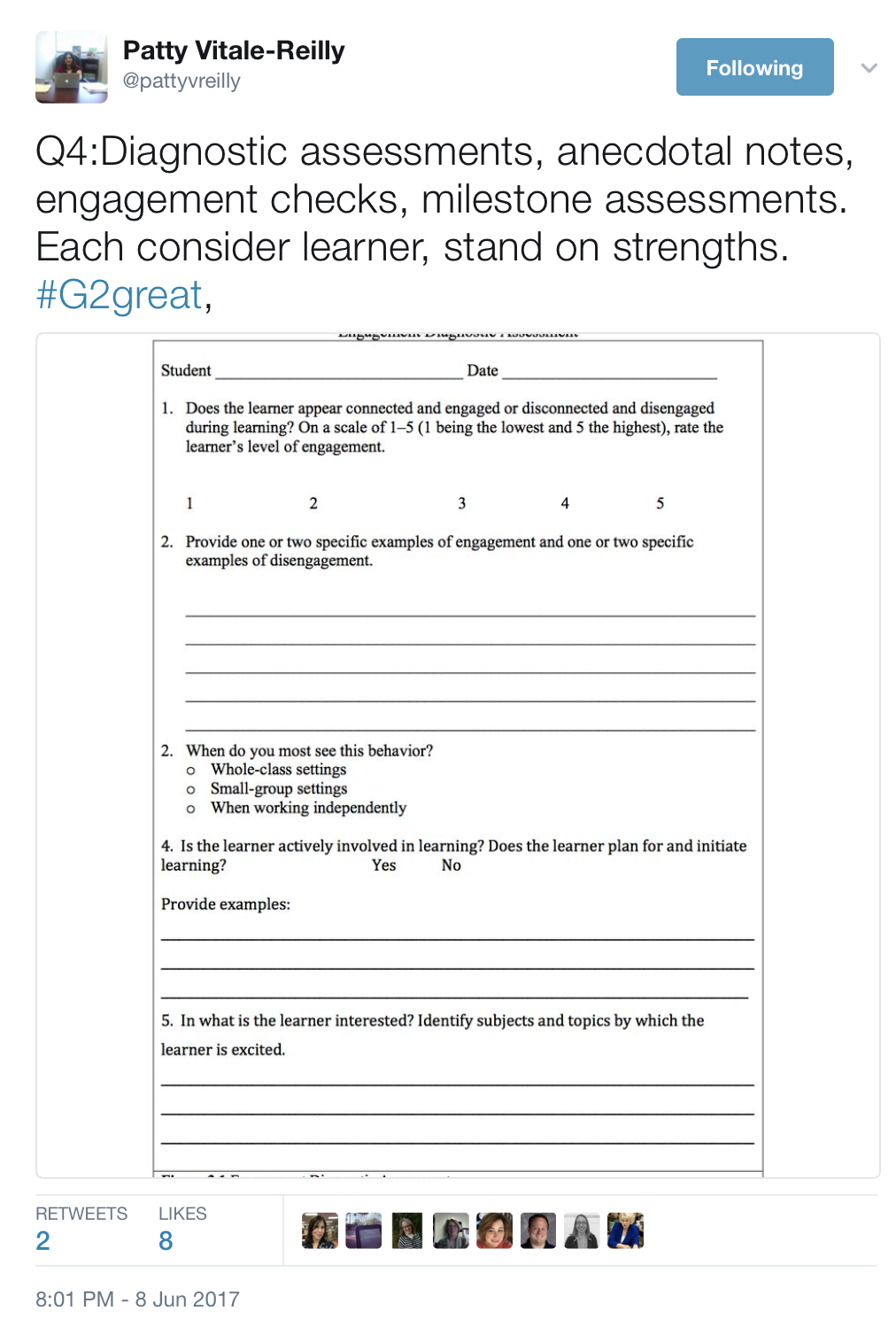 5.  Use choice to build engagement (with an example of independent publishing)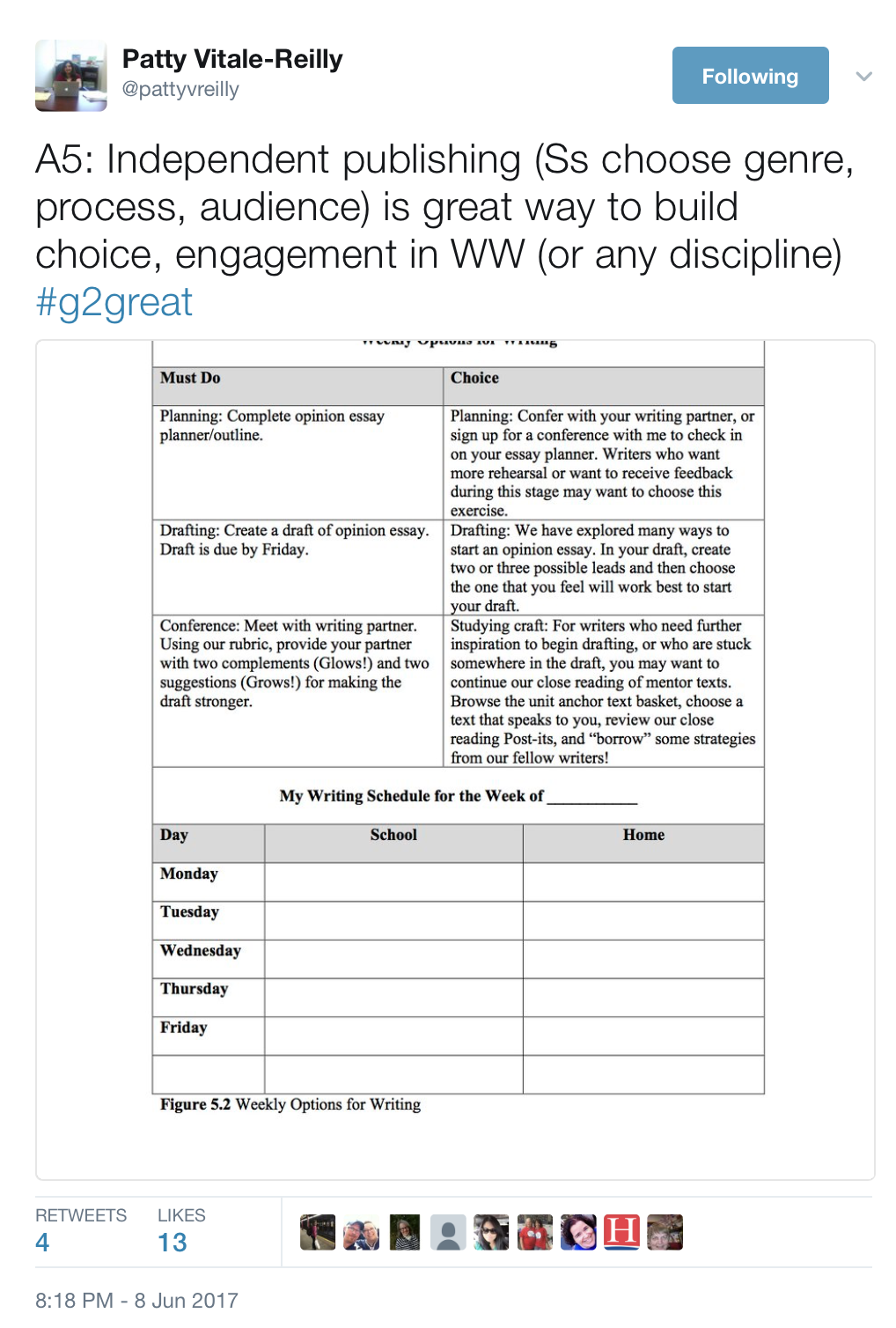 6. Cultivate your own engagement (with an excerpt from the book)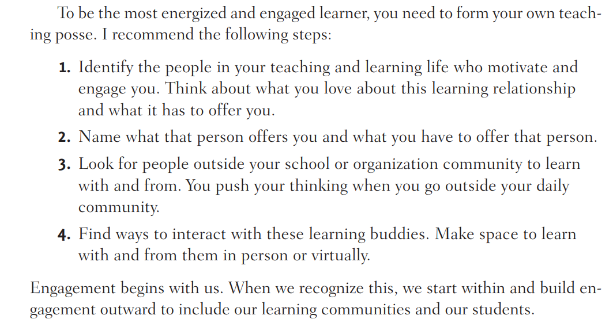 From Engaging Every Learner (p 98). Portsmouth, NH: Heinemann. © 2015 by Patricia Vitale-Reilly
So "Where Should I Start?"
I am a firm believer of "begin with the end in mind".  What is the question you have about student engagement in your classroom?  How are you building that championship culture?  Do you need to begin with the sixth action and assess your own use of your posse and your engagement in learning?  Or do you need to begin at the beginning in order to learn more about the behavioral, emotional and cognitive environments?   Each book chapter includes a checklist that will help you prioritize your needs.  Please build your own mini-action plan to cultivate engagement in all aspects and for all students, as well as yourself!
More Tweets from #G2Great 
Additional Resources:
Follow Patty on twitter @pattyvreilly
Heinemann blog with Patty: How Can You Adjust Your Classroom Environment to Maximize Engagement?
Watch for Patty's New book coming soon at Heinemann
Supporting Struggling Learners: 50 Instructional Moves for the Classroom Teacher,
Classroom checklist on Heinemann blog  http://www.heinemann.com/blog/how-can-you-adjust-your-classroom-environment-to-maximize-engagement/
Google doc – Jenn Hayhurst: Ways to Engage Learners
Chat questions