by Fran McVeigh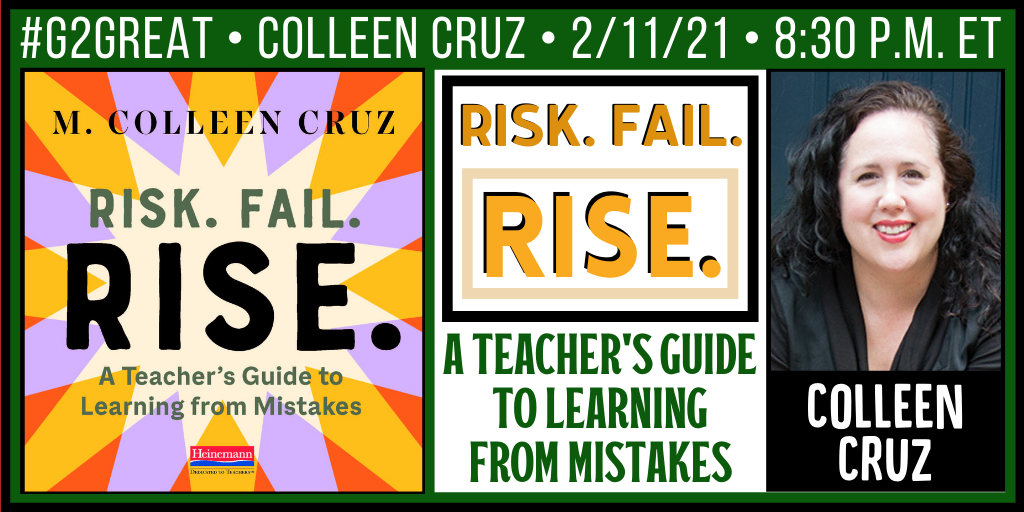 Neither the weather or the continuing pandemic was able to dampen spirits and pull folks away from the #G2Great chat with Colleen Cruz on Thursday, February 11, 2021. As we began planning for this chat, I worried about being able to write about both the book and chat in a credible fashion that would do justice to the brilliance shared. As the chat ensued, I realized that I was right to worry with so much greatness packed into a 60 minute chat!
I first met Colleen almost eight years ago when she was my staff developer at my initial Writing Institute at Teachers College Reading and Writing Project. Eye opening. Jaw dropping. Work. Writing. Learning. And in the interest of full disclosure I have learned from Colleen, live and in person or virtually, every year since as I continue to grow my own literacy knowledge and skills.
Colleen is a teacher, a staff developer, an author, and an editor. She's witty, fun, and avowedly "pessimistic" as she intertwines stories and research in her work and to help you envision possibilities. Previous #G2Great chats have been discussed in these blog posts: The Unstoppable Writing Teacher: Real Strategies for the Real Classroom, Writers Read Better: 50+ Paired Lessons That Turn Writing Craft Work into Powerful Genre Reading, and Bridging the Gap Between Research and Practice Podcast with Nell Duke and Colleen Cruz.
So where to really start with this mutual adoration of Colleen Cruz and her brilliance, this book and the chat? I reread all of my notes about Colleen's books and presentations. I perused the Wakelet artifact from this chat and liked or retweeted almost a hundred tweets that included every single one from Colleen. How to organize? How to find a manageable set of tasks to meet my purpose: What to share in this post?
A Mistake. Two paired tweets from Colleen from the last question in the chat.
The initial tweet: research, current connection, a link (https://news.emory.edu/stories/2020/04/esc_covid_19_family_stories/campus.html), and a mistake. How did Colleen respond? Did she ignore her mistake? Did she deny it? Did she embrace it? Did she offer a bit of humor? How we respond to mistakes matters.
Let's back up. What are mistakes?
The following tweets offer a glimpse into definitions of mistakes. You can learn more from the text excerpt, the audio book or the Heinemann blog listed below in the resources. Mistakes are hard to define unless you spend some time thinking about what they are and what they are not as #g2great team member Val Kimmel offers in the second tweet. Stacey and Nadine add on to the learning properties of mistakes.
What are the different types of mistakes?
Getting beyond mistakes are "good" or "bad" takes some work or study. Not all mistakes are equal. Four kinds of mistakes include: stretch mistakes, aha moment mistakes, sloppy mistakes, and high-stakes mistakes. You can read more about those at Heineman here, "Not All Mistakes are Good", check out the Facebook Live series here, or read from Eduardo Briceno at either Mind/Shift here or his Ted Talk here.
The goal: to be aware of the types of mistakes, when they happen, why they happen, your response to mistakes, and the effects of those mistakes. This will take study, thoughtful reflection and a bit of self-awareness. The danger is in continuing on the path of sloppy and high-stakes mistakes after knowing that these are harmful. Many sloppy and high-stakes mistakes are avoidable with careful attention to our words and actions. I wondered about characterizing Colleen's Tweet mistake above as one of the four types . . . and yet, without an edit button in Twitter, mistakes can easily happen from nimble fingers on less than responsive keyboards. I didn't see the mistake when I first saw the second tweet as I read the word "msitake" as I expected it to be – during the fast pace of the chat – rather than the word as presented on the screen.
My past week and two mistakes …

1. Missed a webinar. I signed in on the last five minutes. Yes, sloppy mistake on the time zone recording on my calendar. I emailed and apologized for missing and will take greater care in recording/checking the times on my calendar. (Self care? Definitely a tired mistake!)

2. Fabric rows on my quilt did not match. Border and final two rows were more than an inch longer than the above 7 rows. At the time, I thought it was a high-stakes mistake, but it was really a stretch mistake as this was my first "pieced" quilt and I had never even thought about the difference in the rows. Future: check and double check connecting rows as the pieces are assembled.

Fran's notes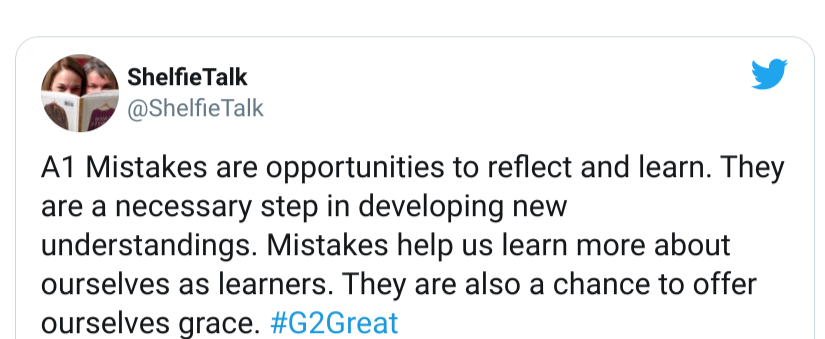 Are all mistakes equal? When do we give grace? And to whom?
Jill's tweet above is the bridge between reflecting and learning and offering ourselves grace. Mistakes are not a cause for self-flagellation. Mistakes vary according to the type as to intent and impact. Even more, our responses vary. Do we automatically offer grace to some students? Do we like to share our magnanimity with the entire class when we bestow grace? Which students have to earn grace? All of these are questions just about grace that stem from Colleen's tweet below. The most "telling" factor may be "Who do we withhold it (grace) from?"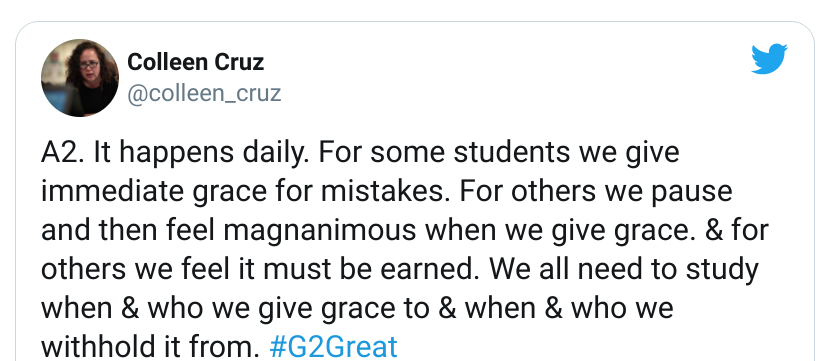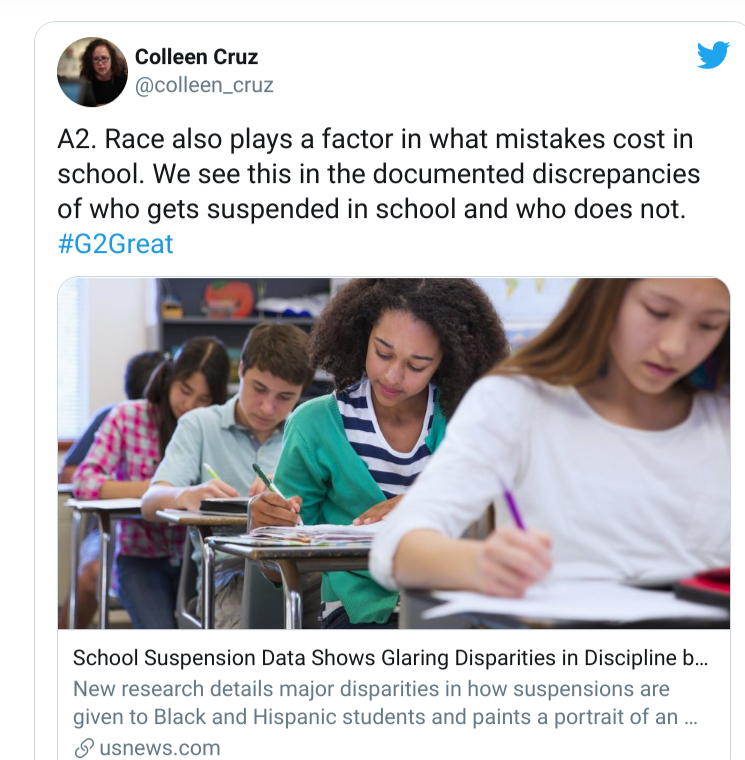 So now what?
Think of a recent mistake of your own. Which of the types was it? What was your response? What is your plan for next time?
Now think of a recent student mistake. What happened? What type was it? What was your response? What might you say or do differently? Do you know enough? Consider which of the resources below will be helpful?

As Colleen Cruz says in Risk. Fail. Rise. and Val and Mary emphasize above, the value in studying our mistakes is so we "can learn to separate our ego and form a mistake-welcoming culture." Mistakes as learning experiences. Mistakes as a sign of growth and a source of data to use to ascertain growth.
Where will you begin? And when?
Links and Resources for Further Exploration:
https://blog.heinemann.com/topic/risk-fail-rise – the Heinemann Blog with access to the podcast, audiobook sample, blogposts and FB live events
www.colleencruz.com – my website for upcoming events and to contact me
@colleen_cruz Follow Colleen's Twitter handle
BLog: Not All Mistakes are Good: Identifying the Types of Mistakes Teachers Make https://blog.heinemann.com/not-all-mistakes-are-good?utm_campaign=Cruz&utm_content=144005030&utm_medium=social&utm_source=facebook&hss_channel=fbp-96011276891