by Fran McVeigh
The #G2Great team exuberantly welcomed Melanie Meehan to the October 3, 2019 chat two days after Every Child Can Write: Entry Points, Bridges, and Pathways for Striving Writers entered the world. As I pondered both entry points and organization for this post, I decided to begin with Melanie's words in response to our three basic author questions.
1. What motivated you to write this book? What impact did you hope that it would have in the professional world?
Every day I get to work with writers across all grades and across all levels. Because of my work, I have seen the impact of increasing access and entry points for writers that has led to growth for these students, regardless of functioning levels. 
Very few people enjoy a struggle when they don't believe they will overcome it, so we have to figure out ways to make the learning and growth seem possible to everyone in the community– especially to the writer. There really is a big difference between thinking about students as struggling or thinking about them as striving, and I hope that people who read this book come away re-examining their beliefs about students.
So often our beliefs become our truths. I want everyone– including and especially our children– to believe that every child can write, and then I want teachers to have practical strategies and resources to help make that happen.
2. What are your BIG takeaways from your book that you hope teachers will embrace in their teaching practices?
Not everyone is ready for the same curriculum and instruction on the same day, but it's overwhelming to deliver an entirely separate lesson for students who aren't getting it. That being said, the concept of the Zone of Proximal Development as described by Lev Vygotsky is a game changer for me. We can't keep asking students to try out tasks and strategies that are way beyond their reach and ability, and it's exhausting to create scaffold after scaffold that helps writers create a product without understanding the process. When we do that, we're sending messages over and over that they can't do it without us or the scaffolds we create. With those consistent messages, it's human nature to stop trying and avoid the task or situation all together. So how do we change it up in ways that empower students, but is within the realm of possibility for teachers? That's where reconsidering entry points may welcome students into the learning process. Or maybe it's constructing bridges so that students have different ways to join the process. That's where those metaphors that make up the title come it. I hope that teachers see practical and possible ways to teach all students to write. 
3. What is a message from the heart you would like for every teacher to keep in mind?
Our job is to find the entry points and provide the access so that students are challenged and moving forward without being overwhelmed and over-scaffolded. We live in a world where being able to write is a critically important and empowering skill. We can all teach them to write when we believe they can and we have the tools and understandings.
So many times even when students look like they are paying attention, they have no idea of what the lesson is really about. Engagement, interest, caring about something– those have to be in place for not only behavior, but also for academic growth. I feel like I keep repeating myself, but the message of the book is that all children can write.
Why this book?
I am a bibliophile. I probably need a 12 step program because I am addicted to books. I love to explore the ideas in a book through multiple readings. I also love to meet authors and hear about the books in their own voices. So when an author that I admire professionally writes a book, I study it pretty carefully. I was waiting for this book for months. I asked Melanie about it in March over coffee. We put the chat on the schedule in June, and Melanie submitted the quotes and questions in record time.
And then I finally had a copy to read. Every Child Can Write had me hooked from the first reading of the Table of Contents – written in complete sentences. Thorough. Thoughtful. Timely. With provocative yet practical ideas. Well organized – so well organized that I read it from cover to cover, TWICE, before I drafted my first blog post. I reread some parts, read the Blog Tour posts, revised my draft, and studied the blog posts again. I was worried about capturing the essence TWICE and doing justice to this gorgeous addition to the professional world.
This book is based on these beliefs:
1. All children can learn to write. 2. It is a fundamental imperative that we do everything in our power to teach the students in our care how to express themselves through words and through writing. – Meehan, M. Every Child Can Write. xviii.
Who has to have those beliefs?
Students and teachers alike have to believe that all students can write and that is fundamental to every chapter in Melanie's book. It's also fundamental to the literacy instruction in classrooms around the world. All students. All teachers.
What are obstacles that interfere with student writing?
Beliefs are the beginning. Then instruction has to match those beliefs. Sometimes the instruction does not meet the students' needs. What obstacles might interfere with learning? Check out a sampling of responses from our twitter chat. Have you heard these from your students or teachers?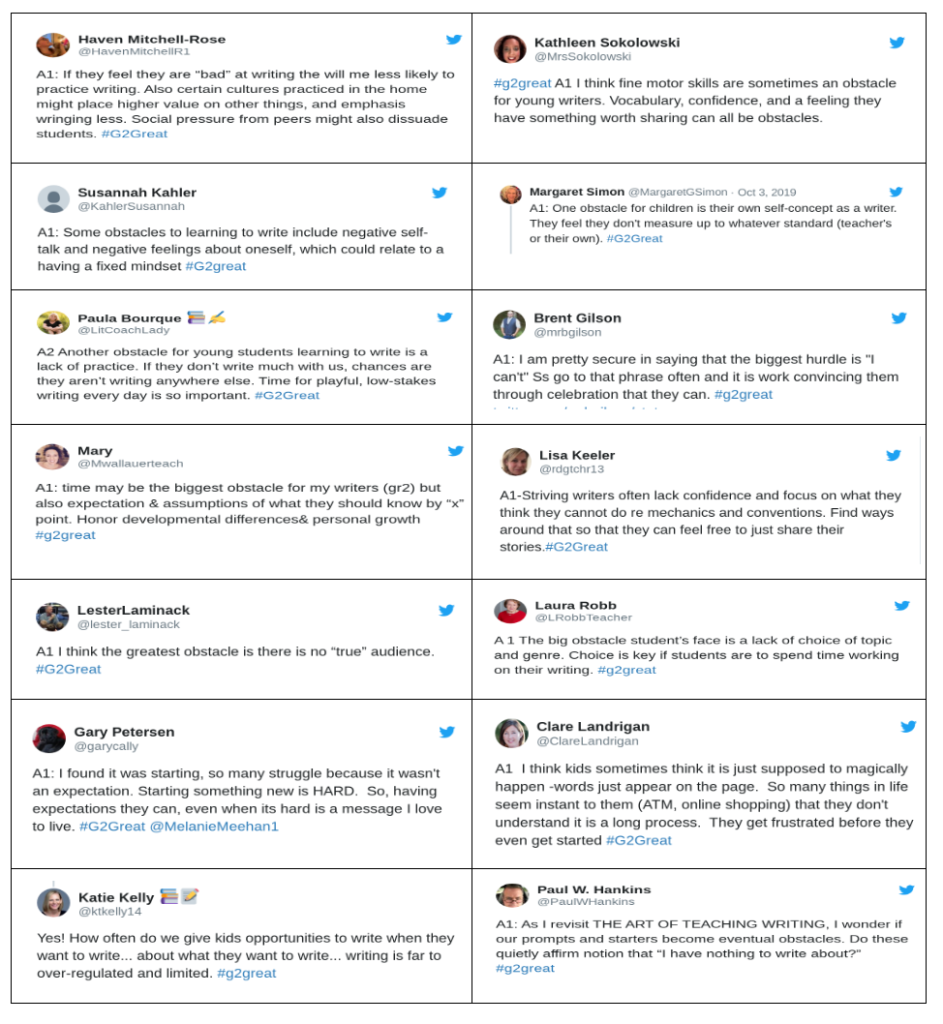 Knowing "potential obstacles" can help you address obstacles confronting writers in your classroom. Do the students need practice? Do they need choice? Do they need confidence? Crowd sourcing these possibilities from a #G2Great Twitter Chat is one way teachers can step outside their current practices, sharpen their focus, turn their gaze back to their students, and study them anew. (The responses to "perfectionism" as an obstacle can be found in the Wakelet link.) You may also have collaborative conversations with your grade level team to explore improvements in environment, routines, practices and usage of charts through a book study. Every Child Can Write provides support for instruction and problem solving with entry points, bridges and pathways to help striving writers gain independence.
What do you need? Entry points? Bridges? Pathways?
Where will you begin?
Additional Resources: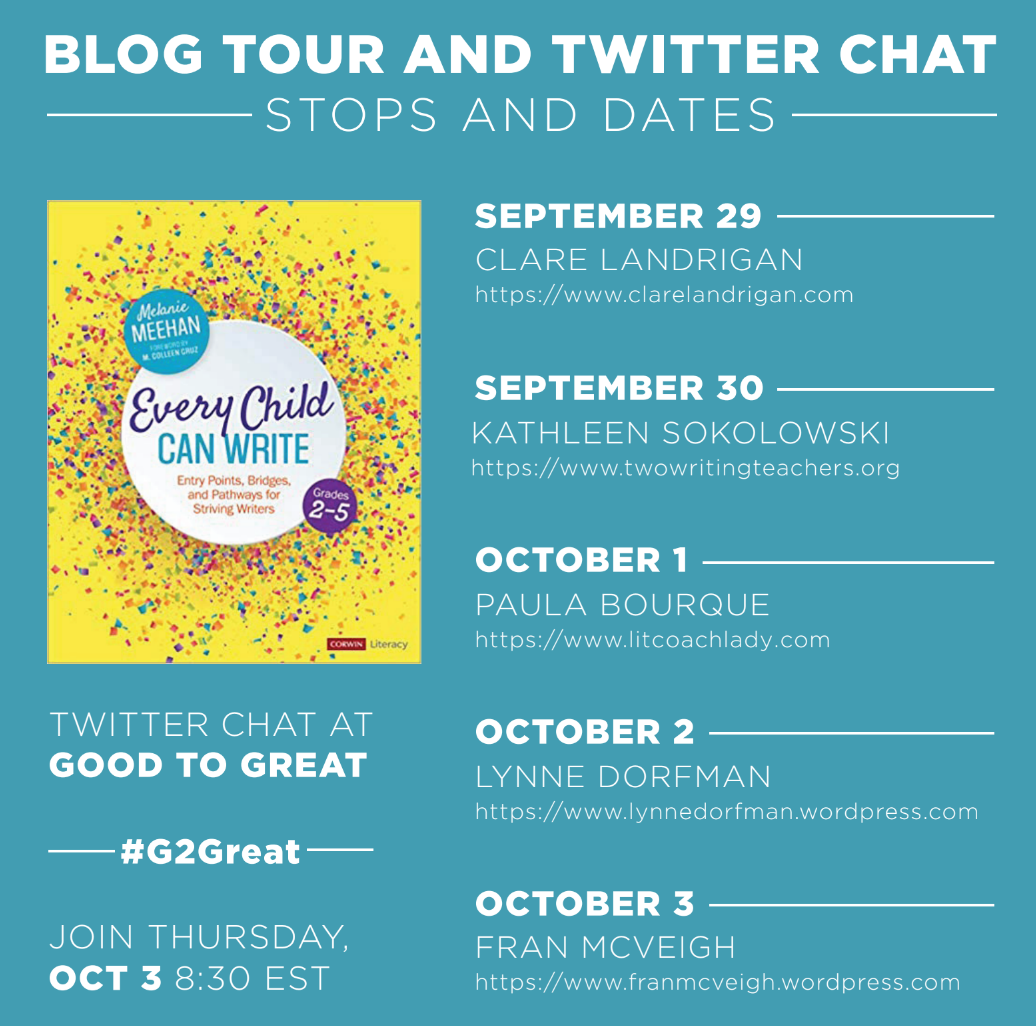 Blog Tour Stop 1 with Clare Landrigan – Link
Blog Tour Stop 2 with Kathleen Sokolowski – Link
Blog Tour Stop 3 with Paula Bourque – Link
Blog Tour Stop 4 with Lynne Dorfman – Link
Blog Tour Stop 5 with Fran McVeigh – Resourceful Link
FYI: I reviewed an advance prepublication copy of "Every Child Can Write" that was available for the #G2Great team.