by Mary Howard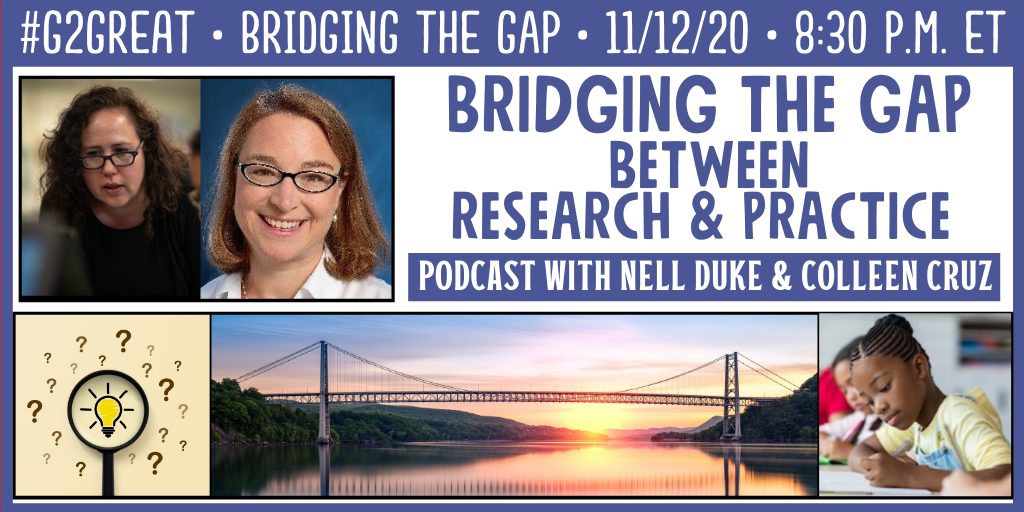 View our #G2Great chat discussion Wakelet here
On 11/12/20 our #G2Great team launched the first podcast chat in our nearly six-year history of weekly twitter chats. We chose this amazing Heinemann podcast as our podcast launch knowing that educators needed to listen and learn from the wisdom of Nell Duke and Colleen Cruz on such an essential topic: Bridging the Gap Between Research and Practice. We were honored that both Nell and Colleen engaged in our chat.
This podcast was a virtual celebration of the wonderful series, Not This, But That currently edited by Nell Duke and Colleen Cruz. They explain how the series rose from a shared concern of researchers and professionals who agreed that there are certain practices unsupported by research which seem "intractable." The podcast continues:
"They're out in the field and they're frustrating when we see them, but we don't seem to be successful in uprooting them at a large scale."
The Not This, But That series strives to bridge this research-practice gap by including the voices of both researchers and practitioners. Each book revolves around three key sections that seem like areas we could highlight when engaging in professional discussions about our practices:
NOT THIS: Intractable Practices
WHY NOT? Research Support
BUT THAT: Shifts in Thinking
Nell Duke and Collen Cruz shared some of their favorite books in the series:
No More Culturally Irrelevant Teaching
No More Teaching a Letter a Week
No More Science Kits or Texts in Isolation
Colleen highlighted a favorite newer book in a tweet, No More Teaching Without Positive Relationships: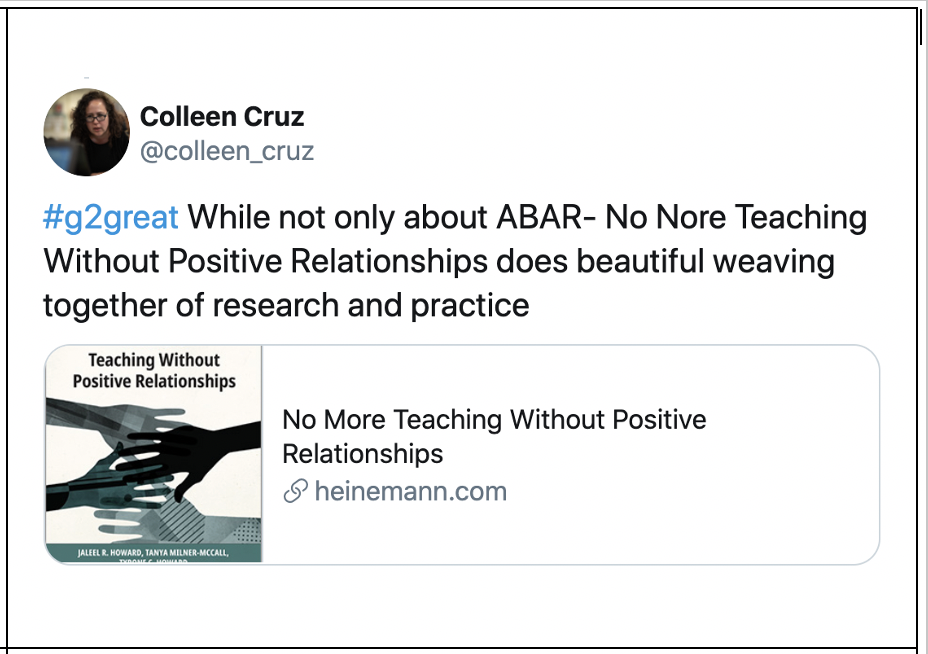 Adding to her enthusiasm for this book in the podcast, Colleen illustrates why this book is a particularly important read now:
"I love its focus on anti-racism and practical classroom practices teachers can put into place to create classrooms that welcome and celebrate kids and where they come from and who they are and their identities and build healthy, lasting relationships with their teachers."
Inviting our #G2great chat family to suggest other "intractable practices" make it seems fitting to turn our attention to our second chat question. These topics may well be worth exploring in future books or at the very least within conversational explorations in our schools.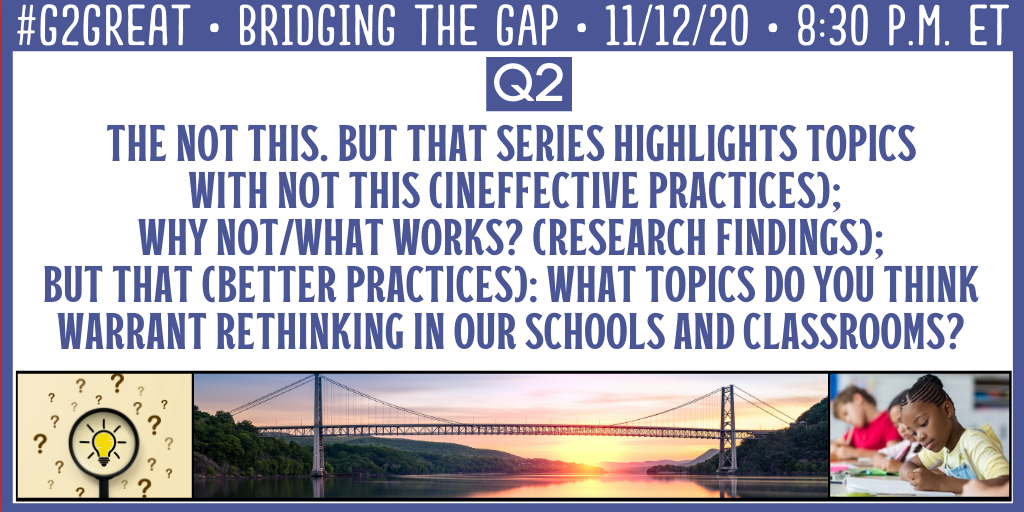 There was no shortage of #G2Great additions as shown below: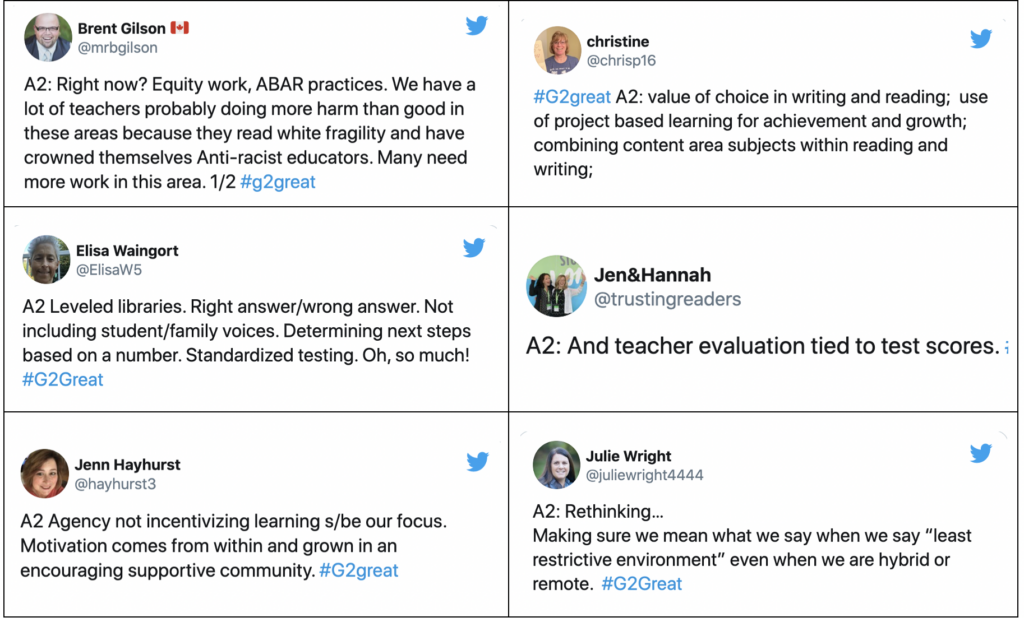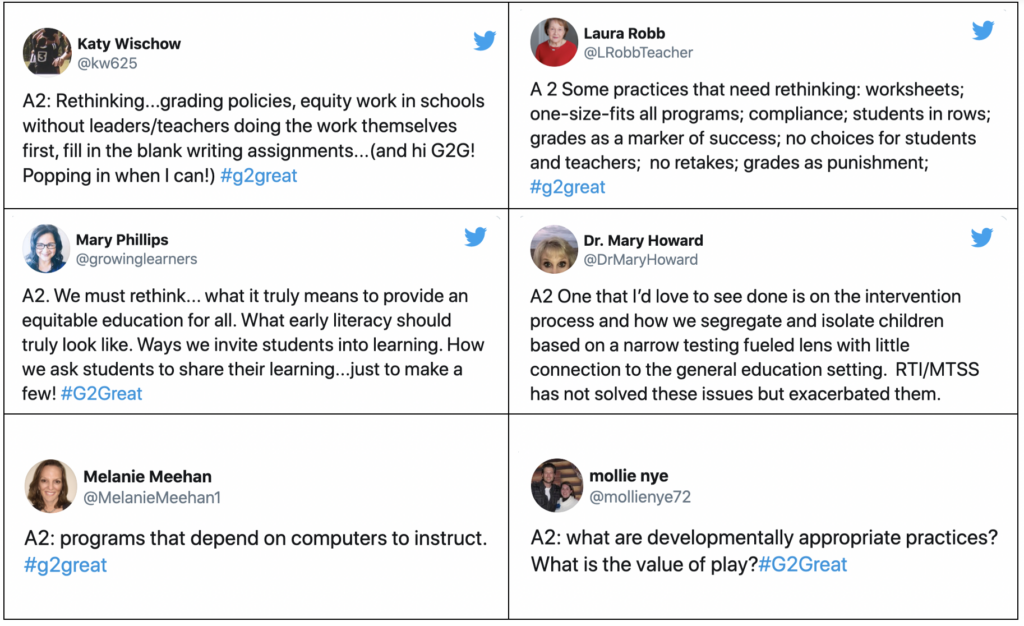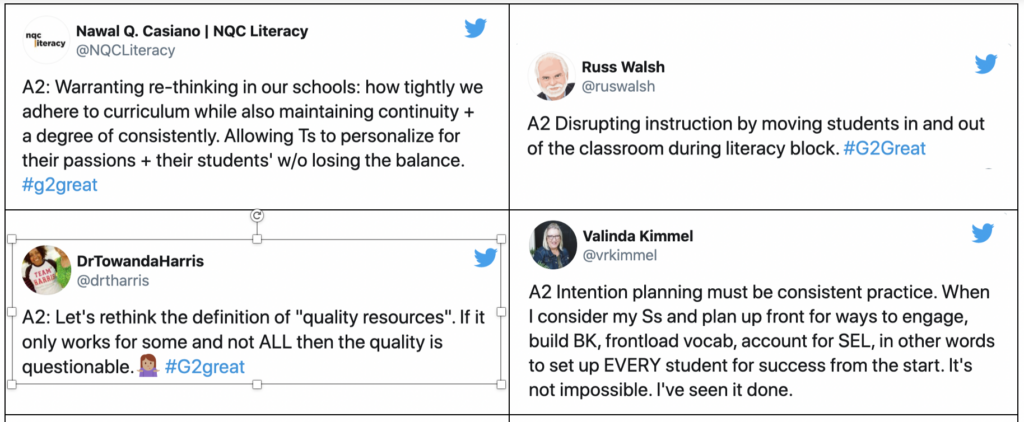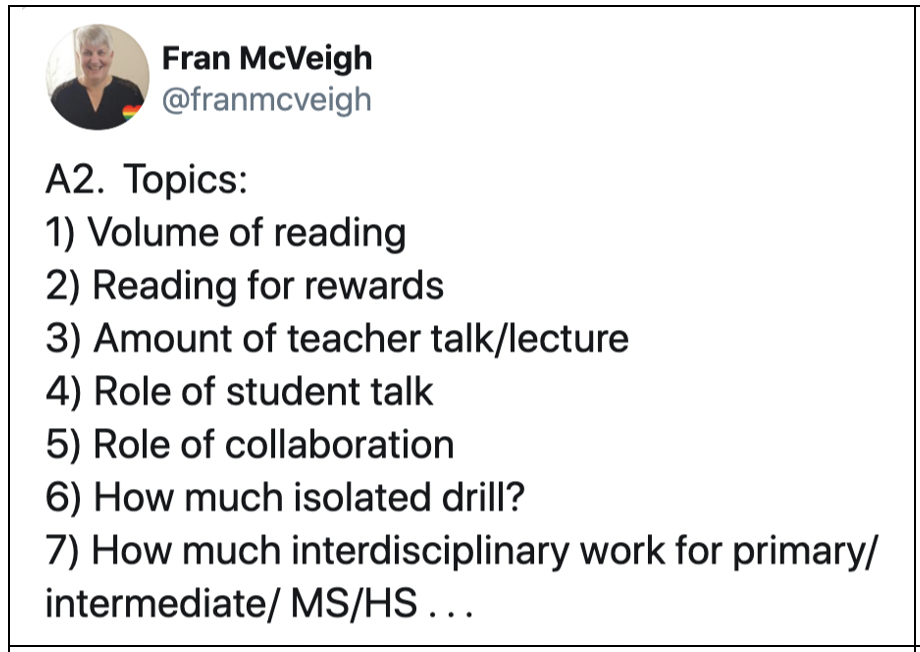 In the podcast, Nell Duke and Colleen Cruz bring their wisdom to our current instructional reality in the midst of a global pandemic. Discussing the role of research during this crisis with virtual teaching and learning at the center, they shared an important point:
"Be cautious about people who say "research says…" in this situation. Those studies didn't address what we're doing now because they were written PRE COVID." Colleen
"If people are telling you things like, "Here's what the research tells us," they're probably making it up, because we don't have research on a lot of these questions." Nell Duke
They ask us to be thoughtful as we look to what research says but then consider what that might look like as we transfer these practices into a virtual setting. For example, we know that interactive writing is supported by research but we must now contemplate how this research can then be translated into a virtual setting given available technological tools and resources. These conversations could not only draw attention to available research around key practices but also help us to evaluate those practices in light of pandemic-fueled teaching as we keep children at the very center of our thinking and thus our decision-making.
Another critical podcast discussion was focused on the all-too-common instructional battle cry of "learning lost" and the widening gap. Nell Duke implores us to assume an "asset stance" as we focus our attention on what children have gained during this time, stating:
"We don't bemoan all the things kids didn't learn while they were/are home. We think about what they did learn."
I have returned more times than I can count to the story Nell Duke tells so eloquently from Ernest Morrell,
"The kids did nothing wrong here. We don't need to come at them with all the things you missed and all the things you weren't doing, and how far behind you're getting. We need to come at them with look at all that you have been doing, look at what you're experiencing in this once in a lifetime event and you are enduring, and you are here with me, and you've learned things and you're going to learn things, and we value you, and you're important to us, and to our work, and to the future of our country."
How can we then shift our view from our assumption that children come to us somehow lacking and rather celebrate what each of our children bring to the instructional experience? With that in view, how do we then use those assets as a stepping stone to to the teaching and learning choices we make on their behalf?
I've enjoyed this podcast on many occasions and with each listen I manage to hear something new that makes me stop and think even more deeply than the time before. I hope that each of you will do yourself a tremendous favor and listen to their eloquent wisdom as well using this LINK.
As I close this post, it seems appropriate to look ahead as we will be pairing this amazing #G2great chat experience with the newest addition to the Not This, But That series. On 12/3/20, we will celebrate a new book written by Erin Brown and Susan L'Allier, No More Random Acts of Literacy Coaching (Heinemann, 2020). We hope that you will considering joining us for this incredible discussion.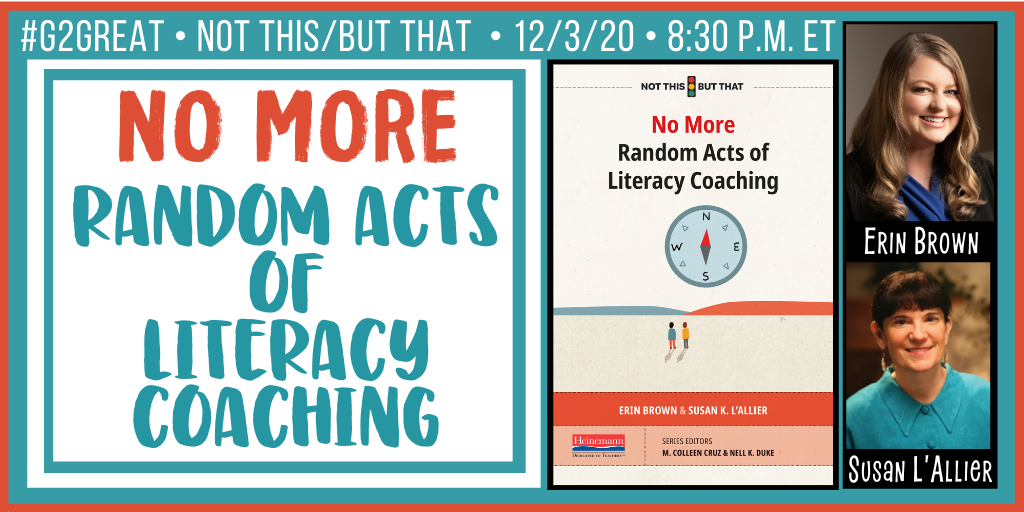 This seems like an appropriate segue between the two chats by returning back to #G2Great chat tweets from both Nell Duke and Colleen Cruz.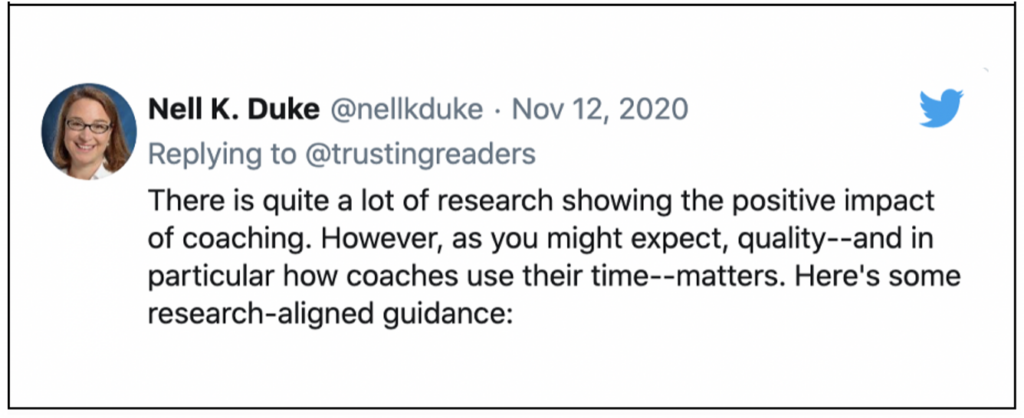 Nell also supported our thinking about coaching in the podcast by sharing that there is research evidence on the impact of coaching in remote settings where coaches could offer digital learning support through feedback. She also supporting this knowledge by sharing the research references on coaching below:
The Effect of Teacher Coaching on Instruction and Achievement: A Meta-Analysis of the Causal Evidence
Essential Coaching Practices for Elementary Literacy Document
Colleen Cruz piqued much interest with this tweet and "super active coaching with readers.". We hope to learn more about her 'experiments' in the near future.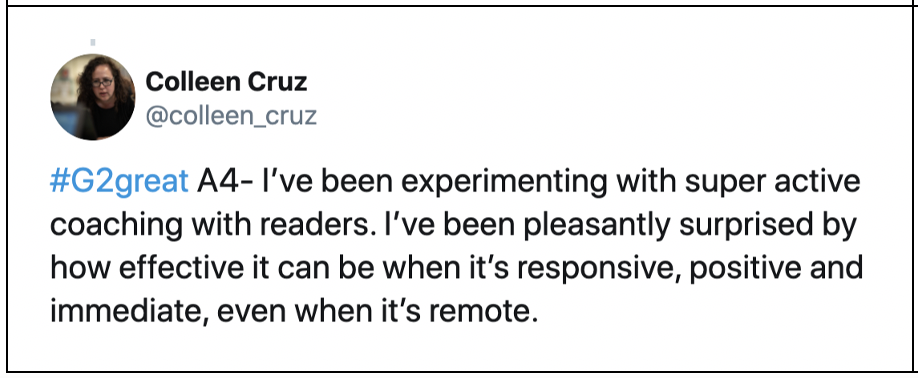 Your #G2Great team would like to extend our deepest gratitude to Nell Duke and Colleen Cruz for sharing their wisdom in this remarkable podcast, for their commitment to personally support each book in the Not This, But That series, and of course, for taking part in our #G2great chat. We are so inspired by you both and eternally grateful for all that each of you have so generously done to enrich our understandings of research-supported practices and our responsibility to our children.