By, Jenn Hayhurst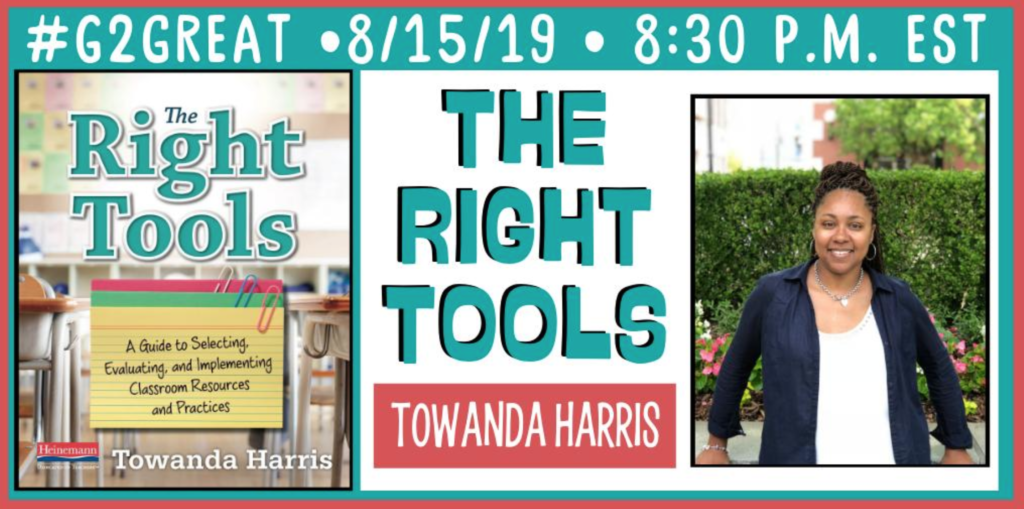 Disclaimer Alert: I Love Tools!
It's true, I have a soft spot for tools. From my earliest memories, I have loved working with tools. My father would invite me into his garage and would marvel at the hooks and draws and bins full of useful devices that could help a person get any job done. My love for tools has remained constant, just the other day I inventoried my kitchen tools to assess which ones were most useful. I love tools because they help us to perform at higher levels, to be more independent, and to feel empowered to make a change. Tools make my teacher's heart sing.
Needless to say, when Towanda Harris agreed to join our #G2Great community… I was VERY enthusiastic! On August 15, 2019, Towanda Harris initiated a discussion stemming from her beautiful new book, so aptly named, The Right Tools, that I believe, will be a book teachers will use and love.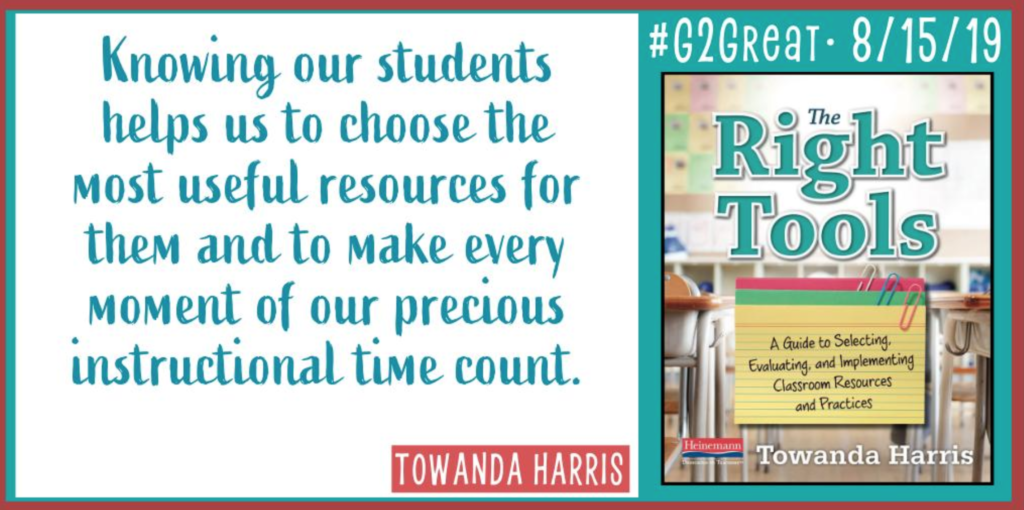 Instructional tools offer a pathway towards active learning and aides for assessment for our students. They are mediators engender high levels of engagement and support. So, why aren't we all using tools on a regular basis? Towanda, spoken like the true teacher puts it simply,
Today, we often find ourselves facing a dizzying array of materials and resources, whether they be a box of dusty skills cards handed down from a retiring teacher a professional book passed on by a colleague, a unit plan saved from a previous year, a teacher's manual found in the back of a storage cabinet, a procedure recommended by a supervisor, a program required by a district, a book reviewed on a blog, a set of activi- ties discussed on Twitter, a chart found on Pinterest, a unit downloaded from a website, or a strategy highlighted in a brochure or an email. But how do we know which of these will help the children in our classrooms? How do we find helpful new resources without squandering funding or instructional time?

Towanda Harris, The Right Tools, xii Introduction
How do we begin? This post is dedicated to beginning the process.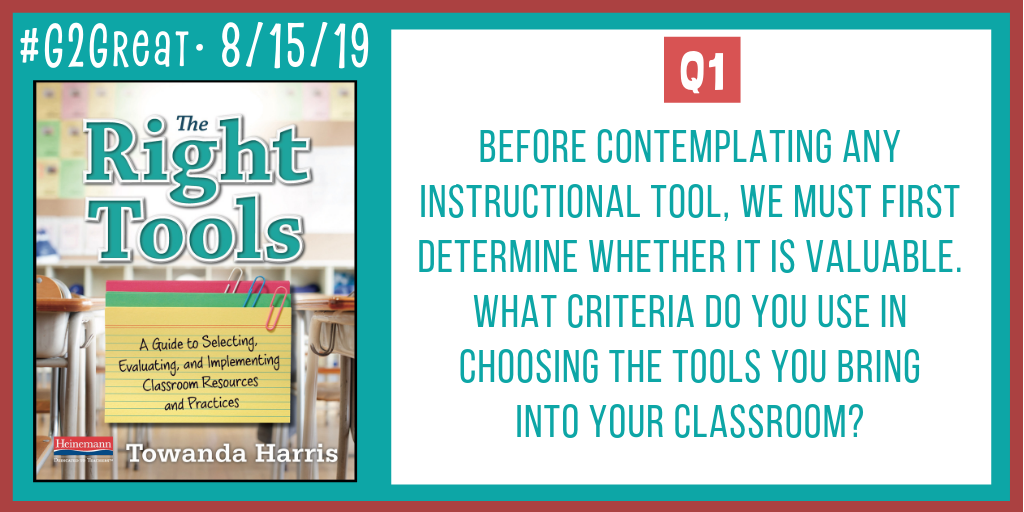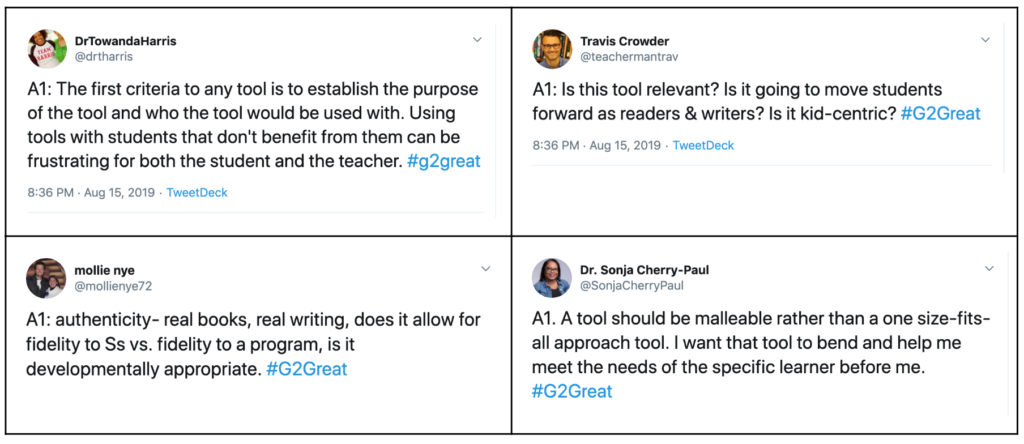 Having well-defined criteria for what tools are brought into the classroom is an important first step. When developing a criterion, we begin as Towanda suggests, with clarity for the tool's "purpose" so they may meet students where they are. While Travis reminds us to consider the appeal of tools, is they "kid-centric" if kids don't like them they won't use them. Mollie brings us back to basics as she reminds us to keep tools grounded in authentic opportunities for use. Sonja comes at tools from another perspective, when she tweeted that the best tools are flexible ones that "bend." So true!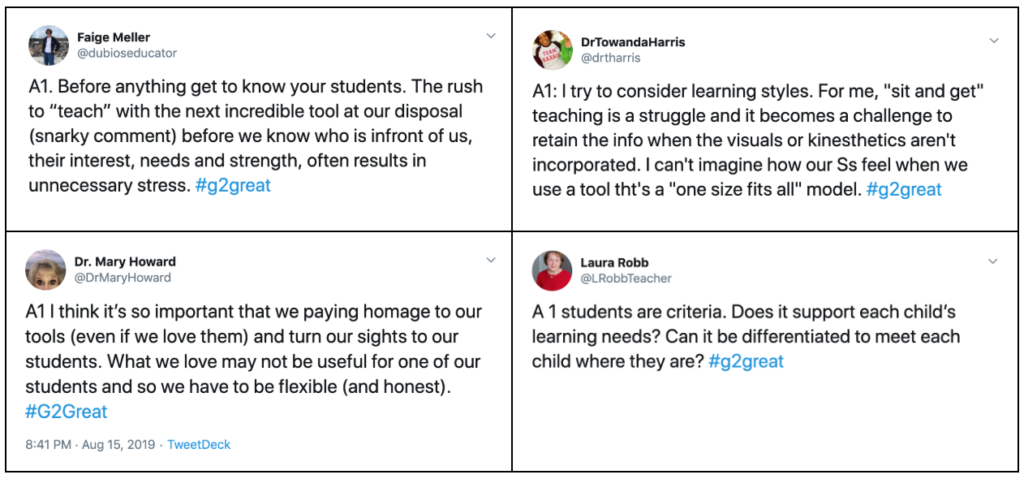 Tools offer teachers opportunities to be responsive to students needs. Faige, adds her voice to the conversation as she explains that criteria for tools cannot be set unless teachers have time to observe the students who are in the room, she invites us to consider students' "interests, needs, and strengths". Towanda echos this truth as she perks our attention to knowing "learning styles" so we may avoid that "one size fits all" mentality that becomes a roadblock for a successful transfer to independent use. As always, Mary brings the discussion back home, as she implores us to be "honest" in our estimation of tried and true tools we love as educators. We have to always be reflective to make sure we really do have the right tool for the job. Laura, says it best I think when it comes down to the underpinning for criteria for tools, "Students are criteria" Know your students first, then develop or offer the tools they need to be successful.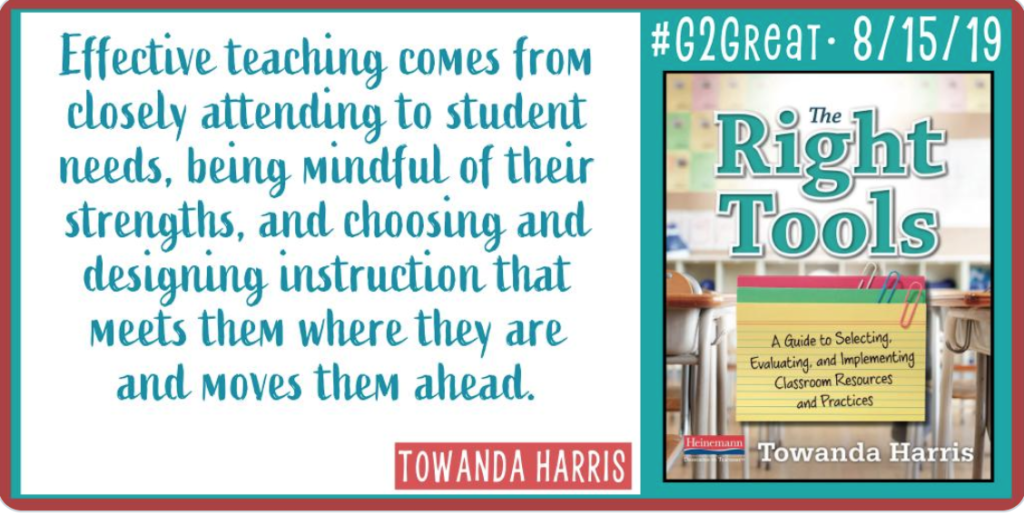 This post offers just a snapshot of the conversation we had about tools. I do encourage you to go to the archive if you missed the chat. It is a treasure trove of ideas that could spark a meaningful discourse for any Professional Learning Community, (PLC).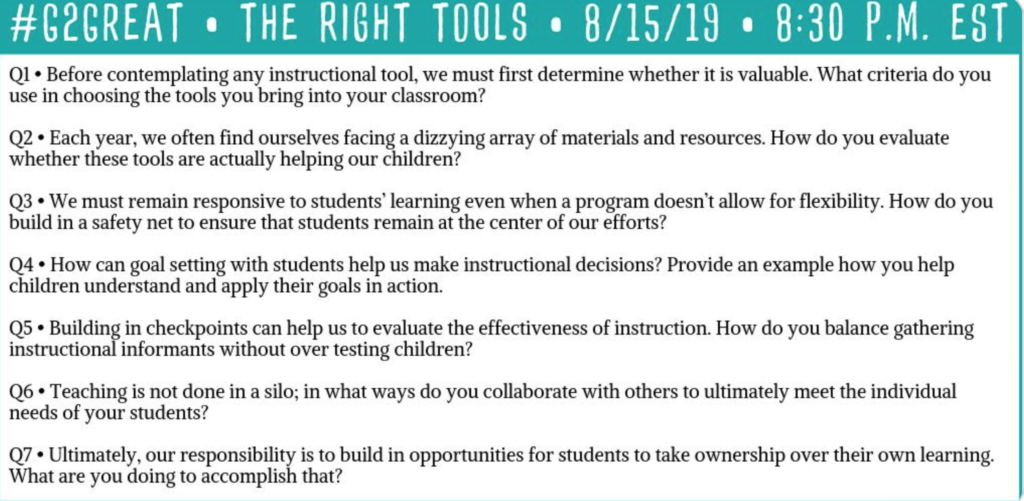 On behalf of my #G2Great team, I'd like to thank Dr. Towanda Harris for joining us for this meaningful discussion. Teachers everywhere are organizing and getting their resources together to kick off the school year. With books like, "The Right Tools" in hand they will get closer to "great practice", and that is what teaching from a learning stance is really all about.