by Jenn Hayhurst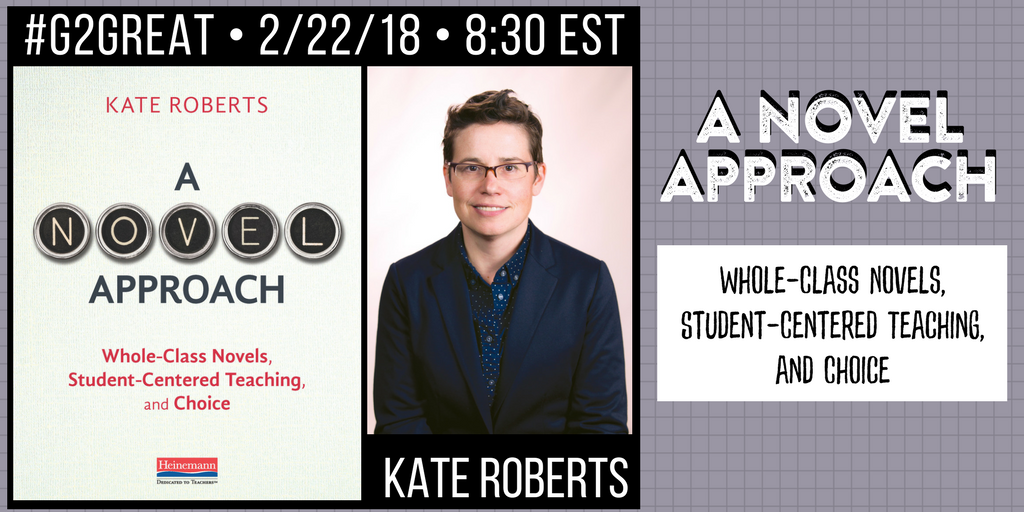 On February 22, 2018, Kate Roberts joined #G2Great to have a conversation about taking a fresh look at the whole-class novel. There is something deeply reassuring about her book, because she asks us to lift our presuppositions, regardless of what stance you take, and find some common ground. What is good about this practice? What's a potential drawback? How can we elevate this practice so it can evolve based on what we now know about strong instructional practice?
We are all teachers who want to get to the heart of the matter…  how do we help usher in the next generation of readers? As with any complex endeavor, there is so much to consider. Kate's book inspired all of us to think past our preconceptions because the more we share the more we could learn from and support each other through professional sharing.
Sharing Experiences
Experiences shape us. They fill us up and give us the ink so we may write our stories. If I understand your experience with this instructional move, I can broaden my own understanding. During the chat, I broadened my understanding and I saw the Whole-Class Novel (WCN) as something that is not a yes/ no proposition I re-envisioned it as an opportunity that may be full of potential.
Sharing Expertise
We are smarter together! Yes, the Whole-Class Novel can be an object of inquiry. When teachers think about their end goals for using this instructional practice it can grant permission for critical thinking. We can take this one book, and open it up to all our students and see where they take it. That can be an exciting proposition.
Sharing the Journey
When teachers and students share the journey to make meaning it is magical. It is also powerful that Kate's book inspired this revelation for the #G2Great community. This is not an easy proposition but it is a worthwhile one. Students will have vastly different interpretations of a book and that's ok. The classroom is the perfect place to learn how to have those conversations that may not have been possible without this instructional move.
Thank you, Kate for helping us to re-envision the potential for the Whole-Class Novel. Together we continue to shape and grow our practice, because none of us are as brilliant as all of us…