By Brent Gilson with Guest Blogger Travis Crowder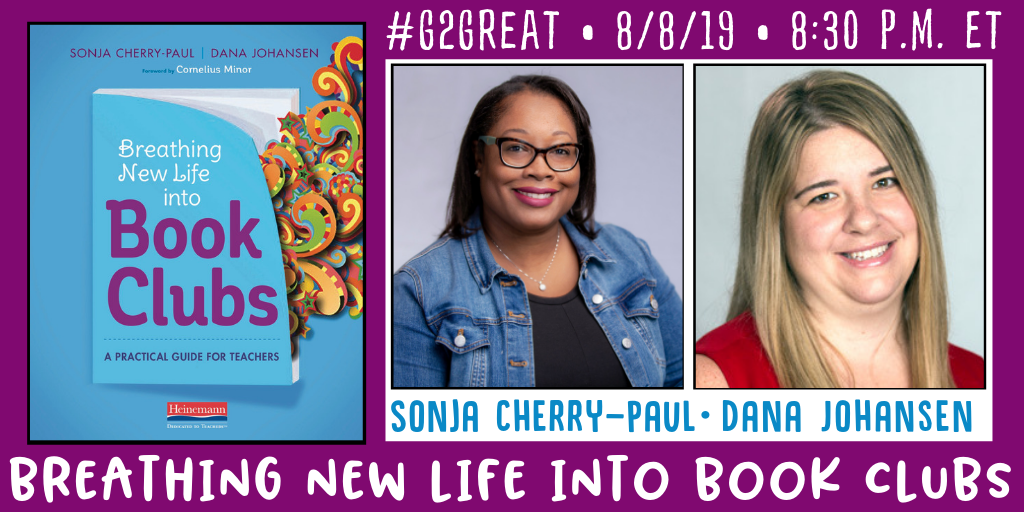 #g2great 8/8/19
This week we had the awesome pleasure of chatting with Sonja Cherry-Paul and Dana Johansen about their new book Breathing New Life into Book Clubs The Wakelet of the chat can be found here.
Travis Crowder has written a great blog response to the book that we would like to share with you. Travis is a passionate advocate for literacy work and is the co-author of the fantastic book Sparks in the Dark which had its own chat and the Wakelet for that is available here and the Literacy Lens post here. The G2Great team is so grateful that Travis was willing to share his words with us.
Travis Crowder response to Breathing New Life into Book Clubs
A Friday afternoon. I watched them grab their books and notebooks and gather on the rug around the coffee table. Conversations from other groups created lively streams of energy around the classroom, but in this group, something was different. When they were settled and facing one another, they opened their notebooks, almost in unison, and began writing. Curiosity got the best of me. What were these students up to? I walked to the edge of their group, trying to catch a glimpse of what they were writing, careful not to disrupt the flow of whatever was happening. I didn't know, but clearly, they did. And that was all that mattered. I squinted to catch a line in Keila's notebook, and that's when I realized the significance of their writing. In their book club book, the mother of a character had died, and they were capturing emotional reactions inside their notebooks. Without any prompting, they had decided that spilling their emotions on the page first would help them make sense of their thinking. Discussions migrated from groups across the room, pressing against the quietude of this group, yet their activity was unimpeded. After several minutes, when everyone had finished writing, Karina looked around the group and said, "Who wants to read theirs first?" The book club was now ready for discussion.
Book clubs possess the power to transform readers and to elevate students' thinking, reading, and writing. The story above captures a beautiful moment in my classroom, one that we dream of as teachers, yet one that may not happen as often as we'd like. For several years, I was hesitant to include any book clubs in my classes for fear that students wouldn't read, conversations would flatline, and several weeks of valuable time would be sacrificed because of poor management— mine and theirs. At first, the attempts were wobbly, and often, I felt lost in despair. With time and quite a few mistakes, though, I created routines with my students that helped us develop effective book clubs. Looking back, I wish there had been a comprehensive professional text to help me understand the nuts and bolts of managing book clubs, while providing strategies for holding students accountable for reading and discussions. Now, that text exists. And it is nothing short of brilliant.
Breathing New Life into Book Clubs: A Practical Guide for Teachers, by Sonja Cherry-Paul and Dana Johansen, is a gift to our profession. It's as though both Sonja and Dana are standing at the threshold of the book, asking readers to join them on a breathtaking journey of thought. They take us through systems and routines that make book clubs manageable and inviting, and ultimately, a way to help students fall in love with reading. Both writers denounce superficial assignments and activities that demean literacy and provide ideas that nudge kids to develop authentic reading habits. Philosophy is threaded into the tapestry of Chapter 1, letting us know that their thinking is grounded in creating a culture of reading and assuring us that this work is possible. But it goes beyond that.
I love the types of clubs— genre, identity, goal, theme, and series— that they delineate for us. Prior to reading this text, I hadn't given much thought to the type of books students were reading, other than attempting to focus clubs around a big idea, such as war or relationships. This delineation breathed new life into my thinking. Identifying the type of club we feel is most beneficial for kids will determine their energy, engagement, and success, all of which nudge us to provide book clubs again and again for our students.
In addition to helping us understand the different types of book clubs, a curated list— of wide and varied titles— is available to help us select the books we want to offer our students. They give us ideas and mini-lessons to create book clubs beside students, coach them into effective conversations about texts, and lead them into a life of living with books. If you're worried that clubs will lose their focus and energy, set your heart at rest— they have you covered. Writing, sketching, creating bookmarks, and recording videos are just a few of the strategies to help students lean in to deeper conversation. And what's more? Sonja and Dana walk beside you through each mini-lesson, offering ideas that will lift your book clubs from where they are to an even higher plane. Kids aren't reading with no direction. They're reading to think, to learn, and to grow alongside their fellow club members and classmates. And fall in love with books.
I want you to listen to this gorgeous section from the first chapter:

Book clubs are where students fall in love with reading, but we value book clubs because it is in these spaces that we witness humanity at its best. Through the process of reading and responding to texts, students come to understand each other better. They reflect on who they are, where they hope to be, and the ties that bind them together. The attitudes, traditions, values, and goals established in book clubs often become the principles that guide the way students live their lives. As such, we can invite students to record the story of their book club in a journal or on a blog— the laughs, the struggles, the triumphs, and the lessons learned that will stay with them (pg. 8).
So often, joy and community seem to be a missing pieces of language arts classrooms. Book clubs, which can be full of life, love, and joy, can help kids prepare for a lifetime of reading, especially when created with teachers who want to see them develop into readers who can sustain volume and independence. The emphasis on understanding each other is a beautiful ode to empathy, and something we need more of in our world. When I work with kids to establish books clubs this school year, I will look for those places where students are maturing into better human beings. Book clubs help create that story— for us and for our kids.
Sonja's and Dana's incredible humanity glimmers on each page. Children are at the heart of this work, and with their brilliant thinking, both writers show us how we can move kids to engage with books and their world. Democracy demands a literate populace. It's teachers like you and me, ones who are committed to this critical literacy work, who will shape the minds of tomorrow. We live in a world of uncertainty and pain, and each day, hateful rhetoric pierces the heart of humanity, eroding the integrity and decency we try to uphold. Sonja and Dana have given us a book that does not waver in its devotion to students, teachers, and books. With them, we can go into our classrooms and create a literate atmosphere based on empathy and respect. Let us not forget that we are fierce educators. And we have the capacity to show kids the indomitable power of story.
Thank you, Sonja and Dana, for an unwavering allegiance to our profession and for helping me better understand the qualities and virtues of effective book clubs. I salute you and am honored to work beside you in literacy education.
Q and A with Sonja Cherry-Paul and Dana Johansen
1. What motivated you to write this book? What impact did you hope that it would have in the professional world? As educators, we've yearned for a book that pulls together the research and best practices that could help us have the "best book clubs ever." And although we found pieces of the puzzle, in various places, we couldn't help but notice an important gap: There simply wasn't a book that exclusively addressed the nuts and bolts of book clubs- how to create, maintain, and sustain them. We decided to create this resource for ourselves and other educators.
2. What are your BIG takeaways from your book that you hope teachers will embrace in their teaching practices? We must be unyielding in the goal of cultivating lifelong readers. This can be accomplished by staying true to three mantras: 1) Be Brave! Let Go! Pull Back! Students must have choice and ownership over their reading and their clubs. 2) Embrace Authentic Discussions! Students' discussions will ebb and flow; trust that they will become stronger over time. 3) Joy! Joy! Joy! Build joyful reading communities by providing high-interest texts, helping clubs form strong identities, and encouraging students to read together.
3. What is a message from the heart you would like for every teacher to keep in mind? We have the power to provide pathways that nurture a love of reading in our students. We hope educators will take part in a reading revolution that makes joyful reading and book clubs central.
We at G2Great would like to thank Sonja and Dana for their beautiful book and for joining us to discuss it. We would also like to thank Travis Crowder for providing the blog post for this week. If you are looking for more discussion around the book please check out Clare Landrigan's post and video on her blog which is linked here .
Additional Links
Facebook Group: Breathing New Life Into Book Clubs facebook.com/groups/7707352…
Instagram: LitLearnAct
Most Recent Blog Post: medium.com/@heinemann/wha…
Most Recent Podcast: blog.heinemann.com/on-the-podcast…