by Jenn Hayhurst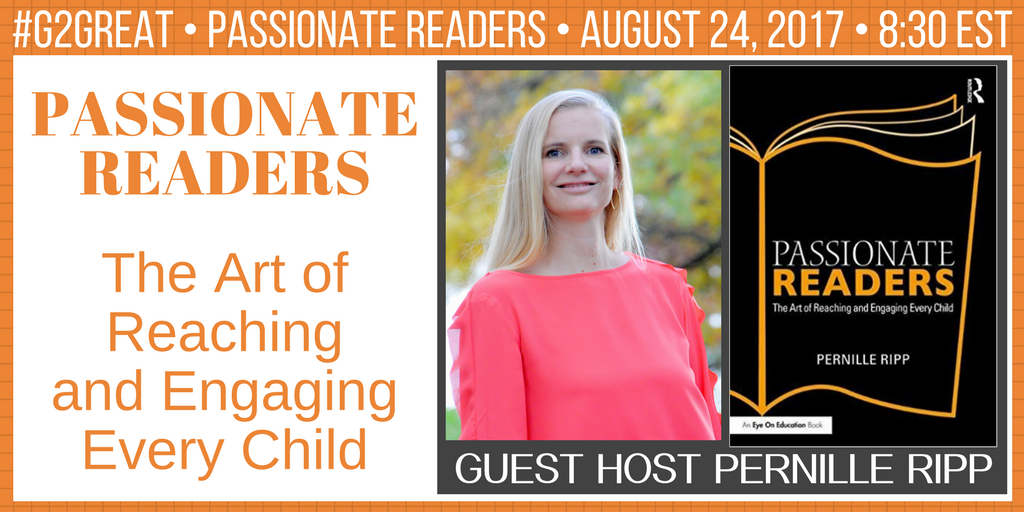 On August 24, 2017, our #G2Great community welcomed back Pernille Ripp with open arms. We celebrated her book, Passionate Readers: The Art of Reaching and Engaging Every Child with a thoughtful and heartfelt conversation about what it takes to be a teacher of reading. Pernille is a teacher, she is one of us. She is open and honest about her own personal struggles and shares her celebrations and successes. She lets us into her classroom, and in doing so, we see our own teaching lives revealed.
As I read through my Twitter feed, I imagined that I was part of an extended faculty. A member of a dynamic group of educators who cares deeply about our profession. Teachers who understand that together we are changing lives. We are united by a shared purpose and our conversations with Pernille are a prelude to all the good work that lies ahead of a new school year.
As you read this post, imagine we are in the faculty room, and we are having a good conversation, thinking about the complexities of the work that goes into helping students discover their passion for reading. What is the most important thing to focus on? What should I do to set up a successful year? What do I do if students don't even like to read?  
Establish Reading Rituals…
Nurture Reading Identities…
Create a Reading Culture… 
Set Attainable Goals…
Design Learning Environments…
Prioritize Time to Read… 
Honor Authentic Choices… 
Share Your Hopes & Dreams…
Thank you Pernille, you inspired so many of us to dig deep and share what we know. This chat was a glimpse into your marvelous book, which is a beautiful read that is both poignant and practical. Together we can wrestle with the big important questions, and find solutions through our collective wisdom. Fortunately, there are so many talented teachers to learn with as we begin this exciting new year of learning for students as well as ourselves.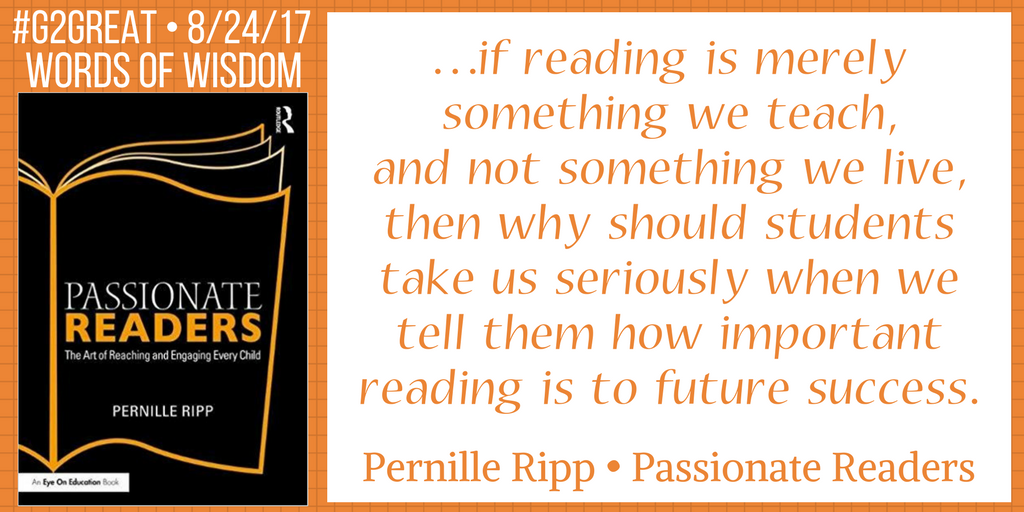 Links to Connect with Pernille
Pernille's website: https://pernillesripp.com
Pernille Ripp on passion-based learning and empowering students (youtube) https://www.youtube.com/watch?v=VKCYj9KQS0o
The Students' Voice: Empowering Transformation https://www.youtube.com/watch?v=8Un8fFciqmo
Global Read Aloud: One Book to Connect the World https://www.youtube.com/watch?v=ZoJo5wbK54I
The Educator Collaborative Gathering Global Read Alouds, K-12 Pernille Ripp, Amira Abdel-Aal, & Alumni from New Horizon Irvine https://gathering.theeducatorcollaborative.com/session-three/workshop-11/
Passionate Learners by Pernille Ripp (Amazon) https://www.amazon.com/s/ref=nb_sb_ss_i_6_10?url=search-alias%3Daps&field-keywords=passionate+learners&sprefix=passionate%2Caps%2C143&crid=2QPU63E5QHA0G
Passionate Learners by Pernille Ripp (Amazon) https://www.amazon.com/Passionate-Readers-Reaching-Engaging-Every/dp/1138958646/ref=sr_1_2?ie=UTF8&qid=1496069596&sr=8-2&keywords=pernille+ripp
Empowered Schools Empowered Students by Pernille Ripp (Amazon) https://www.amazon.com/Empowered-Schools-Students-Connected-Educators/dp/1483371832/ref=sr_1_2?ie=UTF8&qid=1478029745&sr=8-2&keywords=passionate+learners
My ITEC Ignite – The Least We Can Do http://ytcropper.com/embed/7R581a9b2a0bd7d/loop/noautoplay/
(Pernille's newest book): Reimagining Literacy Through Global Collaboration https://www.amazon.com/Reimagining-Literacy-Through-Global-Collaboration/dp/1943874166/ref=sr_1_1?ie=UTF8&qid=1478568811&sr=8-1&keywords=literacy+through+global+collaboration