By Jenn Hayhurst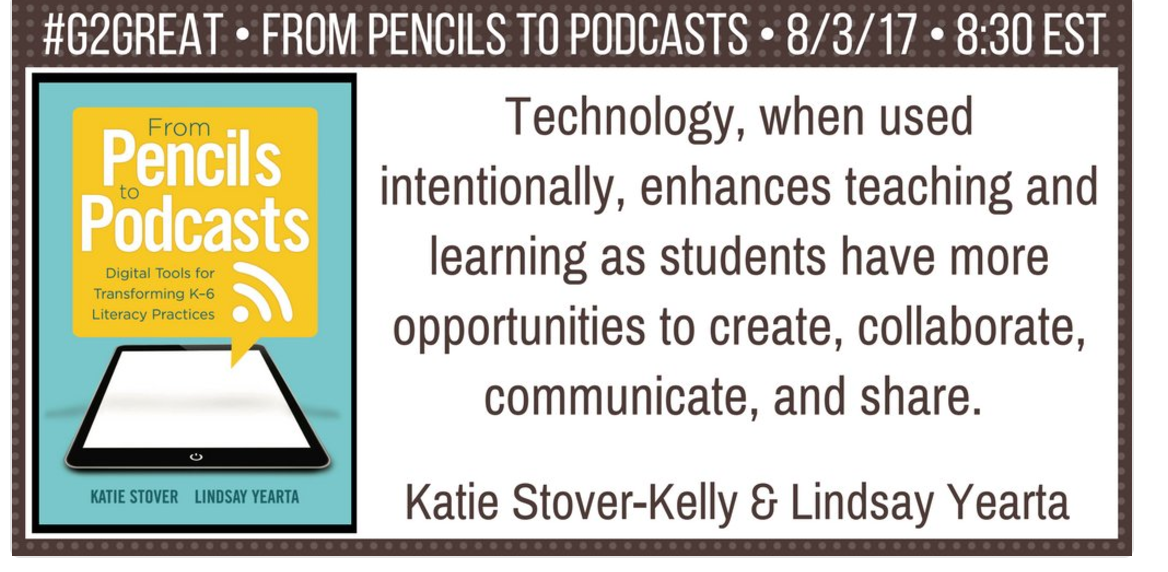 On August 3, 2017, authors Katie Stover-Kelly and Lindsay Yearta joined #G2Great to extend a conversation that began with their book, From Pencils to Podcasts Digital Tools for Transforming K-6 Literacy Practices. Providing an education in the  21st Century means that whatever our role: teachers, administrators, professional developers, or college professors we need to be open to seeking out ways to intentionally integrate technology with learning.
This post is dedicated to the vibrant #G2Great Professional Learning Network, (PLN) because we are a community of educators who are unafraid to try new things, to learn, to mix it up and push ourselves forward in the name of our students. In that spirit, this post is beginning where our chat ended with our future technology goals. To boldly step out of our comfort zones and meet learning at the cutting edge of the 21st Century.  
Our last question initiated BIG GOALS for future learning…
Global Read Aloud is an opportunity to connect and learn around story with a digital backdrop. According to Katie and Lindsay, "In this age of digital tools and multiliteracies, there are increasing demands of students to collaborate in order to consume and produce multimodal texts in online spaces.
If you are interested in learning more about Global Read Aloud: "The premise is simple; we pick a book to read aloud to our students during a set 6-week period and during that time we try to make as many global connections as possible. Each teacher decides how much time they would like to dedicate and how involved they would like to be. Some people choose to connect with just one class, while others go for as many as possible. The scope and depth of the project is up to you. While there are official tools you can use such as Skype, Twitter, Write About or Edmodo, you choose the tools that will make the most sense for you. Teachers get a community of other educators to do a global project with, hopefully inspiring them to continue these connections through the year. " –  Pernille Ripp
Twitter provides a unique social learning environment, It gives a space for intellectual engagement through live interactions with others. Katie and Lindsay underscore the importance of Twitter in their book, "Twitter provides students with a digital space to connect with other readers and authors to share and discuss books."   However, due to its organization and fast pace, Twitter can be daunting. There is a solution. Tweetdeck is a web-based tool that helps users to organize their Tweets into more manageable columns. It offers many useful features such as enabling users to "pre-tweet" or schedule tweets ahead of time. This is especially useful when planning and facilitating Twitter chats.To learn more, watch this video.
Understanding why a goal is important is essential, answering what you will do to accomplish the goal ties it to an action. This article offers 15 dynamic ways to make reflection a habit of mind in the classroom. In their book, Katie and Lindsay remind us that, "In the 21st Century, information is updated and readily available in real time." Collaboration, and reflection begin with us. Teachers who lead by example, are the ones who will give students experiences that will help them grow to meet their potential.
If you visit Kate Messenger's blog, you will see that she has created a platform to connect readers and authors through FREE Skype visits. Technology offers virtually limitless opportunities to provide access that would otherwise had been impossible. All we have to do is step out and take a risk and try. In Katie and Lindsay's words "It is through the struggle that we learn. Additionally, the struggle provides you with thoughts and ideas to share with your students…"
Flipgrid allows teachers to create video discussion platforms. There are so many creative ways to incorporate this technology tool that are too numerous for this blog post! The important thing about Flipgrid is that it is a tool that amplifies student voice from pre-K to college aged students and beyond. It's ok to start small with this technology, but the important thing is just to start. We need to start because we are  educators, "As teachers we have the responsibility to equip our students with the tools that they need to fully participate in our interconnected, global society."  – Stover & Yearta
Thank you for writing this book Katie and Lindsay. It is an incredible resource that teachers need to have in their hands so they can put your ideas to work in their classrooms. I especially love that at the close of your book you extend an invitation to keep the conversation going through Twitter. That's just what you did, and now we have even more resources and ideas to explore. That is is what learning is all about, and we are educators who fully embrace a learning lifestyle. We are flexible thinkers who are  fueled by a collaborative spirit ready to take the next step forward together.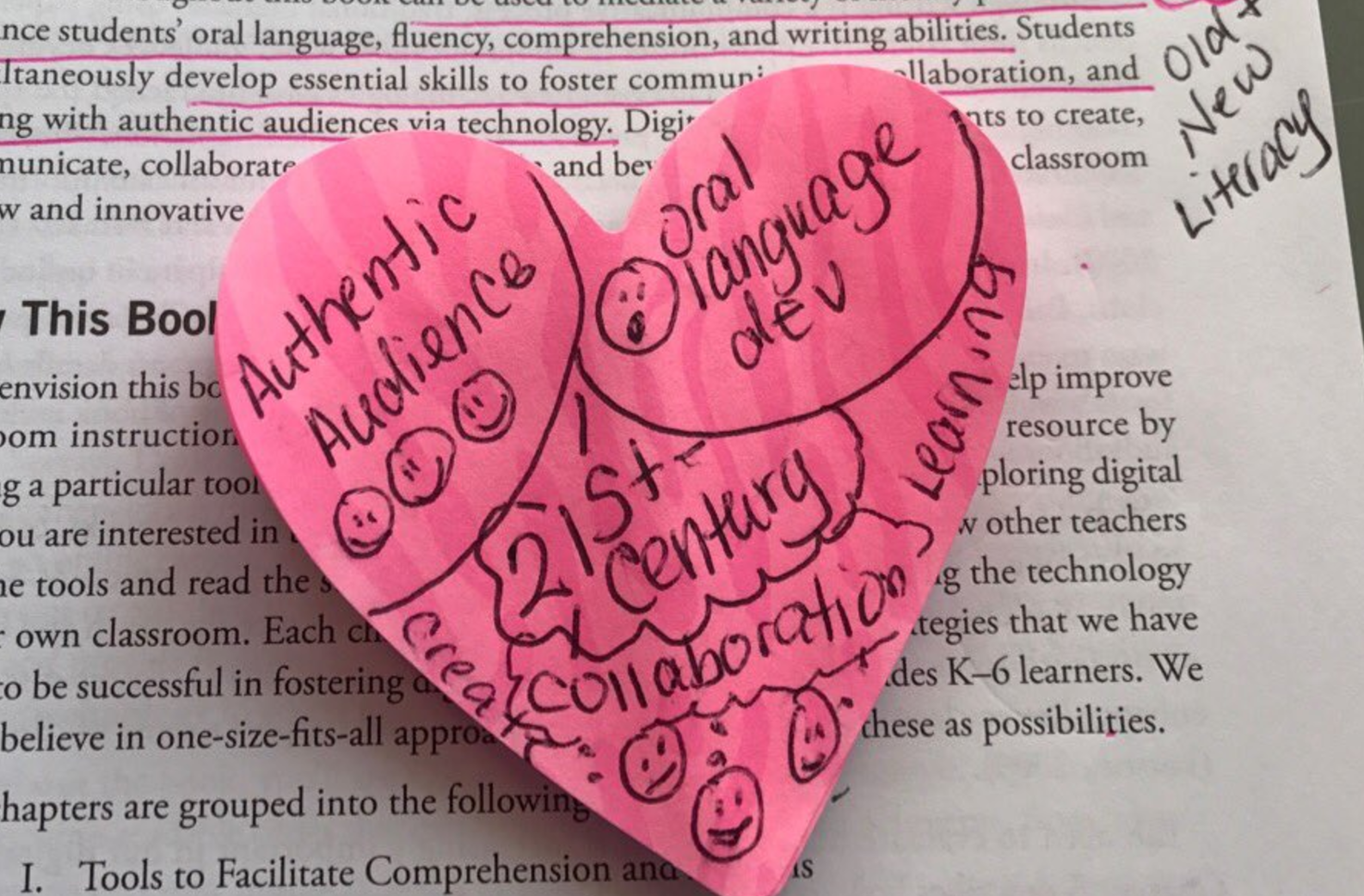 LInks to share…
From Pencils to Podcasts by Katie Stover Kelly and Lindsay Yearta
https://www.solutiontree.com/products/from-pencils-to-podcasts.html
Review by Troy Hicks
https://hickstro.org/2017/05/17/review-of-stover-and-yeartas-from-pencils-to-podcasts/