by Mary Howard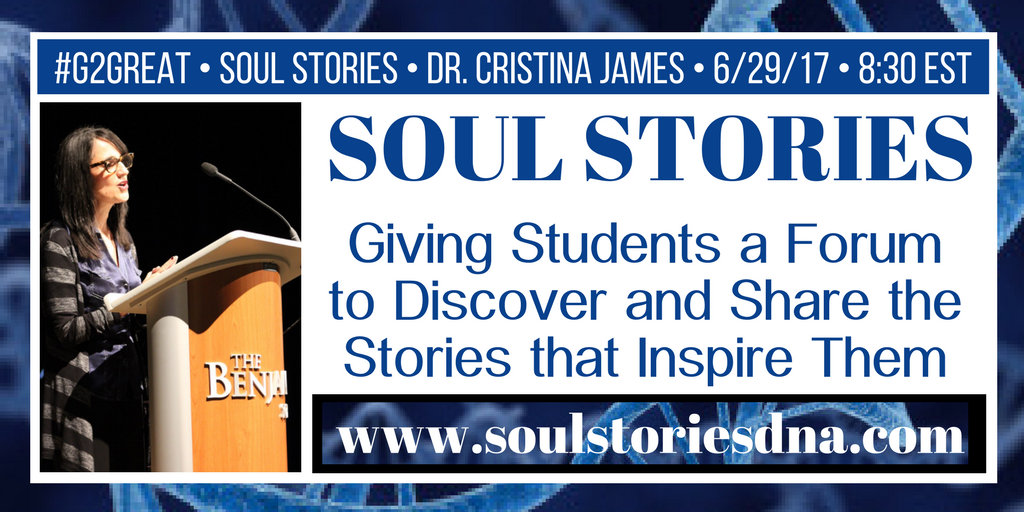 On 6/29/17, #G2Great was honored to explore a wondrous topic that is near and dear to our guest host, Dr. Cristina ("Tina) James. Tina, an English teacher and academic dean at The Benjamin School in North Palm Beach Florida, led us in a virtual celebration of Soul Stories: Giving Students a Forum to Discover and Share the Stories that Inspire Them. Tina spreads her passion for Soul Stories in her work at The Benjamin School and through her writing at Soul Stories DNA where she shares her compelling definition of Soul Stories:

Tina's obvious commitment to nurture the 'story inside each child that needs to be told' escalated into collective Soul Story commitment twitter style as evidenced by the joyful dialogue that quickly ensued. As I looked back at enthusiastic Soul Story tweets, several themes began to emerge. These Tina-inspired themes will support us as we help students bring their personal Soul Story to life and release it into the world:

BELIEVE
Everything that we do as educators is grounded in our WHY. Tina reminds us that our Soul Story WHY is to honor our students' voices. When we place students in the learning driver's seat, they become the center of the curriculum (not the other way around). Our deep belief that our students' passions matter fuels an unwavering dedication to find and celebrate the miraculous stories residing within each child. Through our commitment to awaken the inner stories of students, their voices will rise up and reverberate across the learning day in ways that will shape our curriculum – and thus give it heart.

CONNECT
Our schools reflect a beautiful patchwork quilt of remarkable children. When we honor our colorful patchwork and help students find and share their Soul Story with others, those stories begin to merge as our patchwork grows even more beautiful in the most amazing ways. We celebrate our differences but quickly begin to see similarities within them and know that each of these add to our patchwork. As Soul Stories come together, we are creating a respectful environment where compassion becomes our core and we can go about our work to nurture jubilant learning together on a day to day basis.

MODEL
The word 'bravery' seemed to stretch across tweets as teachers recognized that we set the stage for student Soul Stories by sharing our own. Before we can ask students to take the inevitable risk that comes with bringing our Soul Stories to life, we must be willing to take those risk with them. We demonstrate our bravery by immersing ourselves in each step of process as a stepping-stone for our students to forge their own brave path. Soul Stories are far too important to relegate to an assigned task and so we embed Soul Story opportunities across the school year and form a Soul Story kinship.

DISCOVER
Once we help students find and hold tight to the Soul Story within, we then offer both oral and written explorations that will help them to deepen the inner wisdom of those stories. To do this we combine a wide range of experiences that help students breathe new life into their Soul Story. We acknowledge that this messy process of discovery will require support and provide flexible opportunities along the way to talk and write their way across their story. Within this meandering process, we give each Soul Story presence by dedicating time, support and space those stories deserve.


EXPLORE
Finding and crafting Soul Stories is only the beginning. As each student Soul Story starts to take shape, we offer many opportunities for students to share their stories with peers in meaningful and authentic ways. We demonstrate that we value sharing by ensuring that there is room in the day. We hold these opportunities in high esteem because we know that Soul Stories blossom in the company of others. In the process, we become a Soul Story family as we embrace our story and the story of others. As we peer through a two-way mirror of Soul Stories, we know that each one will add a new layer of meaning.

AWAKEN
Tina's work at The Benjamin School is unique in that student Soul Stories develop into Tedx talks. The opportunity afforded to bring those stories to life on stage are powerful because they give students' Soul Stories the gift of an audience. Tina's commitment to Tedx is admirable and a lofty goal we can all work toward but each of us can find a forum to give students' Soul Stories an audience. We honor each opportunity for students to share their stories because we know that each new sharing will infuse additional life into those stories in ways that will linger long after the experience is over.

CELEBRATE
Tina's tweet illustrates why finding, crafting and releasing Soul Stories into the world is well worth the time and effort. We talk a great deal about beginning at the end and the image of her words may well be what we want to envision as we work to celebrate Soul Stories. We set our sights on this celebratory culmination knowing that although Soul Stories reside within, giving those story a home in the company of others is the ultimate goal. And as we engage in each stage of this process, Soul Stories begin to intermingle as each story has the potential to enrich the next.
I am walking away from this wonderful #G2great chat with Tina guiding us in reflecting on student Soul Stories with a deep appreciation of this process. As I think back on the chat, one tweet pulled it together for me. Since Georgia Heard first introduced me to Tina, it seems only appropriate to close with her tweet. Georgia's words are a reminder that Soul Stories do not live in isolation but need caring, respectful others with an open heart to help us to awaken those stories so that we too can share them with the world.
…and share we must!


For added inspiration, enjoy more inspired Soul Story tweets
LINKS
Cristina's Flip Grid: Fave TED Talks for Teaching https://flipgrid.com/7a6b79
TED X The Benjamin School Theme: Pentimento (April 29, 2016 event)
https://www.ted.com/tedx/events/16596
March 24, 2017 TED X The Benjamin School schedule
https://drive.google.com/file/d/0B-LUVSmDOijKTHNBOHpqdlpsa1E/view
TED X The Benjamin School Jen McDonough: Remarkable Acts
https://www.youtube.com/watch?v=6-eOSCP1GaU
Benjamin Students, Guest Speakers Share 'SOUL STORIES' at TED Talk
https://www.thebenjaminschool.org/page/news-detail?pk=920479&fromId=194005
Blog Post: Soul Stories DNA
http://soulstoriesdna.com/2017/05/thirtysomething-ripening-bananas-hear-soul-story/
This past spring our students shared the stage with New York City ballet dancer and dance photographer Steven Caras ,journalist John Hockenberry aerialist TIna Reine , filmmaker Cynthia Lowen, and CEO of The Hawn Foundation Laurie Coots TEDxTheBenjaminSchool provides a full list
http://soulstoriesdna.com/news/
http://soulstoriesdna.com/2017/05/enough-powerpoints-kill-mockingbird-dioramas-great-gatsby-fathers-made-anyway-help-students-learn-ignore-inner-scooby-doo/
https://m.youtube.com/watch?v=MLuTBXrxbjo
Student TEDx talks from 2016 (all 4;30 minutes)
The Other Michelle Pfeifer with Guest Appearance by Nick Crisafi
Hair!
Aristotelian Logic and Golden Doodles
Couldn't Ask for More
Can you Hack It?
Cha-Ching
Stuttering
Another talk below
https://m.youtube.com/watch?v=MLuTBXrxbjo