by Mary Howard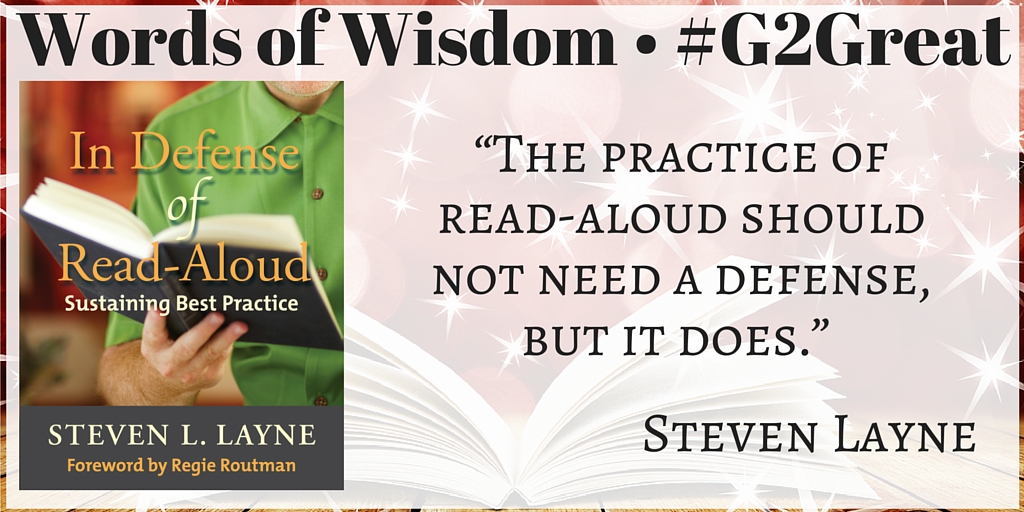 My copy of Steven Layne's remarkable book, In Defense of Read Aloud, is dog-eared with my meticulous notes illustrating a life-long love affair with read-aloud. I've savored every eloquent morsel of wisdom through fits of laughter, frustration, wonder and delight. But Steven's quote above lingered like a warning sign of impending doom, breathing fear into my heart that this critical practice could be abandoned in spite of irrefutable research support ever so expertly interwoven throughout the pages of Steven's book.
On March 17, 2016, Steven Layne renewed my sense of hope when he was our guest host on #G2Great Twitter chat. His deep belief that we must indeed defend read-aloud quickly spread like a blazing wildfire across the twittersphere and passionate educators responded to his call to arms with promissory tweets that awakened a collective commitment in us all. Our shared enthusiasm for Steven's words inspired this wonderful read-aloud list.
Spurred by unbridled enthusiasm, I searched Steven's twitter love notes for signs pointing the way ahead as we join forces to steadfastly defend read aloud. I discovered seven underlying points that can guide our efforts:
Be Resolute
We've all been subjected to dismissive comments demeaning the value of read-aloud, so when principal Mindy Reid described read aloud as a 'non-negotiable' in her school you could almost hear an appreciative Twitter sigh. Steven's response reminds us that we desperately need administrators to take a stand so read-aloud will not be relegated to the luck of the draw.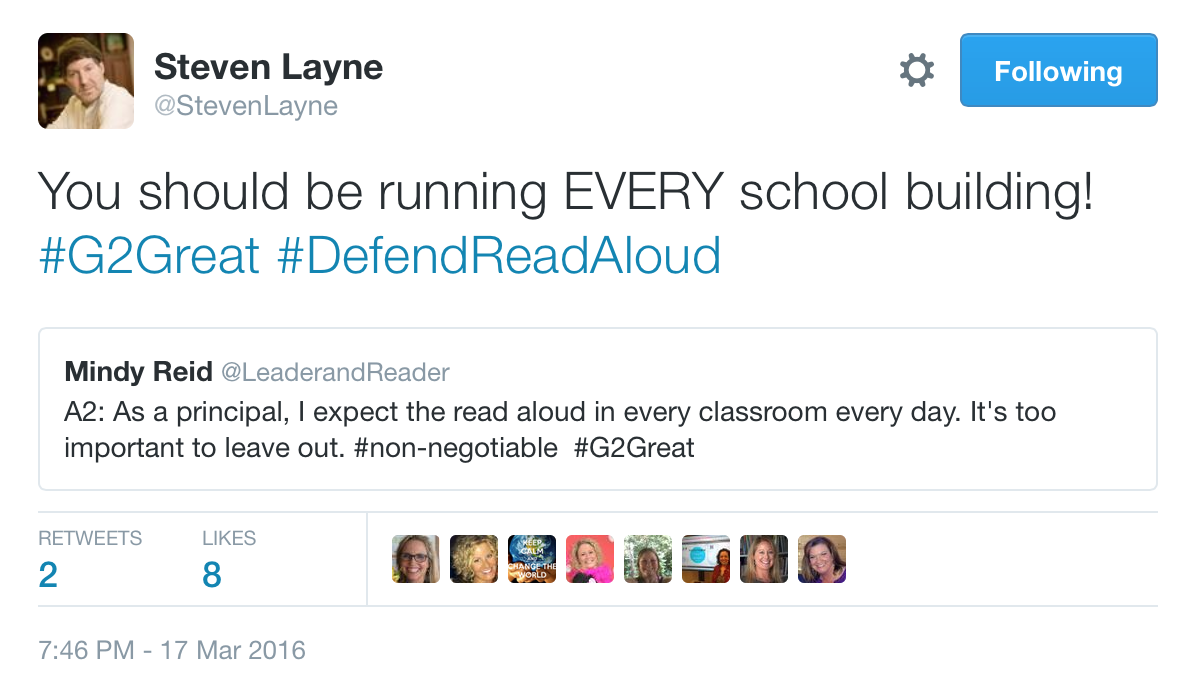 Be Knowledgeable
Teachers who acknowledge the immense instructional power of read-aloud know that choosing a just right today book is essential. Steven reminds us that we must know the book intimately so that we will be privy to those just right moments that will bring this just right today book to life before our most important audience – students.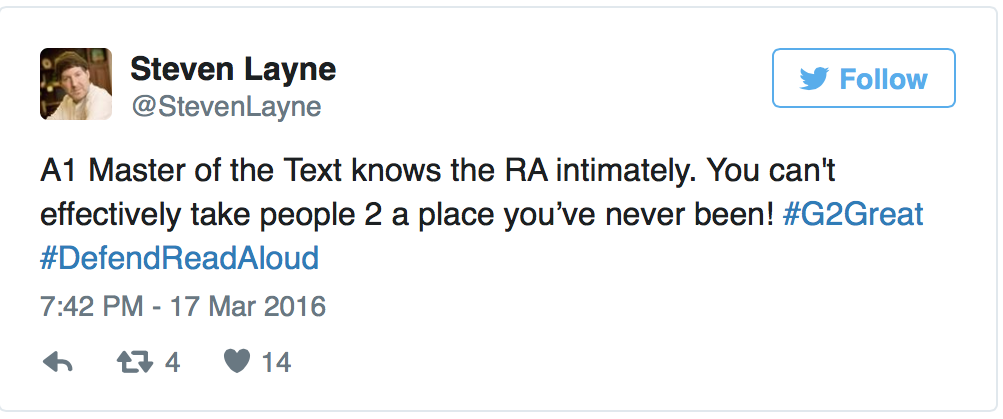 Be Intentional
Steven emphasizes read-aloud as a rich instructional experience that allows us to model what it means to be a thoughtful reader. This means we must expend time and effort to plan the best possible read-aloud experience that will both captivate and empower our readers. Knowing the book, students and effective literacy instruction affords us the tools that will infuse instructional energy into the experience.

Be Purposeful
Steven expresses his firm belief that the launch of a book is the key to a successful read-aloud. Whether we have chosen a longer book or a brief text, it is the first glorious exposure to the text that invites students into the book and makes them hungry for more. Creating a sense of joyful anticipation is responsive read-aloud at its best.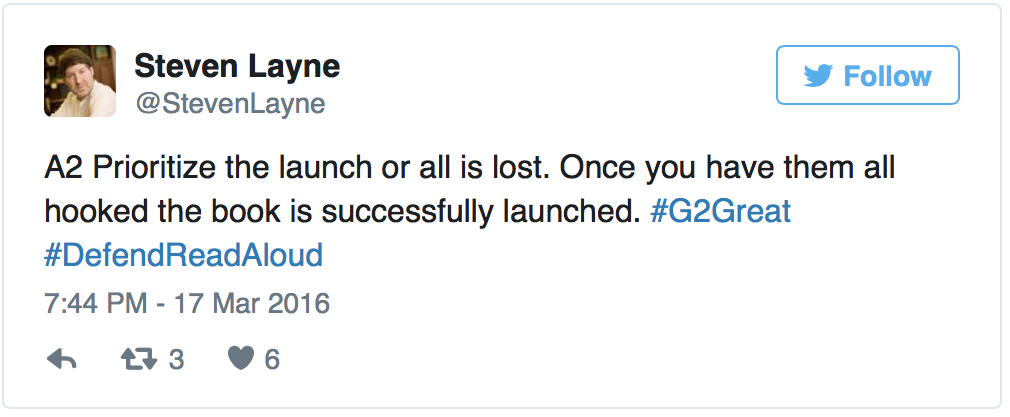 Be Proactive
An effective read-aloud feels like the lap experience without the lap. The closer we can bring our students to that experience, the more they can become part of it (and so they will). Room design is an important consideration as we plan for an effective read-aloud. This may require creative adjustments but it will be well worth the effort.
Motivation is intricately interwoven into the read-aloud experience, making it essential for teachers to consider student interests. We do this by pulling texts across the curriculum as we find both fiction and non fiction texts that will speak to the heart of our readers. Of course, this assumes that we know those readers so that we can make intentional text choices that will awaken passionate listening and engagement.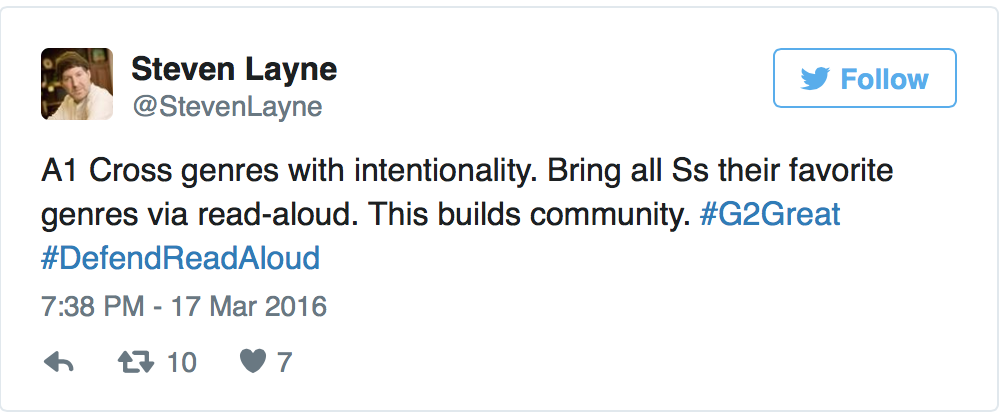 Be Strategic
Our efforts to initiate an effective read-aloud program is never-ending. As our students change and grow over the course of the year, our choices must reflect those changes. This is not about jotting pre-selected titles in a lesson plan book to read dutifully on pre-selected dates, but choosing a book because it is right 'at this time of year for THIS group of students.' This flexibility of purpose allows read-aloud to grow with us.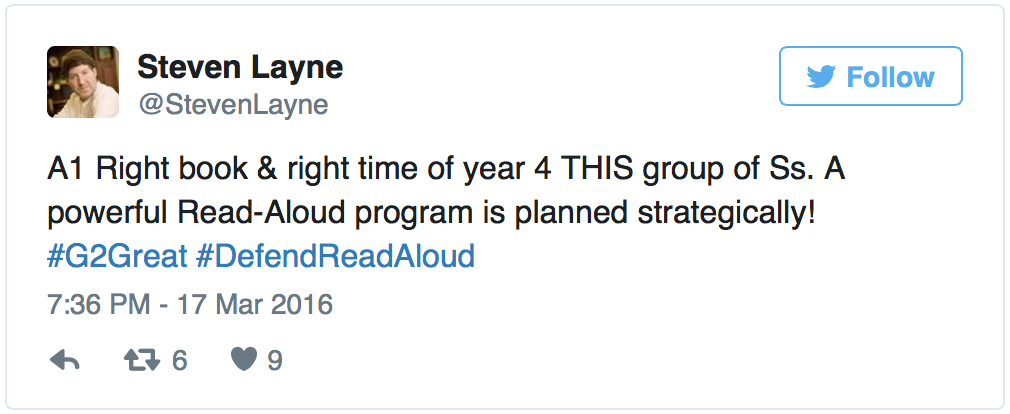 As I ponder the central messages that are Steven's gift to each of us, I realize this comes with a responsibility. If we choose to remain silent, read aloud may become an instructional casualty and we will all be complicit in its demise. We can only defend read aloud by embracing it. Every school. Every classroom. Every teacher. Every day. Every child.
Steven reminds us where our ultimate responsibility resides on page 24 of his book. When his middle school student asked him why he turned his classroom upside down to create a read-aloud gathering space, Steven responded, "You're just that important."
So I end with a question. Why must we raise our collective voices to defend read aloud to anyone who will listen, regardless of other demands that may vie for attention?
      Because our students are just that important!
More #G2Great Tweets on the power and joy of read-aloud