by Mary Howard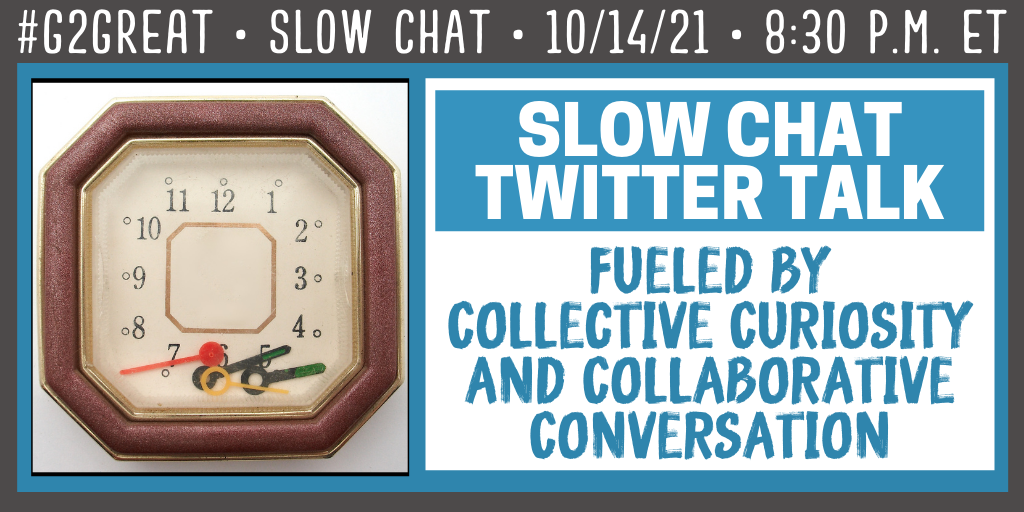 #G2Great chat celebrates 7 years on 1/6/22. Your chat co-moderators often contemplate new chat designs for twitter style dialogue. This week, we decided to draw inspiration from the continuing challenges of this pandemic and its impact on our shared love for attending National Literacy Conferences. If COVID-19 had not thwarted our plans, #G2Great chat would have taken a break this week to attend the International Literacy Conference in Indianapolis, IN. Unfortunately, ILA shifted from an in-person conference to varied virtual opportunities. We know that this decision was not taken lightly and we are grateful that ILA chose to put our safety first.
Since we had already planned to take this week off, we decided this afforded us a wonderful opportunity to try something new. We had discussed using a SLOW CHAT format in the past, so we thought that this was the perfect time.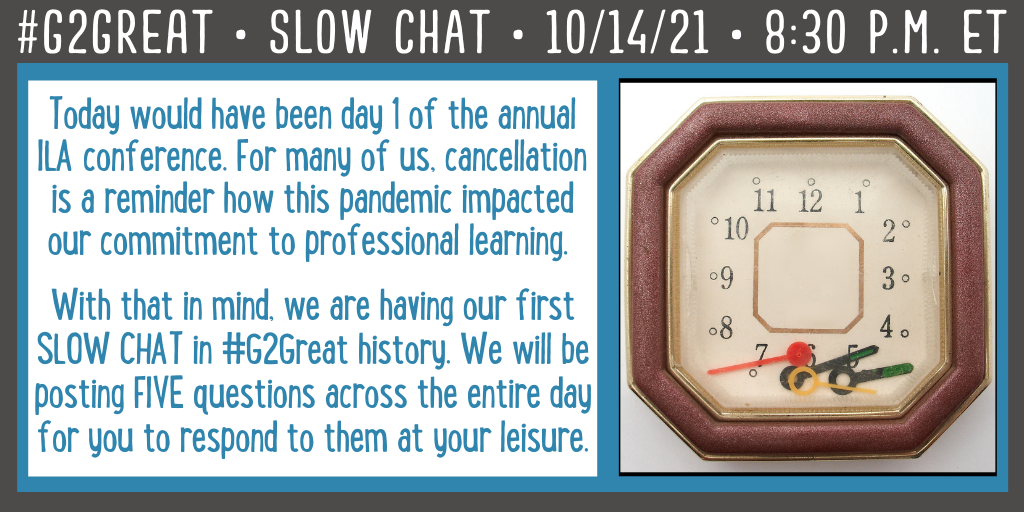 WHAT IS A SLOW CHAT?
For those of you who have never participated in a SLOW CHAT on Twitter before, some background information would be helpful:
In a typical chat, we gather at our #G2great hashtag on Thursdays at 8:30 p.m. and share 7 to 8 questions across the night that are answered in real time. If you have ever taken part in our chat, then you know that this format makes for a fast-paced process of reading and responding to questions while engaging in conversations around those ideas.
By contrast, a SLOW CHAT is literally meant to slow down this pace using many variations that may span across one or several days. A few questions are asked at key points during the designated time and educators respond to questions at their own pace rather than during a live chat hour. Our one-day SLOW CHAT began in the morning with initial thoughts from your co moderators I share at the end of this post followed by five questions we posted every ninety-minutes during the day as we checked in across the day. Since we plan to do this again, putting our first SLOW CHAT into action was a wonderful learning venture that we can draw from in the future.
And so, in the spirit of our first SLOW CHAT I give you our first SLOW BLOG with five twitter takeaways that captivated my professional heart.
SLOW BLOG TWITTER TAKEAWAYS
Our deep desire to embrace curious learning in our lives has a much broader purpose. We cannot expect that our children will engage in and beyond our schools as curious learners unless we are willing to model a curious spirit each and every day. Our actions (or lack of) speak volumes.
Engaging in collaborative dialogue with other professionals on a regular basis gives us a lifeline to collegial support. These inspired interactions help us to fine tune, adjust and add to our thinking from both sides as we learn in the company of trusted others.
We make our own learning a priority not just for the sake of learning but in honor of the children that learning is dedicated to. The tipping point is when we carry our learning with us and make professional decisions that will lift learning to the highest heights in their name.
It is admirable for each of us to value professional collaboration, but the goal is to create a culture of collective collaboration that spreads across a school. Every child deserves to experience professional joy in action no matter where that learning takes place or with whom.
We all need a safe space where others support and fuel our learning. While we hope that this comes from within a school, it can also span across great distances. Used thoughtfully, social media can offer a safe haven where ideas, passions and curiosities can flourish.
Last Thoughts
COVID-19 pandemic has altered the landscape of our professional and personal lives in many challenging ways. Yet, there were also many blessings as we have traveled along a meandering path of uncertainty. Conference cancellations have been difficult for those of us who thrive on professional gatherings, but it also nudged us to explore options for learning together. These new learning doors have compounded our unwavering thirst for professional learning in any capacity. Yes, the pandemic altered where, when and in what way our learning happens. But our determination to hold tight to the WHY of professional learning has strengthened our commitment to celebrate our learning through this new lens. Fueled by Collective Curiosity and Collaborative Conversation was the perfect title for our first SLOW CHAT since it reflects a way of life that we are proud to lead on a daily basis.
We want to thank those of you who joined our first #G2Great SLOW CHAT. We believe deeply in collaborative professional JOY and we know that invitational discourse is possible in any form. Here's to more SLOW CHAT in the future!
SLOW CHAT reflections from your #G2Great co moderators