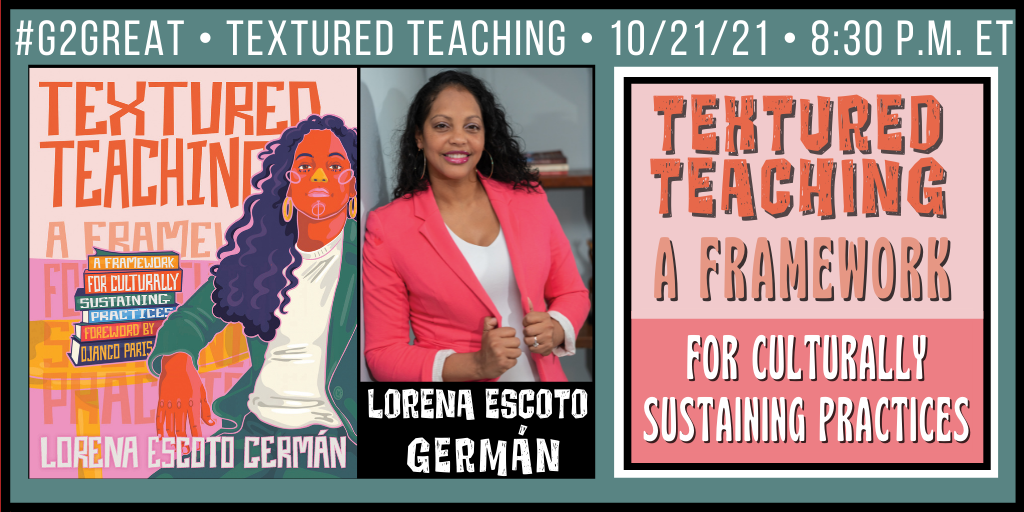 An Archive of the October 21st chat can be found here
By Brent Gilson
This week the #g2great community was blessed to have Lorena Germán join us in conversation around her new book, Textured Teaching: A Framework For Culturally Sustaining Practices. Lorena's practice includes the groundbreaking work as part of the #Disrupttexts team. Beyond that, alongside her husband Roberto, they have established The Multicultural Classroom, and last year Lorena released The Antiracist Teacher: Reading Instruction Workbook. All of these tools and the community that she has helped build beautifully led to the message of Textured Teaching. With all working towards building a stronger, more just community, anything is possible.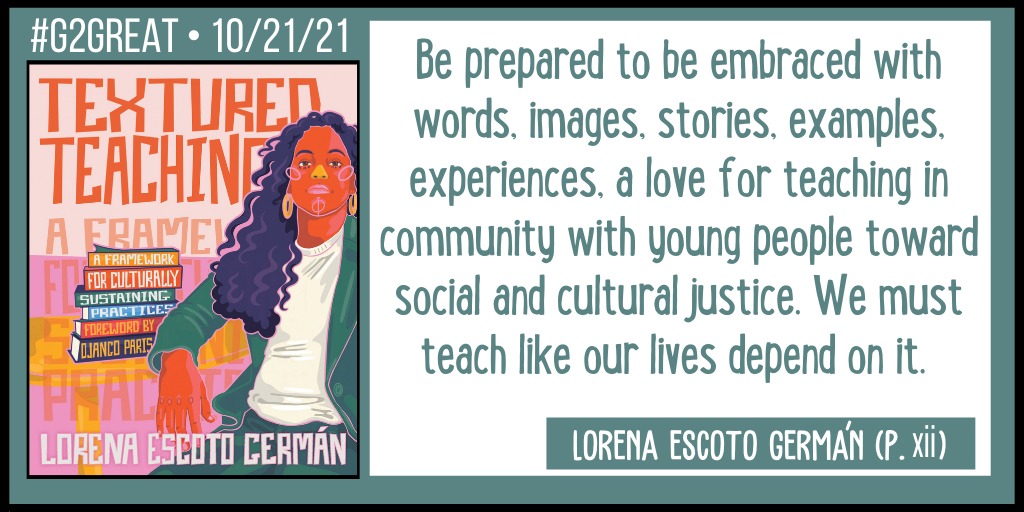 Our chat began with a simple and powerful question.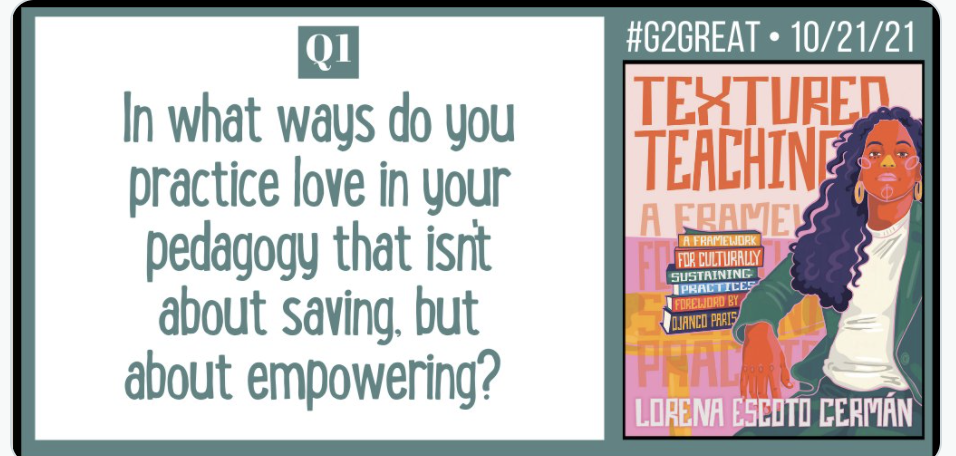 "isn't about saving but empowering."
There was something about this question that I think set the tone for the whole discussion. As we seek out to build community, are we doing it intending to save? Which I feel assumes a savior stance that teachers should be actively pushing back against, or as Lorena suggests are we seeking to empower our students? Our community? And how are we doing this with love?
I think about my practice, moving away from grading everything, moving towards student-driven creation, moving away from rigid due dates, moving towards flexibility, moving away from being the deciding voice, and moving towards the power of community decision making and ownership. A few months into this school year, this question has made me pause to ponder these thoughts. To reflect on the community I am building in the class that I hope will start to step outside of it. As the chat began to take off, Lorena asked us to consider the pillars, our core values for teaching.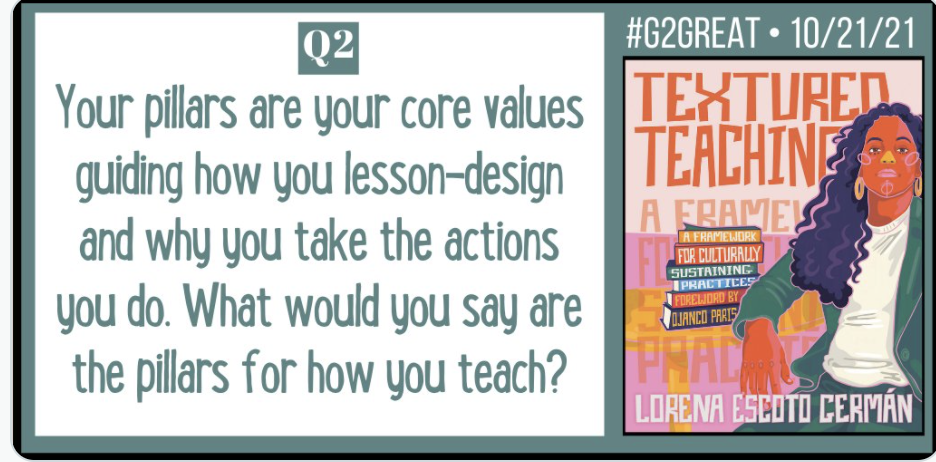 I have focused much of my thinking and philosophy for teaching the last few years on a statement Dr. Gholdy Muhammad made once in a session she was speaking at,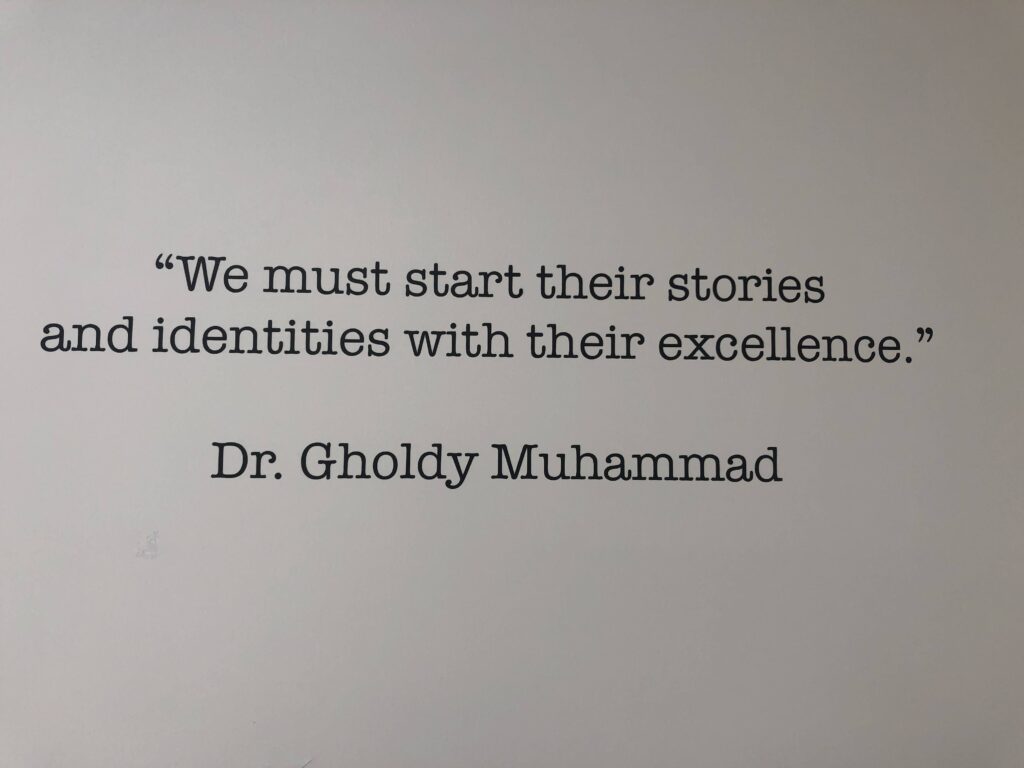 I couldn't help but think of that when asked to consider my core values, and as we see from other responses to the question, the answers were all variations of having our students as the focal point of our work. It starts with our students but most certainly can't end there. Textured Teaching incorporates four traits: Student-Driven and Community Centred, Interdisciplinary, Experiential and Flexible. Throughout the chat, the idea of community continued to come up. The more I thought about it, the more I realized how important the community aspect is and why this book is so essential for education, especially at this time.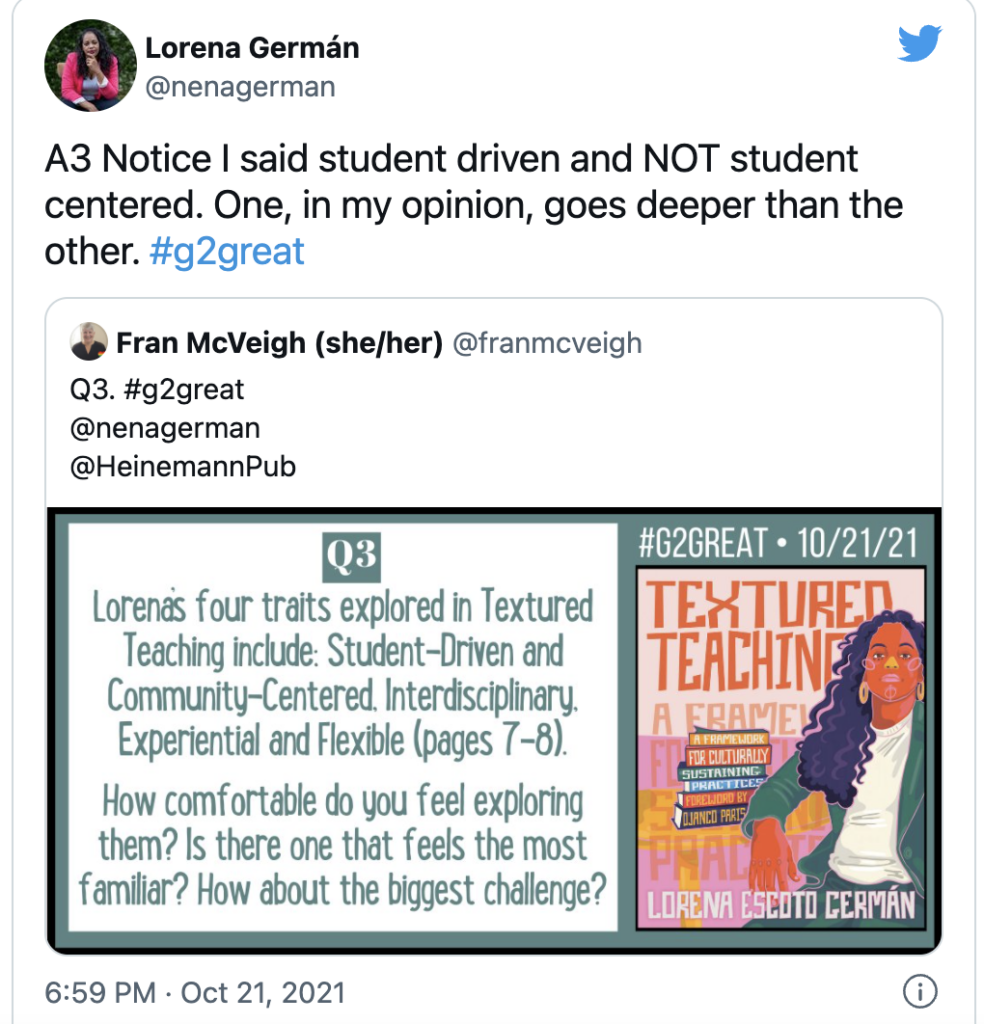 Covid-19 has drastically changed the way we teach. Two years ago, we were more connected to members of our community. You smiled at each other as you passed in a hallway. You gathered for community groups, sports, and other events. You knew your neighbours. The immediate impact of Covid in both schools and communities has been a distancing. Before, many teachers rarely had to think about ways to include community. Now, we have a series of hoops to jump through for a visitor to enter a classroom. And this disconnect doesn't stop in schools. Communities have fractured. When we look at things like the Anti-CRT movements, the increased prevalence of censoring books and teachers that would dare teach critical thinking to their students, we see that community itself is under attack. Before, teachers might not have had to be as purposeful in their community involvement and empowering their students; now this work is more important than ever. Lorena gives us a supportive framework to begin to address these issues first within our schools and then outside of them.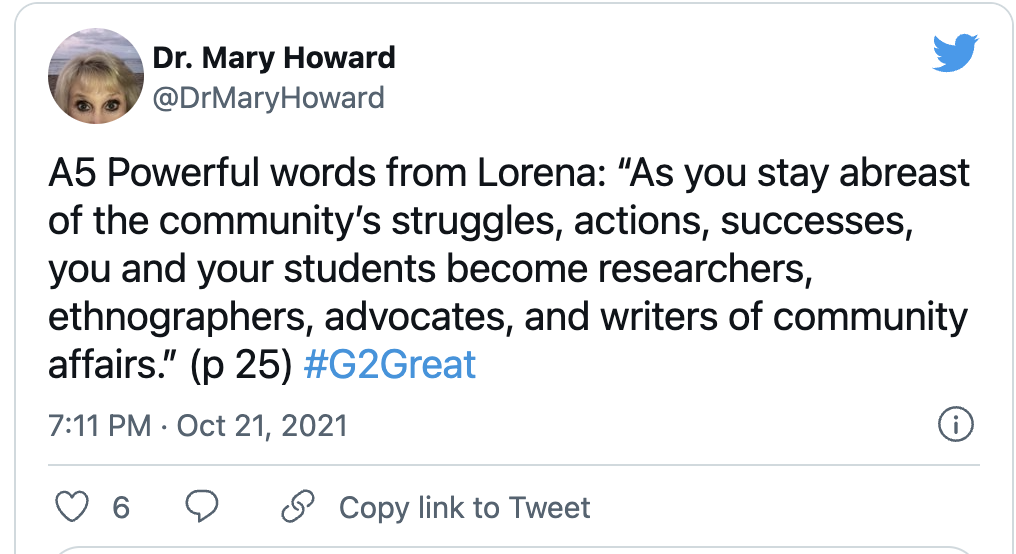 There is so much work to do. Many brilliant educators like Lorena have started to provide tools to better meet the demands of the day. We need to pick them up and put them to action.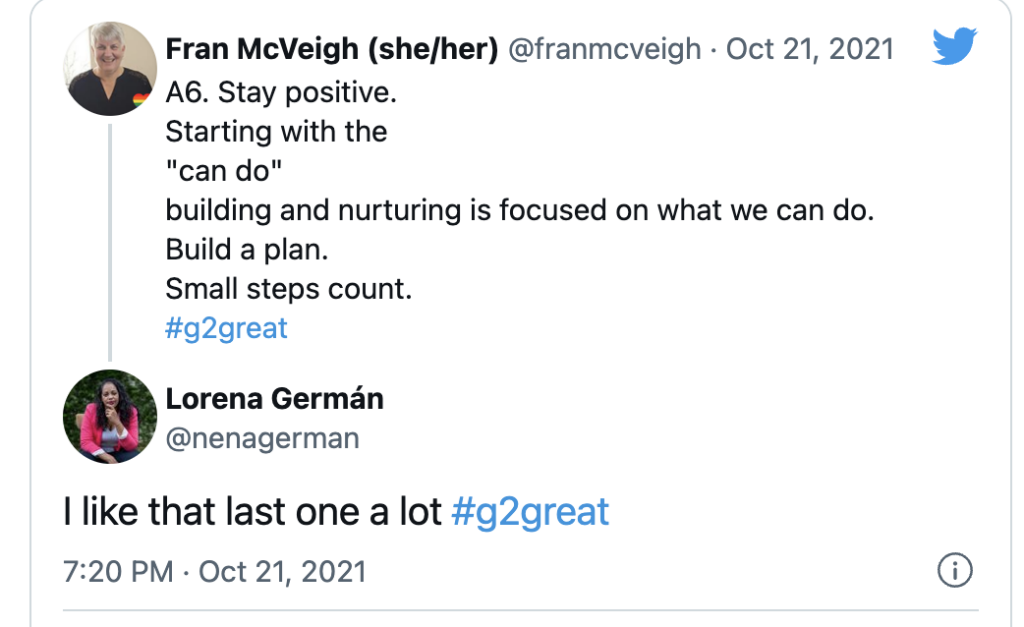 Remember folks, Small Steps Count. So, one at a time, forward.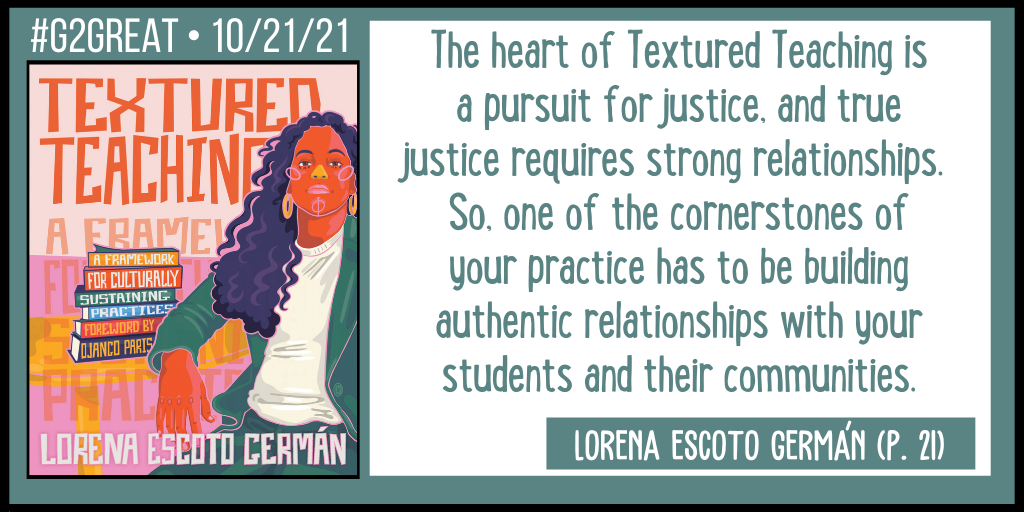 Check out the links
Podcast with Lorena Germán: Teach Me Teacher Podcast: Culturally Sustaining Practice Part 1
Podcast with Lorena Germán: Teach Me Teacher Podcast with Lorena Germán Textured Teaching Part 2There's also another podcast.
All of the Above Podcast : https://podcasts.apple.com/us/podcast/all-of-the-above-podcast/id1339198232 episode #78