by Jenn Hayhurst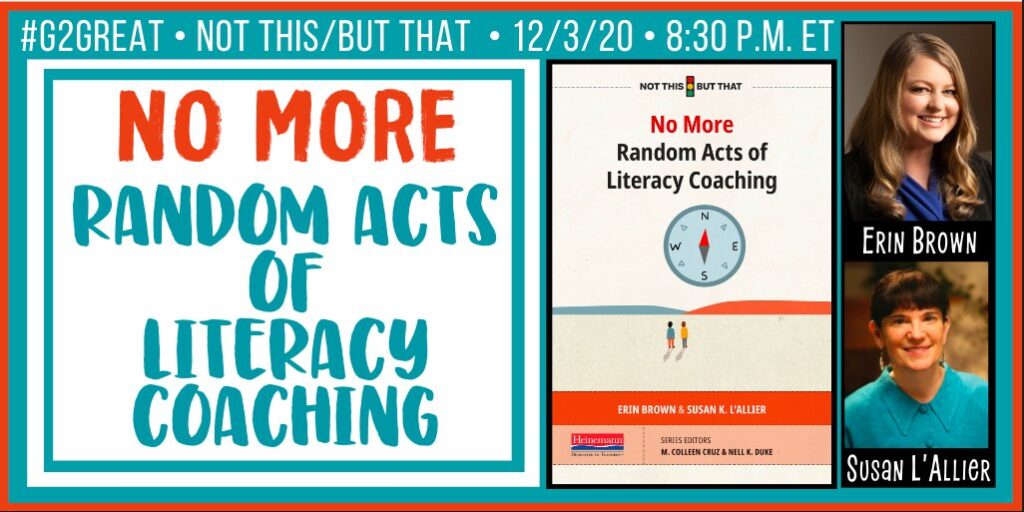 On December 3, 2020, Erin Brown and Susan L'Allier joined #G2Great's community and led an important conversation about coaching. Their new book, No More Random Acts of Coaching, is part of Heinemann's Not This but That series. If you are not familiar with this fantastic series, it pairs the expertise of a researcher and a practitioner to give readers tips and insights on how to grow teaching practices that are supported by research.
Needless to say, when I found out Erin and Susan were to be our guests I was extremely excited because I am a Literacy Coach. Then as it worked out, the night of the chat turned out to be my school's Parent-Teacher Conferences. So I didn't get to be there live but I did get to read the Wakelet and boy were chatters inspired. I can also say that I really wish this book had been written when I began my career as a coach. Erin and Susan give readers a plan to grow into the coaching role. Successful coaching is not about being lucky. It is about careful planning and lots and lots of preparation!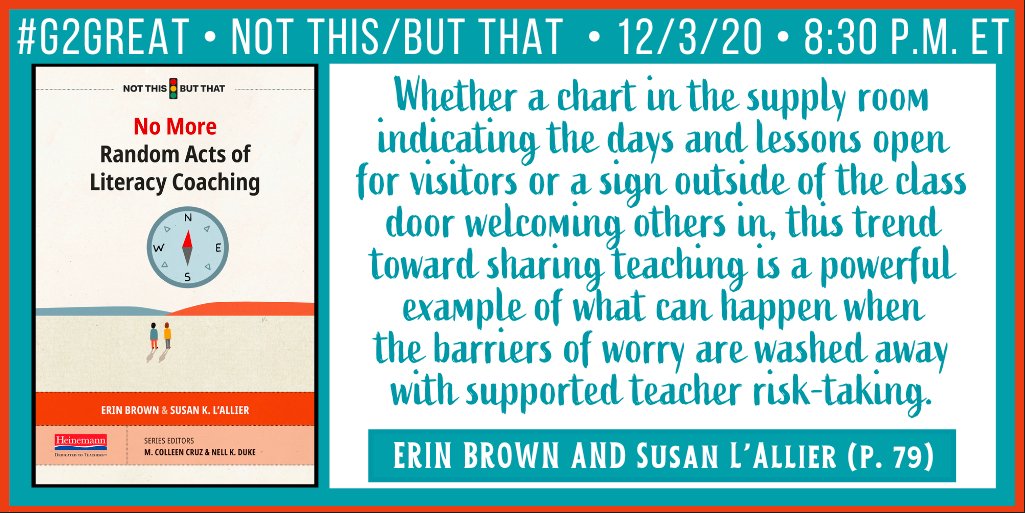 There are three tenets that ran through the chat. When I discovered that I got chills because they are what coaching is really all about at its core: curiosity, communication, and responsiveness.
Curiosity
Being inside a classroom when a teacher is making connections with students, tucking in expert moves that accelerate learning is something to admire and wonder about. Being part of that process, even when things don't necessarily go as planned, is thrilling. So many questions are born from those experiences: Why did that work? What was unexpected? Why do you think that happened? What did students do when that happened? Coaching and curiosity really work hand-in-hand.
Coaching isn't about fixing. It's filled with respect for the art of what happens with students in a school every day. A coach's appreciation of a teacher's strengths allow for real learning to happen during their conversations.

Erin Brown No More Random Acts of Coaching
Communication
Coaching requires precise language in terms of feedback but is also open-ended and generous to support deeper learning. We learn a lot by listening. Every time we paraphrase, we allow teachers to hear their own words come back to them. Pausing and making reflections are essential parts of the process.
We sometimes forget the research-established idea that when teachers, principals, and coaches work together to create a climate of intentional, ongoing professional learning, the likelihood of student literacy growth increases!

Susan L'Allier No More Random Acts of Coaching
Responsiveness
Whether a teacher or a coach, both roles are really about being responsive to the needs of learners and making meaningful connections. Whether it is a child or an adult we all want to be heard. This is a very important takeaway for anyone considering what it is to be a coach.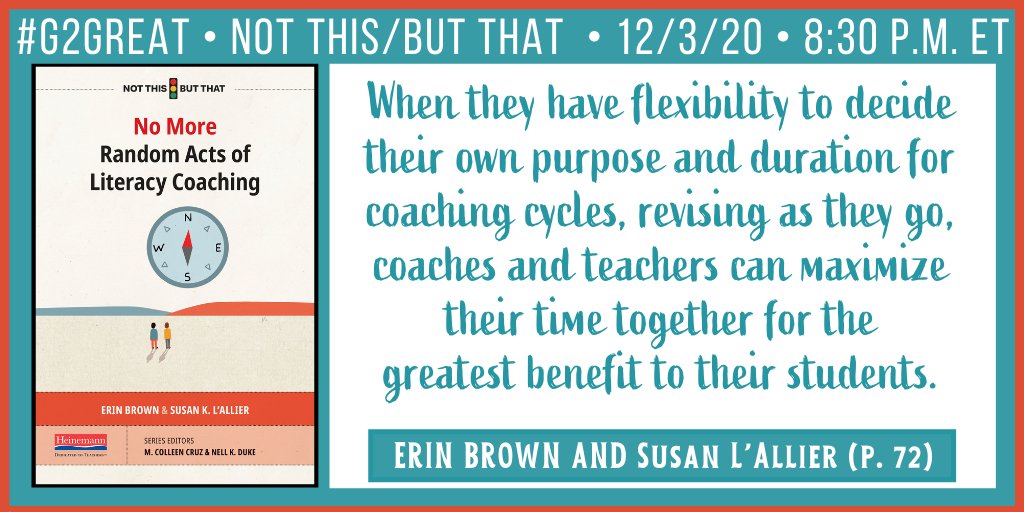 Let me send out a huge thank you to Erin Brown and Susan L'Allier. Thank you for joining #G2Great and thank you for this beautiful book: No More Random Acts of Literacy Coaching.