By Fran McVeigh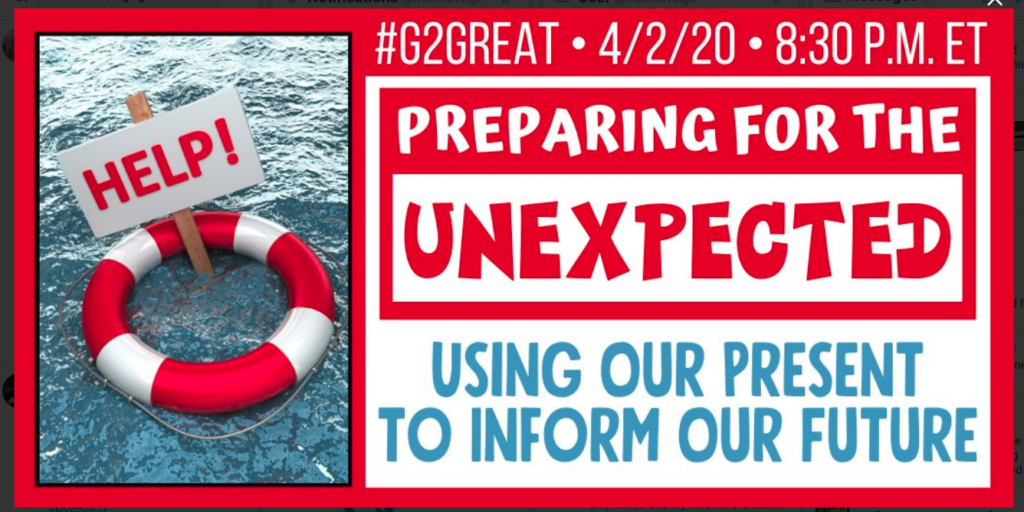 Thursday, April 2, 2020 #G2Great focused on lessons learned on the journey from typical March classroom experiences to environments ranging from "shelter in place" to the distribution of online learning sessions. Each chat participant had their own stories to share. Their own successes. Their own fears. And even their own JOY.
Words matter. Words matter most in times of uncertainty. This is my new favorite word: Ultracrepidarian. An eight syllable word that packs a lot of meaning. According to dictionary.com, it means:
"noting or pertaining to a person who criticizes, judges, or gives advice outside the area of his or her expertise: The play provides a classic, simplistic portrayal of an ultracrepidarian mother-in-law." (dictionary.com link)
Recently education has been under attack from many groups. Many of them seem to be ultracrepidarians. We won't know the full extent or REAL impact of Covid-19 school closures for generations because there are just too many "unknowns" at this time. We can speculate that some immediate changes will occur. But will they be lasting changes? Will it depend on the REASONS for the changes? We need to be aware of the voices and words from ultracrepidarians.
Three key ideas that surfaced in our chat were: a focus on students, daily choice reading and writing, and teachers as a collaborative community of problem solvers and leaders.
Focus on Students
In Kylene Beers's "Office Hours" session earlier in the day, Kelly Gallagher shared with all the attendees that one true abiding belief that sustains him is that students are at the center circle of all we do. That seems fairly common. But let's follow his thinking as Kelly explained that the second concentric circle is for teachers and then out beyond that is the curriculum, the standards, and the course content. Inherent within that first circle is all the joy, creativity, curiosity, and independence that radiates from students and requires careful nurturing to flourish and grow in times of trouble. When we begin with a focus on students at the center of learning, it seems easier to ensure that instruction is responsive, matches students needs, and continually challenges students to stretch and grow. Marisa Thompson's tweet matches those beliefs.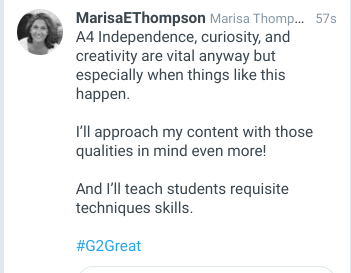 Daily Choice REAL Reading and Writing
Stories sustain us in times of trouble. Stories provide an escape from reality and allow us to dig into deeper meaning in our lives. Writing stories also allow us to reveal our thinking, explore ideas, and process the events occurring in our lives. Using "stories" literally does not mean short stories only. It also doesn't mean books only. Reading and writing need to include short and long term projects and sources to keep volume, interest and engagement high as communication needs shift. Time for REAL choice reading and writing may also mean "going slow to go fast" and/or reducing the number of teacher-directed units. As teachers plan to "finish out the year," those plans will require flexibility so students have equitable access, opportunities to learn, and the needed structures to ensure motivation and engagement remain high as Julie Wright describes below in her tweet.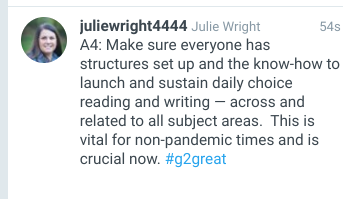 Teachers as a Collaborative Community of Problem Solvers and Leaders
Teachers are being challenged to move from 0 to 60 miles per hour immediately to find ways to provide supportive, safe environments for students to flourish. Some had the benefit of time to organize and study together before plans were finalized. Some had the benefit of opportunities to gain input from parents and caregivers before brick and mortar schools closed their doors. Some pressure is self-induced as teachers have high expectations for student learning. But not all expectations are the same and local, state and federal administrators will be wise to ascertain local needs and expectations before mandates become edicts.
Why does it matter? Teachers as the leaders and the decision-makers are entrusted with the care of students' emotional, social, physical and intellectual growth. That is why teachers begin with students and their needs as the focus. Technology-based learning may be a concern, but it is only ONE way of approaching student learning. If students have no devices, technology is not the answer. If students have no bandwidth, technology is not the answer. If parents/caregivers, and multiple students need to be online learners within the same environment, flexible schedules will be necessary with fewer synchronous learning requirements. All of those components will require teachers to generate thoughtful plans and choices. Similarly a "packet" of papers is not the answer either. Learning expectations need to be purposeful and clearly designed to meet student needs. This is not the time to revert to practices that are not in the best interests of students. A community of teachers collaborating together can problem solve and generate learning ideas to maximize time and space to lead to a higher degree of success. This is after all why so many people are teachers as Kitty Donohoe shares in her tweet and also framed in Justin Reich's quote shared prior to our chat.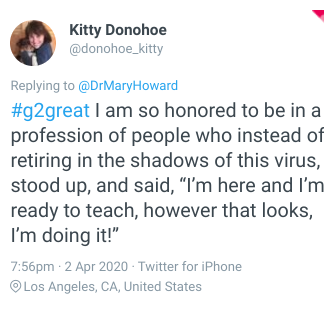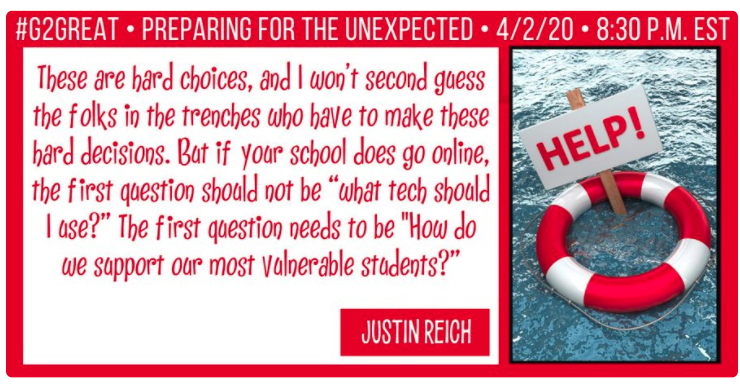 So why does it matter? Everyone is scrambling. Everyone has ideas. Everyone has personal preference. But everyone also has to remember the WHY of instruction that matches their community values. Basic needs have had to be prioritized as folks have lost jobs and endured weeks of lockdown in close proximity of family members who are struggling with the loss of food and fiscal resources, fear of the unknown and the stress of rapid changes. During times of trouble, time becomes an even more precious commodity.
What do you value? How do we know?
The final question, question 8 from our chat, is one you all need to discuss and come to consensus on in your buildings and districts so that your actions will be based on your beliefs.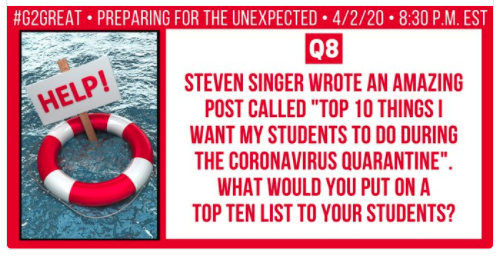 And here is a quick summary of the eleven items that #G2Great chat members listed more than once when responding to Q8 according to the Wakelet.
2 mentions: See learning differently, Joy, Laugh, Love, Rest, Go Outside
3 mentions: Create, Listen, Talk
4 mentions: Play
6 mentions: Write
8 mentions: Read
In conclusion, there are no WRONG answers in the current uncharted Covid-19 Survival World. There are "better" answers. Slow down and be thoughtful in your responses. Commit to strengthening relationships. Commit to doing the best you can. Commit to being the best you can. Commit to being the kind of person that you will be proud of. Commit to finding a group of folks to bounce ideas off of and to share the load of the work ahead.
And above all, give yourself grace to make mistakes, to make missteps, to ask for help, to grieve, and to take care of yourself, your family AND your school communities! Be safe! Be careful! Use soap and water!