Guest blog by Travis Crowder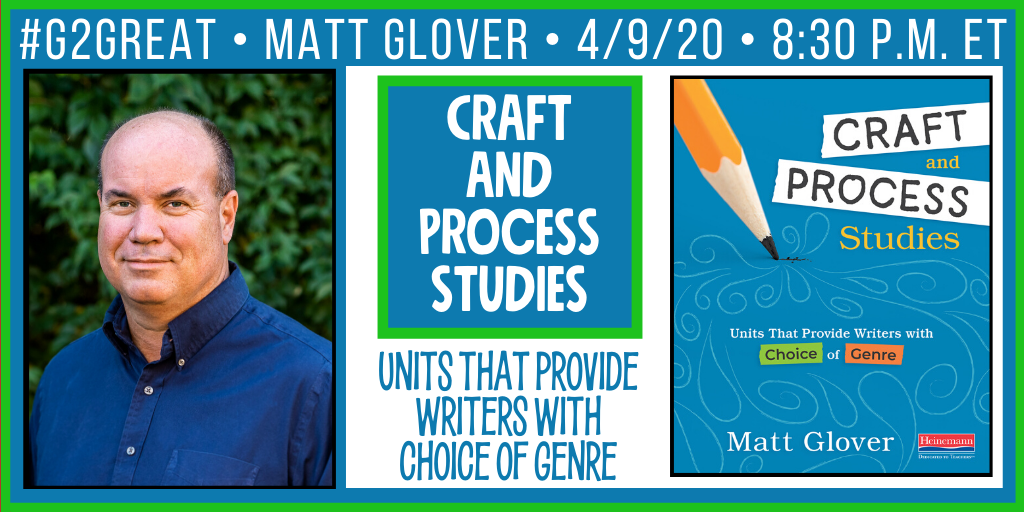 This week, we were delighted to welcome Matt Glover back to #G2Great chat to engage in dialogue around his incredible new book, Craft and Process Studies: Units That Provide Writers with Choice of Genre (2020, Heinemann). You can revisit this amazing chat on our Wakelet artifact. We are honored that guest blogger, Travis Crowder, wrote a beautiful reflection on the personal impact Matt's book has had on his thinking.
Guest Post by Travis Crowder
A fuse of light appeared at the edge of the morning, smearing shades of purple and red across the horizon. I cradled my coffee cup in my hands and stared, mesmerized, at the sky, drinking in the nascent glow. To describe what I saw would be a reach for the ineffable, but I grabbed my notebook and pen and tried to write what I saw. I didn't take too long because the sun's ascent is quick. I feared I would miss something. After jotting down the first sentence of this blog post, I laid my notebook aside, and stood with an empty cup, watching as the morning continued to write its story for me.
For the past month, the world has slowed to a crawl, and time stretches to an interminable distance. The news is unsettling, and more than anything, we crave normalcy— to return to what it was like before. Social distancing, face masks, quarantining, and solitude are our new norms and have gathered into our collective vocabulary. I won't lie. Such words frighten me. They are etched in ink on the walls of my mind, and the unease they cause continues to distort the world as I know it. Since March, a torrent of uncertainty and fear has swirled beneath the surface of my emotions, but in the midst of what has felt like chaos, this gorgeous morning was soothing. It calmed me.
If we were still going to school each day, I know what I would do.
I would take that fragile first sentence and build it, grow it. I'd allow it to lead my thinking. I'd fill a page, or possibly two, in my notebook, and prepare to share that writing with students.
I would go back to the books that I've read across the past few weeks and photocopy the pages and paragraphs from Michael Ondaatje's The Cat's Table and Pat Conroy's My Reading Life. I'd gather collections of poetry, such as Ocean Vuong's Night Sky with Exit Wounds, Naomi Shihab Nye's Tiny Journalist, and Brenda Shaughnessy's The Octopus Museum. Each author, a master of language, has breathed life into my craft. I've marked those passages, and I would want to carry them with me.
At school, before COVID-19 forced us to teach remotely, we were studying essays, and most students were writing pieces about family members, personal qualities, fears, and memories. We had been studying professional essays and as a class, we were discussing and noting the craft moves the authors used to guide us through their thinking. They were good at noticing, but they were struggling to use those craft moves in their writing. Now, it would be different. I'd know what to do.
Armed with a stack of texts and my own writing, I'd go into class knowing that I had a better chance of moving their writing lives. I'd put my notebook under the document camera and talk about what I had written. I'd share with students how I took something as exquisite as a morning and, using Ocean Vuong's poem "Aubade with Burning City" as a mentor text, borrowed his words to elevate my own. I'd also dig through The Cat's Table until I found Ondaatje's lyrical use of the word fuse as a description for the light of morning. These, I would say, are just a few examples of how I allow a writer's work to bleed into my own.
From there, we would read more.
Looking at the books and poetry I'd gathered, we'd study the moves these authors made. We'd put names on these moves, make an anchor chart or word wall with them, and we'd display sample texts that included them. I'd even invite students to share texts they've encountered with these moves. We'd display the texts they share, too.
When students returned to their personal writing, I'd check-in with them and peer into their writing. I'd look and listen for anything that suggested they were using techniques from another author. If I noticed they were struggling, I'd pull up a chair or kneel down beside them, and pull out my writing notebook. I'd show them more of my writing and even carry the texts— books, poems, essays, and so on—that have influenced my craft. I'd show them how I weaved the techniques of a mentor author into sentences of my creation. If necessary, I'd help them with diction, the quantum level of writing, and demonstrate how precise words give shape and contour to our ideas. I might even leave some of my writing with a student for support.
Unfortunately, I have had to write much of this post in the conditional tense. I do not have the privilege of traveling to school each day, laying my notebook under a document camera, discussing craft moves with students, and making anchor charts as a reminder of our learning. Instead, I am teaching remotely while my school sits like a discarded husk. I ache to return to the classroom because now I believe I could help students overcome the struggle of using craft moves in their work. This confidence is the result of reading Matt Glover's Craft and Process Studies: Units that Provide Writers with Choice of Genre.
Without knowing it, I was taking my students through Matt's process study, "Reading Like a Writer." My ignorant interpretation wasn't that strong, but thankfully most of the pieces were there. "Reading Like a Writer" is one of seventeen different units, all of which are divided into craft and process studies. The book as a whole is divided into two parts. The first part is more of a road map that helps you navigate the units of study. He discusses conferring, what to carry with you, such as sample texts for explicit instruction, and times of year that these units work best. In the second part, he unpacks process and craft studies, and provides the rationales, grade ranges, times of year, unit questions, goals, teaching points, routines, and so on to lift the quality of our writing instruction. Holistically, this book brings together what feels like disparate parts into a comprehensible whole.
I often worry that I am not giving students what they need as young writers. Matt knows this, though. He understands how difficult it is to teach kids how to write. Sensing that uncertainty, he bathes his readers in strategies and ideas that will influence students' craft and process knowledge. He understands that choice of genre is paramount in the development of a writing life, and the ease of a master teacher, he assuages any fear of the unknown and, with his gentle voice, explains that with the right tools, teachers can nudge kids forward. He's even convinced me that I need to spend less time on genre and more time on craft and process. Although I try my best to balance them, a deeper focus on craft and process, I now know, will lift the quality of students' writing.
Matt's book is a gift to all writing teachers. His instructional and philosophical writing carries readers deep into his thinking while sparking within us the confidence we need to reach our kids. Early in the book, there's a picture of Matt sitting on a chair, holding what appears to be his notebook. His smile, expression, and proximity to his students is all I need to know that rigorous thinking is happening in this classroom. He knows what he's talking about because he's done it before. For me, this is one of the markers of a skilled writing teacher— one who participates in the act of writing and limns that experience through beautiful, yet simple language, for both students and teachers.
Although I do have contact with my students, I do not have the ability to teach them like I want to. I can't interact with them each day, talk with them, laugh with them, or sit beside them as they grapple with the right wording or structure. But I can grow as a writing teacher. Matt's book has compelled me. It still does. There's nothing about this book I don't like. In fact, it builds like a dramatic movement in a symphony and by its climactic end, we know what to do. I'll return to this book again and again, and each time, I know I will get better at moving writers.
One day, and I hope it's soon, I'll return to my classroom. I'll unlock the door, switch on the lights, and stare into the empty shell that has been waiting, silently, for us. I'll lay my backpack on the floor beside my table and pull out the books and writing I've prepared to share with kids. Matt's book will still be singing in my heart, and I'll know more of what to do, more of what not to do. Not long after that, I'll hear the glorious voices of children, far away at first, but as they enter the hallways, their voices will grow, eradicating the silence. This is the sound of triumph, of joy, of the endless possibilities for learning.
As they come into the classroom, I'll be so happy to see their smiling faces. And as I watch them take their seats, the words of Walt Whitman will echo in my mind: "…Failing to fetch me at first, keep encouraged, / Missing me one place, search another, / I stop somewhere, waiting for you." The world, although stopped for a season, has now continued to move. We've been waiting, dear students.
And here we are.
We asked Matt Glover to respond to three questions about his book
What motivated you to write this book? What impact did you hope that it would have in the professional world?
I wrote this book because I care about student engagement in writing. I've become increasingly concerned about schools where all of the units, year after year, are only genre studies. I love genre studies, but they aren't the only types of units students should encounter. Schools should also have craft studies and/or process studies each year where children can choose their genre. If we care about student engagement, we have to consider the role of choice.
What are your BIG takeaways from your book that you hope teachers will embrace in their teaching practices?
I hope this book does 2 things. First, I hope it makes a strong enough case for choice of genre that teachers include some of these units in their year. Second, my goal is to provide teachers with practical support to make these units successful and positively impact learning. There are some common issues teachers run into with craft and process studies, primarily because many teachers aren't accustomed to units other than genre studies Fortunately, there are some easy solutions.
What is a message from the heart you would like for every teacher to keep in mind?
Engagement is at the heart of learning, and choice plays a key role in engagement. All children deserve to have opportunities to write in genres of interest, and to have their writing valued by caring adults. In order to fully understand our students as thinkers and writers, we have to understand and take advantage of the importance of authentic choices students make, including choice of genre.
With deep gratitude to Matt Glover and Travis Crowder