By Fran McVeigh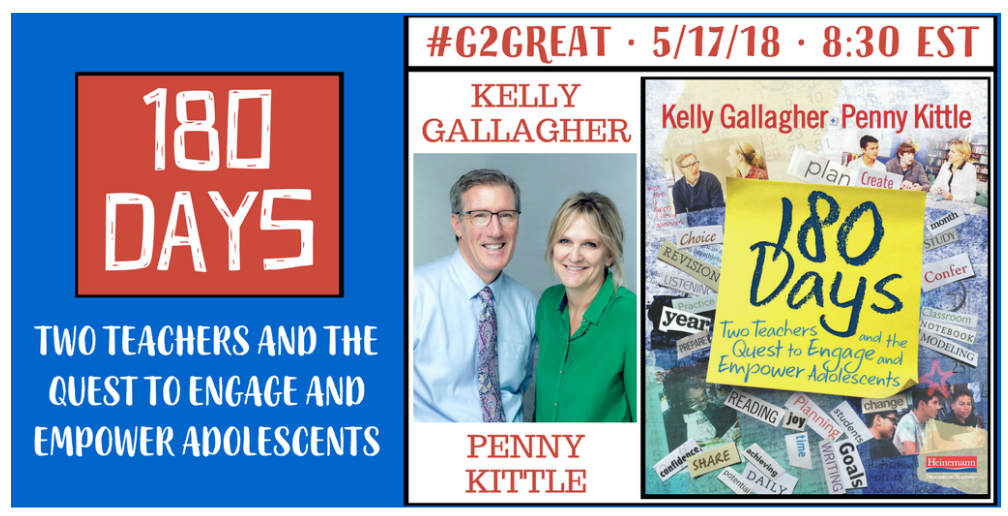 What a night!  Before the chat began Paul Hankins suggested that our theme song might be Petty's "Free Falling" and as it ended Colleen Cruz talked about re-reading the stream "…to bask in the glow of @pennykittle and @KellyGToGo." Either celebration would be so appropriate for that hour in time. Less than ten minutes was all it took for #G2Great to trend in the top "3" due to the wisdom flying through the twittersphere so I knew narrowing down a focus for this post was going to be a challenge as Kelly Gallagher and Penny Kittle joined the #G2Great chat table for their first time on May 17, 2018 to discuss 180 Days:  Two Teachers and the Quest to Engage and Empower Adolescents.
I first heard about this book last November at NCTE 17 from a panel presentation consisting of Nancy Atwell, Kelly Gallagher and Penny Kittle. The chair for the panel was Nancy's daughter. Her introductions were fabulous. Each one was better than a five paragraph essay –  well constructed and so thought-provoking. I was mesmerized. I was entertained. I was so curious.
In that session Kelly and Penny shared the overview of their collaboration and I knew instantly that this was a book that I could not wait to get my hands on. But it wasn't  just the content of their presentation.  I was completely awestruck by their behaviors.  When Nancy Atwell went to the podium, Kelly and Penny (seated on stage) took out their notebooks, poised to write and then did write throughout Nancy's presentation.  I was so amazed by this that I tweeted out a picture that showed them, on stage, writing while Nancy was speaking. Then when it was time for their part of the presentation, it was no surprise that at times, they finished each other's sentences . . . truly collaborative partners. Here's the picture and a link to a brief description of their session.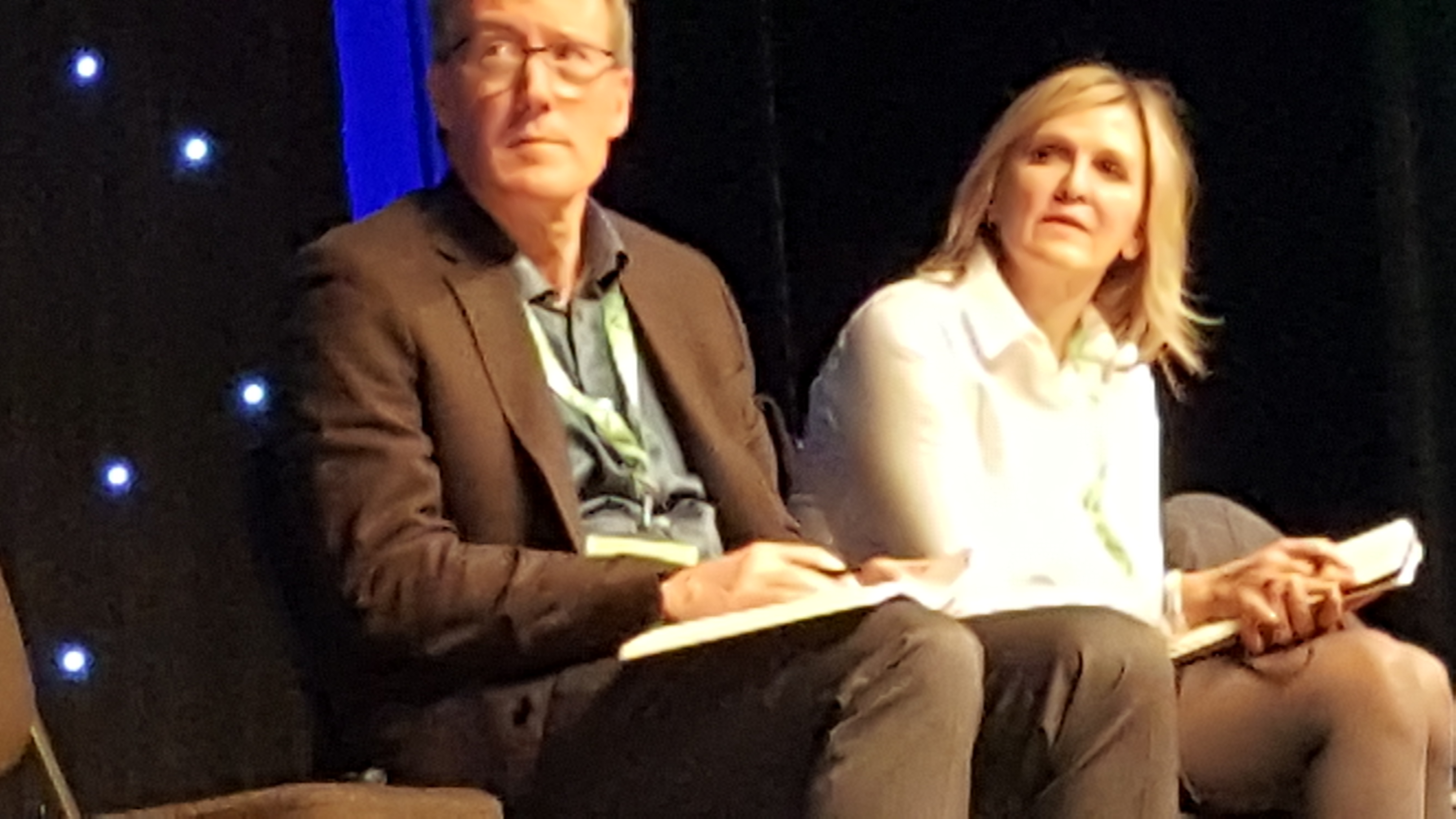 Many may think this is a book only for secondary ELA teachers.
WRONG!
I would recommend this book to EVERY literacy coach, curriculum, and/or department chair in the district as well as every administrator.
Why?
Because the first half of the book deals totally with values and beliefs that define the decision-making process for teachers.  Elementary teachers can review it from the lenses of how they prioritize their own literacy instruction, coaching, and observation because the reading and writing standards are similar PK -12. Their work would be parallel to that of the secondary students and teachers. (Not all primary teachers will believe that this book is relevant, so don't force them to read it!)
As the lead up to this chat, I wrote a blog post on Tuesday with many of the links listed at the end of this post. I also watched Twitter comments during the week, and then Brett Whitmarsh, (@HeinemanPub), posted this podcast the morning of the chat.  It was a read aloud by Kelly and Penny.  
A read aloud of text that I had read twice before.  
A read aloud that I have listened to twice.  
The depth of my knowledge after multiple readings and listenings cannot be measured objectively, but I can tell you that the "story" behind the text and my connections to the text have increased exponentially. I will probably listen once more as I continue composing this piece.  I didn't annotate the text, I didn't take copious notes. I really worked on "holding my ideas" across the text with some jots and post it flags as I "spied" on my own reading in hopes of finding the big ideas.
And then came the chat.
The two areas from their book title that continue to fascinate me are both "engagement" and "empowerment". Do you know high school students? Do they routinely feel engaged? Do they routinely feel empowered? How does this play out in real life with the students that Kelly and Penny have in California and New Hampshire?
Engagement
How do students get to the "deep thinking that reflects intellectual growth"?  Allowing student choice is a critical element. How much choice? This is most evident in reading where Kelly and Penny propose that 50% of student reading is independent reading where students choose their own reading text. How does the "content" fit into a plan to give students choice?  This entire book is about answering: "How does it all fit in?"
When students are engaged, teachers  and students will be able to dig into deeper levels of understanding. Core beliefs found in their previous books, like Book Love, by Penny and Readicide by Kelly share foundational thinking for their literacy instruction but 180 Days: Two Teachers and their Quest to Engage and Empower Adolescents  provides the nuts and bolts about what this really looks and sounds like in classrooms.  Then you will discover their ideas on how to accomplish it. This is simultaneously overlaid with the WHYs so that you can follow the thinking that drove all of Kelly and Penny's decisions.   
If students have choice, some teachers believe it feels "loosey-goosey" and seems like "free falling" because the teacher cannot plan out the year during back to school workshop days.
Free falling.  
Falling without a net.  
But as  a teacher plans there is a need to keep a laser-like focus on the end goal for the year while also waiting to see the eyes of the students before outlining the year. Within this plan is the flexibility to add/change to meet the interests of students.  An example from this school year was a mini-unit that Kelly created, planned and ultimately shared after the Parkland shooting. (Mass Shooting Unit Link)
Tweets from Kelly and Penny that Support Engagement:
As I read back through the Wakelet, I identified three themes that I felt supported "Engagement" in our chat.  We will be hearing more about engagement in two weeks when we discuss Ellin Keene's gorgeous new book, Engaging Children: Igniting a Drive for Deeper Learning, but for now the themes of Joy, Reading and Writing Lives, and Standards and Assessments from Kelly and Penny's tweets support increased student engagement and helped me organize my thoughts.  Do note that I deliberately left in the number of retweets and likes so that you can see how the #G2Great chat members (and or other friends within the first 12 hours) responded to this wisdom.
Which tweets stand out in your mind?  
Which ones would you like to continue a conversation about?
Empowerment
Empowerment is the second promise from the authors. What does empowerment mean? Again, students who feel they have choice and voice in their daily lives will feel empowered as well as able to reach a higher level of engagement. The two elements are not easily separated. The curriculum allows students to strengthen their reading and writing skills. The daily framework for instruction allows students to be more successful with less "push" and "scaffolding" by the teacher. Knowing that half of their time during the year will be spent on self-selected books is empowering. Respecting students' lives outside of school is also empowering for students as it reduces external stress in their lives.
The clearer the learning targets, the more efficient and effective the instruction becomes.  The clearer teachers are about their belief systems, the easier they can articulate the relevance to the students. And yet, truly empowering adolescents will require change in the actions and work of students as well as teacher's roles.  Students will have the power to control their learning within the class. The teacher's role will be reduced as students take the lead in discussions and book club work.  This is not work for the faint-hearted. Students will resist in the beginning.
WHY?
Because it is work!
Why does it matter?  
Because the WHY should be guiding all decisions!
Tweets from Kelly and Penny that Support Empowerment:
Specific tweets from Kelly and Penny that supported "Empowerment" seemed to fall into two categories:  Actions and Work of the Students and Teacher's Roles. When students are empowered, there is no need for "fake" accountability systems. Students meeting in book groups with students across the country were interested in completing their work in order to be a part of the cross-country collaboration. Note particularly what one of Penny's seniors said as reported in Penny's first tweet below.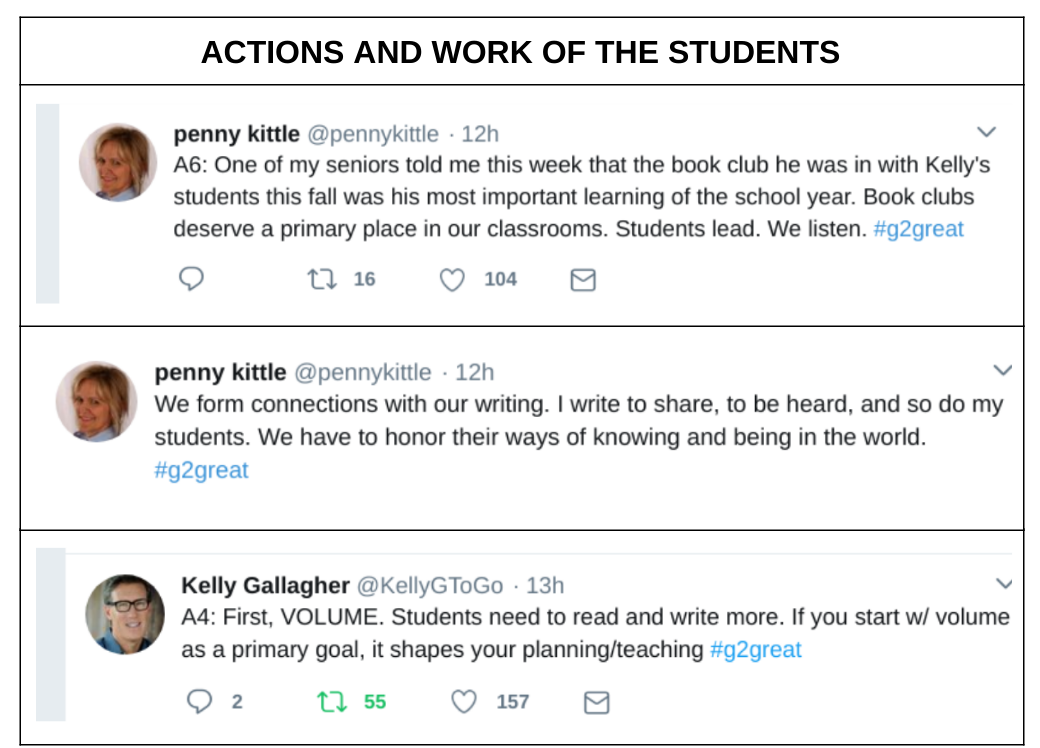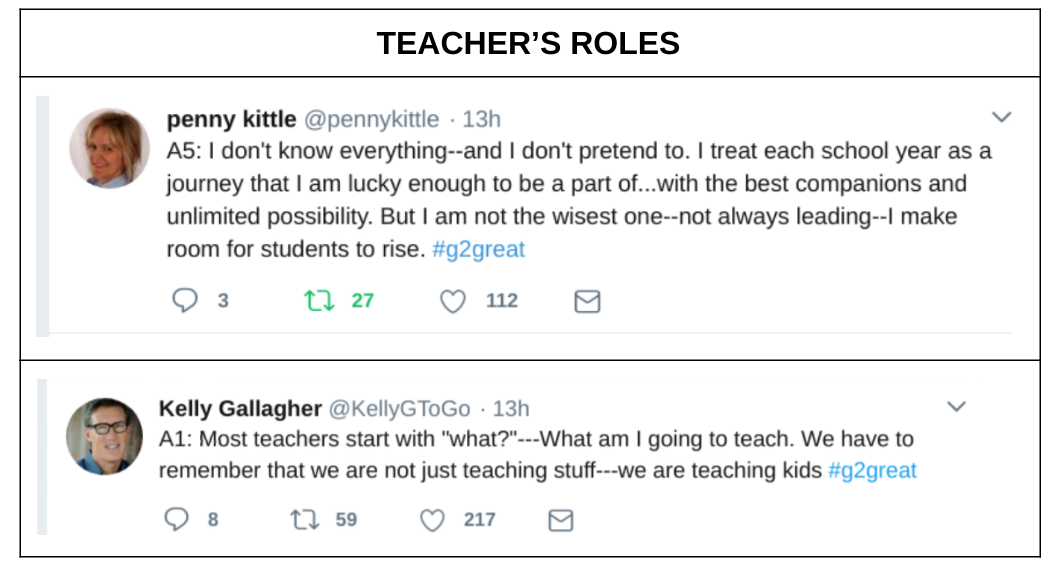 Which tweets stand out in your mind?  
Which ones would you like to continue a conversation about?
The chat revealed that Kelly and Penny originally began with 20 core beliefs and they did whittle it down to 10.  Their schedules provide for daily reading and writing. Kelly (from the book and a live PD session last week) has 10 minutes of reading and writing every day.  Time matters in terms of how it is used each day, as well as across the year and throughout the secondary careers of our students.
Time matters:
Just as I can tell you that a thousand seconds = 16 minutes,
a million seconds = 12 days,
a billion seconds equals 31 years,
and a trillion seconds equals 31,688 years.
Seconds do matter! A sense of urgency is needed!
Being responsive to our students does not mean employing a whip and timer for every time segment in class, but it does require that we pay attention to the balance of time and not waste precious minutes that take away from student application and transfer of reading and writing. At all grade levels.  With all students.
Those are non-negotiables.  The videos in the book are priceless. I remain impressed with the collaborative nature of this work.  The need to have another professional to discuss your ideas with, to plan together, to teach in each other's classrooms.  How can book clubs meet virtually in California and New Hampshire? What do students (used to sun and sand in California) who may have never seen snow fall from the sky have in common with students from New Hampshire who ride snowmobiles to school in the winter?
What questions remain?
How do YOU fit it all in?
What will YOU do to engage and empower yourself, your peers, and your students?  How do YOU fit it all in?
Additional Resources:
Wakelet (to review all tweets from the chat)
Resourceful – Planning
Travis Crowder Review