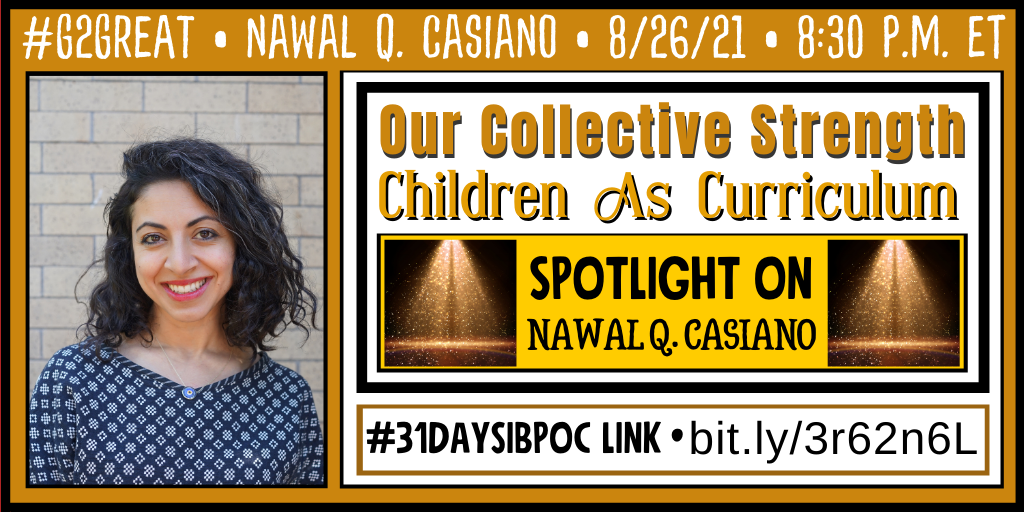 Written by Educator Spotlight Guest, Nawal Qarooni Casiano
If I close my eyes, I might picture us all sitting on the ground, kneeled or cross-legged, poised and ready with the materials needed to weave.
Together, as a group of educators committed to children and supporting their success in the world, we include our contributions over the next hour, one by one in rapid fire online answers, all to generate a substantial whole.
That whole might be considered here, in the Wakelet, and if you're like me, you might imagine the result as a green and grey kilim, patterned and wonky with charm.
That's how the #G2Great chat felt for me. I was honored to be asked and humbled to be highlighted. And I was thrilled that folks had another chance to read the piece I wrote for #31DaysIBPOC, an incredible blog initiative hosted by Dr. Kim Parker and Tricia Ebarvia in a May movement to feature voices of Indigenous and teachers of color as writers and scholars.
But perhaps more than anything, the experience of the chat reminded me of what I've always known- that strength lies in community. That each of our unique experiences and ideas affect one another. That we learn from those around us. And that this too, is true for our students and classrooms.
While I couldn't keep up in live time with all the brilliant tweets that came through, I grabbed several I loved below. For example, I initially appreciated a pivot to thinking about caregivers and what they would want to learn and know about their students. I adored the idea of ensuring positives from the pandemic's remote learning could be integrated into this year's endeavors. And I wanted to underscore this little list about centering students and their identities while being flexible with how they share learning.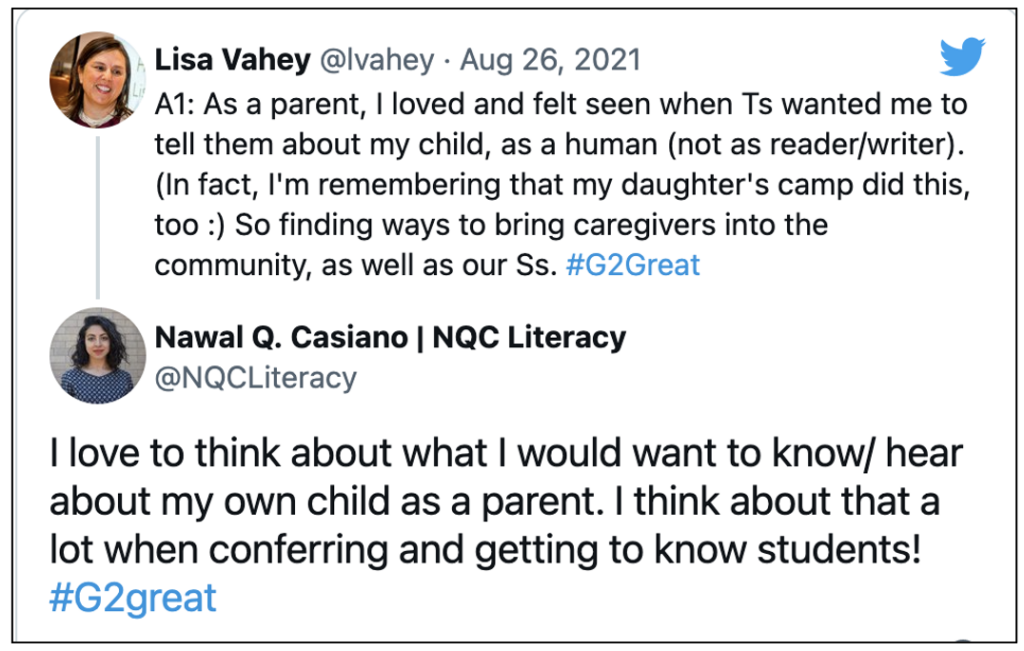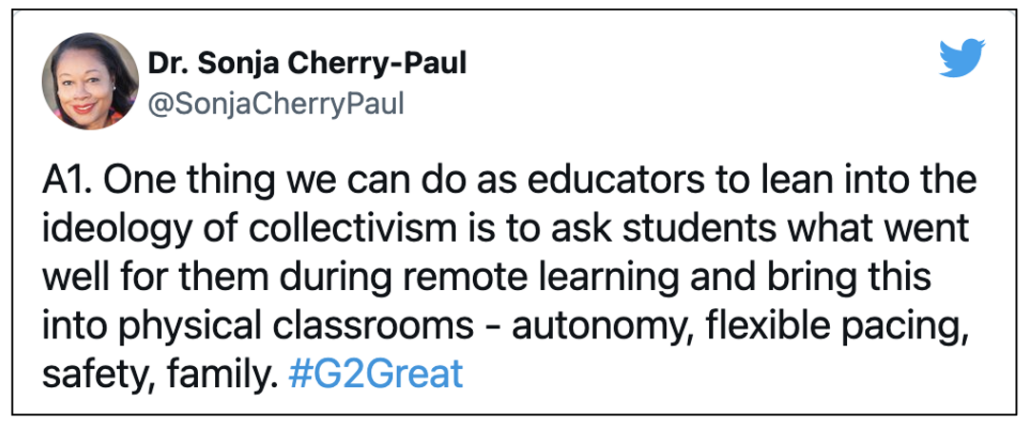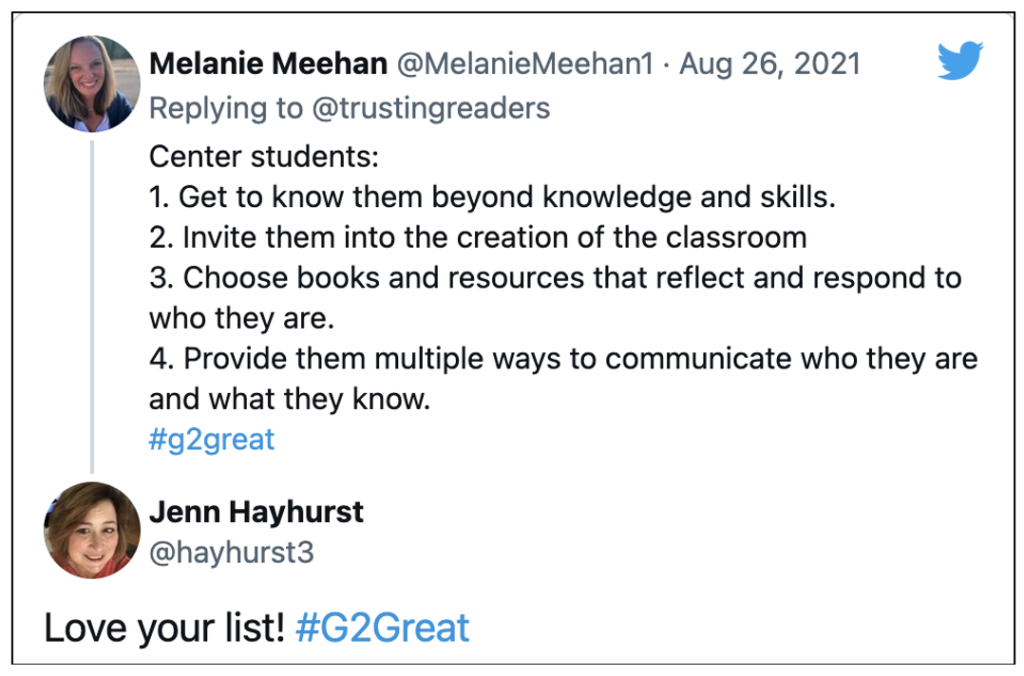 And then, I lost myself in the phrasing of 'raw materials' here, where I thought yet again about students as the curriculum. It requires a shift in thinking – that educators are facilitators of student learning and growth – as opposed to the sole contributors of new knowledge.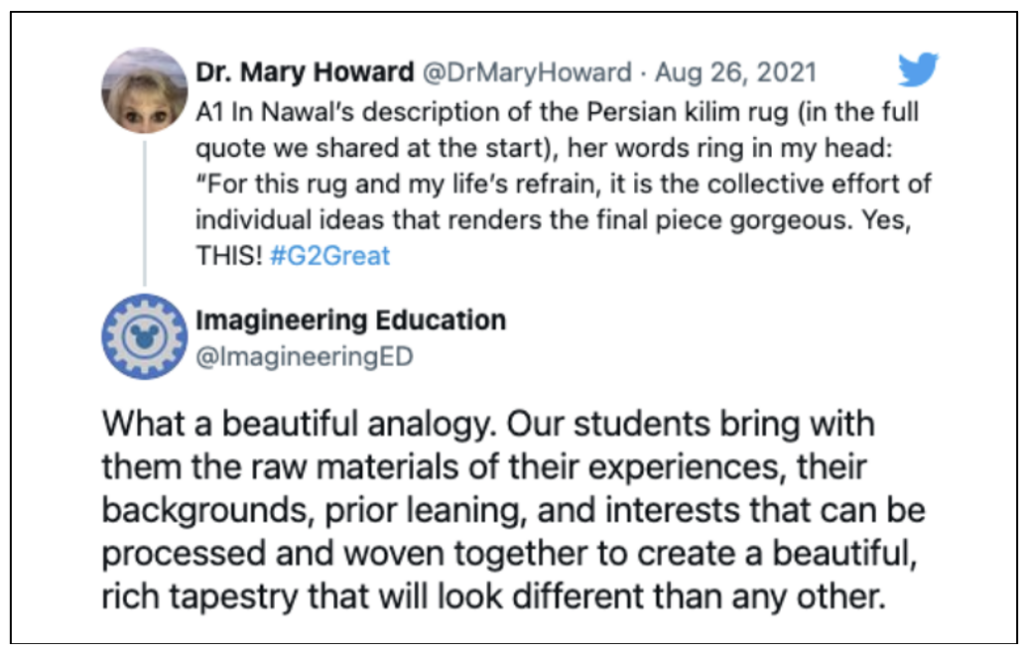 Halfway through the chat, we discussed names and identities. I have written widely about my experience with the whitewashing of my name, and appreciated so much this tweet about ensuring our brown students don't solely 'find themselves' in adulthood, followed by another about asking unapologetically about name pronunciation despite potential embarrassment.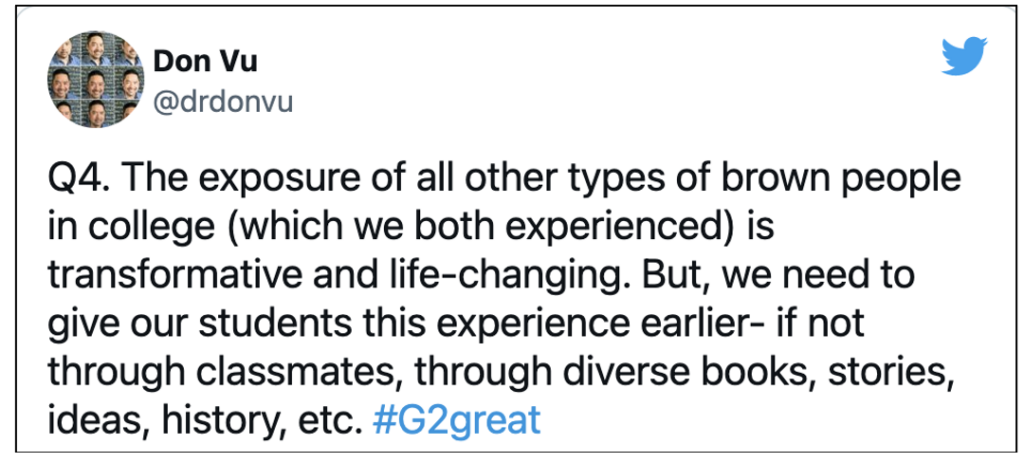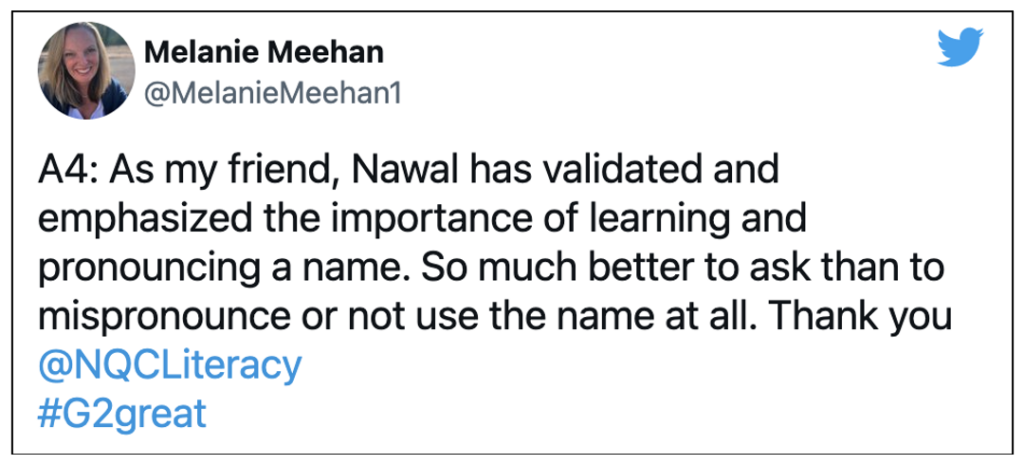 I adored these responses about authenticity for the audiences of our work – not just due to a teacher assignment- and no single 'right' answer, which ultimately lead to spaces where students feel they can be truly free to make mistakes, learn, and grow.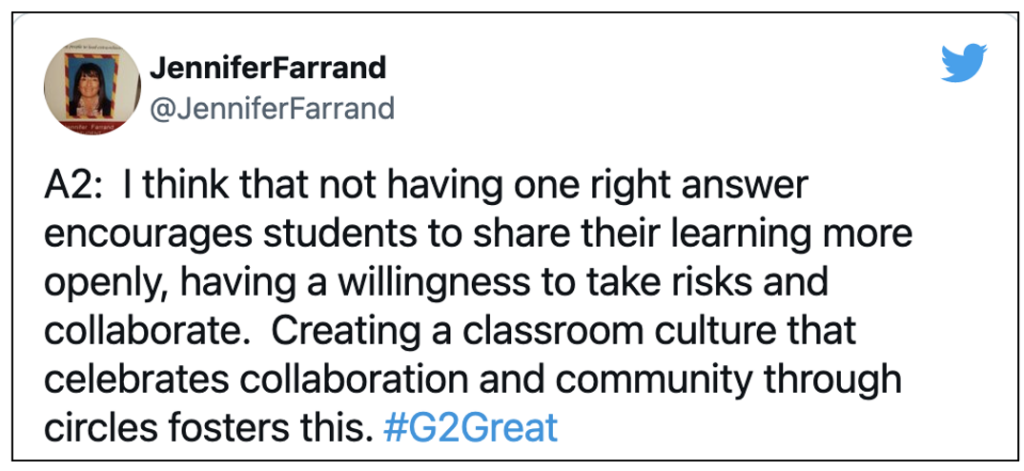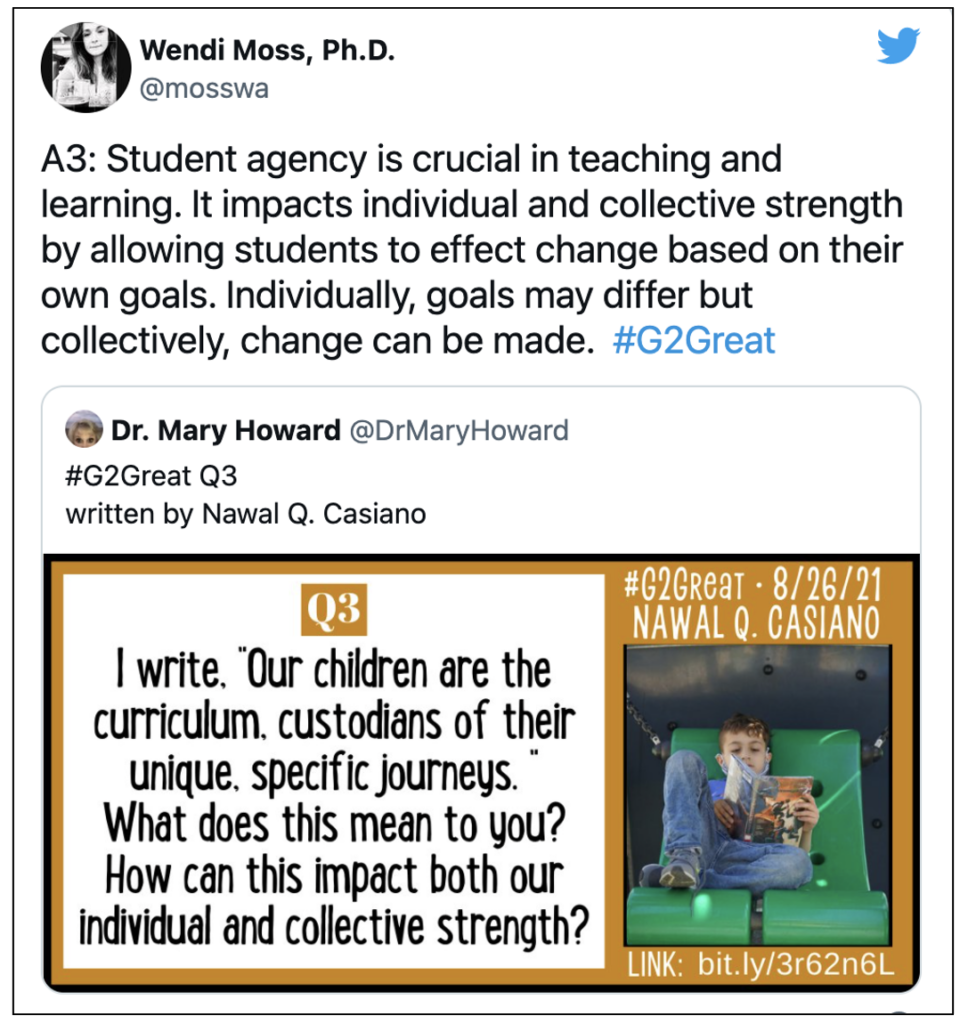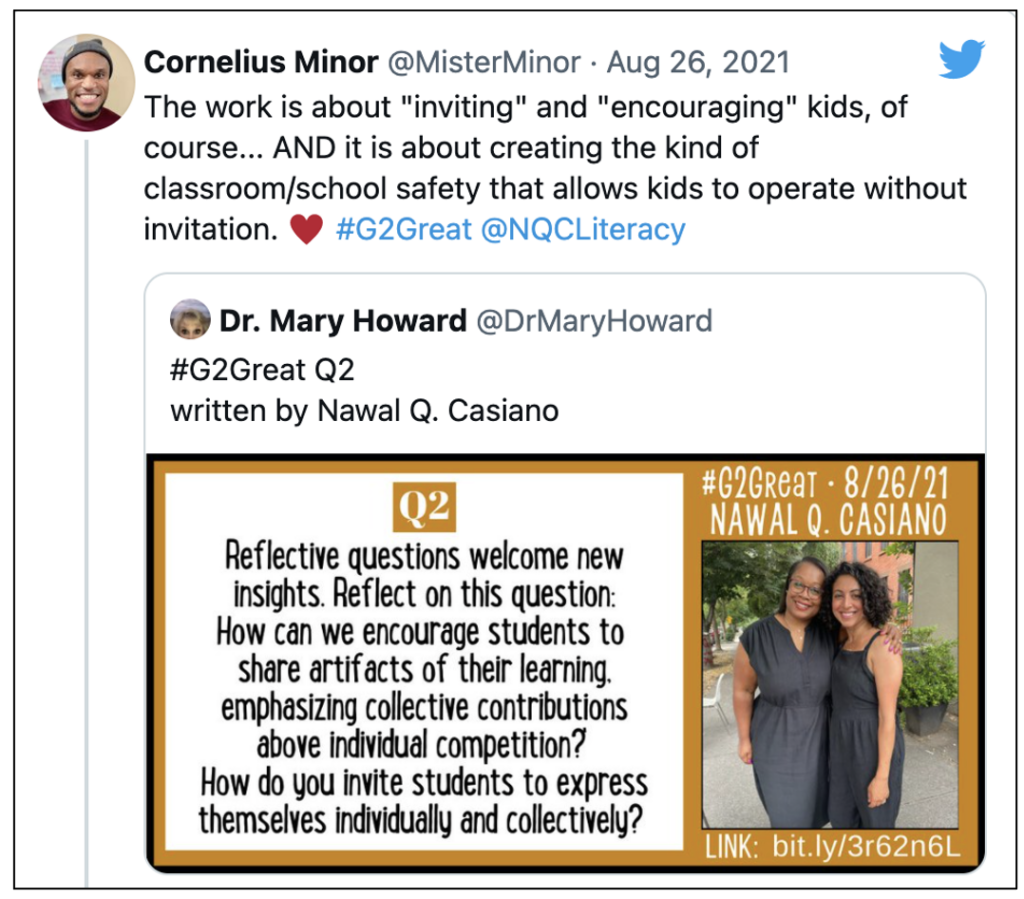 And lastly, I felt incredible pride and excitement when all of our colleagues talked about encouraging translanguaging and including audio recording as part of the writing process to ensure accessibility, and the amazing gift of hearing the author's voice. I loved the book recommendations, from En Comunidad and Rooted in Strength to Life, Literacy and the Pursuit of Happiness, from Octopus Stew to We Got This – all very important additions to my understanding of teaching and learning.
But what I felt more than anything by the end of the hour was a validation for what I already knew. Throughout this incredible chat with dozens of educators all across the country, this is what I confirmed:
We are stronger together. Our collectivism matters. We are what we are seeking.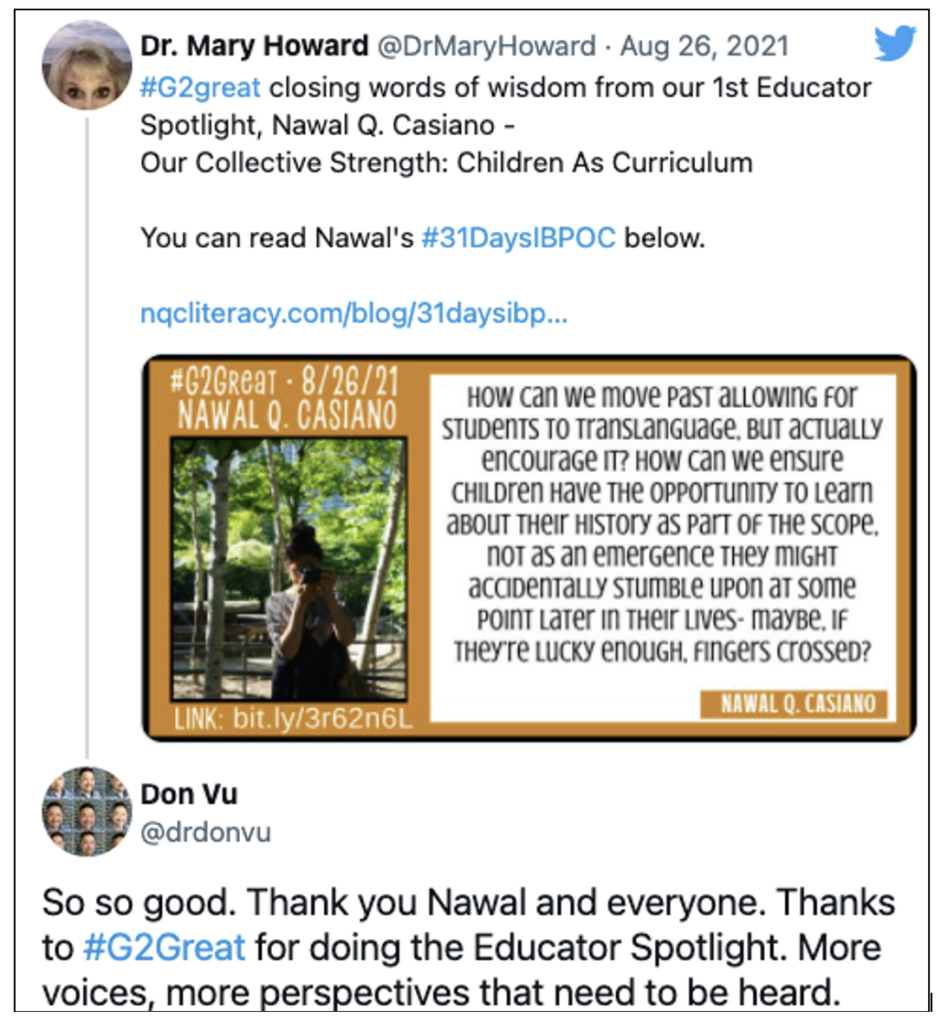 A FINAL WORD FROM MARY
August 26, 2021 was a very special day on our #G2Great chat since it was the initial launching of our Educator Spotlight with our first guest, Nawal Qarooni Casiano. I can't think of a better person for a new beginning that we plan to continue in to the new year between author visits and varied topics. Anyone who has the great honor to know Nawal knows the passion, dedication and joy that she bring to all she does so it seemed fitting to celebrate her on our chat first. Nawal took over every aspect of our #G2Great chat including choosing a reference, writing questions that would guide the discussion, leading the chat, and writing the beautiful words that you read in this post.
Those of us who know Nawal also know that she is humble so while she included nine tweets from our chat, she did not include include any of her own beautiful responses to each of our questions. I'd like to take that role by including her tweets below.
Thank you Nawal for sharing your gifts with our #G2Great family.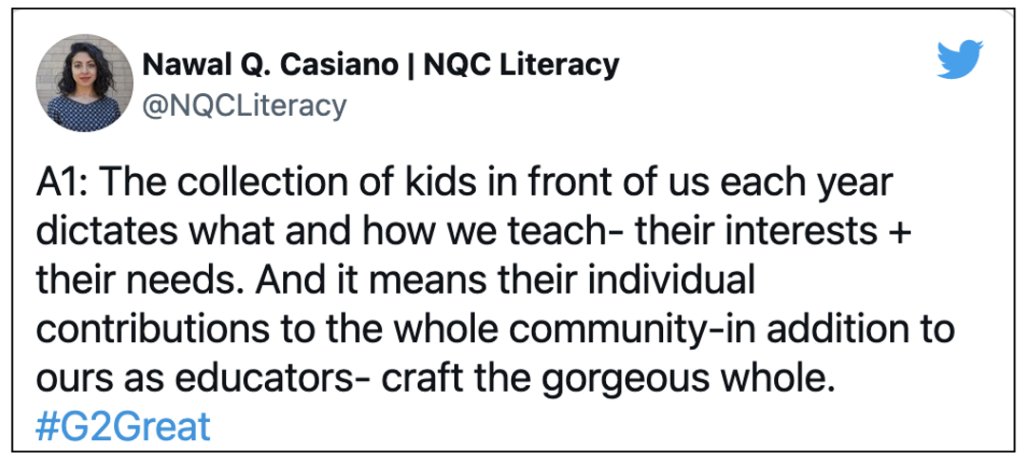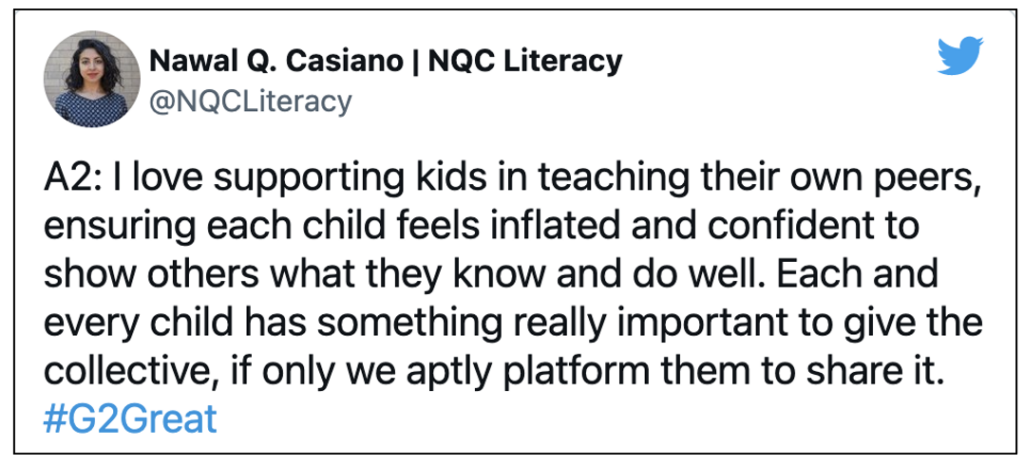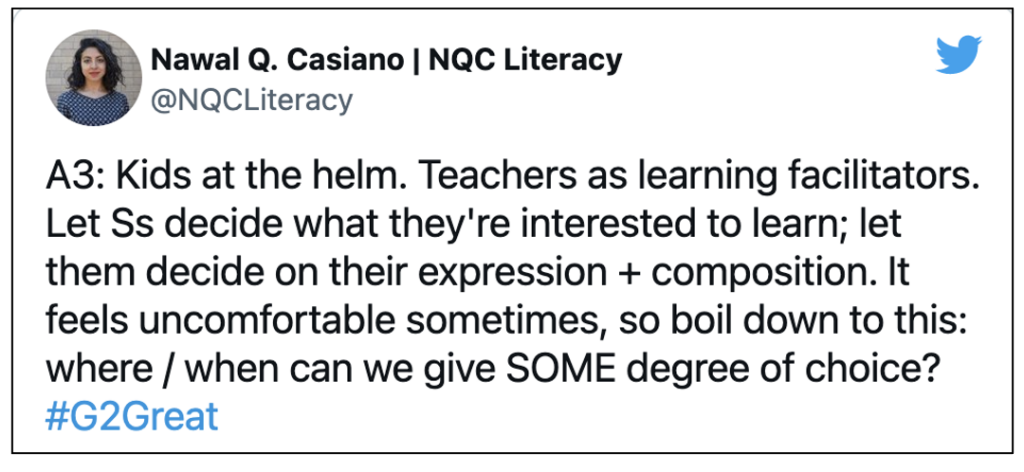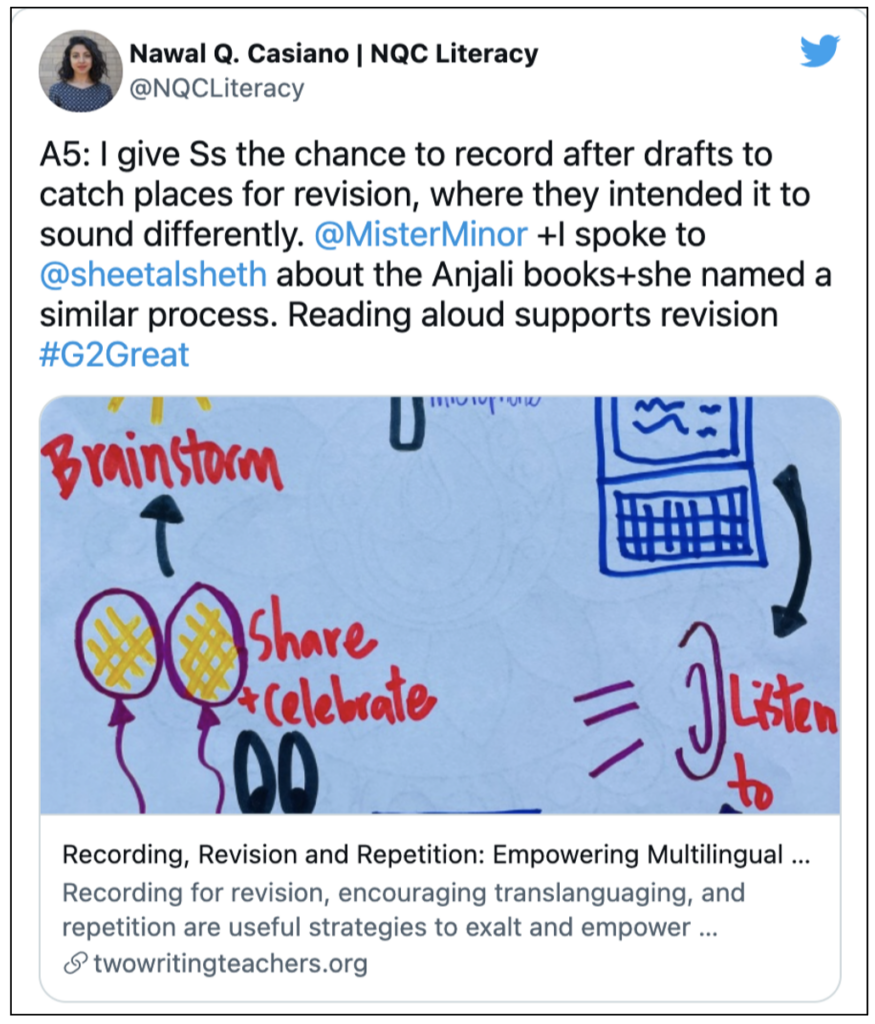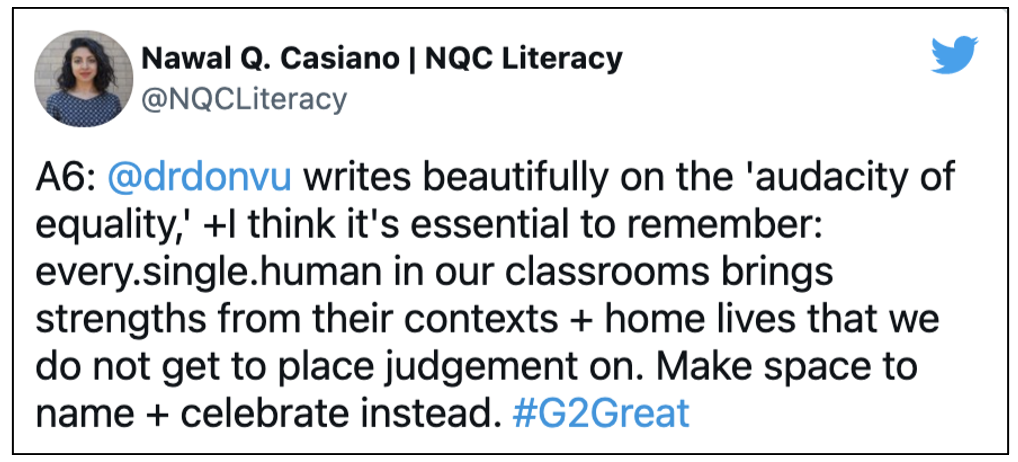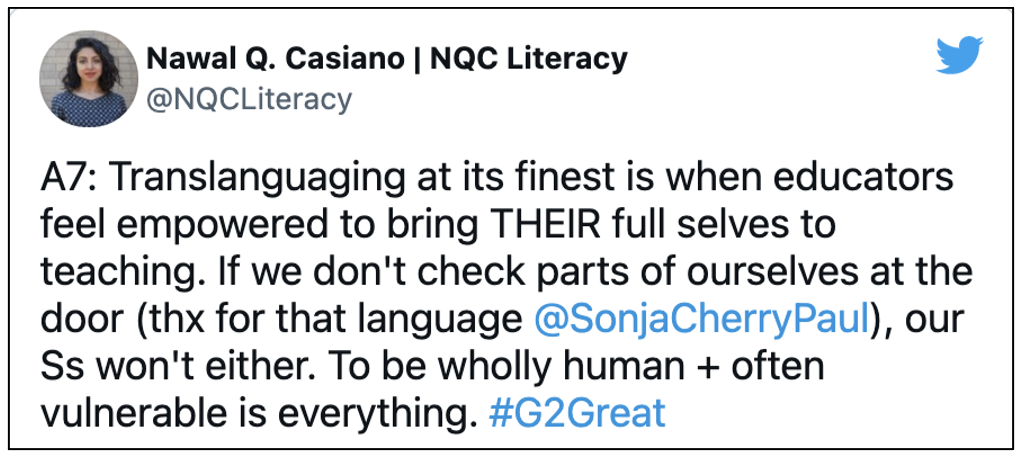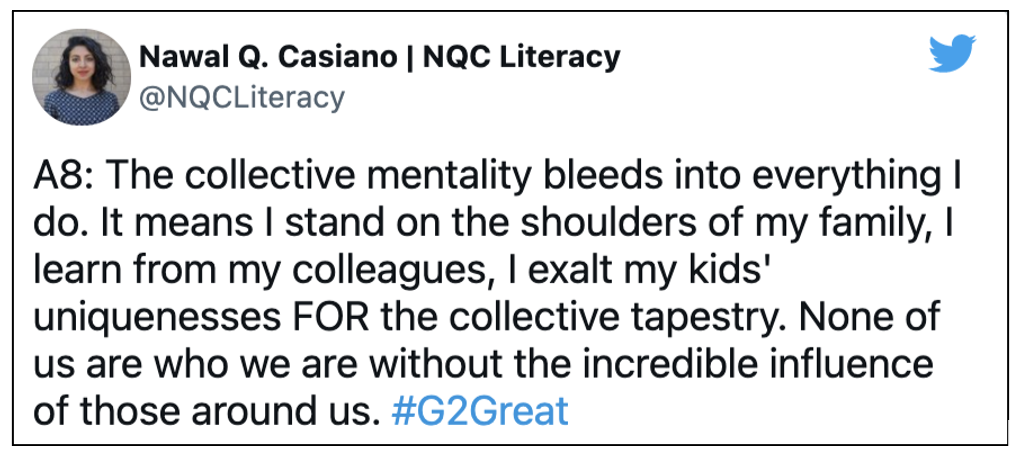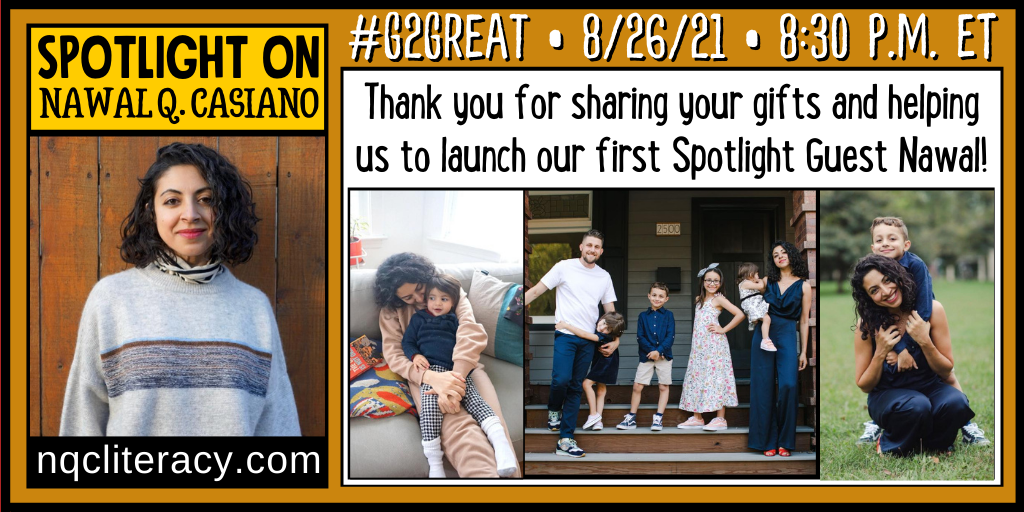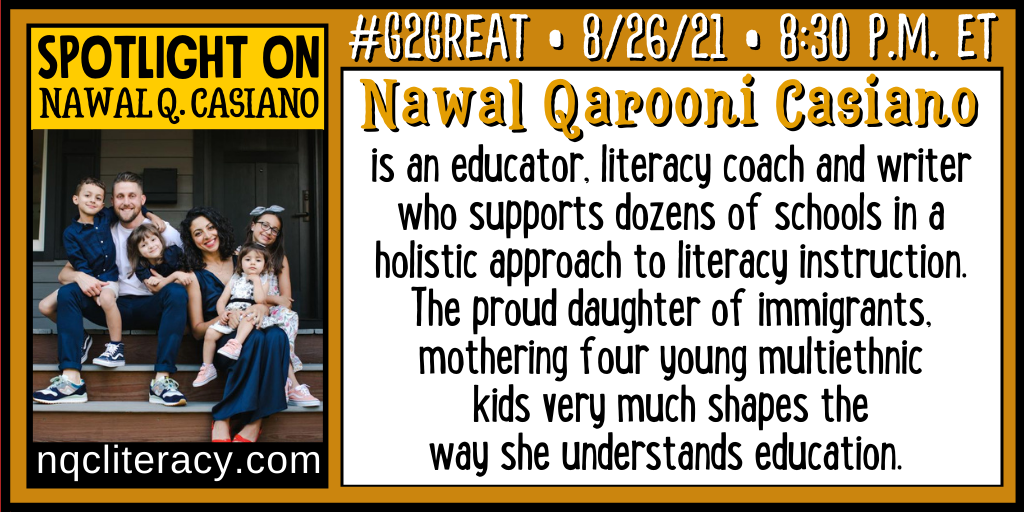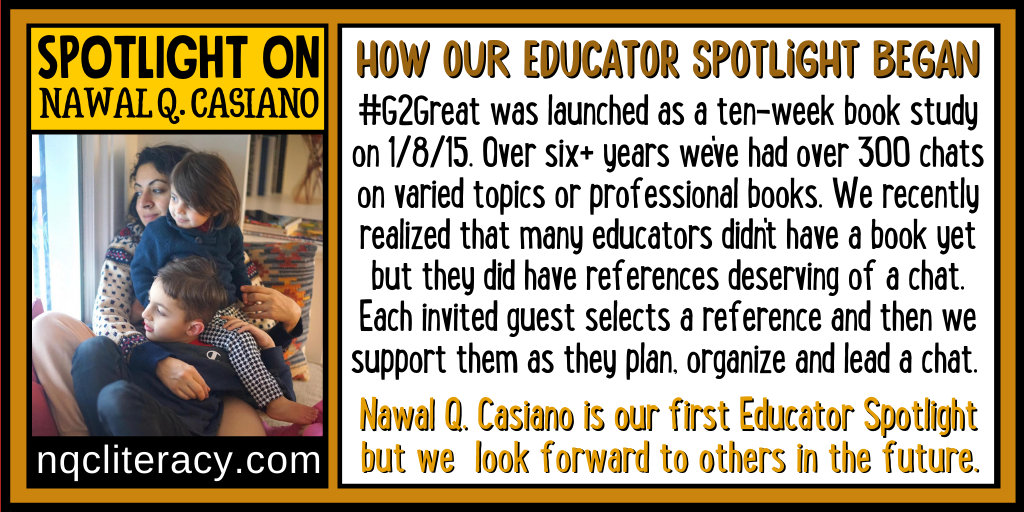 LINKS
Culturally Nourishing read aloud list – family stories about food (while learning about other cultures too)
Names resource list (community building)
Phenomenal Teaching PEBC podcast: Planning for Culturally Nourishing Learning
Jasmine Warga's The Shape of Thunder is About Difficult, Beautiful Things
Catch my piece in #31DaysIBPOC, a project Celebrating Educator Voices of Indigenous, Black, and People of Color
Recording, Revision, Repetition: Empowering Multilingual Writers
Reading Between the Brushstrokes: Cultivating Curious Thinkers Through Curious Conversations About Art, my piece in the Reading Recovery blog
(she | her | hers)
t: @NQCLiteracy
p: 347.225.5637