Thursday nights are just awesome. The #G2Great chats are inspiring, intellectually fulfilling and soul satisfying. Our chat with Pam Koutrakos on March 3rd hit some new personal highs for me. As the chat ended, I was collecting tweets for this blog post. I had 17 "must haves" and then after three hours of sleep, I was wide awake adding more tweets to my document with a completely redrafted focus. And then the third version settled me as I deleted, rearranged, and redrafted headers and content. What is the essence of this text, Mentor Texts That Multitask? Let's start with a definition.
What is a Mentor Text that Multitasks?
Here is Pam's definition.
How will we chose mentor texts?
Pam has laid the groundwork for three reflective inquiries that can guide text choices: identity, community and curriculum. Let's use a graphic from her text to delve a bit deeper.
So why this book? Why now?
Pam's answer to the following question is one of the reasons that I love this resource.
What is a message from the heart you would like for every teacher to keep in mind? ​​
Teaching is complex, challenging, and incredibly important. I appreciate teachers and celebrate all that is already being done in classrooms. In writing this book, I have not tried to create a new program or completely new approach to teaching ELA. Instead, I hope readers walk away with a reminder that hard work doesn't have to be draining or depleting. Teachers can find energy and joy in tweaking or reworking some of the "great stuff" already in place. This book represents a sustainable way of moving forward. It shares an adaptable framework teachers can customize time and time again. There is no "right" or "wrong" way to do this work and there is a lot of excitement found in tinkering with different ideas and seeing how students shift and shape what we initially imagined.
So without further "ado" let's dig into Identity, Community, and Curriculum for just a few insights from the chat (and some illustrations from the text). We will keep this question in mind as we read, reflect, and begin our own work: "How can we 'tweak or rework' the great mentor texts that we already have?"
Identity
Identity deals with the "WHO" in the classroom? Whose voices? Whose experiences? How will we know? Placing this as the "first filter' stresses the importance of "student-centered" classrooms. One very easy way to find out is included in this first tweet: an audit of the classroom library.
A second part of this identity work includes voices. At present that also means we need to consider translanguaging that moves beyond students "seeing" themselves in the books to students "hearing" themselves in the mentor texts. Maria Walther adds more information about translanguaging below.
The blog post from our chat for En Comunidad is here.
Community
Community and Identity have some overlapping areas. I think honoring and encouraging student talk is a key to increasing engagement. Students have to do the work of learning. This means teachers and school staff need to be fluent in the languages in daily use in their community. Pam shares additional ideas about linguistic repertoires in the tweets below.
Curriculum
As the final area to be considered, curricula includes whatever occurs during the school day.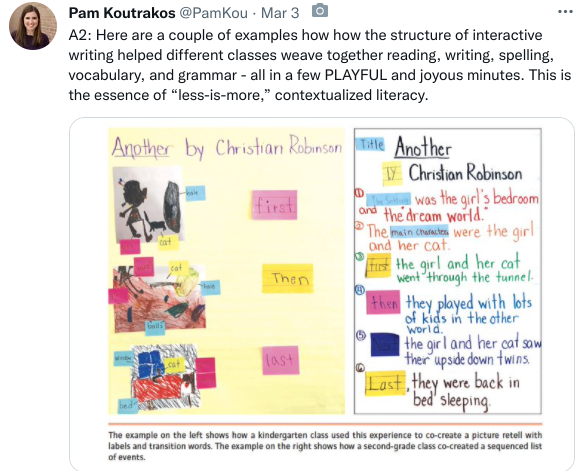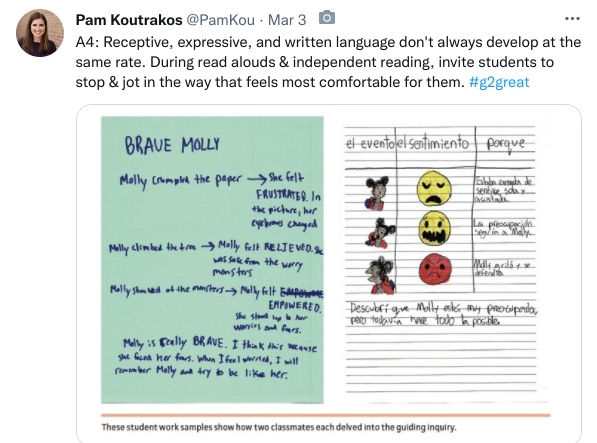 Additional Notes on Inquiry
Inquiry is critical in student-centered learning. It keeps the "curiosity" burning which is a key component of student-centered learning as Pam shares below in her definition, her list of misunderstandings, and her two examples.
Let's see what Pam has to say about her motivations for this book.
What motivated you to write this book? What impact did you hope that it would have in the professional world?
When I worked as a consultant, I was able to visit so many wonderfully unique school communities. However, I noticed that there were two challenges teachers across districts shared most often: insufficient time and lack of quality resources. The ever-evolving nature of education (and insufficient funding!) frequently requires teachers to do the unimaginable with whatever they have on hand. Teachers are knowledgeable, skilled, creative, and dedicated, but this work can sometimes feel incredibly frustrating and overwhelming.

On the flip side, I also considered the perspective of students. The fast pace set for learning often results in students feeling as if they are always being taught something brand new each time a bell rings. The concepts presented period to period and day to day often seem unrelated. Learning often feels compartmentalized and disconnected.

I also reflected on my own personal journey. I could personally relate to these teacher and student predicaments. As a young student, it never even occurred to me that I could use my experiences in one class to help me in another. And when I first started teaching over two decades ago, I was always searching for the "perfect" text to use with each lesson I taught – and the never-ending search for all those "perfect" mentor texts was not only time consuming, but also expensive – and often ineffective. When I look back, it hurts my heart because I now know I could have been using that time much more wisely (and efficiently).

This all came together when I visited a local district. I started the week working with an experienced group of upper-elementary and middle-school teachers. They were feeling a lot of this familiar pressure and stress – too much to do and not nearly enough time to get it all done. That day, we deviated from the intended plan and set the playful goal of facilitating all whole-class and small-group experiences and providing all 1:1 feedback with the same 2-page spread from the class' current mentor text. The next day, I returned to that district to partner with kindergarten teachers (who taught using a half-day model). Time was tight- so we decided to co-plan and co-teach using one text to support reading, writing, speaking, listening, and phonics skills. We created integrated, "highly literate" experiences that transcended any one facet of literacy. Throughout both of these sessions, I could almost feel the collective level of stress decrease and the capacity for joy increase. It was then I knew for sure that I wanted to write about how we can thoughtfully craft lesson sets using a "short stack" of high-quality, multitasking mentor texts. In doing so, teachers recover more time and energy to plan, students gain more time to practice, and perhaps most importantly, everyone gets more time to play!

When we re-allocate our time and reimagine current models of planning, we are freed up to focus on students and prepare joyful, asset-based, student-centered instruction.
And our final question with Pam's response.
What are your BIG takeaways from your book that you hope teachers will embrace in their teaching practices?
The day-to-day work we do as educators is complex and multifaceted. I hope teachers find a bit of "ahhhh" and a lot of joy in redefining the role of mentor texts. In the book, I share ways to maximize time. By curating just a few quality resources, we can enhance instruction. This "less is more" approach is not only appealing, but also effective! A lean selection of multitasking texts yields flexible, integrated, and multifaceted learning. By spotlighting these tools in inquiry experiences and more traditional modeled and guided lessons, teachers become prepared to not only weave together reading and writing, but also phonics, spelling, vocabulary, and grammar – and even content areas. Students create connections and begin to understand how to apply and transfer knowledge- across subjects and time.

We can enact our deep commitment toward asset-based instruction that is unwaveringly responsive to students. We can invite learners into the endless possibilities for learning that exist within the pages of books. And none of this needs to feel depleting. I sincerely hope that after reading this book and discussing it with colleagues, teachers are able to reduce decision fatigue and feel prepared (with plenty of practical ways) to integrate multitasking texts students LOVE all across the curriculum… while of course, continuing to center students and keep them at the heart of all we do in classrooms.
In Conclusion . . .
Mentor Texts that Multitask is not about finding perfect texts. It is also not about a brand new fancy idea that teachers need to learn. Instead it is about collaboratively working with peers to consider "How we can 'tweak or rework' the great mentor texts that we already have?" This will be an efficient and effective use of our time because we will be locating texts that can be used multiple times across the day and the year. And this final quote is why JOY will be able to return to teachers' work!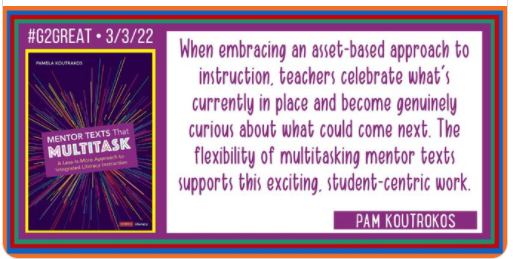 Additional Resources:
Lesson Set for The Proudest Blue: A Story of Hijab and Family by Ibtihaj Muhammad (2019), With S. K. Ali Link
Preview of the text: Mentor Texts That Multitask Link
Video: Shake Up Literacy Learning with Multitasking Mentor Texts Link