by Mary Howard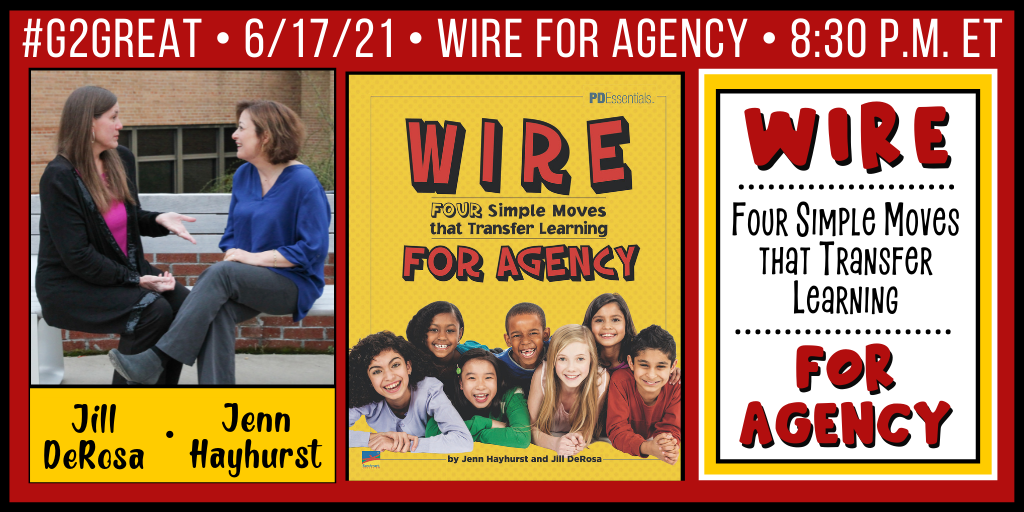 On 6/17/21, we welcomed first-time authors Jenn Hayhurst and Jill DeRosa to our #G2Great chat to discuss their new book; WIRE FOR AGENCY: Four Simple Moves that Transfer Learning (2021, Benchmark PD Essentials). This week was a unique chat experience since Jenn Hayhurst has an added connection as one of three co-creators who launched #G2Great on 1/8/15 as well as our team os dedicated co-moderators who show up every Thursday night at 8:30 p.m. ET to engage in twitter style dialogue. 
Given that Jenn and Jill write about agency in their book, they wisely begin chapter 1 by spotlighting agency. On page 7, they beautifully open their book by reflecting on the chapter title question: "What is Student Agency?" with these first words: 
"There is something wonderful going on in schools. When given the opportunity, students are taking greater ownership of their work. Students are talking, thinking, collaborating, and making change happen."
This thoughtful opening views agency from a lens of our professional responsibility that acknowledges the combined role of opportunity and ownership. The factors of agency that Jenn and Jill emphasize invite children to actively engage in the very things that real life readers and writers do when engrossed in talking, thinking and collaborating in purposeful and meaningful ways. They illustrate agency as a process that embraces learning experiences that are not narrowly defined in the context of instruction alone but within a spirit of internal and external engagement that moves children to action designed for making change happen beyond those experiences.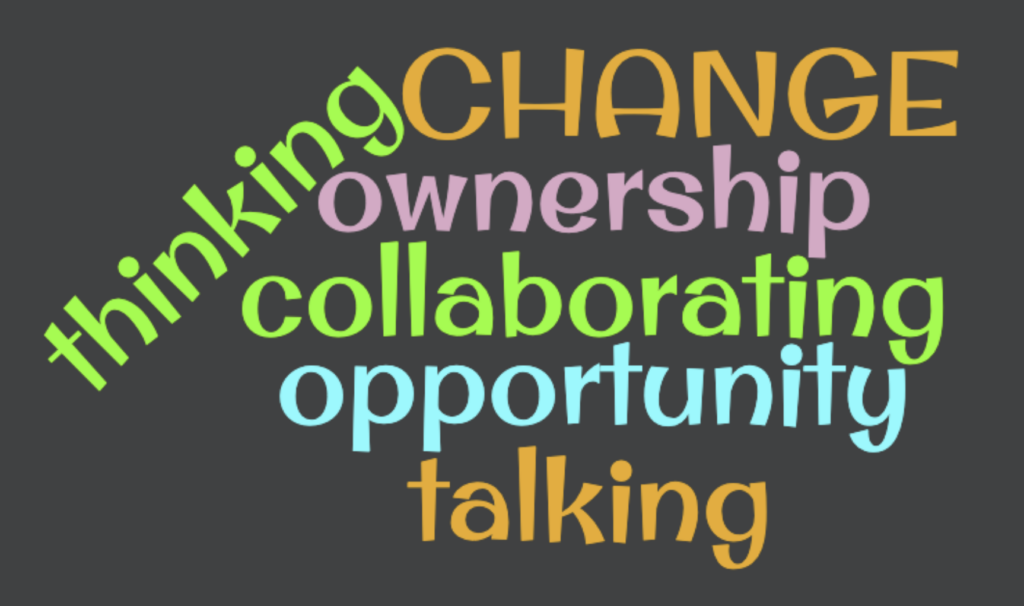 Using agency as a platform for action-driven change both for our learners and as professionals, Jenn and Jill offer us a front row seat to see "something wonderful" in action using images, quotes, descriptions, mini lessons, reflective questions and thoughtful advice for supporting and nurturing agency. They generously give us a peek into their learning spaces so that we may translate those experiences into our own. Through these things, we learn to question, inquire, invite, and advocate for children. We do this by giving them freedom and choice with time and space to follow their passions just as we do naturally without questioning our right to do so. In our opening chat quote, Jenn and Jill remind us why this commitment is imperative: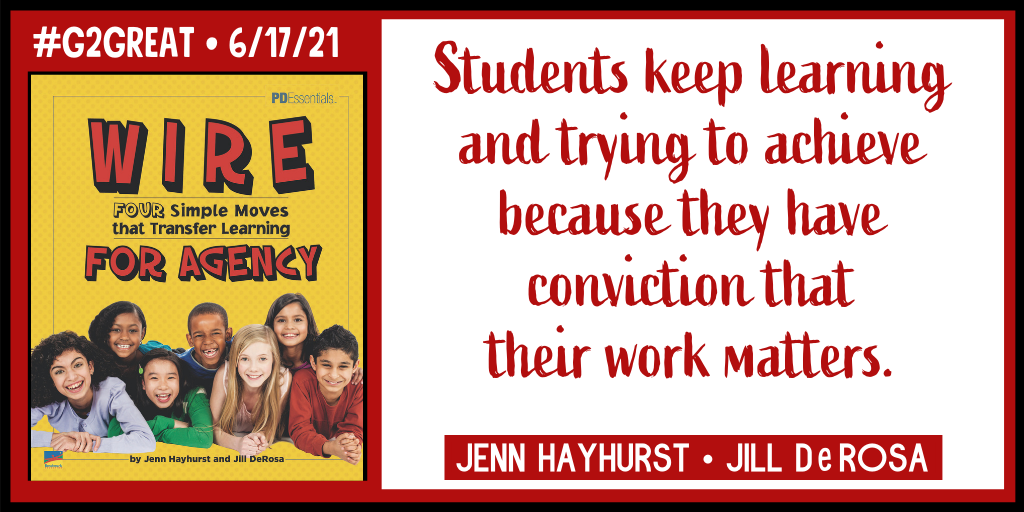 Of course, it's worth emphasizing that students' conviction that their work matters will not happen by chance. Rather it happens when we in turn possess the conviction that our work matters when our knowledge of literacy research and the children in front of us becomes our guide. This dual knowledge inspires and motivates us to make the best possible day-to-day decisions for children as we create a two-way bridge that will keep conviction alive from our side and from theirs.
We invite guest authors to respond to three reflective questions that offer insight into their book and the thinking that led to it. Jenn and Jill reflect on our first question:
What motivated you to write this book? What impact did you hope that it would have in the professional world?
Peter Johnston's book, Choice Words, was a seminal book for us. It named the practices we were using in the classroom that made teaching so much more powerful. We had rebelled against heavily scripted programs, giving kids busy work like worksheets, and one-size fits all teaching. We were not interested in compliant students, we wanted a more authentic approach for teaching and learning. A way of teaching that would bring a sense of agency into the classroom every day. We want to empower teachers and students so they can take ownership over their teaching and learning and feel a sense of agency and control over their own destiny. We want learning to be joyful and celebrated by all involved.
Since our first quote from Jenn and Jill compelled me to connect to key ideas in visual form, I was again drawn to ideas in their reflection and motivated to create a second visual representation of key words: Powerful. Authentic. Empower. Ownership. Joyful. Celebrated. When we keep these features in our sight, we are able to lean into the instructional choices that are most likely to promote agency on a daily basis.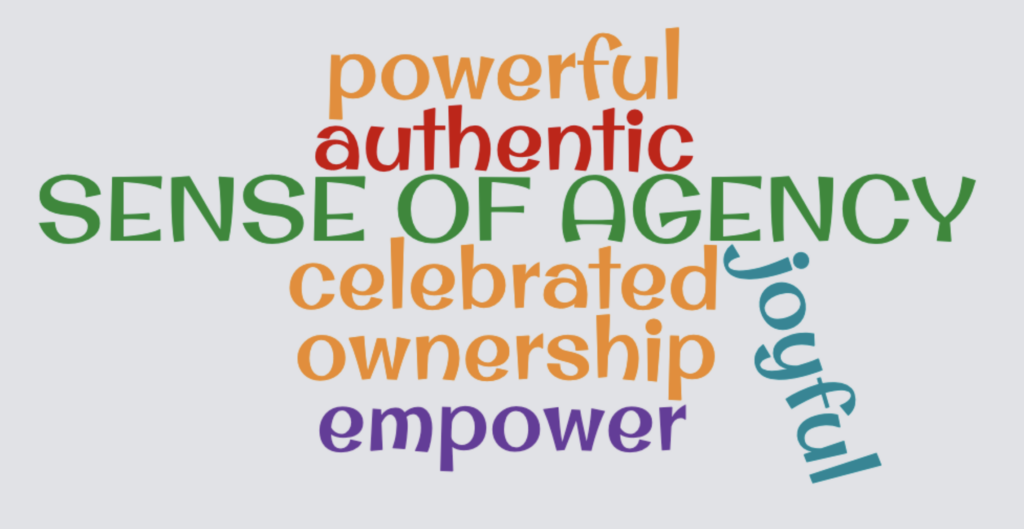 Across the pages of their book, Jenn and Jill use the acronym W. I. R. E. to reflect four components: Watch. Intend. Reflect. Engage. This supportive guidepost comes with their reminder that all children are wired for agency, but it is our beliefs that inspire us to make crucial day-to-day choices that lead to increasing agency. To encourage us to maintain a student-centered stance, they highlight access, language and choice while asking us to step outside of our comfort zones as we create a spirit of agency in the name of kids. Across their book, they show us what agency looks, sounds and feels both from our eyes as professionals and from the eyes of our learners so that we may build a foundation for learning that honors a 'wired for agency' perspective. 
With these ideas above in mind, I turned to our #G2Great chat to peruse additional agency insight from Jenn and Jill. Their collective Twitter words of wisdom from the chat speak volumes and helps us to contemplate how we can create our own learning spaces driven by a sense of agency: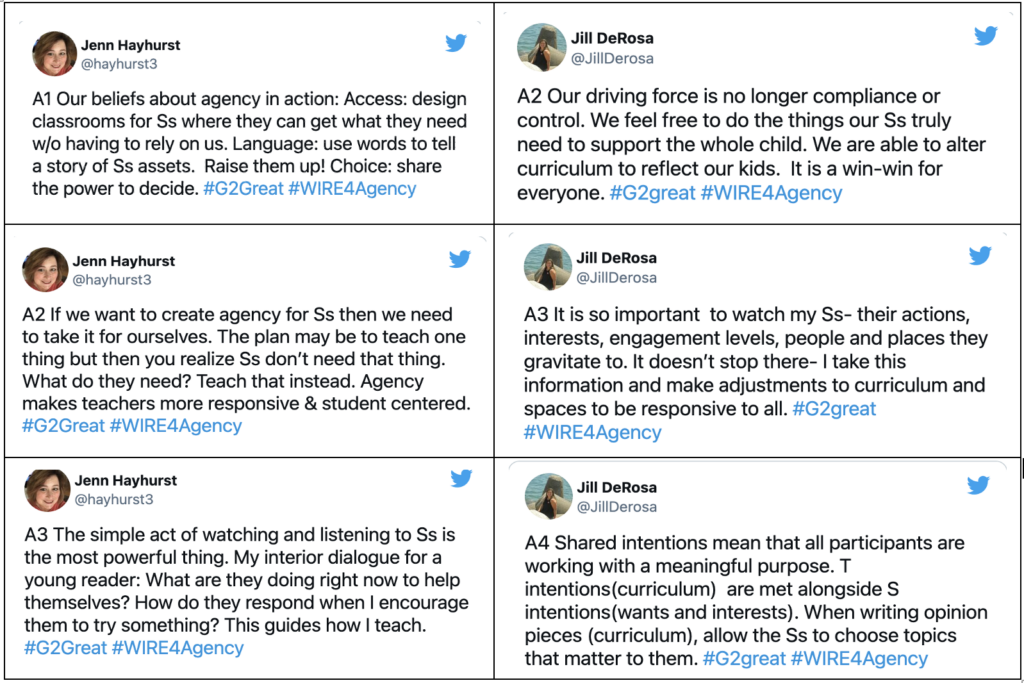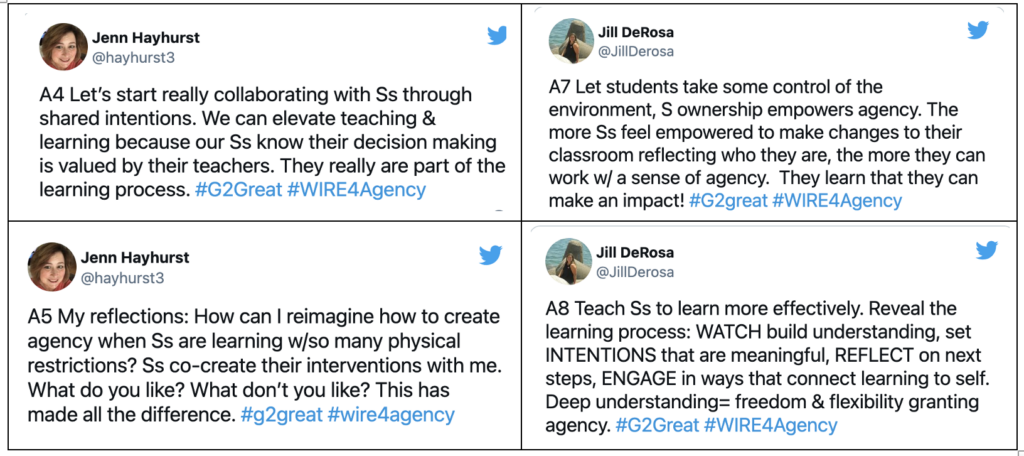 Before I share some final words, let's pause for a moment to see how Jenn and Jill responded to our second author reflection question:
What are your BIG takeaways from your book that you hope teachers will embrace in their teaching practices?
Naming the learning process (WATCH, INTEND, REFLECT, ENGAGE) so that students and their teachers could have a shared language about learning.
The importance of understanding yourself and your students as learners first and empowering students through the understanding of the WIRE framework.
Being responsive requires flexibility from both teachers and learners.
It is so important to advocate for a student centered approach that is open-minded and supportive of students' goals and interests first and not as an afterthought.
Looking at what students do well, and sharing that with them, changes everything. It lifts them up and raises their efforts to a new level. Agency stems from a positive belief system about what students can do.
MY CLOSING THOUGHTS
AS I come to the end of this chat post, I was drawn to another quote we shared during the chat. This quote further illustrates my earlier point that agency happens when we create a two-way bridge to ensure that conviction is alive and well from both the sides (ours and theirs). Jenn and Jill remind us that when our instruction is compelling, our children are able to see the fruits of their labor as we use this to inform our next steps.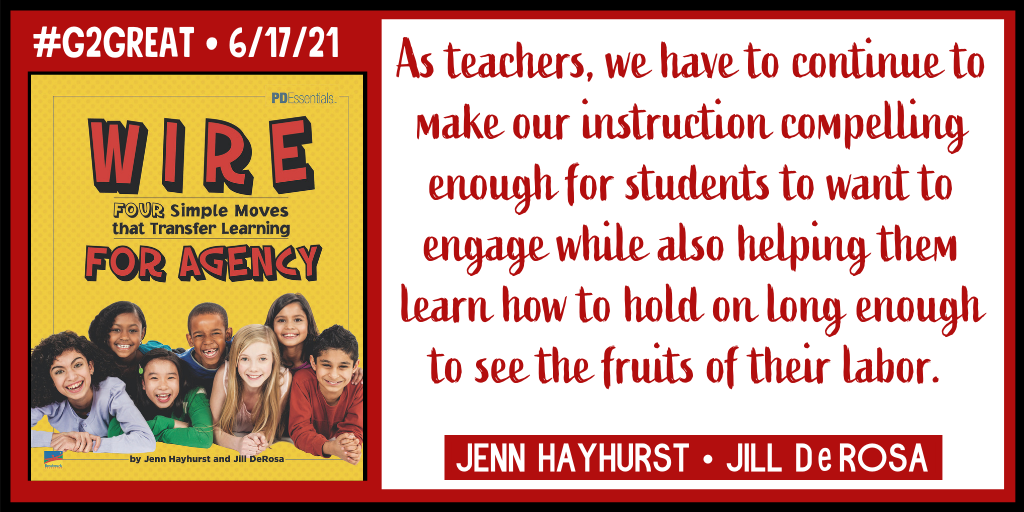 I began this post with the opening words of Jenn and Jill, so I'd like to add their closing words on page 155 that reflect their trust in teachers for the decisions they make and how strong currents of trust, thinking and content impact students:
"This is the pulse students carry with them to live a life of purpose, action, and joy. An agentic life."
It seems fitting to end with final insight from Jenn and Jill in our third question:
What is a message from the heart you would like for every teacher to keep in mind?
You have everything you need to make schooling a powerful and positive experience for your kids. An agentic learning experience begins with the word, "Yes." Yes, you can follow your interests, yes you can have this book, yes you can write that story. When students understand that their teachers believe in them, and when teachers believe in themselves agency is within reach.  We believe in the talents and perseverance of teachers and students. We hope you will take the time to watch, intend, reflect and engage fully so agency can flourish.
Thank you Jenn Hayhurst and Jill DeRosa for showing us how to make that a reality!