by Mary Howard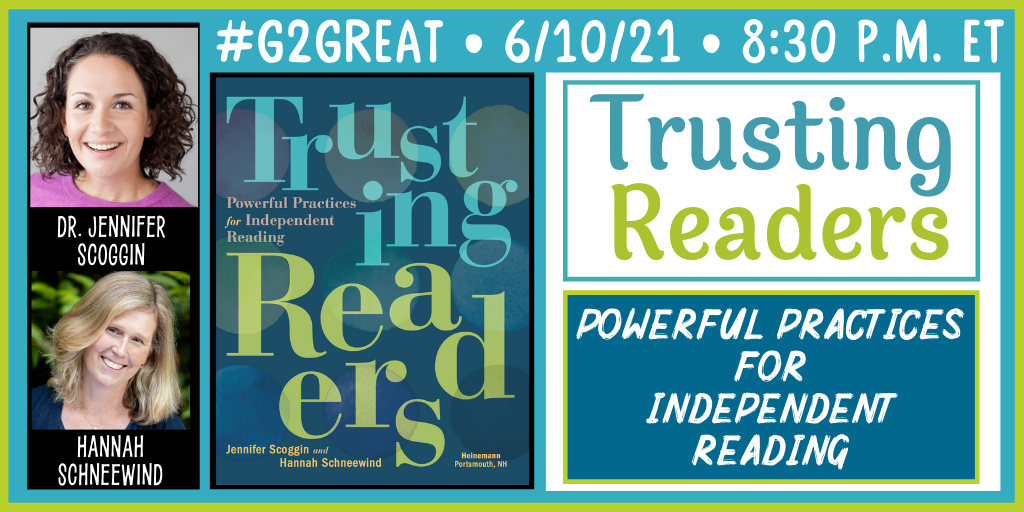 On 6/10/21, we welcomed first-time #G2Great guests Dr. Jennifer Scoggin and Hannah Schneewind to engage in twitter-style dialogue around their book, Trusting Readers: Powerful Practices for Independent Reading (2021 Heinemann). Their shared belief in 'trusting readers' is not simply two colorful words on the cover and lovingly described in chapter after chapter. Trusting Readers and how we might bring those words to life is the very heart and soul of an amazing trust-filled collaboration.
Jen and Hannah emphasize this central trust theme in a quote we shared in our chat: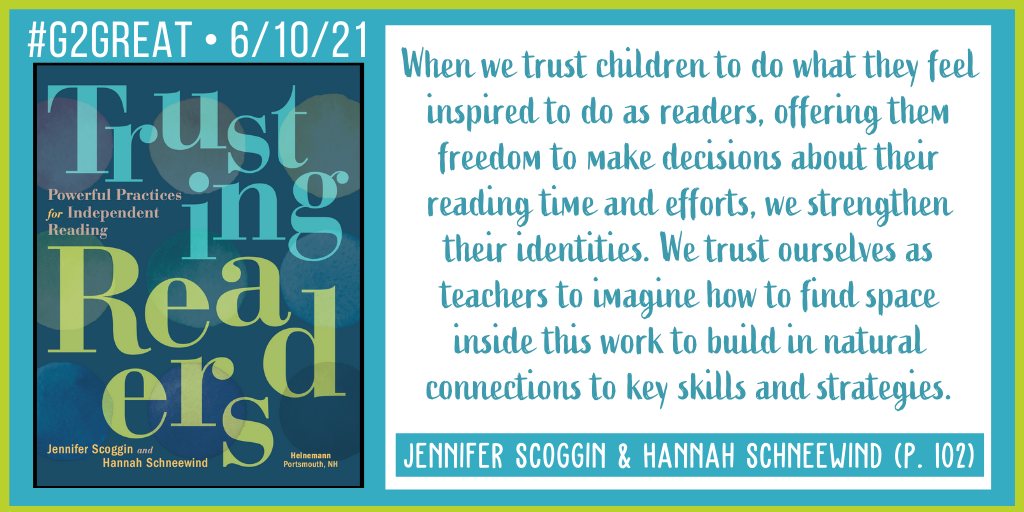 As I began to reflect on this post and the book that inspired it, I found myself pausing to ponder their heart and soul using the word "TRUST". As I often do, I turned to the dictionary where I found two meanings that worked beautifully in concert along with several descriptors.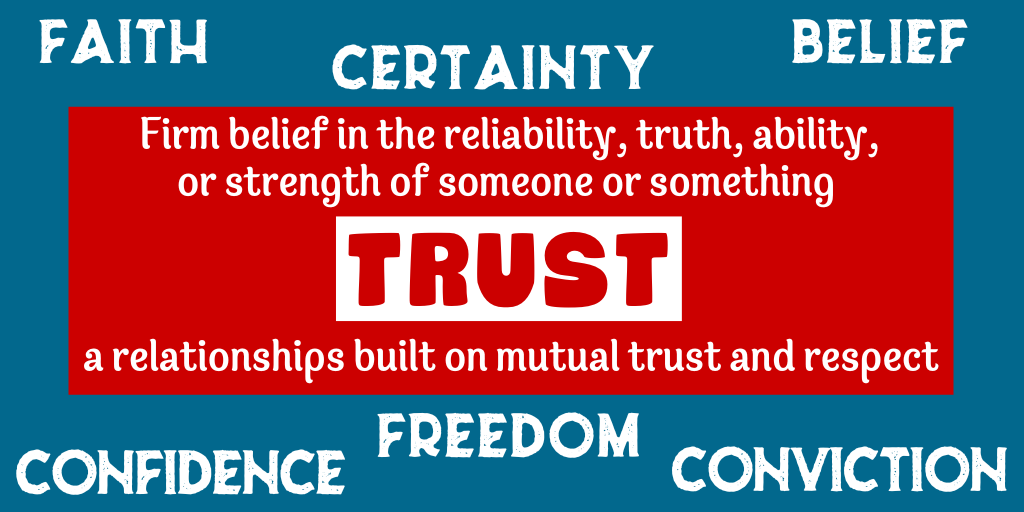 These 'trust' references made perfect sense in the context of Trusting Readers. After all, we can't claim that we truly trust readers unless we can demonstrate unwavering belief that children deserve and need our trust and the freedom to put that trust into action as we create a relationship of mutual 'trust and respect'. We willingly embrace our responsibility to demonstrate trust for our children by offering opportunities that matter where it matters most – in the company of the very readers we claim to trust.
Although these dictionary references seemed fitting, the heart and soul I felt as I read Trusting Readers from cover to cover was missing. I quickly turned back to Jen and Hannah for that missing connection. It didn't take long to find the heart and soul that the dictionary didn't quite do justice. In their introduction on page xv, Jen and Hannah write an opening invitation to teachers: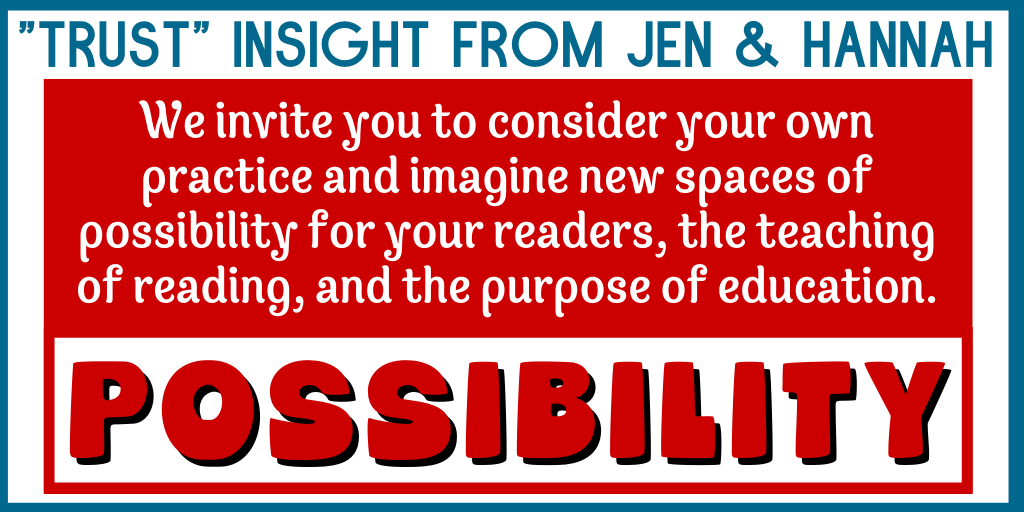 Notice that Jen and Hannah are speaking directly to educators here. While every word is essential, the word POSSIBILITY looms large. They ask us to see the POSSIBILITY that surrounds us when we trust our readers as we also trust ourselves to make trust-worthy day-to-day decisions in the name of kids. The word POSSIBILITY appeared in varied forms across the book, lifting its impact even higher. Their gentle words of flexible advice with powerful practices for independent reading oozed POSSIBILITY for trusting readers and ourselves as we seek to design learning experiences that will celebrate us both.
Already knowing the deep trust Jen and Hannah demonstrate for us across their book, the tweet below caught my attention two weeks before our chat. After Fran McVeigh complimented their Classroom Indicators for Engagement they describe "as clearly visible and observable" on pages 54-55 of Trusting Readers, they wrote: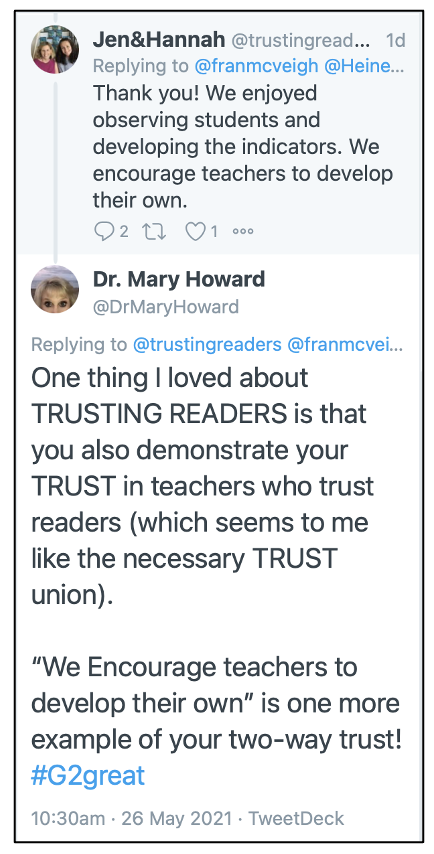 We always ask our #G2Great authors to reflect on three questions to gain insight into their thinking. Their reflections on our first question offered a wonderful peek into their shifting purpose during writing informed by student stories:
What motivated you to write this book? What impact did you hope that it would have in the professional world?
Our original intention in writing this book was to make conferring with readers easier. During our time in schools, we noticed that conferring is often a missing piece of classroom practice. Our goal was to come up with a framework that would simplify it while also making it impactful. After delving deeply into the research and studying our own conferring, we realized the truth: Conferring is hard, especially when as a teacher you are trying to do and say everything "right."
Instead of making it "easier," we let go of preconceived notions of what conferring should be and opened ourselves up to listen closely to students tell the stories of themselves as readers. Instead of having conferring be about waiting for the student to make a mistake so we can teach them a strategy to correct it, we emphasize the power of starting with strengths, honoring student identity and constructing relevant instructional pathways alongside students. We hope teachers implement the Cycle of Conferring and see conferring with fresh eyes.
Jen and Hannah open Trusting Readers by reflecting on their shared experiences in "supportive, trusting environments" where they were afforded the freedom to make instructional decisions that would enrich the lives of learners. As I read this, I thought about my own experiences in schools where I was a trusted professional and in those where I was seen as a compliant disseminator. My memories were a reminder that this trust is sorely missing in too many schools. While most teachers model trust for their children in spite of this sad reality, we add a level of challenge for designing a learning environment where children are seen as trusted co-creators if the level of professional trust that we know is critical is in short supply. This can become a breeding ground for mistrust and make it harder to draw from the instincts that impact trust in action.
Whenever I sit down to write a blog post based on the books of our guest authors, I seek to merge both the book and chat experience into my reflections. Having read the book before the chat, I keep it close as I revisit the chat wakelet to pull in new wisdom shared during the chat (albeit at a slower pace thanks to our ability to capture their wisdom in a chat artifact). I carefully mine the chat for author tweets that reinforce and extend their book wisdom. And I always manage to find it.
Let's set the tweet stage first by celebrating the foundation of trust with examples: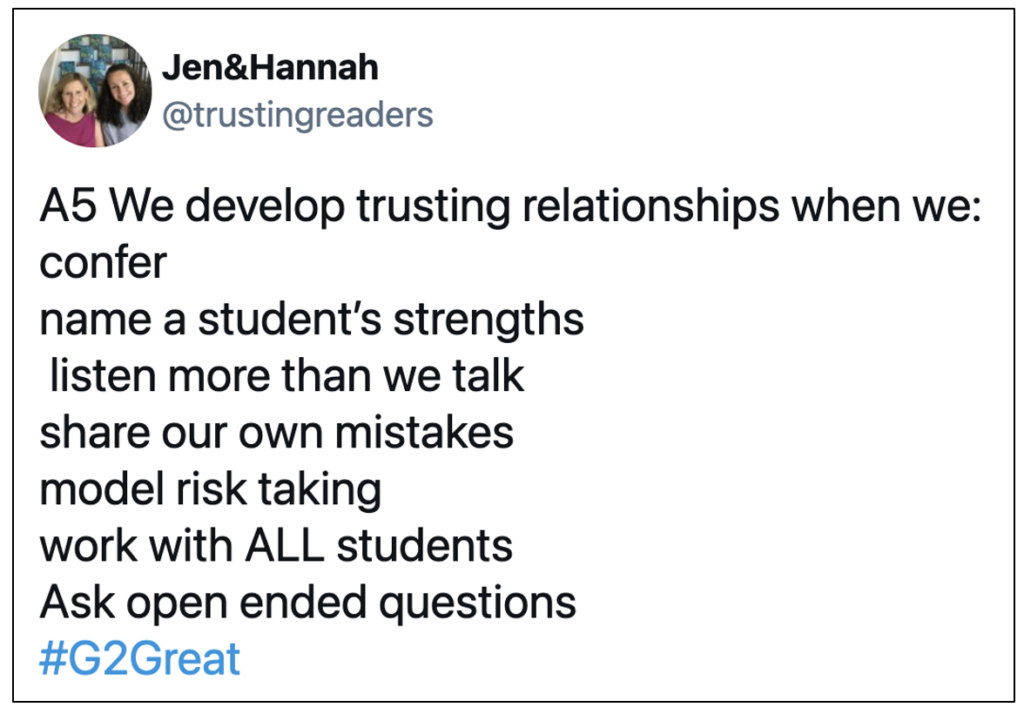 As I gathered their tweets, I saw many connections between the book and chat with the sense of POSSIBILITY I felt in Trusting Readers. In honor of these findings, I'd like to share eight POINTS OF POSSIBILITY that were inspired by a combination of our chat and book wisdom with a collection of additional tweets added the end of this post. It is my hope that these twitter references from Jen and Hannah offer a starting point for making trust for our readers and those who teach them a shared reality:
POINT OF POSSIBILITY #1: Hold Tight to Your Beliefs

POINT OF POSSIBILITY #2: Keep Students at the Center

POINT OF POSSIBILITY #3: Value Meaningful Intent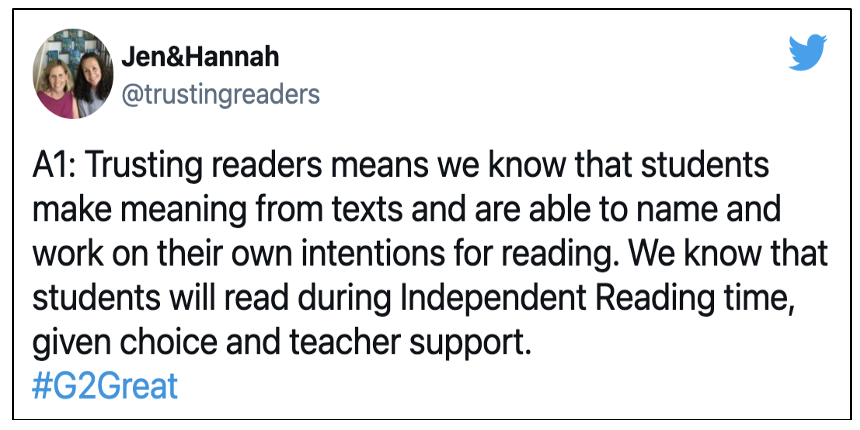 POINT OF POSSIBILITY #4: Celebrate Unwavering Love

POINT OF POSSIBILITY #5: Learn to Listen to Kids

POINT OF POSSIBILITY #6: Highlight Strength-Based Data

POINT OF POSSIBILITY #7: Refute the Myth of Perfection

POINT OF POSSIBILITY #8: Embrace the Journey

With these POINTS OF POSSIBILITY in mind, let's turn back to Jen and Hannah as they reflect on our second question:
What are your BIG takeaways from your book that you hope teachers will embrace in their teaching practices?
We hope that teachers will embrace the invitation to reinvent Independent Reading. Try having your students set up the classroom library. Start the year with a whole class inquiry into reading engagement or identity instead of focusing on routines. (We love good routines– but do we have to start with them?) If you are new to conferring, jump in and do Discovery Conferences. Try the Cycle of Conferring with a handful of students before doing it with the entire class. As Debbie Miller says: What is the best that can happen?
We also hope that teachers will embrace the challenge to stop using labels and deficit language. We have to retrain our brains to only ever speak about students in terms of strengths and next steps. This is harder than it seems, as it is easy to fall back on the shorthand of "struggler" and "low". We have to actively resist the norm of labeling. All students deserve to be seen. When we see them, their strengths, their interests and all the possibilities in front of them, teaching (and learning) is joyful.
MY CLOSING THOUGHTS
As I come to the close of this post, I am drawn back to the gift of Trusting Readers. Jen and Hannah don't just tell us how to trust our readers and ourselves. Rather, they show us in page after glorious page by sharing examples, charts, conversations, and a generous array of research-based advice that invites teachers to trust their readers by trusting themselves in a spirit of two-sided trust that is empowering!
Trusting Readers offers teachers a haven for POSSIBILITY in safe spaces where trust abounds. Grounded in numerous examples that illuminate POSSIBILITY, Jen and Hannah ask us to celebrate all that our children bring to the literacy table and to trust the ever-changing knowledge and understandings that we bring to that table as we ensure that children are at the center of our every effort. This combined sense of trust amplifies POSSIBILITY as trust is viewed as a two-way proposition.
Since I opened this post by borrowing the POSSIBILITY that Jen and Hannah elevate for us all, I want to return full circle to the first quote from their introduction on page xv with the addition of three essential questions worthy of exploration: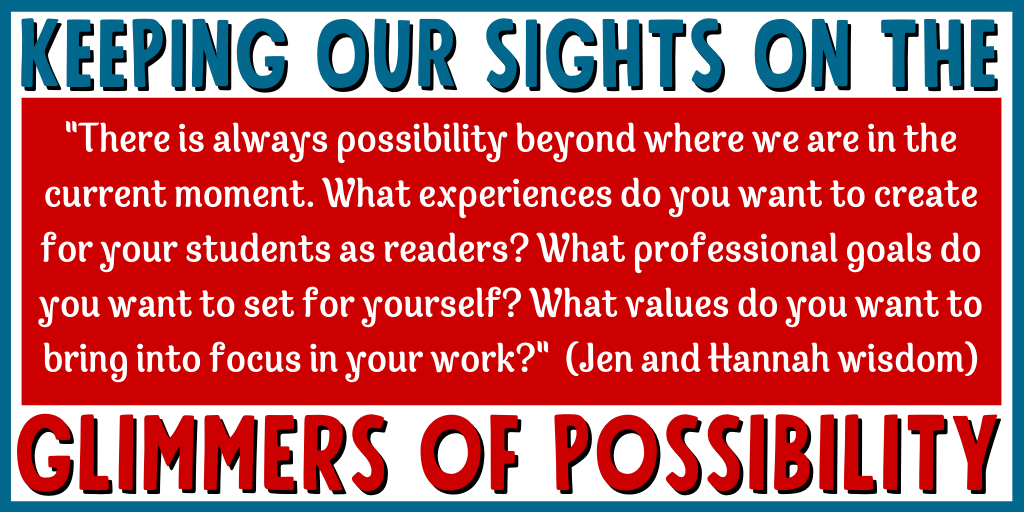 And THAT my friends, is where POSSIBILITY resides. If we are wise, we will take the time to sit very still so that we may notice those glimmers that are sure to beckon us on a moment-to-moment and day-to-day basis. It is within these GLIMMERS OF POSSIBILITY that trusting readers and ourselves can converge into brilliant living color view!
Jen and Hannah highlight this mutual trust in their response to our final question:
What is a message from the heart you would like for every teacher to keep in mind?
Trust yourself and your students. It may require some bravery to disrupt the "but this is how we have always done" thinking in your school. Hold onto your belief system and be ready to cite research that supports your decisions. Make all parts of your literacy instruction relevant and joyful, and find like-minded colleagues with whom to collaborate.
Thank you, Jen and Hannah. We are so grateful to you for generously sharing your wisdom in your beautiful book and on our #G2Great chat. We are richer for both and we promise to keep our sights on Trust from our side and theirs in the coming year.
Tweet collection from Jen and Hannah that reinforce our Points of Possibility