By Fran McVeigh
The #G2Great chat on Thursday, April 4, 2019 welcomed writing workshop aficionados near and far as a powerful duo, Stacey Shubitz and Lynne Dorfman, joined us to chat about Welcome to Writing Workshop: Engaging Today's Students with a Model That Works. It was an hour of celebration as well as an hour of learning and affirmation of basic principles of writing workshop practices.
Welcome to Writing Workshop was lovingly written by expert writers, expert writing teachers, and expert writing coaches. As you enter the book, whether you are a novice to writing workshop or an experienced teacher, you will find that Stacey and Lynne's words linger in your brain and you will return to pictures, pages, and charts to consider your own alignment with the expectations outlined. Kelsey Corter said it well on TWT:
"Welcome to Writing Workshop is not the kind of book to read and shelve. It needs an accessible home, perhaps at a favorite writing spot, or perhaps in the classroom, alongside a conferring toolkit. Keeping Welcome to Writing Workshop nearby means never being in it alone. Stacey and Lynne are there, every step of the way." TWT Blog
In this blog post, you are first going to see Stacey and Lynne's responses to three questions about their goals and messages for Welcome to Writing Workshop. And then you will view some curated tweets that are representative of just a small portion of the  tweets generated during the #G2Great chat, followed by some additional resources available to support your learning.


Stacey: Write alongside your students no matter how uncomfortable it feels at first. Keep doing it. Day after day, it will become easier. If you're writing, then you're part of the classroom community of writers and that is the secret to being a great teacher of writing.
Lynne: Make time for writing every day. Writing is the most valuable tool we have for thinking aloud on paper. Writing instruction and time to write daily is absolutely essential. When our thinking is there, we can organize it, layer it, and revise it. We can let other people's thinking in because we are not worried about forgetting what we wanted to say. After we listen to others, we can revise our thinking. Expressing our opinions, sharing information, and telling our stories. Human beings are storytellers. Every day is a new page to write on. The stories of our lives are important!

Stacey: We hope teachers will listen to children's ideas when they confer and help them create pieces of writing — across the genres — that hold meaning and value to them. Most of all, it's my hope that teachers will treat kids like real writers. Kate and Maggie said it well in the foreword, "The promise of writing workshop is that if we help every child become a writer, they will write and think well. This book shows us ways we can thread that needle—how we can reach for high standards yet not at the expense of the heart and soul of our classrooms."
Lynne: Of course, that a teacher of writers has to be a teacher who writes. Writing is not a spectator sport – you have to jump in and play the game! Modeling with your own writing and thinking aloud so you can make your process visible to your students. So, an understanding of the importance of writing process. Also, we talk about the importance of the physical and the socio-emotional environment. Our workshop should look like, sound like, and feel like it is student-centered where our young writers have a voice and lots of choice. Another big takeaway is daily time for writing which involves good planning so we can move through a literature hook, modeling, active engagement, and on to writing. Closing with reflection is also essential.

Stacey: There were two motivations for writing this book. First, we were both adjuncting and noticed there hadn't been a new, stand-alone book on the fundamentals of writing workshop in quite some time. I was teaching online and had grad students in my classes from across the USA and around the world (e.g., India, Peru). Many times my international students were unable to get print copies of books and wished there was an ebook they could purchase on writing workshop. Therefore, we thought it would help if there were a new book, that would also be an ebook, about writing workshop. Second, through the consulting work we do, we noticed that many teachers are given a curriculum to teach writing, but they are unfamiliar with the guiding principles that make writing workshop work. Therefore, we wanted to write a book for people who were new to teaching writing workshop so that they would have a solid foundation on which to implement the curriculum they were given.
Lynne: I have wanted to write this book for years and years!  My interest in writing began in elementary school. I was inspired by my sixth grade teacher, Mrs. Steinberg and even tried to write songs. I loved playing folk guitar. Later, I became an NWP fellow through the PA Writing & Literature Project. As I began teaching graduate courses on writing and presented at conferences, I realized how many teachers were uncomfortable with their own writing and with teaching writing. When Stacey and I got together to talk about the possibility of writing a book about writing workshop, we realized that the last book that discussed workshop essentials was a book by Ralph Fletcher – Writing Workshop: The Essential Guide. Ralph's book was not available as on online publication. It was a 2001 copyright, so we thought there was room for our book. Our goal was to provide video clips as well so teachers could have a glimpse into writing workshop classrooms.
Curated Tweets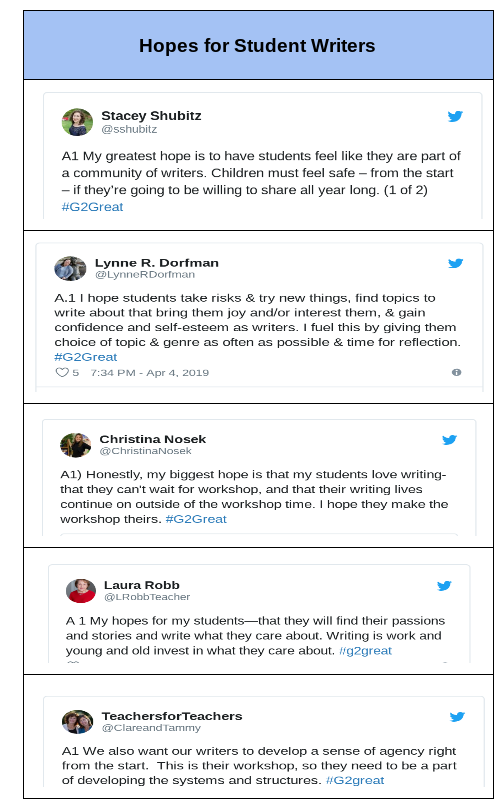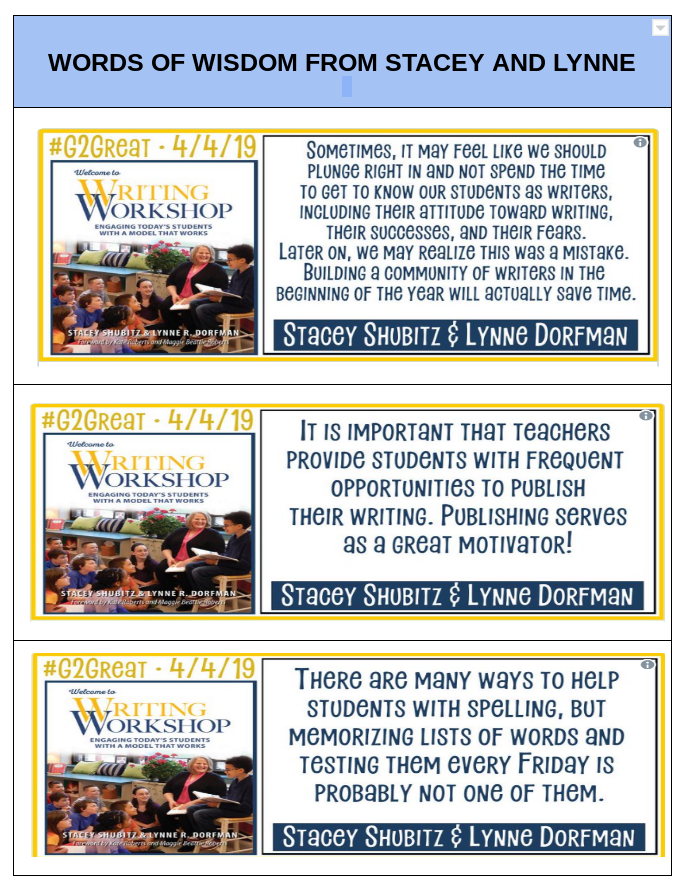 In Welcome to Writing Workshop, teachers will find tips to enhance their writing instruction including how to manage time, choice, environments and the socio-emotional supports to engage ALL learners. A teacher who is interested in "re-invigorating" or making their workshop more joyful will find the essential information in this text and supporting materials and videos. The pause at the end of each chapter in the "When You're Ready" section provides the time and space for the reader to reflect and consider how to best use their new learning. Check it out! You won't be disappointed!
ADDITIONAL RESOURCES:
#G2Great Wakelet Link
Stenhouse Book preview Link
Kelsey Corter's Review on Two Writing Teachers Link