by, Jenn Hayhurst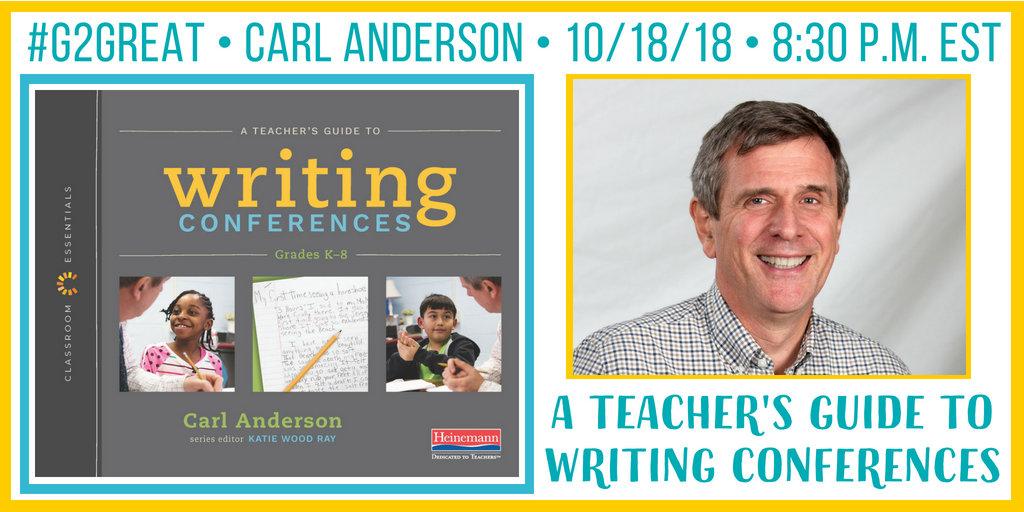 Carl Anderson, joined #G2Great this week and true to form the conversation was positively brilliant! From the first time I started to make the pilgrimage to Teacher's College, Carl Anderson, was always one of my "have to see" presenters. He has this amazing way of speaking that makes me want to lean in and listen closely with both ears. He blends his extensive knowledge for conferring, personal reflection, and story until his words come out like honey. Golden and sweet and it just makes my teacher soul feel… at home. As I listen to Carl, because in my mind we are good friends, I know that my work with students, the work that matters the most, stems from is just knowing how to listen and to be responsive.
To me, a writing conference suggests all that is good in school. Here we are, two writers, having a really good conversation. A writing conference is our way to help each other learn and experience all that writing brings with it. The thrill and power of a well-chosen word, the ability to capture a moment in time, or the opportunity to share and understand something new. Our one goal is to grow. Together, teacher and student sitting side-by-side the child is speaking and I am listening. So, when I think of conferring, the word that comes to mind is essential.
Listening is undervalued in a world that celebrates the extrovert and speedy responses. Whoever is the loudest and whoever gets there first is the one to be heard. That's a huge problem when it comes to being a learner. The more I learn to honor what students share with me the more I realize there is not a "right" or "wrong" way to write. There is just the writing process and my students' approximation of that process. Carl suggests that our work with students is shared but it begins with an open invitation…
I think it's natural to feel the pressure of filling time and space with words when things get quiet during a conference. I am learning that wait time is a powerful way to leverage engagement. My students are learning how to process their thinking knowing that I am fully invested in them, one child at a time. Time is a precious commodity and who better to spend it on than my students.? How do I know if I am being responsive? I can make the brave choice to video tape my own teaching and watch myself. I can learn alongside an expert and push my professional learning to new levels by watching Carl. These are the practices that #G2Great are founded on…
Young writers approximate their learning. Every time we invite them to expand upon their thinking they begin to refine their process. Talk is the way to cut a path to really knowing the writing process. Writing gives a platform for genuine self-expression. to think deeply, and build up meaningful experiences with spoken and written language.
Conferring can be daunting!  After I've given wait time, and explored students' thinking within the writing process – I have to know what to do next. Knowing how to be responsive means understanding typical patterns, then knowing how to decide on what to do next. A good way to show children what to do is to rely on the experts. There are all kinds of mentors that help students (and teachers) grow…
A conference asks us to lift our presuppositions. A conference is a formative assessment. A conference is an opportunity to teach with gusto, and most of all with heart. It may not always be perfect but it will always be an attempt at grace.  A conference is a live property, it is something unique every time because it is an extension of each student. It is in the moment teaching that tells students that they are trusted  because they are actively informing its process.  They inform the process with their words, their writing, and their values.
Learning with Carl, and all the educators who came out to be part of this chat has filled me up with this great sense of wellbeing.  His words of wisdom to this new  teacher is good advice for us all…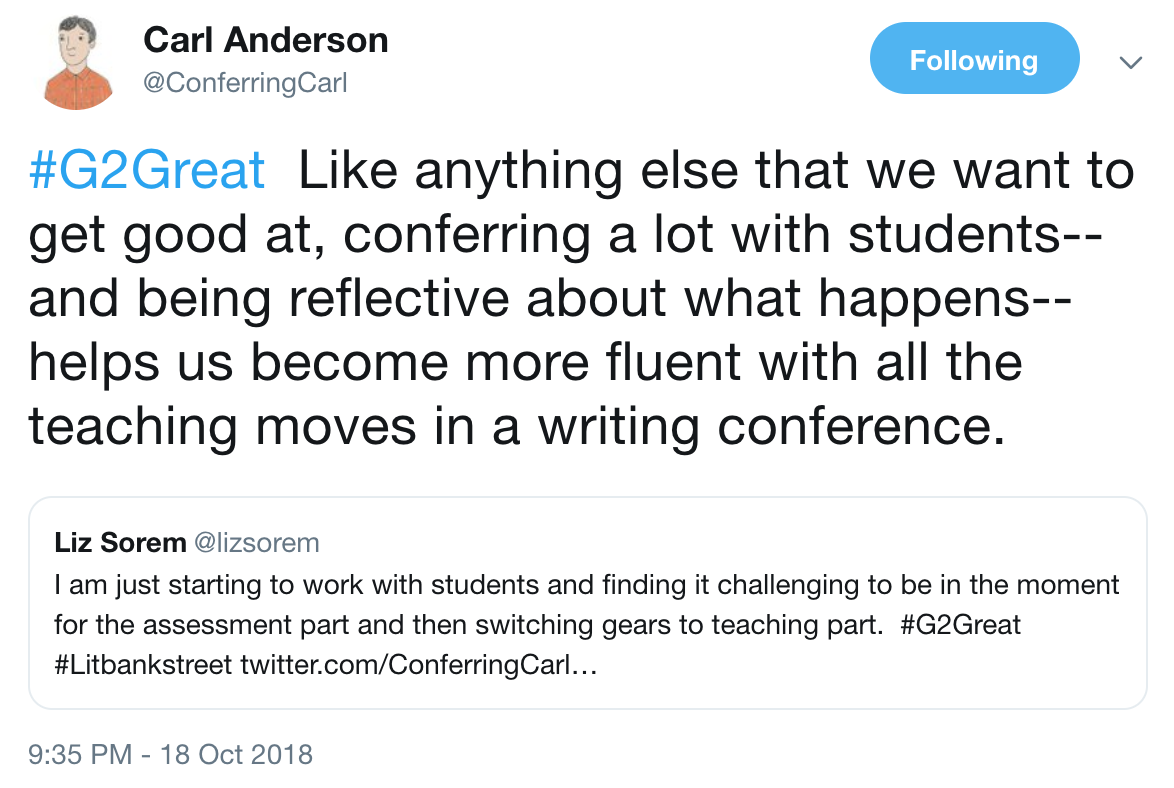 Yes, conferring is the work of a professional lifetime. I know I will be striving to continue to grow as a teacher who can listen with with an open mind for the rest of my career. One who seeks to understand my students, and the writing process better one conference, one conversation, at a time.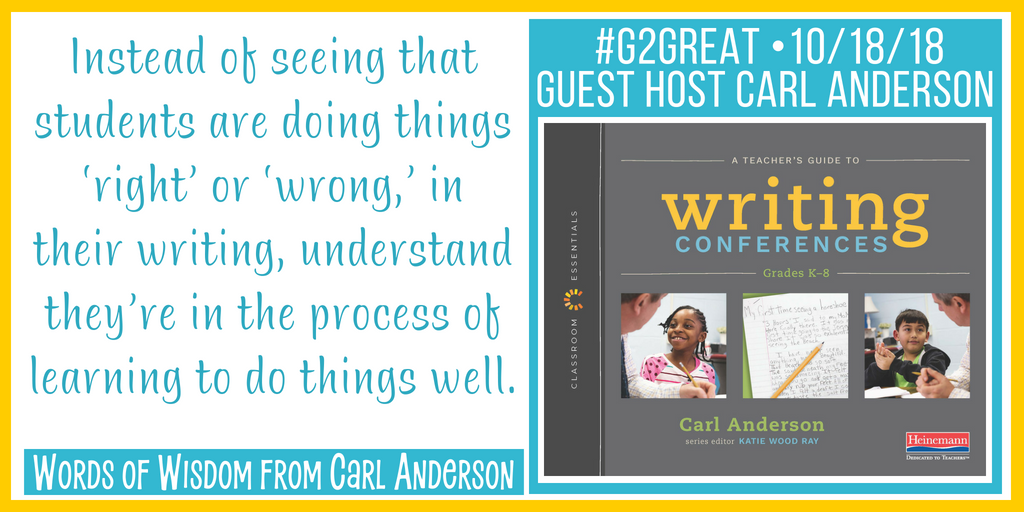 Links to Learn More With Carl Anderson –