by Mary Howard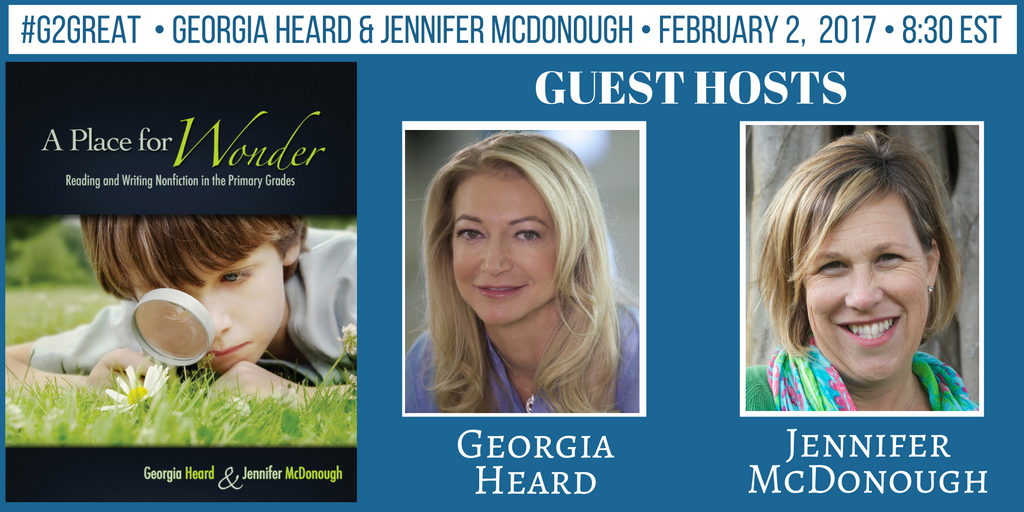 On February 2, 2017, #G2Great welcomed old friends back to our Twitter home. Yet again, we were inspired by guest hosts Georgia Heard and Jen McDonough as we celebrated their remarkable collaboration, A Place for Wonder: Reading and Writing Nonfiction the Primary Grades (revisit our #G2Great guest host chat storify with Georgia and Jen)
From the moment the chat began, our #G2great family came alive as their own sense of wonder virtually spread across the Twitter screen. While their personal wonder was certainly in no short supply, each tweet made it quickly apparent that our #G2Great educators were motivated more by a deep desire to light that flame of wonder in their own students within a place where it could shine ever brighter with each new day.
What is this place for wonder we all crave? Well, I don't think anyone could answer this question more eloquently than Georgia and Jen: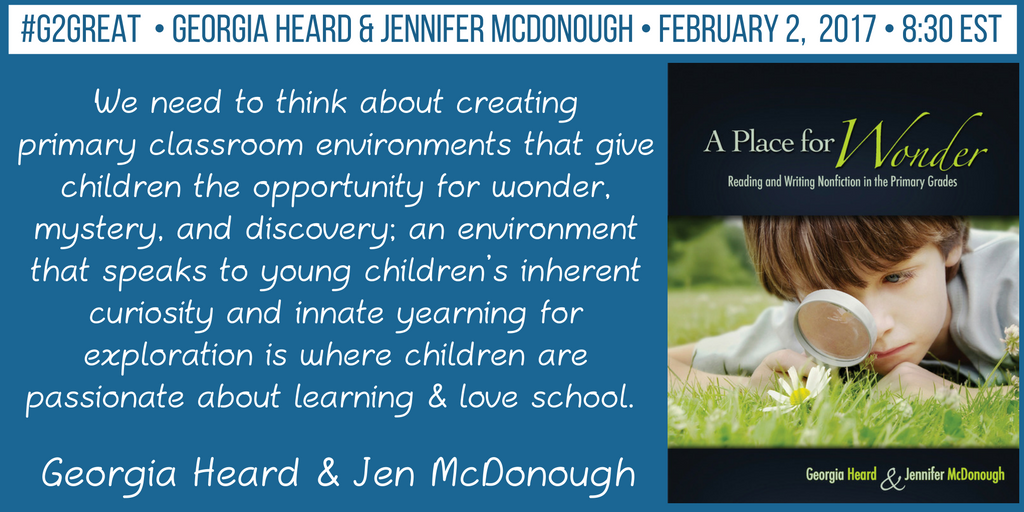 The enthusiasm of our #G2Great educators made it evident that they embody the spirit of these words. So how can we intentionally create classrooms that inspire the wonder Georgia and Jen describe? As I looked back on their words during the chat, I began to envision a lovely roadmap that would help us make our way to the wonder, mystery, and discovery found in a place where children and teachers alike are passionate about learning and love school.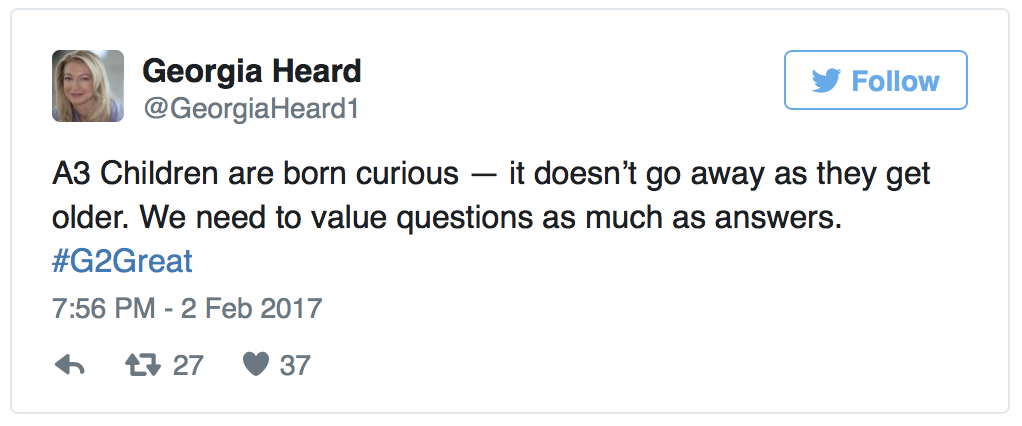 Wonder is contagious when we look through the eyes of a child
In order to nurture the wonder that naturally resides in the heart of children, we must re-awaken the wonder that we too had as children and bring it back to life. Wonder begins with teachers dedicated to creating an environment designed to inspire a culture of wonder that fans a flame spreading across a room like a wildfire. We keep our wonder perpetually alive when we look through the eyes of our students, joyfully learning side-by-side in a place of wonder.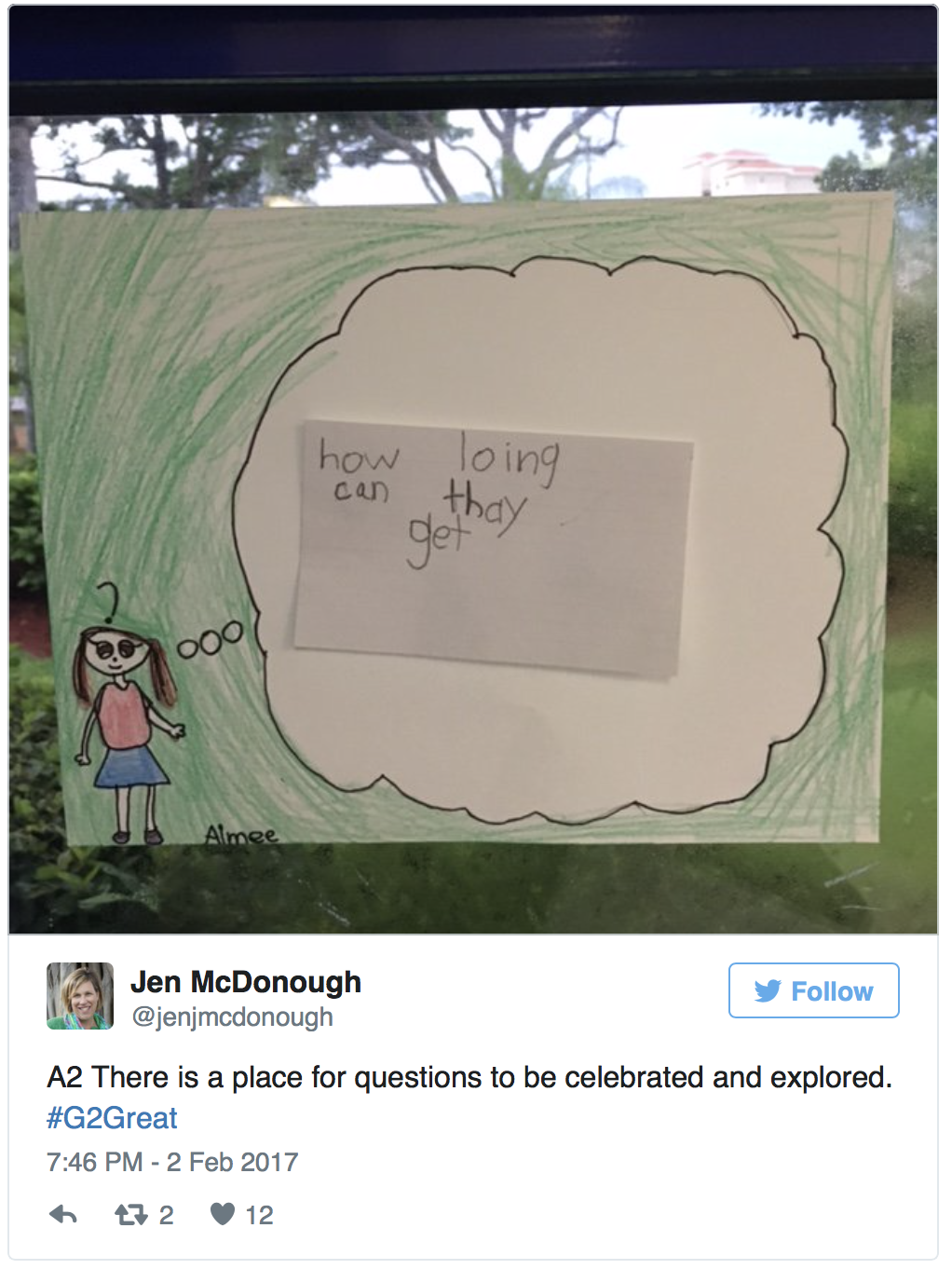 Wonder can be captured and shared with children
We create a culture of wonder by placing our own wonders in writing alongside the wonders of our children. Recognizing our powerful role as wonder models, we show students how we make our wonders visible on paper so that we can relive the experience that inspired that wonder again and again. We invite them to do the same as we leave paper trails of shared wonder to celebrate together. These references are a constant reminder of the things that captivate us as wonder permeates the very air we breathe.


Wonder is about the journey, not the destination
Wonder rises from the uncertainty that is inherent in the questions that inspire us to wonder – not THE answers that thwart our path to discovery. As we travel along the unknown, each question comes face to face with new questions in a never-ending process of meandering. If we truly listen to remarkable ideas children share without tethering them to expected answers, we are inspired to continue our journey to uncertainty. This journey is what forever keeps the wonder flame aglow.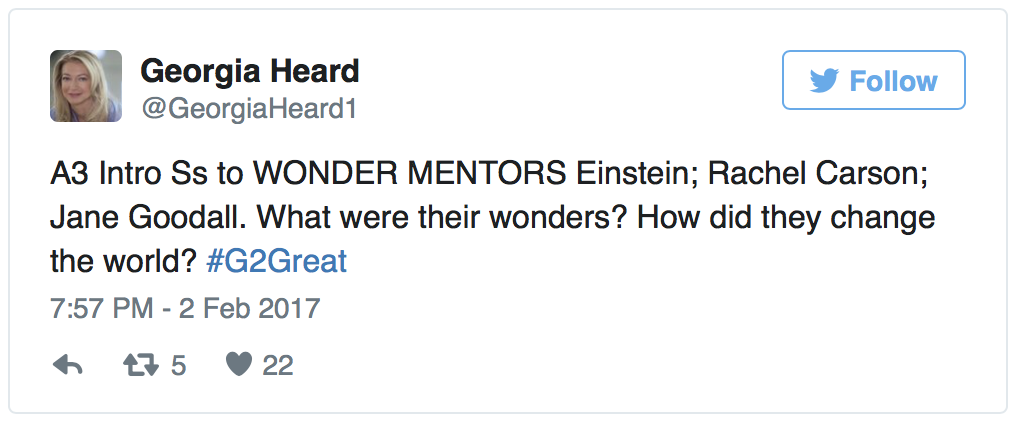 Wonder grows when we invite wonder mentors to join us
Once we create a place of wonder, we want to invite others to join us. Our invitations are extended to those we know will keep our wonder growing through their words, pictures, ideas, and life experiences. Wonder is inspired with each new story we read about people and topics that send us off into a frenzy of reading and writing wonder leading to new stories shared in a constant stream of wonder joy. Our wonder mentors leave us with a lovely gift that keeps giving within a bottomless wonderfest of exploration.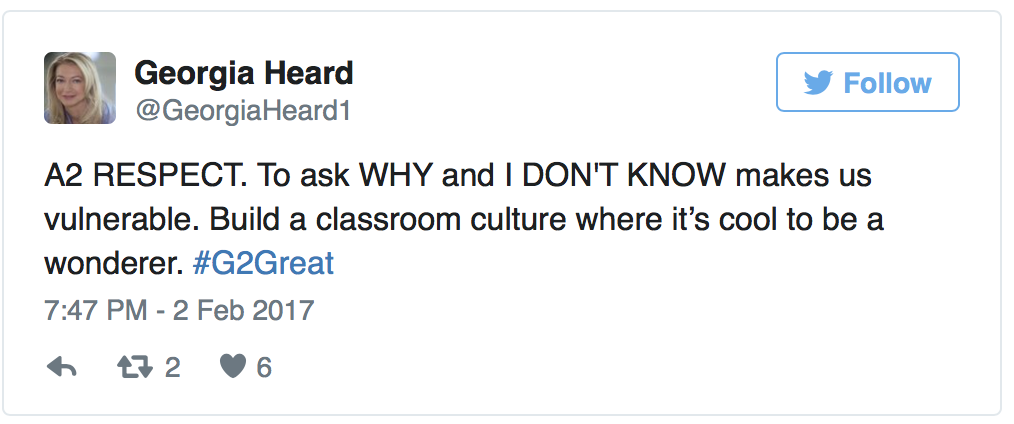 Wonder begins with WHY, WHAT and "I don't know."
We plant new seeds of wonder when we are so inspired by our wonders that we simply must share them willingly and with great enthusiasm. We gratefully let go of the flawed idea that as teachers we must know the answers to every query. Rather we celebrate the not-knowing because we desire the 'cool wonderer' we happily set loose into the instructional universe, knowing that we will in turn inspire our smallest cool wonderers to join us. Before we know it, we find ourselves honorary members of the cool wonderer club that only fellow wonderers can join.
As I close this post, I feel a deep sense of gratitude to Georgia and Jen for helping us bring a place of wonder into view. That vision came into even sharper focus when Georgia shared words that have stayed with me since the chat. In fact, I was so inspired by those words that I was moved to look up the full quote from a lecture given by Nobel Prize Winner, Wislawa Szymborska. These words beautifully sum up the inspiration each of us will take from Georgia and Jen:
"This is why I value that little phrase "I don't know" so highly. It's small, but it flies on mighty wings. It expands our lives to include the spaces within us as well as those outer expanses in which our tiny Earth hangs suspended. If Isaac Newton had never said to himself "I don't know," the apples in his little orchard might have dropped to the ground like hailstones and at best he would have stooped to pick them up and gobble them with gusto."
Thank you for valuing that little phrase Georgia and Jen. Because of your inspiration, we will forever embrace "I don't know" in a place where wonder can fly "on mighty wings."
LINKS for Jen and Georgia:
A Place for Wonder (Stenhouse)
https://www.stenhouse.com/content/place-wonder
Georgia Heard
Heart Maps: Helping Students Create and Craft Authentic Writing
http://www.heinemann.com/products/E07449.aspx
Jennifer McDonough and Kristin Ackerman
Conferring with Young Writers: What To Do When You Don't Know What to Do
https://www.stenhouse.com/content/conferring-young-writers
Jennifer McDonough and Kristin Ackerman Website
http://literacychats.wordpress.com
Georgia Heard website