By Amy Brennan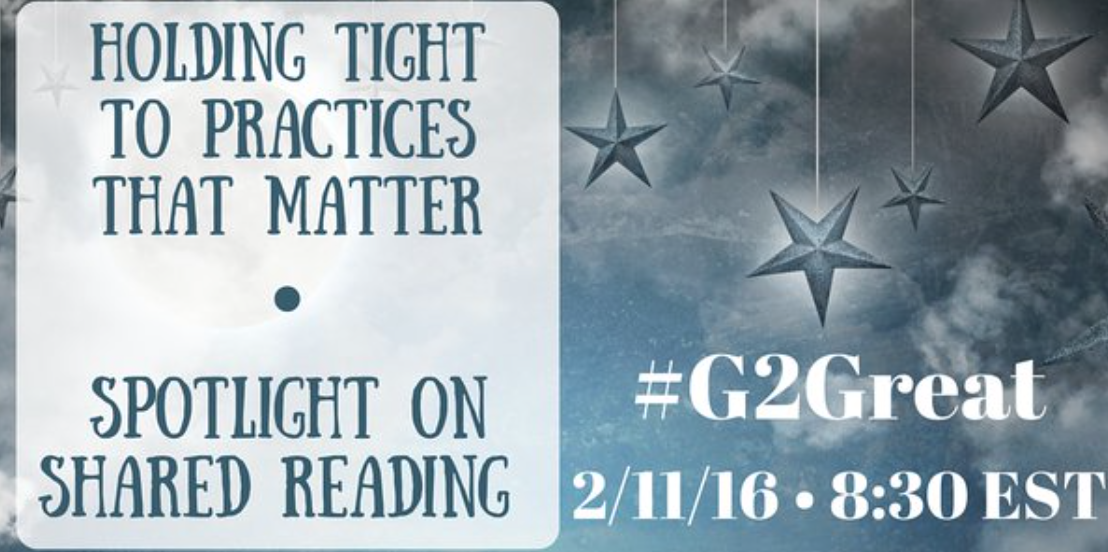 Our long term goal as educators is to teach thinking and independence.  When I think about independence the words of Peter Johnston echo in my mind, "Teach them to be independent, you are not going to college with them!"  That day as I listened to Peter Johnston talk about the urgency in teaching independence, I knew that the gradual release model of instruction led students to independence. On February 11, 2016 #G2Great Chat series, "Holding Tight to Practices That Matter" put a spotlight on shared reading.  As I reflect on our chat, I still hold that idea very tight. Shared reading in itself is about a teacher and students reading a text together.  It is inherently a shared experience, certainly not independent.  The independence comes later and as a result of all this great work that happens in a shared reading experience.
During the chat, Joanne Duncan (@joanneduncanjo) tweeted "Collectively our voices grow stronger."  That is where the magic happens.  We give our students opportunities to grow stronger through shared experiences and once they have grown strong enough they are independent. That is the goal.
Don Holdaway, the founder of shared reading showed us the Natural Learning Model. In this a learner observes a demonstration, then participates in guided practice, later moving to unsupervised role playing and practice, and ultimately performance sharing and celebration of accomplishments.  All of these aspects are built into a shared reading experience where collectively our students are given the opportunity to grow stronger together.
I am reminded then that just as our students become stronger due to the collaborative nature of shared learning, as educators we too become stronger when we engage in shared or collaborative experiences.  This is the beauty of a shared learning experience, whether we are referring to adult learners or our youngest early readers.  Making time for these experiences should be a priority in our schools for all learners. This week as we gathered our minds around shared reading we created a list of books that you can access here. If you are looking for a great shared experience join in on the #G2Great chat, you can see how the shared experience enhances our learning as adults.