by Jenn Hayhurst
On Thursday, April 6, 2017 #G2Great began a conversation with Patty McGee about her new book Feedback That Moves Writers Forward from Corwin Press. Teachers enthusiastically delved into the topic and the conversation sparkled with brilliance and optimism. I think @TeachWriteEDU  captured the #G2Great experience beautifully with her tweet:

I am filled with complete gratitude because as @TeachWriteEDU put it, "there is so much goodness here…" this chat spurred me to think about some  questions we all can ask ourselves.
How does feedback influence our writing identities?
Formative feedback and identity are essential to growing as a writer. Feedback is like a continuous story that we tell our students to extend meaning making. Feedback maximizes a learning stance from a position of strength. Feedback is an invitation for students to know that we hear them, we see them, and that together we are authoring their unique writing identities. This is big work. This may be how students decide what writing will mean to them. How will it will fit into their lives? Through feedback we strive and to help each student to find an original voice and influence: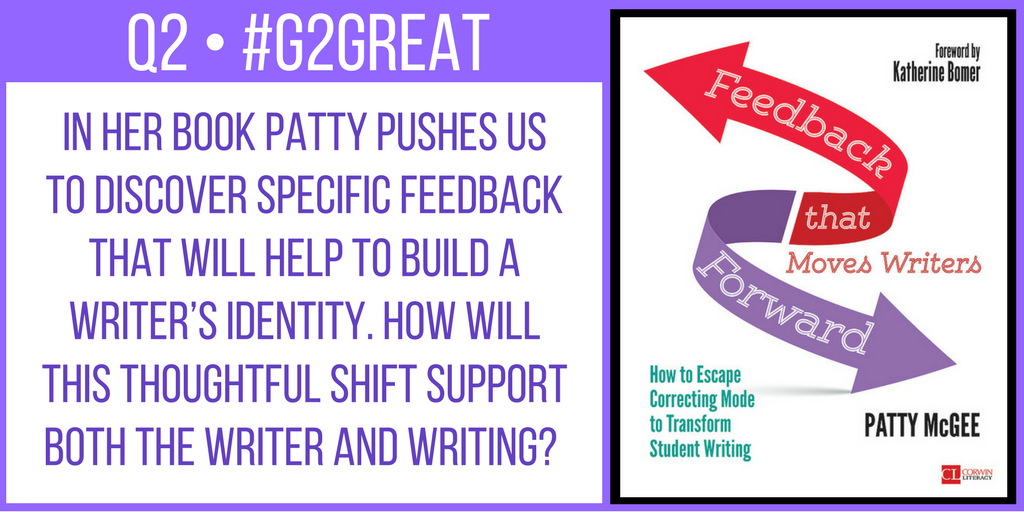 With Patty in the lead, we all focused on how specific feedback builds a writer's identity with our students:  
In Patty's book she recounts an experience she had during a workshop with the incredible Ralph Fletcher: "In a writing workshop by the inspiring Ralph Fletcher a few years back, Ralph asked the audience of hundreds of teachers to raise their hands if they considered themselves readers. Most hands went up. Including my own. He then asked, 'How many of you consider yourselves writers, or even like to write?' I looked around, oddly comforted by the fact that I was not the only teacher who seemed to be doing their best to fake the love of writing for students." (p 5)
What experiences formed your writer's identity?

As I thought about these question, my thoughts turned back to the story of my childhood that had a lasting impact on my own writing identity…
Yellow sunlight streamed in through giant panes of glass, warming us as we sat around the kitchen table. Coffee cups steamed darkly in contrast to the brightly painted porcelain cow creamer. Her mouth, forever frozen, in an open circle of surprise. There I was drinking actual coffee with my father! No longer just a gawky twelve year old girl. No, now I am a writer. I am one of two writers, drinking coffee, and thinking deeply. My dad leaned over my paper, loosely holding pencil in hand and laughing at the funny parts. A swell of emotion filled me and I became light headed. I don't know if came from the caffeine or the pure elation at his response to my writing. That experience marked the beginning of a lifelong love with writing… and coffee.  
A Call To Action – A #G2Great Community of Writers: What's your story?
We invite you to reflect on the experiences that have shaped your writing identity.  Blog about it, so that we may leave each other feedback that elevates our practice. If you leave your links in our Comment Boxes we can continue to examine who we are as writers and practice giving feedback that pushes writers forward. We can generate writing experiences for ourselves so we may lift the level of writing for our students.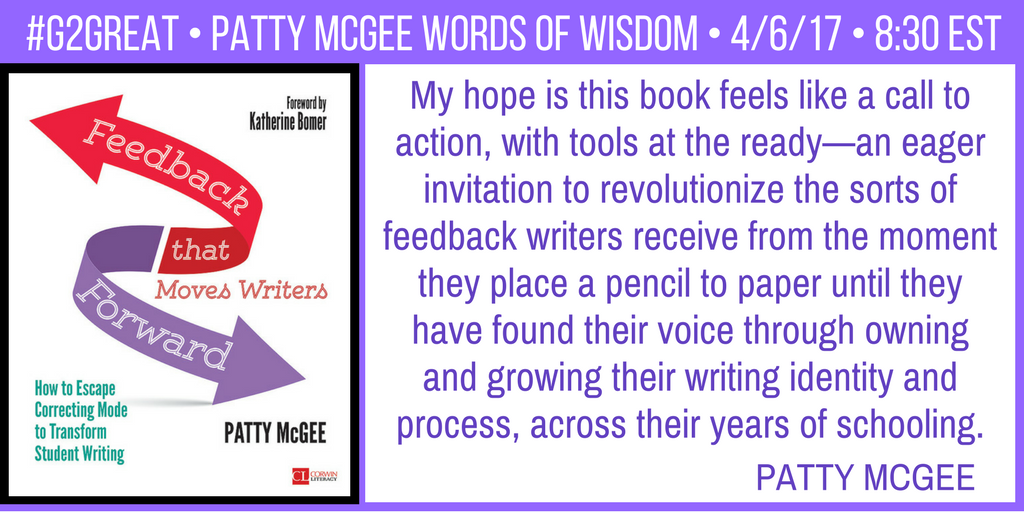 Patty McGee Links
Patty's Websites:
Twitter: https://twitter.com/pmgmcgee
Patty's Book: Feedback That Moves Writers Forward (Corwin)
https://us.corwin.com/en-us/nam/feedback-that-moves-writers-forward/book251633
Help Students Reflect and Set Goals for Powerful Learning by Patty McGee (Corwin Connect)
http://corwin-connect.com/2017/02/help-students-reflect-set-goals-powerful-learning/
The Power of NOT Answering Content-Specific Questions (Corwin Connect)
http://corwin-connect.com/2017/03/power-not-answering-content-specific-questions/
Three Moves to Awaken Dormant Writers by Patty McGee (Corwin Connect)
http://corwin-connect.com/2017/03/3-moves-awaken-dormant-writers/
ILA Blog Post Part 1: Looking for a Fresh, New Design for PD? Try a Residency
https://www.literacyworldwide.org/blog/literacy-daily/2017/03/16/looking-for-a-fresh-new-design-for-pd-try-a-residency-part-1
ILA Blog Post Part 2: Looking for a Fresh, New Design for PD? Try a Residency
https://www.literacyworldwide.org/blog/literacy-daily/2017/03/23/looking-for-a-fresh-new-design-for-pd-try-a-residency-part-2