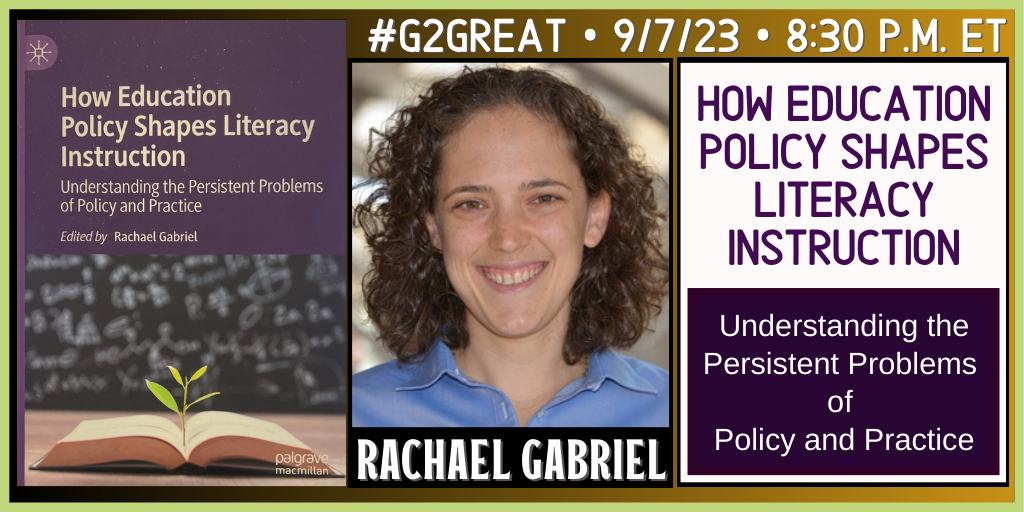 Access our #G2Great Chat Wakelet HERE
Written by Mary Howard
On 9/7/23, we were honored to welcome first-time guest, Dr. Rachael Gabriel, to our #G2Great chat. Our discussion centered around her MUST-HAVE book: How Education Policy Shapes Literacy Instruction: Understanding the Persistent Problems of Policy and Practice Edited by Rachael Gabriel (1st Ed 2022, Palgrave Macmillan). Rachael Gabriel not only edited this book, but she also wrote or co-wrote four of the eight chapters.
If you're professionally active and research-informed, you know Dr. Rachael Gabriel. A Professor of Literacy Education at the University of Connecticut, faithful educators across the world do a deep dive into her research articles and social media wisdom. Given that Rachael has long topped my MUST-READ list, I ordered How Education Policy Shapes Literacy Instruction immediately. It quickly became my trusted daily reference.
In an age where we watch the tremendous impact of 'persistent problems of policy and practice' unfolding in our educational landscape at every turn, I cannot imagine a research reference more desperately needed in these challenging times. Rachael's book highlights key aspects that we see playing out now and offers insight into the history as well as the impact these issues are having in current times.
In the preface on p. ix, Rachael identifies SIX CATEGORIES explored in the book which I condensed below:
1) Retention
2) Remediation
3) Early Literacy
4) Reading Difficulties
5) Language Learners
6) Teacher Quality
Rachael follows the identification of these six categories by explaining:
"These topics are among the most important topics in local, state, and national policy. Understanding the foundations and trajectories of such issues and arguments is vital in the study and design of future research, advocacy, and policymaking efforts to produce substantive, positive change." (p. ix)
I rarely read professional books front to back, but rather use a personal path that makes sense to me. When my copy arrived, the preface and introduction set the stage but I then moved to Chapter 4 on Early Reading Instruction: Politics and Myths About Materials and Methods (pages 89-120). Authors Natalia Ward, Nora Vines, and Rachael Gabriel wrote the quote below shared early in the chat. This illustrates why I began by reading an issue that's rapidly escalating: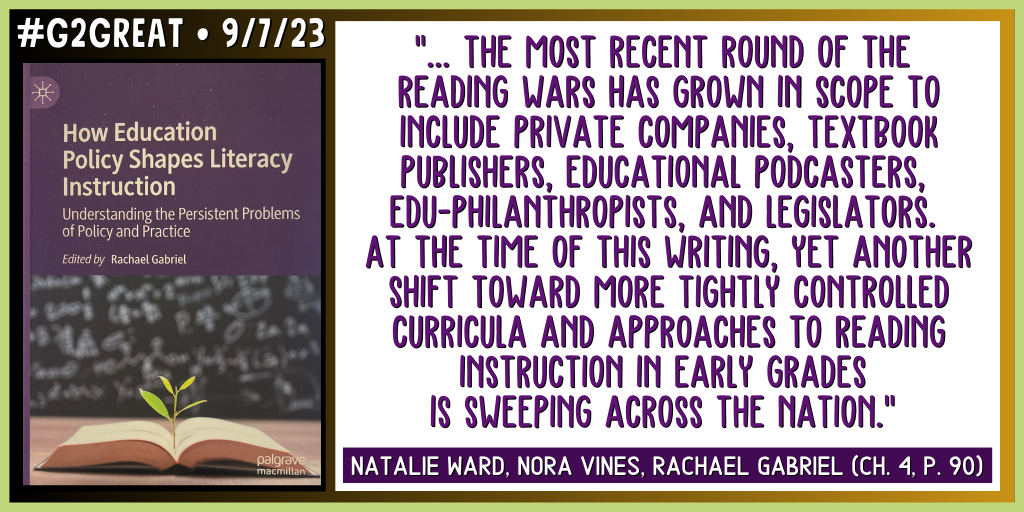 If we don't understand where we have been and draw from that knowledge in ways that will help us to maneuver where we currently reside in history, then how do we approach past issues that rear their ugly head again in thoughtful ways? How can we possibly hope to understand them from all sides so that we may address them in reasoned ways? I do that with a firm grasp on this book while also seeking extensions of the book for added meaning.
One of those extensions is Jennifer Serravallo's podcast, To the Classroom: Conversations with Researchers and Educators. Jennifer spotlighted this book in two podcasts before it was published. I happily listened to both:
Session 8 on 4/10/23 highlights Chapter 2: Retention in Grade and Third-Grade "Trigger" Laws: History, Politics, and Pitfalls with Dr. Gabriel P. Della Vecchia
PODCAST; TRANSCRIPT; MY PODCAST NOTES
When Jennifer asked Dr. Della Vecchia about the social-emotional impact of retention, he emphasized a direct and lingering negative impact:
8:17 "One of the most striking things in the research about retention is how infrequently student voice appears. People don't bother to ask kids how they feel about it. It's always about the economic health of the nation or some gigantic thing and we forget to say that this is a child's life; this is their one time through their schooling. How do they feel about this?"
In Session 9 on 4/17/23, Jennifer discussed How Education Policy Shapes Literacy Instruction with Rachael Gabriel
PODCAST; TRANSCRIPT MY PODCAST NOTES
18:57 "…what we really need to be asking teachers to do is learn their students well and respond effectively. That was always the name of the game. That is always going to be the name of the game."
Jennifer posed a pertinent question at marker 19:39 "If you were to design a classroom for early literacy, what would it look like?"
19:56 "So, the easiest place for me to start is like non-negotiables. They've got to read write and talk about reading and writing every day. And I don't want to hear the whole, 'but they don't know how to read or write yet' because everybody is literate one way or another and we need to see the way that they're using literacy in their everyday lives or even in their school lives. Notice it, name it as what it is and build on exactly what they've got going on."
I found myself returning to these essential discussions as I read the book. I was able to merge these varied sources which elevated my book understandings.
Because these sources can be rich informants for reading, let's shift our focus from the book to our #G2Great chat celebration of How Education Policy Shapes Literacy Instruction. To do that, I'll share Rachael's Twitter-style words of wisdom in the form of tweets. The thinking that was inspired by the chat experience can also support and extend our thinking inspired by the book.
TWEETS FROM RACHAEL GABRIEL
Below are five questions with Rachael's tweet/s followed by my thoughts.
Q1 Let's start with the subtitle: "Understanding the Persistent Problems of Policy and Practice." Why do we need to intentionally seek these understandings? What is one persistent problem of policy and practice you are facing in your professional life?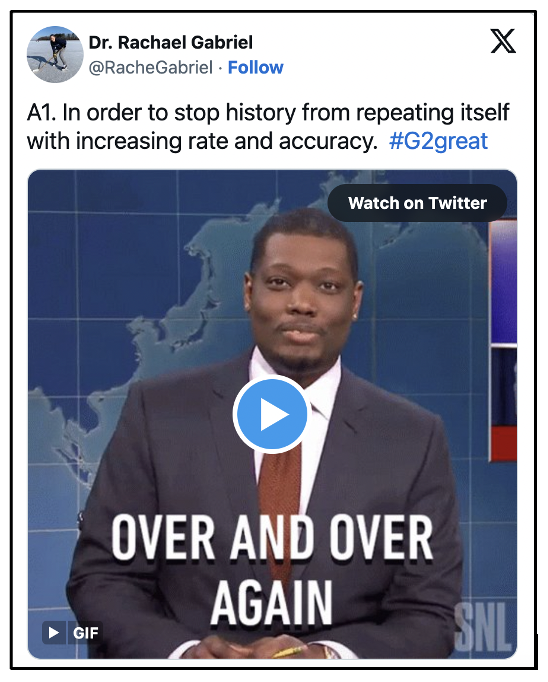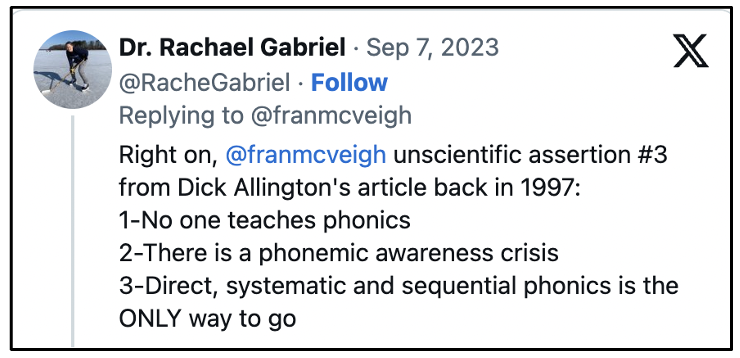 NOTE: Rachael shared the link to Allington's article mentioned above HERE:
Rachael makes it clear across the book that research can both inform and enrich our WHY which can also support our future choices. She beautifully responded to this with two points that set our chat discussion up from the start (The 2nd part of the question is reflected by the Six categories listed in the preface on p. ix and in my opening words in this post.)
It's worth reposting a quote I shared earlier here (p. ix)
"Understanding the foundations and trajectories of such issues and arguments is vital in the study and design of future research, advocacy, and policymaking efforts to produce substantive, positive change."
Q2 If not reading laws, then what? What are other ways that states (or federal government) can thoughtfully address concerns about improving literacy achievement?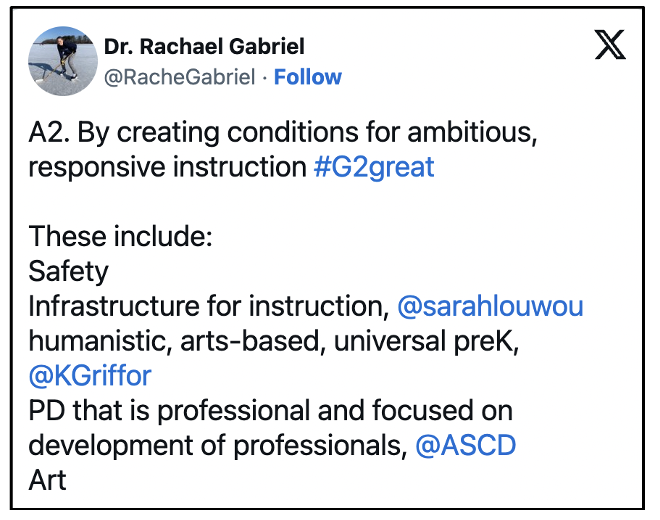 Rachael wisely shifts our attention back to students by asking us to consider conditions that will nurture and support our efforts for "ambitious, responsive instruction." This is a critical point at a time when the political push and pull seems to be singularly focused on robbing teachers of agency while putting trust in programs that don't even know the recipients of questionable dictates. When buying STUFF becomes our go-to knee-jerk reaction and diverts us from the impact teachers as decision-makers can have, we go against the grain of what we should be holding dear.
Q3 If early literacy development can take a variety of trajectories in terms of pace and focus based on individual differences among learners, how can a new generation of curricular tools take such complexity into consideration?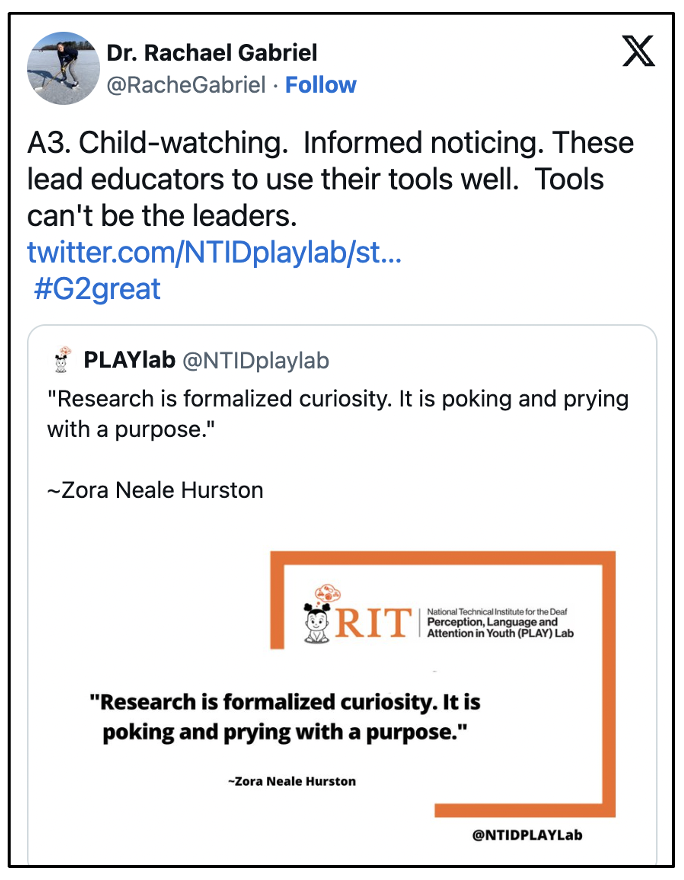 I was grateful that Rachael highlighted the powerful impact of "child watching + informed noticings." Critical practices that inform and support our decision-making are too often supplanted for data-fied technological dictators that further remove teachers from more meaningful sources of understanding – understandings that could lead to in-the-moment professional actions our children deserve and need. In other words, putting our faith in pre-packaged nonsense demeans the impact knowledgeable teachers bring to bear on a day-to-day basis.
Q4 Globally, developing literacy in multiple languages in school is considered part of the norm. Why is this not the case in the US and what would it take to adjust this in the future?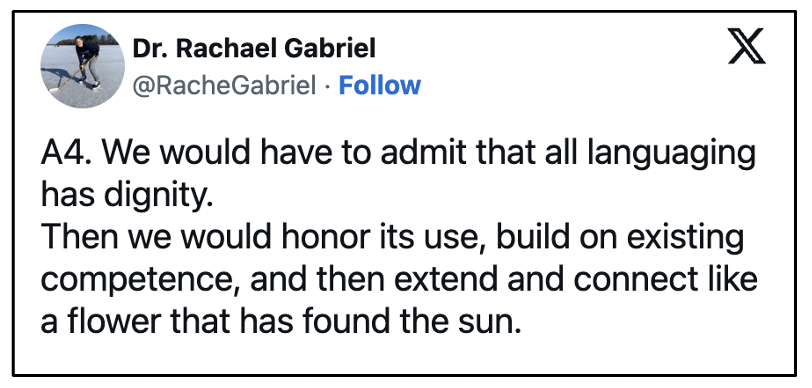 This is beautifully addressed in Chapter 6 by Amber N. Warren and Natalia Ward: A Language for Literacy Learning: Language Policy, Bi/Multilingual Students and Literacy Instruction in these words:
"Language policy and literacy instruction in the United States need to reflect the cultural and linguistic reality of their students." (p 159).
Rachael's message about honoring all languaging is key but the words that gave me readerly chills were that this honoring would "then extend and connect like a flower that has found the sun." Sadly the question remains although the response is as yet uncertain: "Will we bring those words to life or continue to ignore them?
Q5 What would be different if standardized testing was abolished? If a national curriculum was created?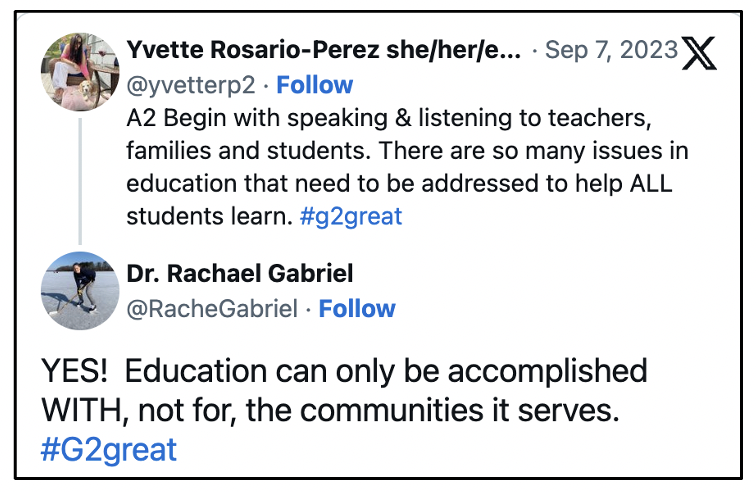 Standardized testing is indelibly tattooed into the very fiber of educational systems, so Rachael's response was a breath of fresh air. It's hard to envision a time in education when we have engaged communities and design pathways to support suggested priorities. Some days it feels like an impossible quest, and yet it also gives me hope for the future. As this two-way tweet with Yvette Rosario-Perez suggests, imagine if the issues in education were removed from those who know little about teaching and put in the hands of those who have both knowledge and experience and thus can contribute most to this discussion.
MY LAST THOUGHTS
In Chapter 8 of Influence and Evidence in Reading-Related Policy, Rachael Gabriel and Shannon Kelley write on page 195:
"Growing in excellence as we grow in size requires expanding our frame of reference: for reading, its measurement, and teaching; for who is accountable for ensuring excellent reading instruction; and for what counts as excellent reading instruction for every child, every day. It requires quelling panic around persistent questions and instead engaging with the full complexity of providing opportunities to learn across contexts and cultures in a large and changing country. That this is difficult should not be cause for alarm or evidence of crisis."
Imagine the powerful possibilities of discussions framed on the quote above rather than what we could do, buy, or force feed on teachers. Our conversations will always center on what we prioritize and this is grounded in the questions we pose and respond to. The time has come to recognize that we cannot have rich conversations by prioritizing the wrong things. Sadly,it is teachers and ultimately children who pay that price.
The authors gave me the perfect lead into "Every Child Every Day" so I happily followed. Given a solid research foundation decades in the making, Richard Allington and Rachael Gabriel detail six research-based elements that every child should have in place every day. We all too often seek solutions that move as far away from research-based elements as they can get. Rather we look for quick-fix solutions in favor of OTHER-ING, or trusting WHO or WHAT that removes us from these non-negotiables our children so richly deserve. 
I shared a photo tweet from my #G2great chat chair in Honolulu near the end of the chat that is fitting closing. When Matt Renwick asked me about a book I'd recommend to administrators, I didn't hesitate to share "How Education Policy Shapes Literacy Instruction." To be honest, he could have substituted any group and my answer would have been the same. Having followed Rachael Gabriel's work faithfully, I have read and dipped back into her book repeatedly since it was published and check her social media feed regularly. I believe that this book should be in the hands of anyone making decisions for our schools.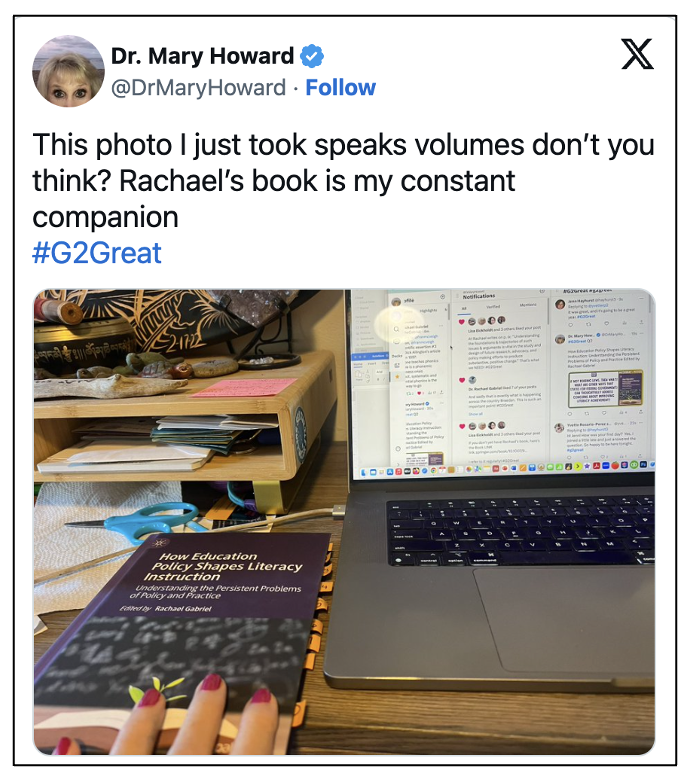 Rachael's wisdom warrants giving her the final words in chat question 6:
Q6 Our #G2Great discussion with Rachael Gabriel can inspire new discussions, explorations, considerations and directions. What is one thing that you learned tonight you want to pursue more deeply through personal research or professional dialogue?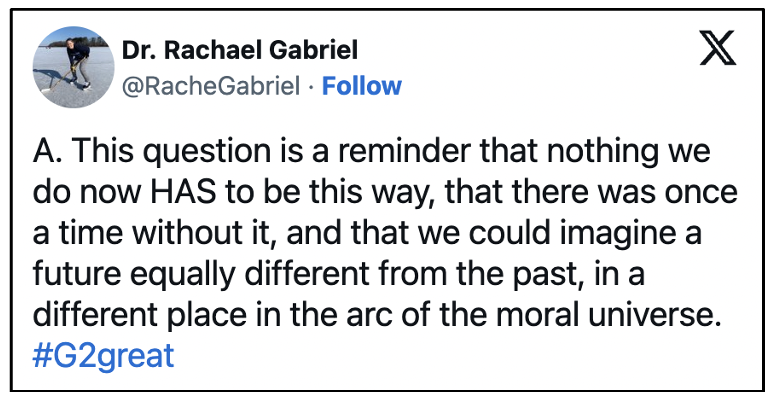 We are indebted to Rachael Gabriel for generously sharing her wisdom on a #G2great chat we will long be discussing and revisiting. Thank you, Rachael!
RACHAEL GABRIEL BIO
Rachael Gabriel is Professor of Literacy Education at University of Connecticut USA. She studies the intersection of education policy and classroom practice, prepares literacy specialists and doctoral students, and supports teachers and schools to build systems that create equitable opportunities to develop literacy.
RESOURCES:
How Education Policy Shapes Literacy Instruction: Understanding the Persistent Problems of Policy and Practice Edited by Rachael Gabriel (1st Ed 2022, Palgrave Macmillan)
To the Classroom podcast with Jennifer Serravallo: Chapter 2: Retention in Grade and Third-Grade "Trigger Laws: History, Politics, and Pitfalls Dr. Gabriel P. Della Vecchia
To the Classroom podcast with Jennifer Serravallo: Book discussion with Rachael Gabriel: How Education Policy Shapes Literacy Instruction: Understanding the Persistent Problems of Policy and Practice
Every Child, Every Day by Richard Allington and Rachael Gabriel (ASCD March 1, 2012, Vol 69, No. 6)