by Amy Brennan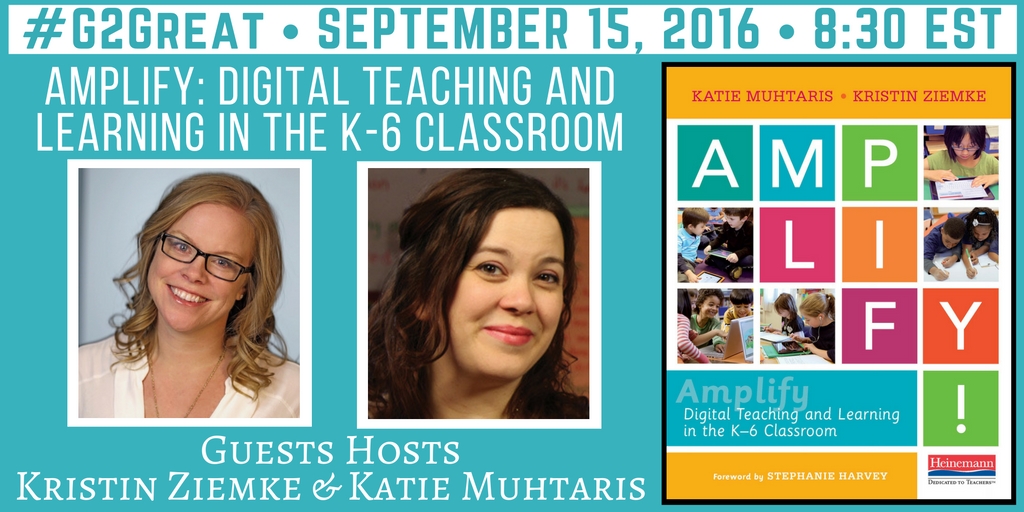 On September 15, 2016 #G2Great welcomed Kristin Ziemke and Katie Muhtaris as guest hosts to celebrate their book, Amplify: Digital Teaching and Learning in the K-6 Classroom. In their book, Kristin and Katie bring their readers on a journey to explore technology as a creative tool for the classroom.  
Throughout the chat I found myself reflecting on my own journey as I have learned about and explored different technologies.  That journey at times was uncomfortable, that uncomfortable feeling that we learn to embrace when we accept the perspective of a learner.  That feeling that has the power to make someone run for the hills or charge the mountain.  As a learner, I might want to run for the hills at times, but because of my curiosity, my choice and my commitment to learning, I choose instead to charge the mountain.  Of course, it helps that I have my #G2Great tribe on that mountain reaching out their hands to me as I begin the upward climb.  It helps all of us on our journey to know that we have Kristin and Katie to walk alongside us and to help us empower our students by maximizing the effective use of technology.
Embrace the journey, even when it is challenging
Technology brings this uncomfortable feeling simply because as it improves, technology is in a perpetual state of changing, and change is really about learning and growing. Take a moment to read the tweets below and be inspired by Kristin and Katie and their passion for the journey.  Bring along your curiosity and wonder and you will begin to envision the possibilities on this amazing learning journey.

Technology should elevate thinking and learning
Instructional choices around incorporating technology must be grounded in meaningful work and providing authentic opportunities for students to learn, create and share.  In this sense, the context and purpose of our technology choices requires thoughtful consideration and must be grounded in ways that will elevate thinking.  Technology or the latest, hottest new app cannot be used just for the sake of using it.  We have to remember to be thoughtful and intentional in our instructional decision making around technology implementation.  Asking questions such as "Is this meaningful?"  "What is the purpose of using this technology?"  "Will using this technology elevate students' thinking and learning?"  Once we feel confident in these answers we can consider student choice.  Integrating technology adds a layer of responsibility on us to facilitate students making choices around the effective use of technology.  Kristin reminds us that even in the digital age we have to keep Allington's research around choice, volume and response close by in our instructional planning and decision making.




Technology should amplify student voice
The final tweet from Kristin really exemplifies why all educators should read Kristin and Katie's book, Amplify: Digital Teaching and Learning in the K-6 Classroom.  Kristin closed the chat with this tweet, "At the end of the day, tech is about AMPLIFYing students' stories. When we know a child's story we can teach them appropriately." The possibilities are endless when we incorporate technology into the learning environment.  So much is possible when we know our students and where they are in their learning as well as in their lives.  When we allow students to show us what they know, and listen to their stories we are in a better position to engage and motivate students to learn, create and share.  
Whether you are just beginning your journey or you are still on your journey in learning and using technology in your school, I encourage you to join me and charge the mountain and join us on the #G2Great mountaintop. As you look up to the top of the mountain you'll see hands there to support you to the top of the mountain with Kristen and Katie's book there to guide our continuing journey. We are grateful to Kristin and Katie for deepening our thinking and empowering us on the journey as we empower students and improve thinking and learning.
If you would like to learn more about Katie and Kristin's work follow them on Twitter and check out the links below.    
Learn more about Kristin and Katie's work here:
Kristin Twitter @KristinZiemke  • Katie Twitter @KatieMuhtaris
Link to Amplify http://bit.ly/2cexqIW
Link to Comprehension and Technology http://bit.ly/2bZxyhM
Kristin's website: http://www.kristinziemke.com
Amplify Teaching website http://amplifyteaching.com
Multitouch Books Digital Discourse in Mathematics: Strategies for the Young Learnerhttp://apple.co/2bU1ups
Courses: Amplify! Digital Pedagogy for Today & Tomorrow http://apple.co/2c9TjWt
Literacy in Action: Create to Learn http://apple.co/2bZwfzt
Inquiry in Action: Africa! http://apple.co/2cumqoF
Idea to power up creative practices across grades: free iTunes U course: Create to Learn: Literacy in Action http://apple.co/2bZwfzt
Kristin's free iTunes U course Inquiry in Action: Africa! New ideas to bring to WONDER your curriculum. http://apple.co/2cumqoF
Kristin's post on reading digitally for Larry Ferlazo and EdWeek http://bit.ly/2cCRzXa