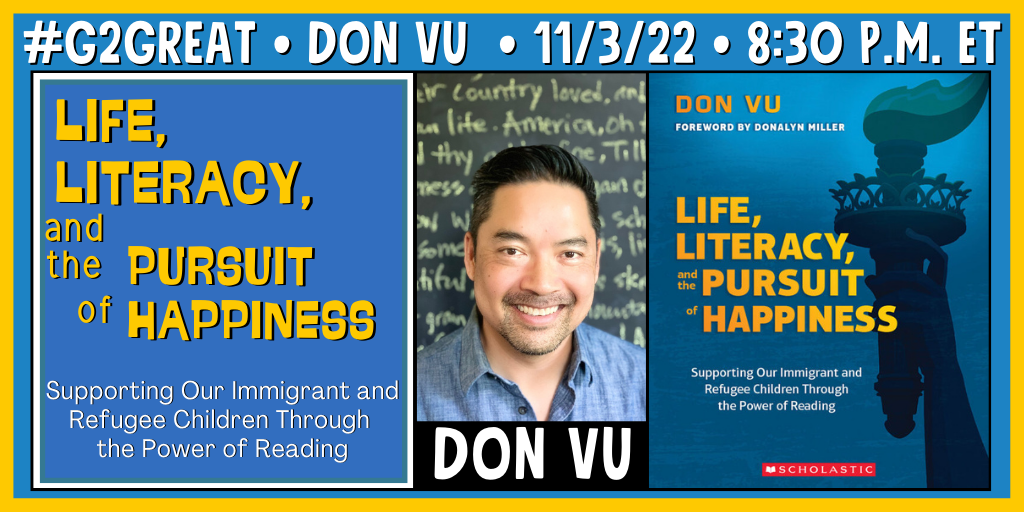 By Fran McVeigh
On Thursday, November 3rd, 2022, Dr. Don Vu was a guest moderator with #g2great to discuss his amazing new book, Life, Literacy, and the Pursuit of Happiness: Supporting Our Immigrant and Refugee Children Through The Power of Reading. This book is unique because of its focus on the reading culture of a school (and its elements) and the needs of immigrant and refugee children and their families.
Dr. Don Vu shares stories of his childhood experiences as an immigrant. Those stories bring his ideas and beliefs about supportive communities to life and include his views as a teacher and administrator. Check out this tweet pinned to his Twitter feed.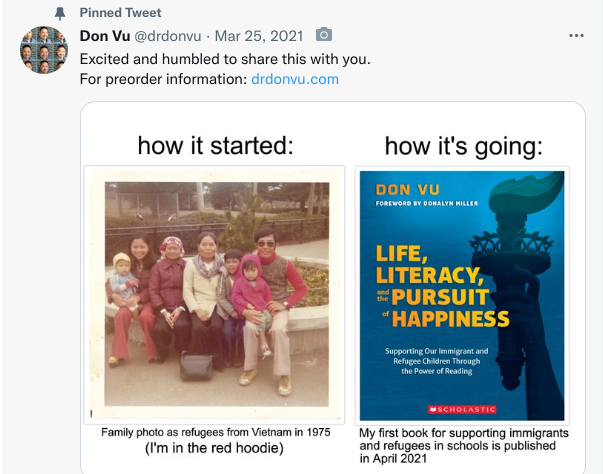 Because his family fled Vietnam in 1975, he has first-hand knowledge of what "real life" is like for immigrant students.
That unique perspective struck me as I read the book and read back through the Wakelet archive. I have some experience with a few immigrant students. A tiny bit. I wonder "What if a teacher experienced their own classroom through the eyes and ears of an immigrant or refugee child?" What seems to be working? What might they consider doing differently? What might they stop doing?
I will circle back to those questions later in this post as I want to continue with some of Don Vu's wisdom from the chat. Remember that the text title is Life, Liberty, and the Pursuit of Happiness. Think about the source of that phrase. Think about the individual words and their meanings. Think about the cumulative effect of that phrase. Life, liberty and the pursuit of happiness doesn't happen in isolation. Success will be found in communities with support systems that surround the students. Features of community that Dr. Vu focused on in the book are Commitment, Collection, Clock, Conversation, Connection, and Celebration so I searched for some supporting tweets.
Commitment: Meet Students Where They Are and Passion



Collection

Conversations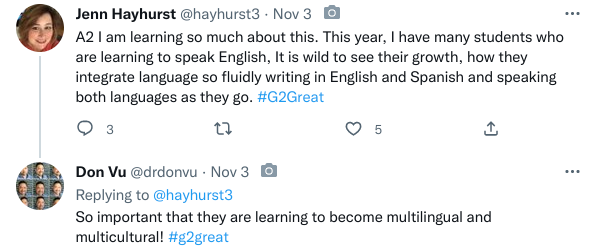 Connection and Celebration


What works for immigrant and refugee students and families? What should education include? What should support include?
During our chat and in the book, we heard many stories. We know students have stories that we need to hear. We also know that we need to think about the assets that students have when they arrive at school. We know students have to be met where they are. This means thinking about translanguaging from previous chats around Rooted in Strength here and En Comunidad here. Supporting students in their first language is critical before students begin to learn additional languages – whether speaking, reading or writing. We know students need a lot of talk. Talk provides practice. Talk enables teachers and community members to understand needs and wants as well as levels of support. Students and families need to see themselves in the resources in the classrooms – books, pictures and videos. Setting up quality learning environments where learning flourishes requires a great deal of attention and care in the form of accepting students' assets, increasing the use of translanguaging, more talk, more practice, and more resources for success for all.
What seems to be working? What might they consider doing differently? What might they stop doing?
Educators, schools and communities need to take stock of their own resources and conduct a bit of data analysis within cycles of action research. For students with x, y, and z as assets, we have found success with ______. Can we repeat that success with multiple groups of students over time? If we are not finding success, what might we also try? Could we add or change one variable at a time so we can try to connect the instruction, the change, and the results? What does the research in the field say? Are some of our instructional practices aligned with the research? What data suggest that students would be best served by dropping ineffective practices like requiring all schoolwork to be in English (as one example)?
And finally, how can you discuss the present culture in your classrooms, buildings, schools, and community? Are life, literacy, and pursuit of happiness a part of your goals?
_________________________________
Additional Resources
@drdonvu
website – link
webinar – https://drdonvu.com/2022/07/10/finding-the-audacity-of-equality-in-the-stories-of-immigrants-and-refugees/
"Using Story to Promote Equity for Our Immigrant and Refugee Children" link