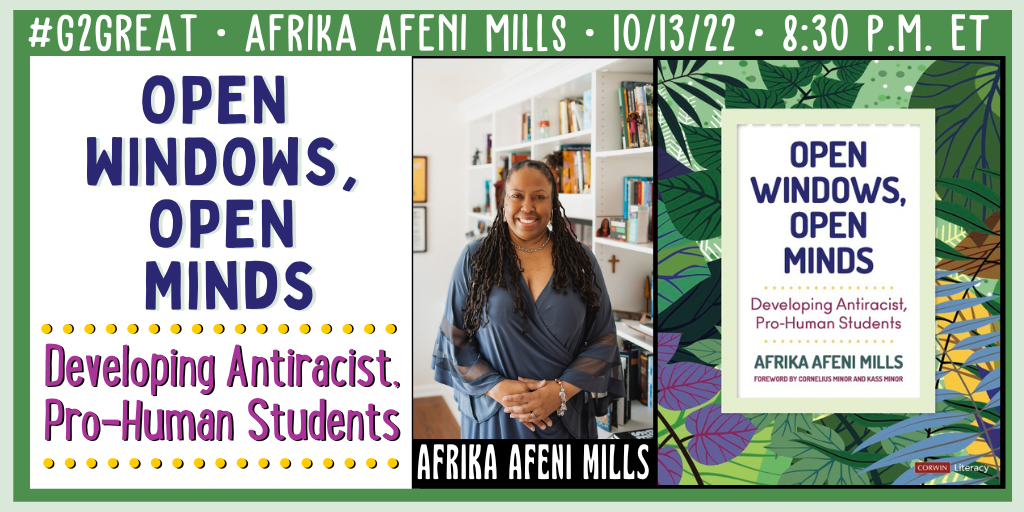 A reflection by Brent Gilson #G2Great Co-moderator
This week the #G2Great chat was honored to have Afrika Afeni Mills join us to discuss ideas from her beautiful book Open Windows, Open Minds: Developing Antiracist, Pro-human Students. As I have the opportunity to reflect and share this week I wanted to start with her words.
What motivated you to write this book? What impact did you hope that it would have in the professional world?
In a previous role, I was the Curriculum and Instruction Director for an organization called Discovering Justice where I had the opportunity to revise the Children Discovering Justice curriculum, and to facilitate professional learning experiences for teachers in the Greater Boston area based on that curriculum. These learning experiences provided participants with opportunities to engage in conversations about race and U.S. history, and in that work, I noticed that while teachers enjoyed the learning experiences, they didn't have opportunities to engage in this learning in an ongoing way, and that resonated with my experience as a pre-service and in-service teacher.
From 2015 until earlier this year, I worked with a company called BetterLesson where I served as an Instructional Coach, Senior Manager of Culturally Responsive Teaching and Learning, and Director of Diversity, Equity, and Inclusion. I was also able to connect with educators around the country through keynote, workshop and master class opportunities at conferences with my good friend and colleague Monica Washington (2014 Texas State Teacher of the Year). In that work, we noticed the same thing.
In 2019, I published a piece on the Teaching While White blog titled A Letter to White Teachers of My Black Children. That post went viral, and the response told me that this was a topic that educators wanted to explore further. While the focus on Culturally Responsive Teaching and Learning is vital, I noticed that there weren't as many resources to support teachers who were working with students who identify as White to become antiracist and pro-human.
My hope, especially in our current polarized climate, is that educators will see that we need to engage in our own racial healing, awakening, and development in order to be equipped to offer our students the learning experiences they both need and deserve.
Reading through Afrika's thoughts above I am struck by her hopes at the end. For educators to take the time for their own racial healing, awakening, and development in order to be better equipped to serve our students in the ways they need and deserve.
I spend a lot of time reflecting on race and the world my students will be heading out into. I have written about this a lot before but in my own experiences, we do not have much diversity regarding race in our area. During the chat, I have the opportunity to reflect on my own childhood and questions about my own experiences with race. I grew up in a setting much like my students. The bulk of my ideas around race came from pop culture. I did not attend school with a Black student until Junior High. Largely my community was white. My first intern teaching experience in a "real city" was eye-opening. Different cultures, identities, and personalities. It was a wonderful and rich learning opportunity. This could not have been more starkly contrasted by my first job in rural southern Alberta. I remember doing Pen Pals with my old school and kids making faces as they read names they had never encountered or learned about traditions and customs different from their own. I knew in those moments it was important to help my students in these communities see the world outside their experience for the beauty there is.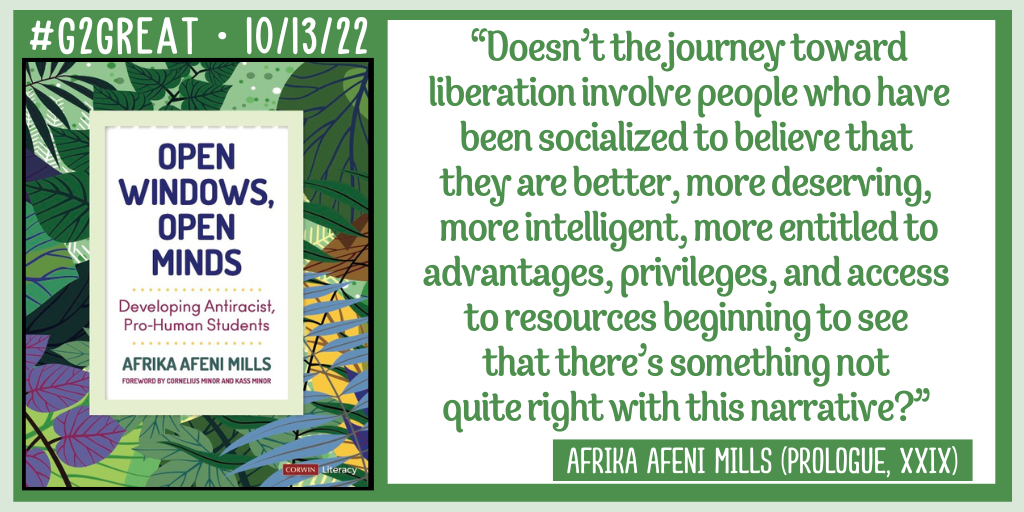 What are your BIG takeaways from your book that you hope teachers will embrace in their teaching practices?
The concept of windows and mirrors as introduced by Emily Style and further developed by Rudine Sims Bishop, is an important one for educators. All students deserve learning communities and experiences where their identities are accurately reflected back to them in the content, and ways of being that are implemented in the pedagogy (mirrors). Students also deserve the opportunity to gaze beyond the familiar to learn about identities and experiences that differ from their own (windows). This is how we create and sustain a truly whole and healthy society. Unfortunately, students of color experience far too many windows, and far too few, and often inaccurate mirrors, and White students experience far too few windows, and often distorted mirrors.
As the Cooperative Children's Book Center (CCBC) inventories in 2012, 2015, 2018, and 2020 show us, there is far more representation of White characters than there are of People of Color in children's books. Even the representation of animals far exceeds the representation of People of Color, which, by the way, is one of the things that makes current book banning efforts and legislation so absurd. The same folks who are pushing against what they're calling "indoctrination," "divisive concepts," "anti-American" books and content don't seem to realize that they're supporting what they say they're against. As educators, we have the ability, opportunity, and in my estimation, moral imperative to provide students with accurate, healthy, windows and mirrors.
I always love the opportunity to write the weekly reflection when it is my turn and this week is no exception. I try to help my students with the idea of windows in the books we read as a way for them to see beyond themselves. Sometimes they remind me that they could use some mirrors too (if you have any rural white kids who love hockey, hunting, and ripping around on mopeds let me know…maybe I need to write it). We spend time discussing windows and the importance of learning about the world. We also spend time talking about the quality of the windows and mirrors. I was writing a paper for University this summer and focused on Dr. Rudine Sims Bishop's work and Graphic Novel representation of indigenous characters. I wrote about how often the mirrors present were more like funhouse distortions. I wonder how often as educators we present students with distorted funhouse mirrors and cracked or broken windows. As Dr. Kim Parker has often mentioned we need books that focus on joy instead of only sharing trauma. We need quality mirrors and windows to not only support our students but also ourselves.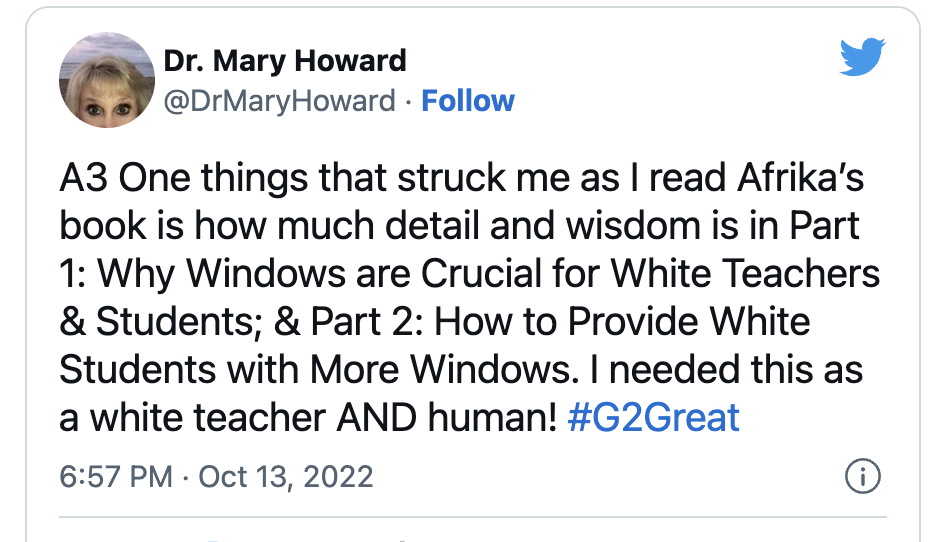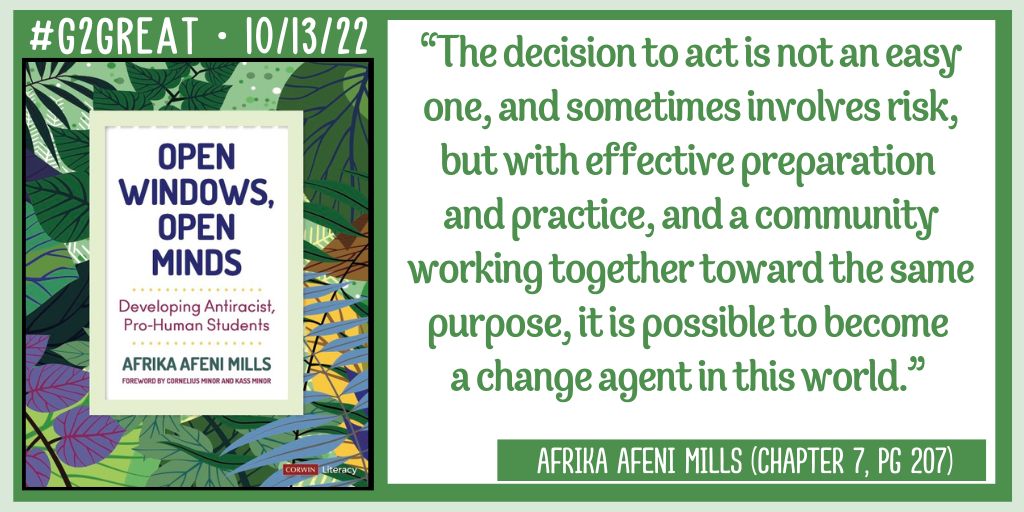 I love this quote from Afrika. It isn't easy. It is the work of community.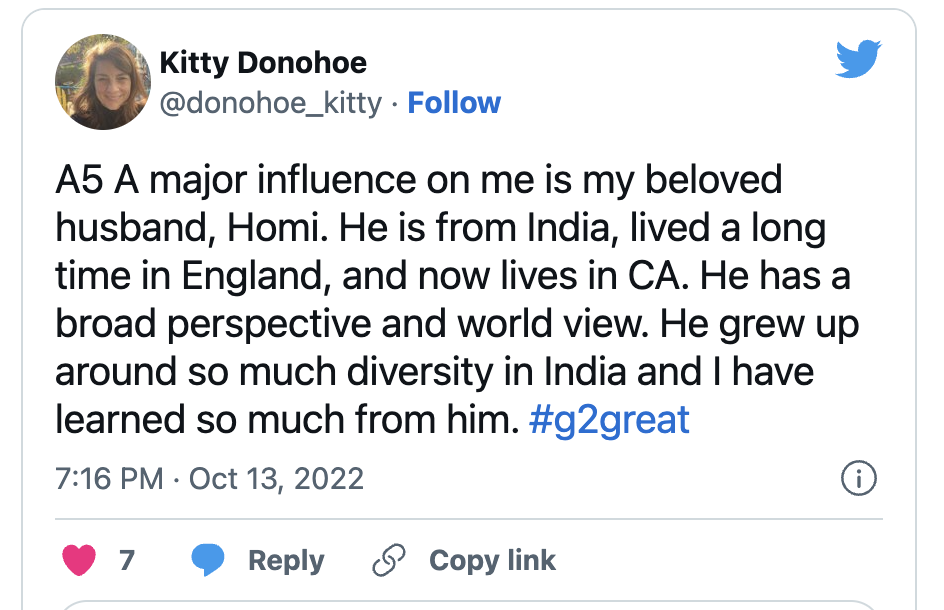 What is a message from the heart you would like for every teacher to keep in mind?
You are not alone in this journey. There are many of us who have been, are now, and will be engaging in this important work, and we are here to support one another. There are an increasing number of resources to inform your journey as well as learning communities to fortify you along the way. This work isn't easy, but as we teach our students, with support and effort, you can do challenging things. As the attack on the capitol on January 6th and racially motivated mass shootings have taught us, there's far too much at risk if we don't.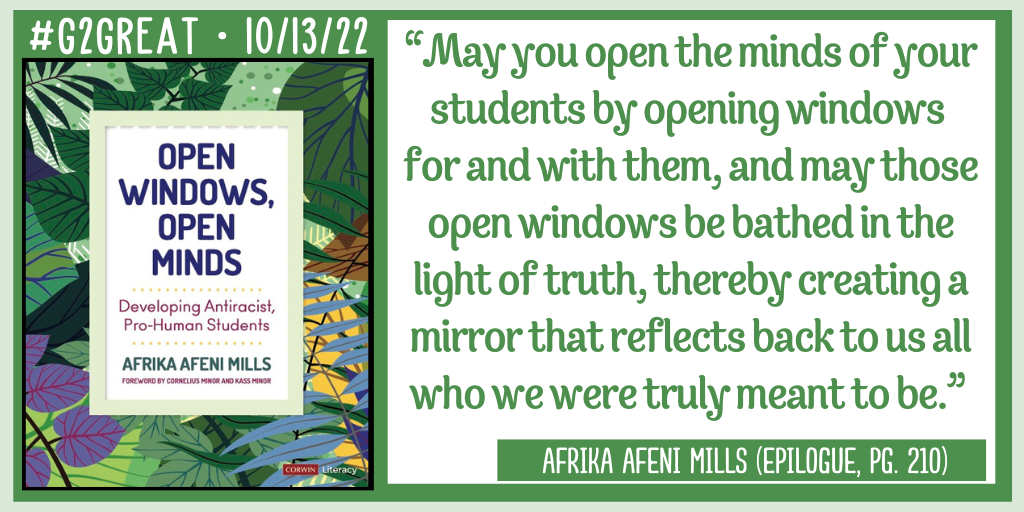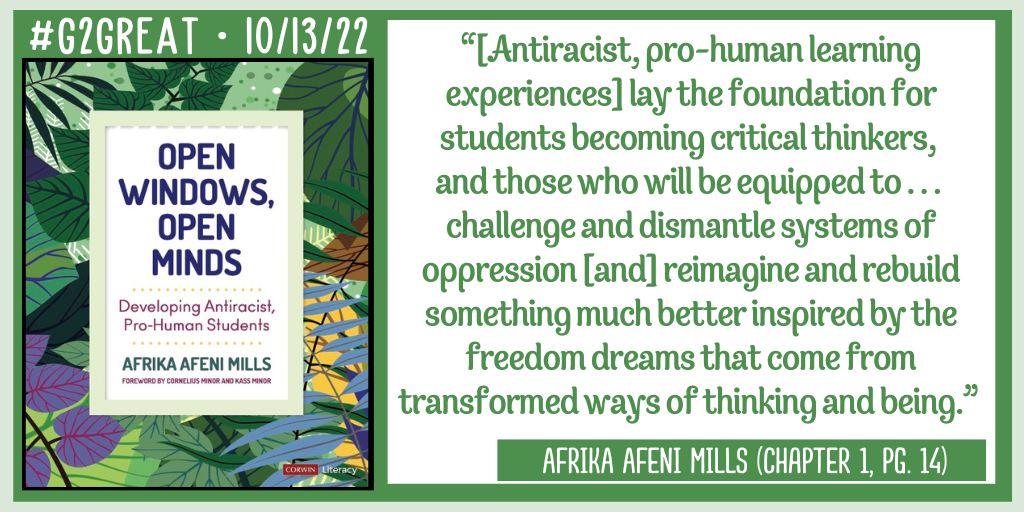 The light of TRUTH…Rebuilding something Better.
The #G2Great team is so grateful to Afrika Afeni Mills for taking the time to share her words and lead our chat this week. We hope everyone will take the time to better learn about themselves so they can best serve their students. If you are looking for more of Afrika's work and you should there are links below.
Links:
Open Windows, Open Minds Newsletter
Website: AfrikaAfeniMills.com
Facebook: Open Windows, Open Minds
Instagram: Open Windows, Open Minds
LinkedIn: Afrika Afeni Mills
Twitter: @AfeniMills
Blog Posts: