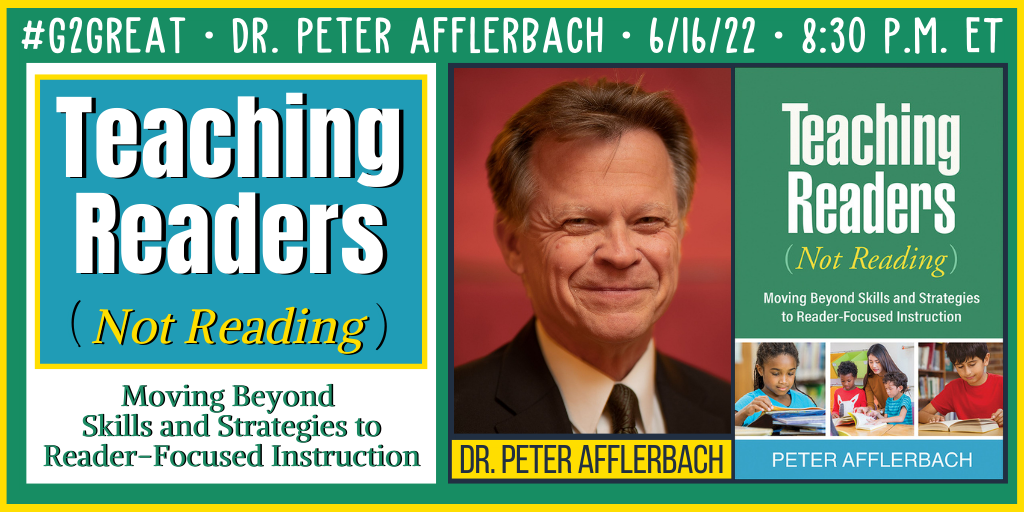 by Mary Howard
On 6/16/22, #G2Great welcomed first time guest host, Dr. Peter Afflerbach as we explored his remarkable new book, Teaching Readers (Not Reading): Moving Beyond Skills and Strategies to Reader-Focused Instruction (2022, The Guilford Press). We knew that his message would inspire critical conversations, so we weren't surprised when fast-paced twitter style discourse reached a fever pitch with the first question. With the all-too common push and pull in our schools positioning the Reading before the Reader, these conversations are needed more than ever, as reflected in a pre-chat quote: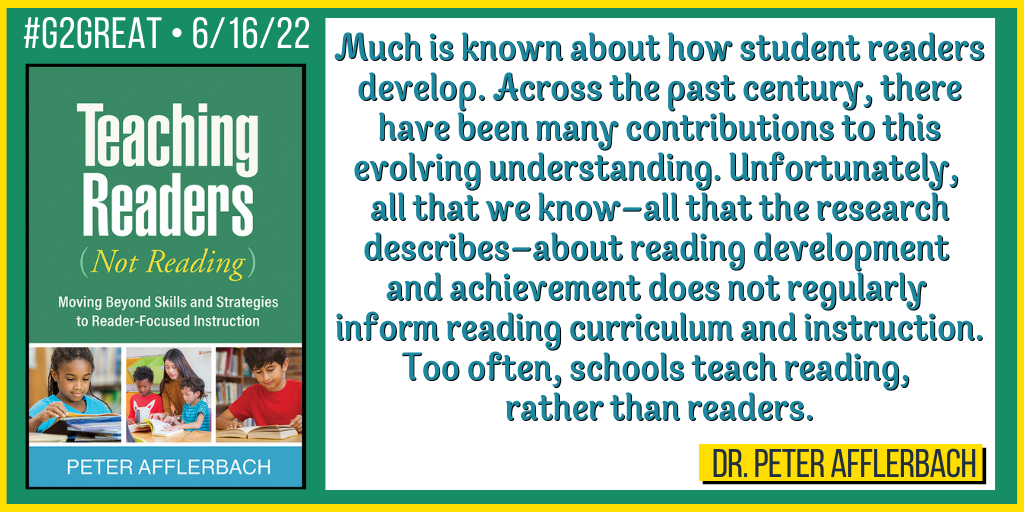 Dr. Afflerbach repeated this issue in his book introduction and conclusion:
"It is time to focus on all of the factors that influence reading development, to examine their power, to understand their relationships, and to realize their promise in nurturing accomplished and enthusiastic readers. It's time for teaching readers." (page 4 & 161)
Yes, it is time; in fact that time is long overdue. It's time for us to widen our perspective and reposition our priorities from the READING to the READER to ensure that our readers do not get lost in the mix of curriculum mandates, standardized testing and a narrowed lens of "The Science of Reading" that suggests the flawed view that there is a single science that has all the answers. Peter Afflerbach shared his thoughts on this subject during our chat.

In his book, Teaching Readers (Not Reading) and generous sharing during our chat, he offers wisdom and research we need in order to understand and reverse the current focus from Reading to Reader. This book is needed more than ever as we are asked embrace the depth and breadth of all of the "sciences of reading" as reflected in this chat tweet.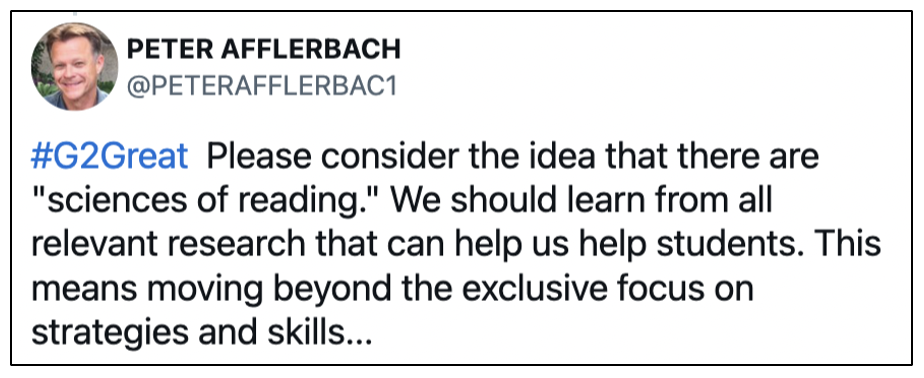 In each of our #G2great book chats, we ask our guest authors to respond to three questions. We know that understanding the thinking and motivation that went into writing the book we are celebrating can offer insight that will support and extend our thinking at deeper levels. Let's begin with the first question:
What motivated you to write this book? What impact did you hope that it would have in the professional world?
I wrote this book to push back on the idea that there is a single "science of reading." Across my experiences with teaching readers, I've understood that reading strategies and skills are essential for our students' reading success. I've also learned that strategies and skills are not all that our developing student readers need. They need motivation and engagement, self-efficacy, metacognition and self-regulation, healthy attributions and epistemic development. Each of these represents "science," and each should be given full consideration as we teach readers.
I've taught and researched readers for over 40 years—my first position was as a K-6 reading specialist in a small rural school in the Adirondack Mountains of New York. Since then, I've taught middle school remedial reading and high school English. I've directed 2 university reading clinics where practicing teachers are working toward Masters' certification as reading specialists. And, for the past 3 decades, I researched reading comprehension strategies. I can certainly testify to the importance of strategy and skill, but I know that the thousands of children I've worked with need more than strategies and skills to become lifelong, successful readers.
From day one of my first year of teaching, I've been interested (and fascinated) by the complexity of factors that influence our students' reading development and achievement. Our most accomplished teachers know these factors well, and make sure that instruction regularly addresses students' need for metacognition, motivation and engagement, and self-efficacy. The research on the relationship between these factors and reading development is conclusive—they must be operating for children to reach their potential.
It's in this era of learning more about the essential nature of metacognition, motivation and engagement, and self-efficacy that we must confront the idea that there is a single "science of reading," and that effective strategy and skill instruction is all that our students need to thrive as readers. Remember that the research cited in the Report of the National Reading Panel is a quarter-century old, and that the NRP was constrained in terms of the research that was included. I'm a teacher, and I'm a scientist who has contributed to the strategy and skill literature. I like to think that most sciences continually evolves and that over the past 25 years we should expect to have new insights into reading, how it develops and how best to teach readers. There's the rub—we know the power of these "other" factors, including motivation and engagement, metacognition and self-efficacy—but they are not regularly acknowledged by a majority of states and school districts, rarely acknowledged by the popular media, not included in most reading curricula and not evaluated by our high stakes assessments. A result is the vast, missed opportunity to further foster students' reading development.
In another tweet during our chat discussion, Peter Afflerbach sets the stage for drawing from all of the sciences that matters in teaching the reader beyond a mere skills and strategies perspective:
In his book, Peter Afflerbach details this relevant research by devoting an entire chapter to each of these "SCIENCES" of reading that have long taken a back seat in schools that preference a narrow view. Each research-proven chapter reflects the heart of those "sciences" and support our next step efforts:

Let's pause to turn back to our Twitter chat discussion. We opened our chat with a question that focused on the title of the book, so I'd like share some of the amazing twitter responses, including three from Peter Afflerbach:
QUESTION 1: Teaching Readers (not Reading)
Before we begin our chat, Peter Afflerbach's title is an invitation for a reflective pause. What do the words "Teaching Readers (Not Reading)" mean to you? What can schools do to support a collective shift in thinking?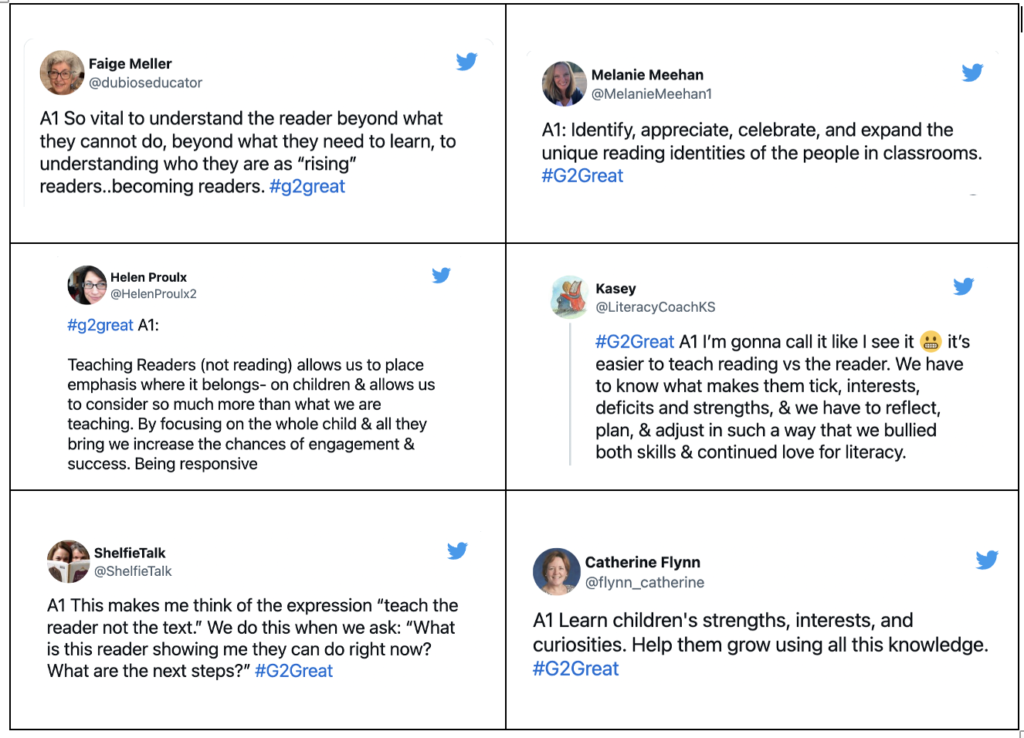 Just imagine the benefits that could rise by posing this very question as we provide opportunities for them to engage in a discussion of the distinctions between these two viewpoints followed by a book study using Peter Afflerbach's Teach Readers (Not Reading). Now imagine extending that discussion to what this looks like from each side with pictorial evidence shared by teachers on a visible display that represents an instructional shift to the Reader (Not Reading).
Now let's look at Peter Afflerbach's response to our second question:
What are your BIG takeaways from your book that you hope teachers will embrace in their teaching practices?
A first, BIG hoped-for takeaway is for teachers to be affirmed in their views of students as complex people, with diverse combinations of characteristics—including but not limited to strategy and skill. A second takeaway is that our instruction should be broad-based, of course informed by research, and certainly not limited to the current and quite narrow conceptualization of the "science of reading." There are "sciences of reading" (emphasis on the plural!) and we should consult these sciences when creating instruction and building classroom environments conducive to student growth. A third takeaway is that the details of how we promote motivation and engagement, how we teach and foster metacognition, and how we help build self-efficacy—a belief is self as a reader—are included in dedicated chapters within the book. A final takeaway is that there is the overriding demand for research-based reading instruction, so let's make sure we consult all relevant research!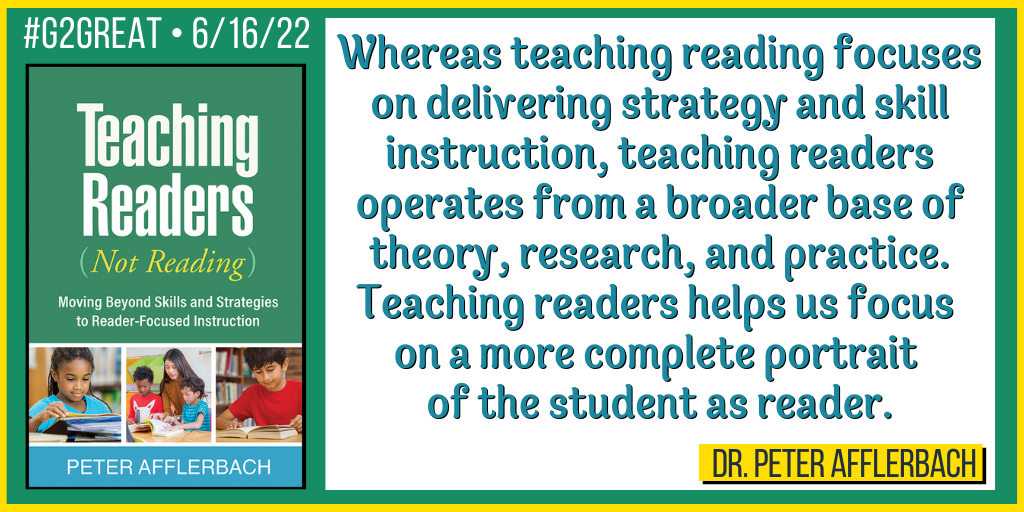 With the "more complete portrait of the student as reader" in mind, I'd like to share some new thinking that we would need to consider before change is even possible. Since there's no way to do justice to extensive detail Dr. Afflerbach has given us in his book, my goal here is simply to spotlight responsibility to this process as professionals. They key ideas are meant only as a starting point to a long-term process that includes a deep study of Teaching Readers (Not Reading):
• Begin by acknowledging the collective impact of these shifts in thinking
• Critically examine the existing resources that may be derailing our efforts
• Ensure that we preference teacher efficacy above programs that dictate
• Re-envision professional learning in place of professional development
• Support professional learning along the way through expert coaching
• Trust knowledgeable teachers who know the child as key decision-maker
• Take a good look at what our actions reflect that we value as informants
• See and know children through an individual vs one-size-fits all lens
• Support collegial discourse that will celebrate our children from all angles
• Push back a focus on THE science and widen our discussions to SCIENCES
Before I share my final thoughts, let's look at Peter Afflerbach's response to our third question:
What is a message from the heart you would like for every teacher to keep in mind?
Learning to read is hard for some students and easy for others. Regardless of the path a student takes to becoming a successful and independent reader, it's so important to understand each of the factors that influence progress. Our understanding of these factors improves our instruction and supports our students. Reading strategies and skills are always essential for reading development and reading achievement. So too are metacognition, motivation and engagement and self-efficacy.
MY FINAL THOUGHTS
Every person reading this post, our tweet artifact, and Peter Afflerbach's book has long experienced the issues that are creating an environment where we are moved further from the READER and ever closer to the READING. Those who know the research and have made an investment in their ongoing professional learning know that our attention on Teaching the Reader (Not the Reading) is too often pushed into other directions. This is exacerbated by the pandemic fueled "Learning Loss Narrative" that has caused a narrowing of the literacy playing field and further motivated a preoccupation with raising test rather than raising readers. Couple this tragic perception gaining traction with our ongoing love affair with programs that promise speedy miracle cures and we find ourselves pushed further into a narrow field. With all of these forces at play, our Readers are taking a backseat in as the Reading remains front and center. As a result, a checklist of skills and strategies that can be dutifully checked off with pride are moving us closer to curriculum driven rather than reader-centered teaching.
We know what to do and Peter Afflerbach provides us with both the research and a pathway for reprioritizing our attention on all of the factors that will help us to focus on Teaching the Reader (Not Reading). This is not just about plugging these factors into a lockstep schedule. Rather it is about understanding how each of the "sciences" work in concert and in support of each others. This means that we must avoid viewing them in terms of a single "lesson" but what we do across the entire learning day in every aspect of the curriculum. But first we must loosen the ties that bind. As long as we continue to hold a death grip on programs and narrow prescribed curriculum that preferences a single science and ignore others that are critical to the success of our readers, we will continue to do a great disservice to the READERS who are depending on us.
We are so grateful to Dr. Peter Afflerbach for sharing his vast wisdom on our #G2Great chat. We know that his thinking will inspire much needed change.
The remaining Q2 to Q6 questions with Dr. Afflerback responses are below. His thinking here and in his book offer a guide that will support our change process.
QUESTION 2: Teaching Readers (not Reading)
Do you believe that current reading instruction reflects the breadth and depth of our knowledge of how students' reading develops? What explains the phenomenon of understanding reading development broadly, but teaching reading narrowly?
QUESTION 3: Teaching Readers (not Reading)
From a developmental perspective, what else matters for student reading success besides strategies and skills?
QUESTION 4: Teaching Readers (not Reading)
Should the research influencing reading instruction be labeled the "science of reading" or the "sciences of reading?" Explain your response.
QUESTION 5: Teaching Readers (not Reading)
Describe the importance of motivation and engagement for student reader success. How do you ensure that motivation and engagement is a central feature of your instructional efforts?
QUESTION 6: Teaching Readers (not Reading)
Peter Afflerbach writes, "… our vision of students' reading development and of the important outcomes of our reading instruction is constrained by what we look for. (p. 34) What varied student-centered understandings help you to broaden your vision?
LINKS
Teaching Readers (Not Reading): Moving Beyond Skills and Strategies to Reader-Focused Instruction by Peter Afflerbach (2022 Guildford Press)
Understanding and Using Reading Assessment by Peter Afflerbach (ASCD 2017)
SESSION by Peter Afflerback The Sciences of Reading: Metacognition, Motivation & Engagement, and Self-Efficacy
Mary Howard Session Notes on the above webinar:
Mary Howard session notes; Fueling Curiosity with Peter Afflerbach, Linda Hoyt
Meaningful Reading Assessment: by Peter Afflerbach and Adria Klein (Benchmark
12/29/21 message from Peter Afflerbach about Teaching Readers (Not Reading)