By Brent Gilson
For an archive of the Twitter chat check out the wakelet here
A few years ago I walked into the doorway of a very crowded conference room in Houston Texas at NCTE. The room was full with teachers seated on the floor and a friend was sitting right at the front on the floor as there were no chairs left. Presenting were Kylene Beers and Teri Lesesne on a book and reading-related topic. I can't remember the specifics but I do remember that both Kylene and Teri motioned me to come in and just sit in the space right in front of them. This was the only time I got to speak with Teri in person but luckily over the last few years I got to know her through social media and we shared some joyful conversations about books and reading. When Donalyn told me about this project she and Teri had started I knew it would be a beautiful tribute to readers and reading. As it turns out it has also become such a beautiful tribute to Teri who passed away this last year.
The Joy of Reading is a beautiful book. Not just in the message but in its carefully crafted layout. Beautifully Donalyn and Teri have crafted a book that invites the reader in and makes the stay welcoming. As teachers of readers, we know that helping to cultivate that joy is one of our most important jobs. Through their wise words and experience, Donalyn and Teri provide the reader with guidance on how we can do this in our classrooms without neglecting the academic "rigor" that so many in leadership call for.
Donalyn joined the #g2great chat this week to celebrate her friend Teri and their new book. As we got started the first question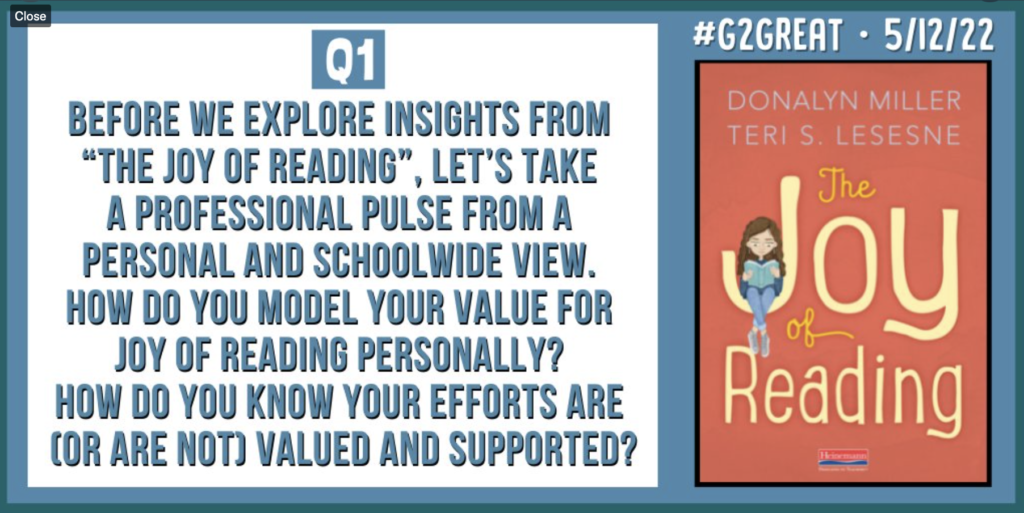 As the chat continued we discussed our reading lives. It was eye-opening for me to see so many other teachers, and avid readers were feeling a bit lost in their reading lives. The pandemic continues to have an impact on all aspects of our lives. It is something I often consider with my students. How can I expect their reading lives to bounce back when mine is more of a rollercoaster at times?
I think the chat also showed us that we can and will find our way out of this reading apathy and so will our students. We just need to make more room for joy.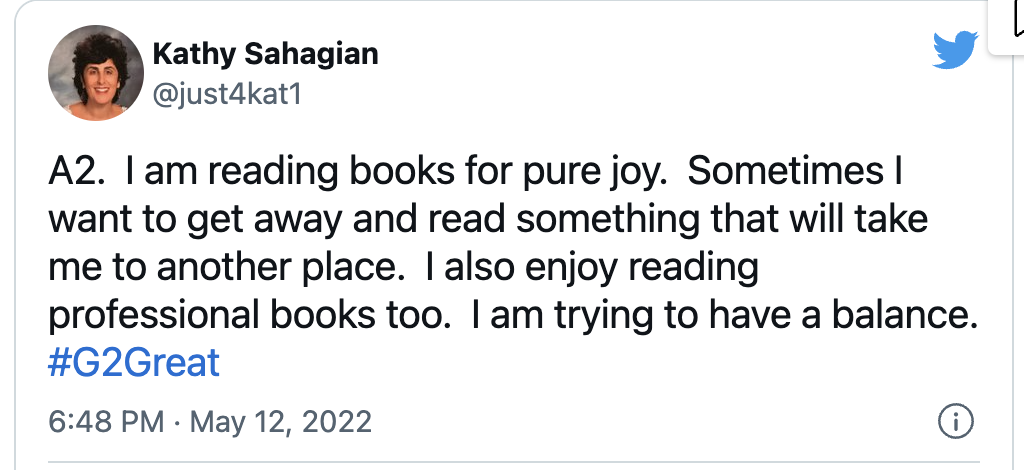 The question becomes, how do we get there? How do we rebound and bring back joy to the reading lives of our students? How do we do the same for ourselves? Teri and Donalyn provide a blueprint for this in The Joy of Reading. Commonsense suggestions to help our students find their joy and help teachers build an environment that cultivates it, a community.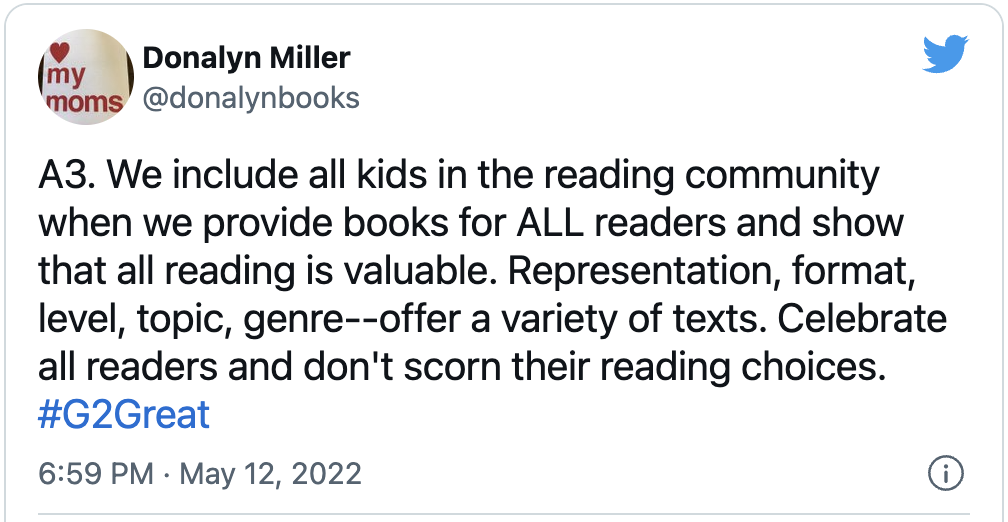 As the chat neared its close we discussed how we could create that authentic reading community. One built on talk over tests. A community that relies on the readers in the room working together, celebrating each other, and sharing books. Too often teachers are stuck between this desire to build a community and the ridiculous things that we are forced to do to assess our students. I remember this summer while taking a grad course the professor talked about the way we find that balance. We don't attach assessments to our independent joyful reading. We can save that for the instructional reading moments because they will be plentiful.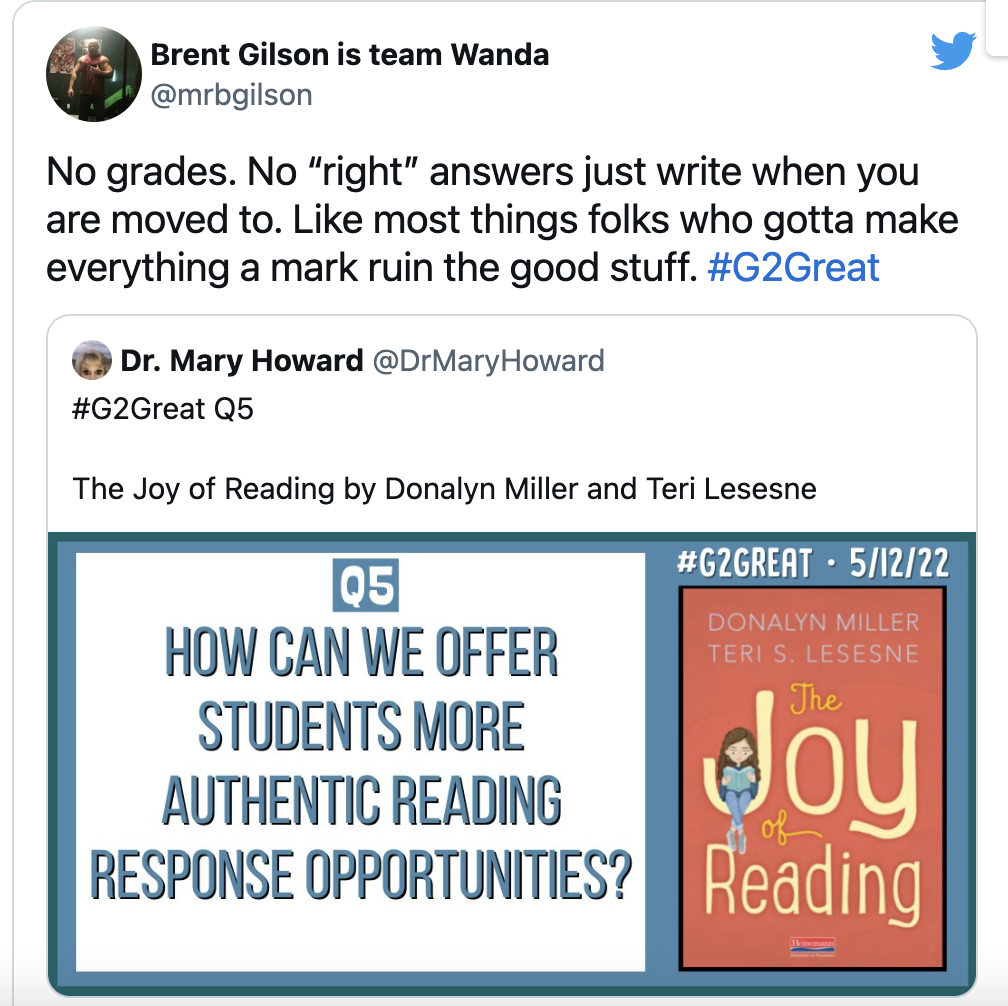 Students are assessed enough. They need some time to just breathe. To go on adventures through a wardrobe, discover magic in a new land, fight for justice, step into the lives of others, and see themselves reflected in the story. Our students need time to find the Joy of Reading as Teri and Donalyn remind us. It is there. We just need to nurture it. Watch it grow.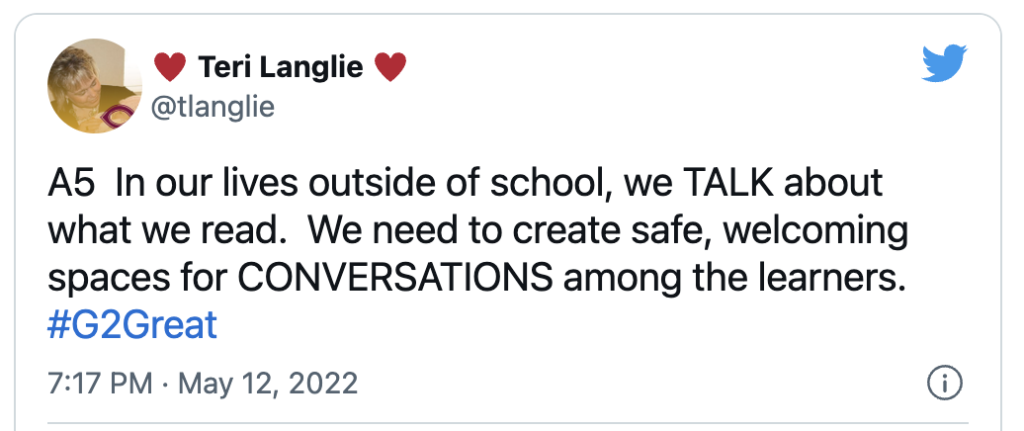 Donalyn and Teri have impacted the lives of so many readers and The Joy of Reading in the hands of teachers looking to make a difference will impact so many more. Teri Lesesne was a fierce advocate for reading and reading joy and her legacy will live on through all those working to bring Reading Joy to the classroom.
The #g2great team is so grateful that Donalyn could join us to chat about this wonderful work she and Teri brought to us all.
LINKS
The Joy of Reading Audiobook read by Donalyn Miller (Heinemann, 2022)
The Joy of Reading by Donalyn Miller and Teri Lesesne (Heinemann, 2022) Book order information with downloadable sample