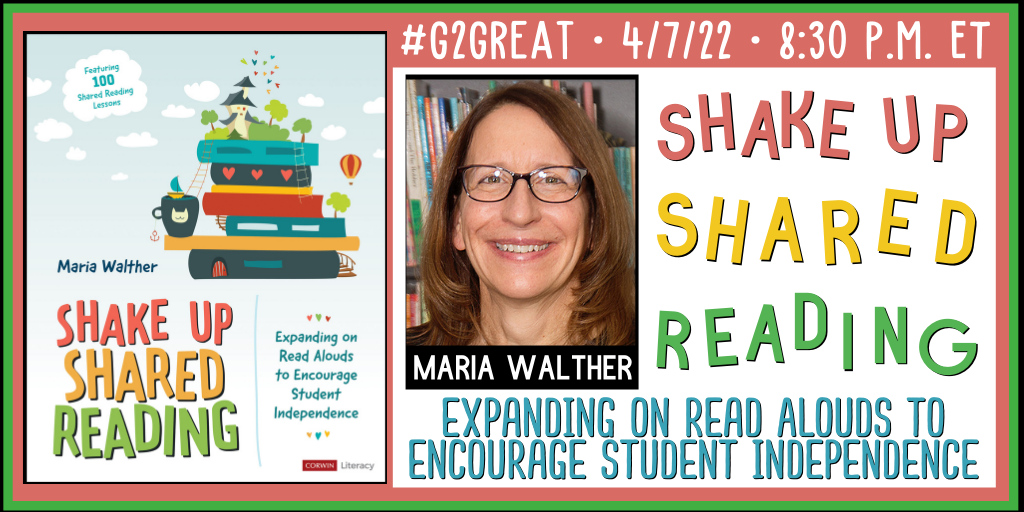 By Brent Gilson
A record of the chat can be found on wakelet
This week the #G2Great team welcomed Maria Walther to discuss her new book Shake Up Shared Reading: Expanding on Read Alouds to Encourage Student Independence (2022, Corwin). It was a fast and furious chat of passionate educators sharing ideas and of course books.
As an early teacher, I discovered the power of shared reading. Classes were captivated by the stories of a young pig or a group of kids who discovered their teacher was an alien. As a Canadian in elementary school, we had Robert Munsch books at the ready and kids on the edge of their seats. In one particular shared reading experience, the power of shared reading was on full display as we read I'M HERE by Peter Reynolds.
That year in our class we had a student that had some pretty significant behavioral challenges. Kids had a hard time understanding the tantrums and the often disruptive behaviors. As they gathered to listen students began to make connections from that story to their own interactions with this student. That shared moment with text lead students to develop a newfound empathy for their classmate. This is just one of many moments in those early days of teaching that really illustrated to me the power of shared reading.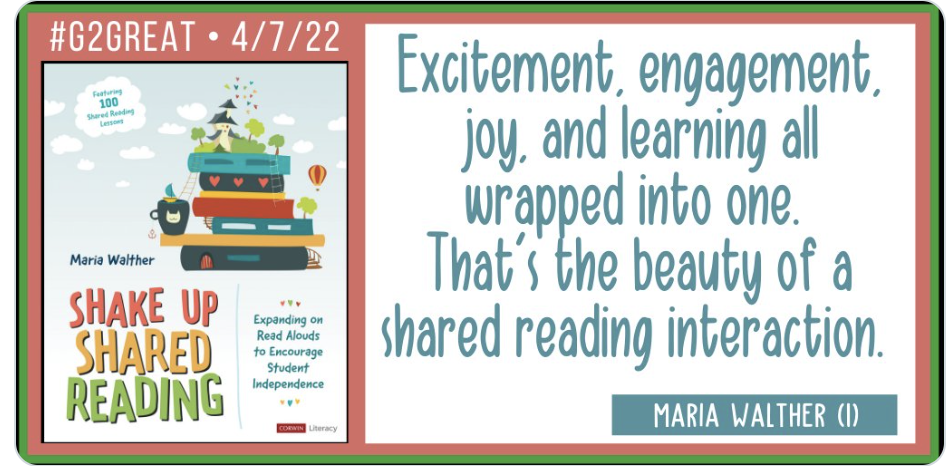 As the chat began rolling the community spent some time reflecting on the topic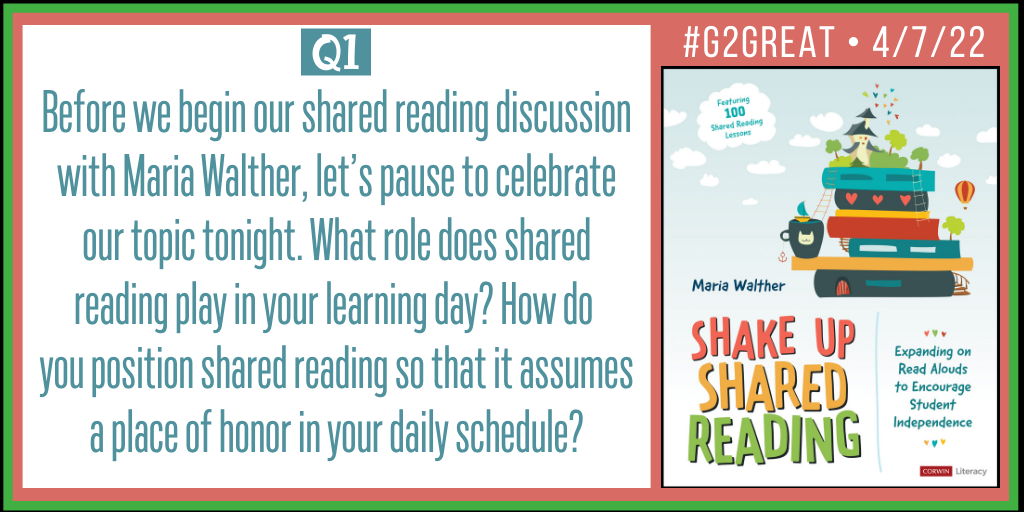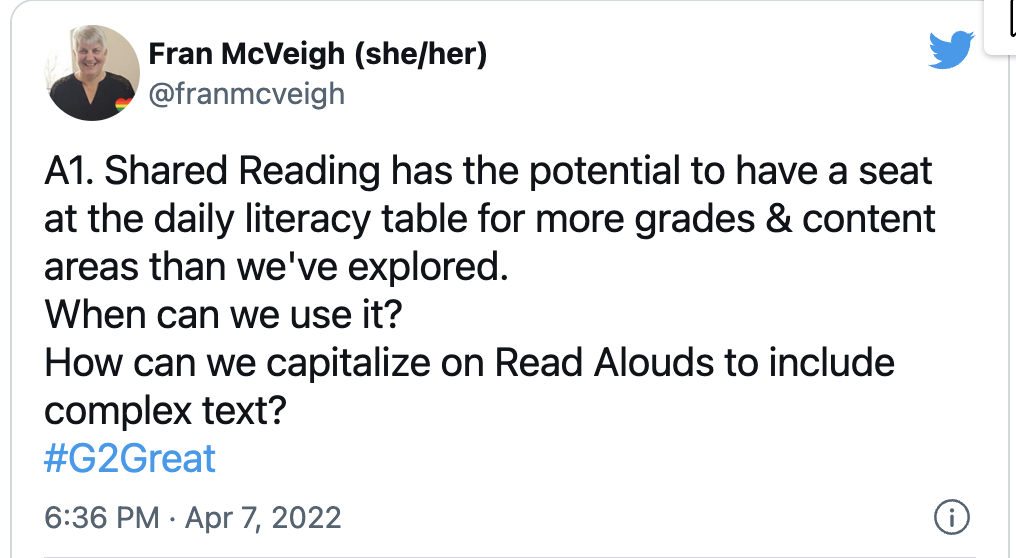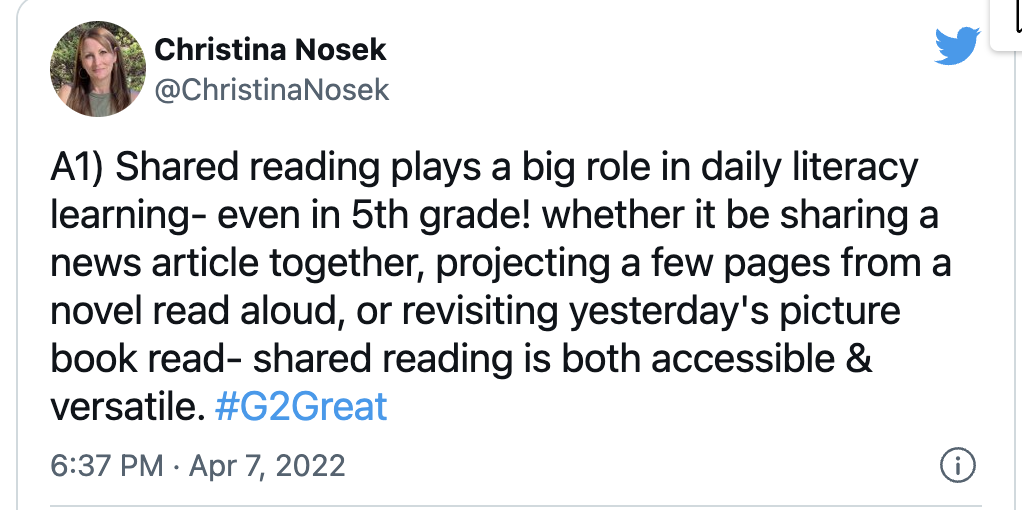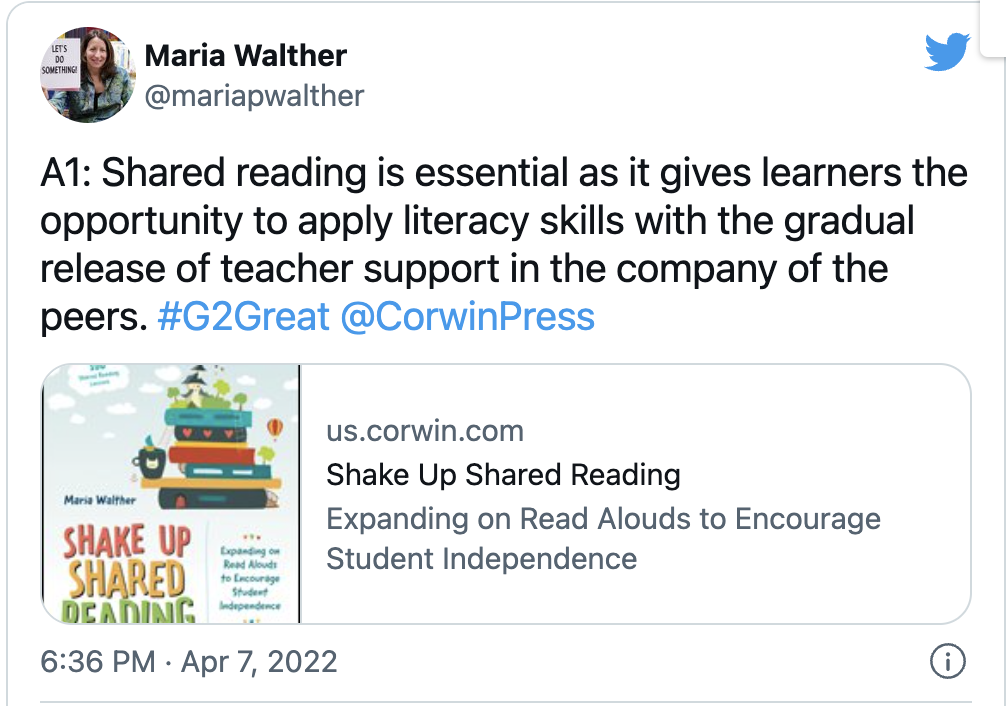 For my own practice, I think about the opportunities I have to utilize shared reading experiences with my Junior and Senior High students. The power that comes from sharing a poem, modeling the reading, the thinking in community is always a rewarding experience. Even the opportunities to think through a novel and the author's craft. These teaching moments can't be replicated with worksheets.
As the chat continued we discussed the various ways shared reading experiences show up in our classrooms.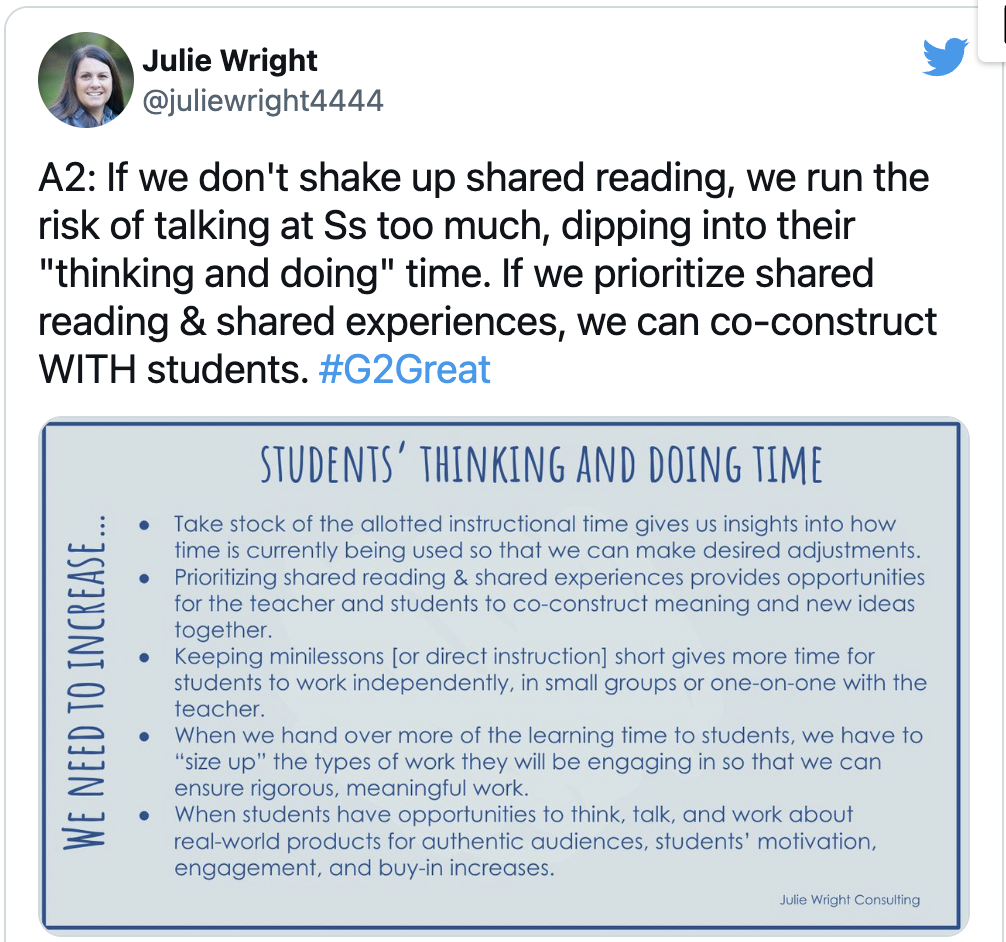 The environment that we try to establish is a key piece to the success of Shared Reading in the classroom. I think about the sense of wonder that was established as I read novels to my third graders or the fun that would fill the room as junior high students would follow along as I read The Adventures of Huggie and Stick or the emotions that spilled over while we practice Notice and Note reading That Squeak. All of this was made possible by the environment that we built as a community.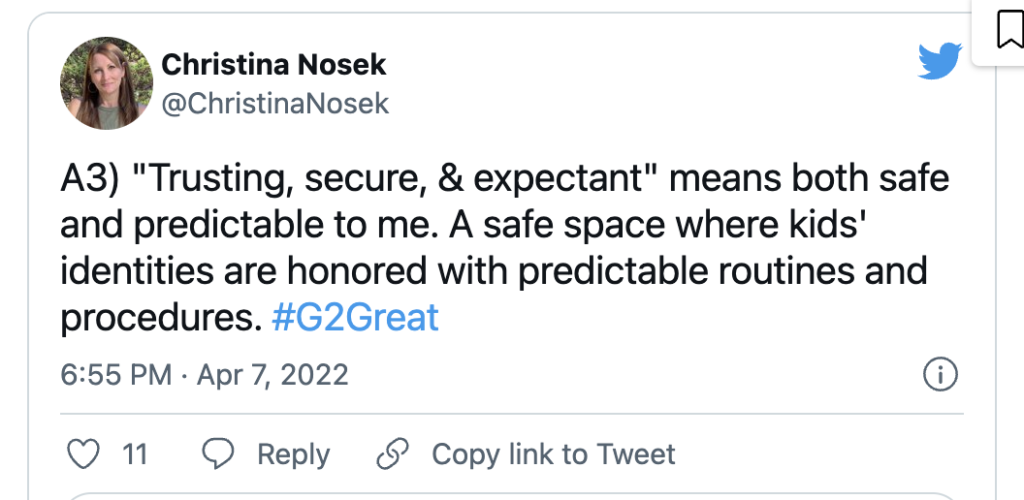 The opportunity to use Shared Reading time to assist in other teaching moments makes it all the more important. Modeling thinking, working on strategies, building relationships, and forming a love of reading are all byproducts of time spent in shared reading experiences.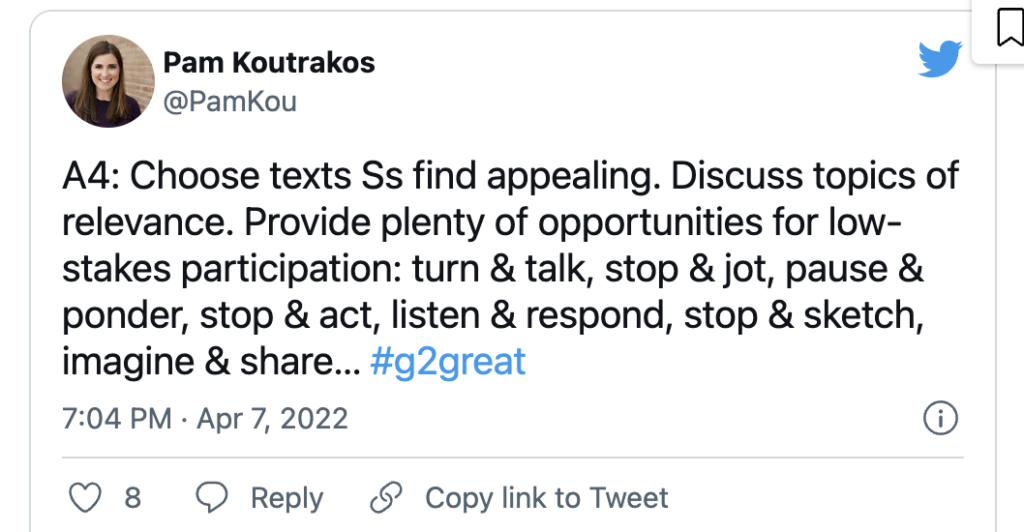 Of course, what would shared reading be without the amazing books we can access and bring into the classroom? I loved the time spent at the start of every year reading The Graveyard book with my 6th-grade classes. I loved the moments we spent on the edge of our set reading Refugee by Alan Gratz. So often the favorite memories shared by students are those moments they recall as their teacher leaves them at the cliffhanger end of a chapter… to be continued. Finding the right book can be a challenge luckily Fran Mcveigh created a little Padlet full of suggestions for your classroom.
The #G2Great team is so grateful to Maria Walther for her time and this wonderful book and chat. I am personally grateful for the reminders that even though I teach the big kids that we can all take time to enjoy the joys of shared reading.
AUTHOR REFLECTIONS
We always appreciate the insight that only authors can give us about their book. Below are Maria's reflections on three questions that offer us an insider's view.
1) What motivated you to write this book? What impact did you hope that it would have in the professional world?
I wrote this book while adjusting to no longer having my own classroom (after 34 years) and to living during a pandemic. I knew that I wanted to continue to support and partner with teachers in any way that I could. I've received so many kind tweets, notes, and e-mails about the positive impact Ramped-Up Read Aloud has had on children because it has helped teachers, librarians, and families engage in joyful interactive read-aloud experiences. I wanted to take the ideas in that resource a step further.

There is never enough time in the teaching day, but during the past two years instructional time has become even more compressed. My motivation in writing this book was to help teachers to see the endless teaching possibilities that can be found right inside their students' favorite books. Then, spotlight those skills and strategies in short bursts of shared reading. If the ideas in Shake Up Shared Reading get one child hooked on books or make one teacher's life even a teeny bit easier, then I've met my goal!
2) What are your BIG takeaways from your book that you hope teachers will embrace in their teaching practices?
I'm hopeful that teachers who read Shake Up Shared Reading will embrace short bursts of shared reading. A short burst of shared reading happens when teachers and students collaboratively reread vibrant picture books with a laser-focus on either processing or comprehending text. Each short burst follows the gradual release of responsibility model with a "my turn, our turn, your turn" structure. After the short bursts, learners are invited to take a writer's stance while innovating on the text.
3) What is a message from the heart you would like for every teacher to keep in mind?
There is no one who knows your students better than you do. Trust your professional expertise. Prioritize meaningful and joyful book experiences like read aloud and shared reading because they strengthen your learning community and support students' reading development. Watch learners' eyes light up when they predict where a story is heading and listen to their laughter as they grasp a humorous play on words. Schedule time every day to share a text and share the learning.